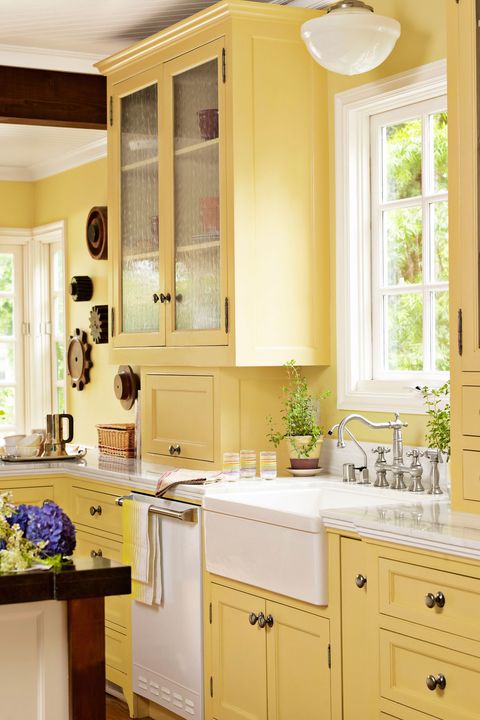 Bright, cheery yellow is a natural way to add visual warmth and brightness to any kitchen. Known for chasing any chill, this shade of yellow isn't too far from white and is the perfect way to transform your kitchen into a space where everyone feels energized to hang out.
The yellow spectrum is huge, and mellow shades can bring warmth to traditional schemes while a bold tint will energize minimalist industrial styles. Team a sunny shade of yellow with neutrals like grey and oatmeal or darker shades of walnut, to create a soothing contrast.
How adding a little yellow in kitchen design can make it pop.
Say goodbye to outdated designs, sterile colours and cramped spaces.
Now, adding a dash of unpretentious yellow is making modern kitchen design sizzle!
Yellow isn't just a flash-in-the-pan trend either. From chic neutrals to bohemian brights, this colour gives an entire room instant character that's worth its weight in gold.
Canary-inspired finishes combine with black colours for a sleek modern look that includes geometric lines and glossy metals for an on-trend feel.
Or pair muted classic colours with vibrant yellows for a classic palette that instantly turns any space into an inviting gathering place rife with personality.
Citrus shades mixed with textured materials like herbs and flowers create an organic aesthetic while sharp hues paired with sea blue boost charisma creating harmony in the room.
Yellow is also adding sparkle when it comes to small appliances, introducing cheerful styling touches such as banana-y tinted juicers or sunny stand mixers that help make any kitchen turn heads.
But why stop there? Carefully adding splashes of yellow can create focal points throughout the hub area; from walls and floors to ceramics, tinware and curtains – all unified by simple accents of yellow making your new cooking transformation pop!
And what better way to achieve this than by learning about the hottest design wizardry conjuring up the chicest kitchen trends? The internet abounds with helpful suggestions - providing so many options to incorporate sophisticated, subtle yellow tints into your new cooking corner.
Modern Yellow Kitchen Cabinets
Yellow is a cheerful and lively hue that can add an instant energy boost to any kitchen. A yellow kitchen can be used in a wide range of design styles, from modern to classic.
Whether you choose a bright daffodil shade or a buttery yellow, yellow can instantly make your kitchen feel sunny and welcoming. It can also help to add light to a small kitchen, which will open up the space and create a more spacious feel.
You can also pair a yellow cabinet with accessories that are deeper in tone, such as black or dark bronze hardware. This can help to add weight to the cabinets and make them look more sophisticated.

Yellow Kitchen Walls
Yellow is a colour that can easily add warmth and energy to your kitchen without it looking too clinical. It is also a great choice for kitchens that don't get much natural light as it makes the space feel more cheerful and bright.
Bright yellow walls contrast well with white cabinets and an island. Add two or three pendant lights above the kitchen island to illuminate the eat-in area, highlighting a colourful tile backsplash and green potted plants, perhaps.
Butter yellow is another popular shade of yellow that can work well in a kitchen with stainless steel appliances and cabinetry. The colour provides a touch of warmth and balances the cool look of stainless steel.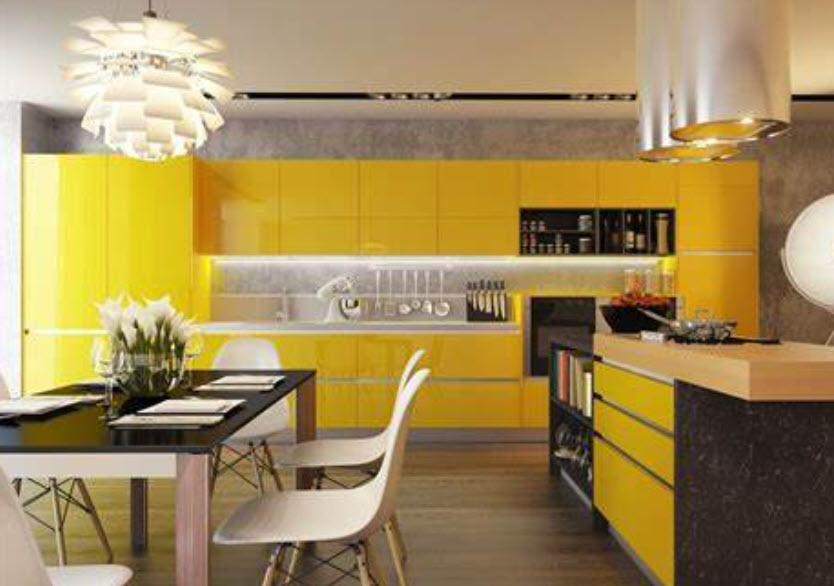 Yellow Kitchen Ideas
Yellow is a great colour to use in a kitchen because it's a refreshing shade that can help chase any chill that may be in the room. It also evokes a sunny feeling which can make your space feel warmer and more inviting.
If you aren't ready to completely paint your cabinets, try a soft wash of yellow on the walls for an easy way to introduce this colour to your home. You can pair it with other neutral shades of wood or furniture and add a pop of colour with a bright floral accent piece.
Another yellow kitchen idea is to paint the underside of your kitchen lighting fixture. This will create a warm illuminating effect and it can be done easily and inexpensively.
For a vintage vibe, you can try using yellow pendants over your kitchen island or in connecting dining nooks. You can also find lots of yellow tiles that you can use for your backsplash.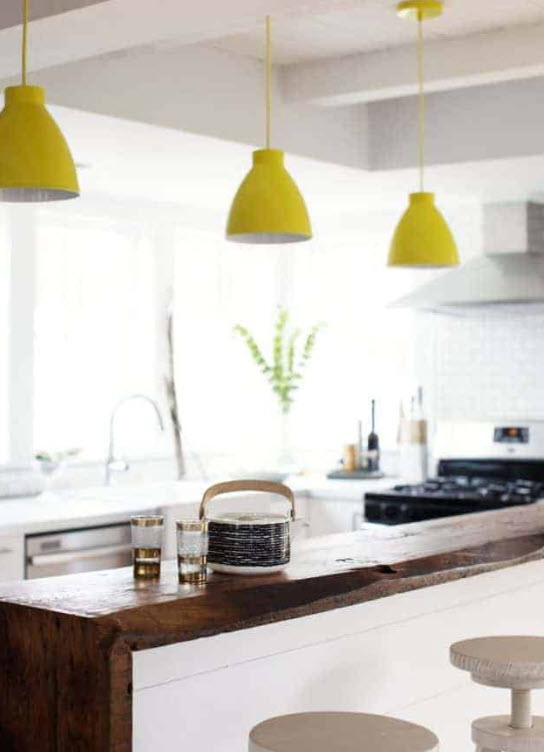 Yellow and White Kitchens
Yellow is a summery and bright hue that will infuse your kitchen with an uplifting glow. It's a good choice for smaller kitchens as it'll open up the space and make it feel larger.
To get the yellow feeling in your kitchen, you can either paint the walls or add accent pieces. For example, you can use yellow backsplash tiles or wallpaper in a fun and vibrant yellow pattern.
Another way to introduce yellow is through your cabinet doors and drawers. A creamy yellow or warm buttery shade works perfectly with richly designed white cupboards for a classic country look.
If you prefer a modern approach to yellow, choose a lighter shade for your base units and keep your upper cabinets in a more intense tone such as white. This will keep the overall tone light and airy, and it will help to reduce any impact the yellow might have on the room.
Frequently Asked Questions
Can a stove or refrigerator be placed side-by side?
Yes, they can be side by side if there is enough space for both appliances. This is not a good design practice in kitchen design. It can cause wasted space in the kitchen and make it cramped. It's better to place the stove and refrigerator in different areas of your kitchen. This facilitates a more efficient workflow while making the kitchen feel bigger.
Do I have to first install a countertop?
When installing countertops and backsplash, make sure you install the countertop first. You can then measure the backsplash and cut it to fit perfectly on top of the countertop. For proper backsplash installation, the countertop must be installed before any appliances and plumbing fixtures.
How do I organize an open concept kitchen?
An easy workflow is the best way organize an open-concept space. It is important to keep all appliances in close proximity. Having these items close together makes cleaning easier. It is a good idea to keep your cooking utensils in close proximity so that they are easy to reach. Keep food storage close by the point of use. This will make it easier to grab what you need and put things away.
How do I figure out my budget for a kitchen renovation?
To help you budget, here are some guidelines:
The first step is to estimate the cost of materials you will need for your remodel. These include countertops and appliances, cabinets, paints, tile, lighting fixtures, plumbing, hardware, as well as miscellaneous items.
Research the average cost of labor in your area. Add this figure to your overall budget.
Add the total value of all the labor and materials required to complete your job. Divide this number by the area of your kitchen. That gives you the estimated cost per square foot.
Add up any savings you can expect to make by doing some of the work yourself or by purchasing materials at a reduced price.
To cover any unforeseen costs, consider adding a contingency rate of 10 to 20%.
These are estimates only. Consult a professional contractor to get an accurate estimate of the cost of your kitchen remodel.
These guidelines will help you create a budget for your kitchen remodel. You should keep in mind that the cost of your kitchen renovation will depend on the materials and the scope of your project.
Are Kitchen Remodeling Costs Worth it?
Remodeling your kitchen can improve the overall look and feel in your home. However, it can also be very costly. If you're thinking about remodelling your kitchen, you might wonder if the costs are worth it.
There are many factors that you need to consider when deciding whether or not remodeling your kitchen is a good idea. The first factor is the property's worth. You will need to make sure that the remodel costs are covered in your sale price if you intend on selling your house soon.
You should also consider the cost of the actual remodel. high-end kitchen remodels can cost upwards of $50,000, so it's essential to ensure you have the budget to cover the costs. The cost of remodeling your kitchen may not be a major concern if you don't plan to sell your house.
The last thing you need to think about is how much you'll use your new kitchen. Your new kitchen should be able to handle large gatherings or cooking large meals. A smaller, less costly remodel might be possible if your kitchen is not used often.
These are some helpful tips to get you started if your not sure where to begin.
Determine whether you want to replace existing cabinets or build new ones. New cabinets add significantly to the cost of a kitchen remodel. And, if you choose to replace all the cabinets, you'll need to remove them before installing new ones.
Be careful when choosing your colors. The overall look of your kitchen can be affected by the choice of colours. So choose carefully.
Decide whether or not you would like to change the flooring. If you're planning on selling your house soon, it might be a good idea to keep the flooring intact. A freshly painted concrete slab can give your house a new look.
Add storage space. You can make your kitchen more usable by adding shelves, drawers, and cabinets.
Consider lighting. Recessed lights installed above the sink, stove, and refrigerator can brighten dark corners in your kitchen.
Add Appliances. A newer fridge can lower your energy consumption. It can also increase your home's resale potential.
Be sure to include enough outlets. Most kitchens only come equipped with one or two outlets. This means that your blender, microwave and other appliances won't work in your kitchen.
Do not forget to look at the water lines. Hidden behind walls and floors are water pipes. Be sure to check for leaks before starting any work.
Remove clutter. Your kitchen is already crowded, but try to keep things organized. Clear away anything that isn't essential.
Compare quotes from multiple contractors. You can compare prices from multiple contractors by comparing square footage, the material type (cabinets, vs. stones), and the number and size of doors and windows.
Look into financing options. Many homeowners choose to finance their kitchen remodeling projects. This way, you avoid paying interest while making payments.
Get a rough idea of the length of time you intend to stay in your house. Your kitchen will be more valuable the longer you keep it.
Keep track. You can keep track of every detail by using a notebook.
Plan ahead. It is important to plan ahead. This will make the entire project easier to visualize.
Do you put flooring under kitchen appliances?
It is important to place flooring underneath kitchen appliances. Your countertop will be at the right height thanks to this.
Statistics
External Links
How To
What is the Cost of Kitchen Remodeling in 2022 [12 Tips for Saving Money]
How much money will it cost to remodel your kitchen? The average cost of a kitchen project ranges from $40,000 to $100,000, depending on how ample your space is and what features you want. To get the best price for your home, make sure you have some upgrades in place.
These are the top 12 ways we can cut costs without sacrificing quality.
Buy appliances secondhand
DIY projects
Repurpose old furniture
Reuse salvaged materials
Hire a pro to do the work
Donate your stuff
Sell online
Paint colors can be as creative and imaginative as you like
Go green
Please keep it simple
Make it unique
Flexibility is important
Helpful Resources