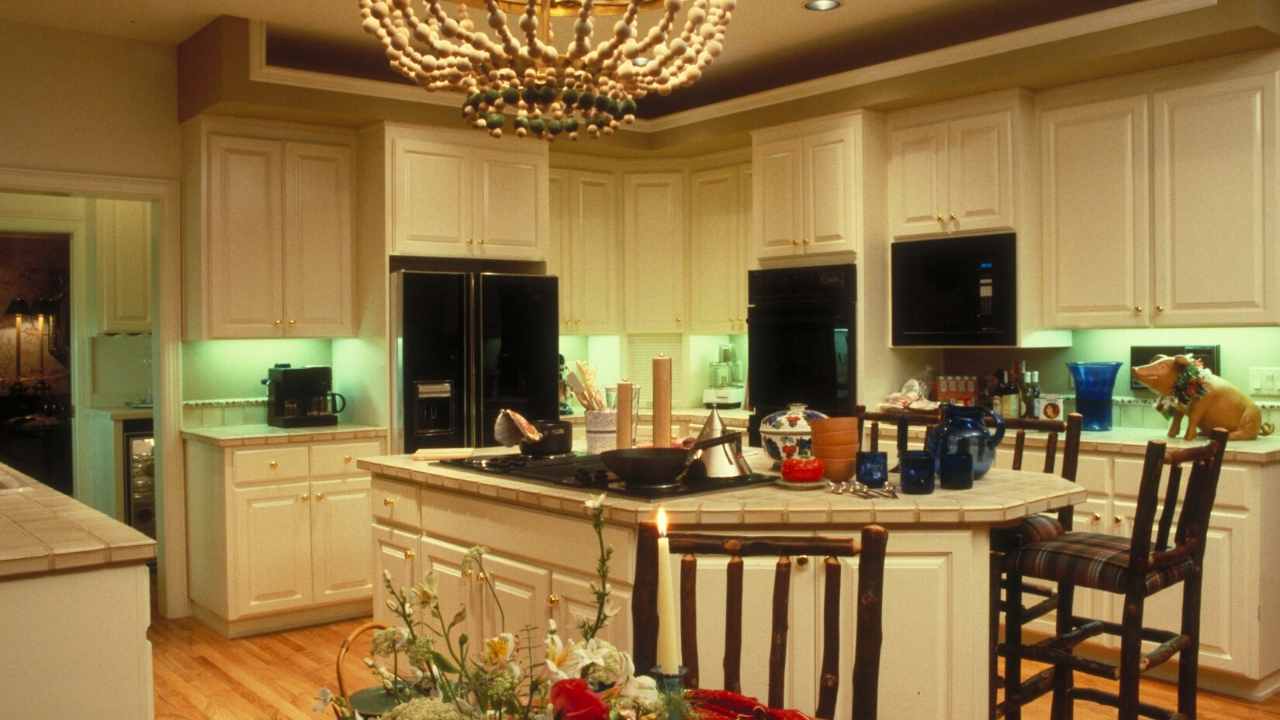 Counters made from recycled materials help shrink your kitchen's footprint. Consider reclaimed wood, butcher block, bamboo or Richlite. These natural and organic surfaces are durable, moisture-resistant, and a great choice for rustic or eclectic kitchen design.
Some contractors use colorful pieces of recycled glass bonded with cement or concrete, for a terrazzo look. These counters are low maintenance, heat-resistant and can be sanded to remove scratches.
Recycled plastic
When people think of eco-friendly countertops, they often imagine wood or stone. But these materials take a lot of energy to harvest and transport, and they have a large carbon footprint. There are many options for greener counters, including recycled plastic. Some companies make counters that use salvaged ceramic, glass or porcelain, but others use post-consumer HDPE or PVC plastic (the kind found in milk jugs and detergent bottles) to create beautiful, durable surfaces that mimic the look of Corian. These counters are affordable and don't require the same level of care as granite or marble, though they can scratch easily.
Other companies have created counters using recycled paper and concrete or resin. Some use 100% post-consumer recycled paper and bind it with nontoxic glues. The result is a surface that has the appearance of soapstone but costs about a third as much as granite. The counters are also incredibly strong, which makes them perfect for food preparation.
Another option is to use reclaimed wood. This can be a good choice for kitchens, as it means that trees don't need to be cut down to make the counters. However, it is important to consider how the wood will be joined together and how well it will hold up over time. Some companies make counters that use reclaimed wood from barns or salvaged warehouses. These counters can be quite sturdy, but they are not as heat-resistant as stainless steel and may be more prone to scratches.
Recycled paper is also being used to make counters that look like stone. This is a newer product, but it has the potential to be a very environmentally friendly alternative to traditional granite and marble countertops. The counters are made of a combination of recycled paper and other materials, such as recycled plastics and glass, mixed with a binder such as cement or resin. They are available in a wide variety of colors, and they can be printed to look like stone or other types of material.
While these countertops are more expensive than laminate counters, they offer a number of advantages over other materials. They are durable, and they do not release volatile organic compounds (VOCs), which can negatively impact indoor air quality. Additionally, they can be cut to any size or shape.
Reclaimed wood
Reclaimed wood is a popular choice for kitchen countertops. It provides an organic element that enhances traditional, transitional and even contemporary designs. It also offers several environmental benefits, as no new trees are needed to produce the material. Reclaimed wood is also a cost-effective alternative to granite or marble. If you choose reclaimed wood, be sure to look for a supplier with experience and a good track record. It should be free of foreign materials, such as nails or metal, and it should be properly treated to avoid insect infestation.
A good supplier will use a process called kiln-drying to ensure that the wood is safe for countertop usage. They will also remove any nails or other metal fasteners from the pieces of wood. They will then trim and sand the wood to make it consistent in size and color. This process will protect the wood from damage caused by moisture, insects and other factors.
One of the main reasons for the popularity of reclaimed wood is its unique beauty and character. It has a distinctive patina and is extremely durable. In addition, reclaimed wood has a history that makes it interesting for homeowners who want to give their home a unique and authentic appearance. Reclaimed wood comes from a variety of sources, such as old barns, factories and warehouses. It can also be found in old houses, train stations and other structures. This gives the wood a rich, historic texture that is hard to duplicate with modern wood.
The beauty of reclaimed wood is enhanced by its natural imperfections, such as nail holes, knots, and divots. Its distressed appearance adds a touch of whimsy to a kitchen. Its aged and weathered finish is a perfect match for many different styles of interior design. Its abrasions, marks, and scratches tell a story that has been lived through over the years.
Reclaimed wood is a great choice for counters because it can withstand everyday wear and tear, and its surface is easy to maintain. However, it is important to note that reclaimed wood may contain contaminants, such as lead paint and asbestos, which can pose a health risk. For this reason, it is important to work with a qualified contractor when installing reclaimed wood counters.
Fibrous-cement composites
Developed as an environmentally friendly alternative to stone, fibrous-cement composites are made of recycled paper, recycled glass, and low-carbon cement. They're hand-cast into "slabs" that mimic the appearance of natural or quarried stone. They also come in a wide range of colors. Unlike granite, they don't require sealants and are resistant to staining and scorching. Several manufacturers produce these countertops. They differ slightly in their recipes, manufacturing methods, and resulting color options. One product is ALKEMI-polyester, made from fine flake aluminum milling scrap that would otherwise be burned as a heavy smoke pollutant in conventional metal recycling. The material is GREENGUARD-certified and carries a Class 1 (A) fire rating.
Other companies make countertop products from recycled glass and other materials. Some use fly ash -- the byproduct of burning coals -- in their mixes, saving it from contaminating landfills. Other materials include marble dust, pulverized limestone, and recycled plastics. These products are usually mixed with cement or concrete to create a durable countertop.
Recycled glass is a popular choice, and it looks beautiful in kitchens. Its smooth surface is knife-friendly, but it may be less durable than other countertop materials. Some contractors mix colorful pieces of recycled glass with cement or resin to create a mosaic counter. Others mix recycled glass with concrete to create an opaque countertop.
Another option is salvaged wood. Salvaged wood is eco-friendly, and it can be used in many different types of kitchens. However, it's important to keep in mind that wood is prone to moisture and heat damage. Therefore, it's a good idea to use wood countertops only in areas that will not be exposed to direct sunlight or water.
Whether you're looking for an eco-friendly countertop material or simply a more attractive alternative to granite, there are plenty of choices. Many of these alternatives are available locally and can be installed by a qualified contractor. In addition, they are relatively inexpensive and can add a beautiful accent to any kitchen. Regardless of your final choice, be sure to consult an expert before making any major changes to your kitchen.
Concrete
Concrete countertops are an eco-friendly option made of recycled glass and cement. They come in a variety of colors, shapes, and patterns and are durable and moisture-resistant. They can also be dyed with chemically safe dyes to create a unique look. These counters are pricey, but can last a lifetime. When their life span is over, they can be crushed and reused as whole slabs to make new counters.
Another eco-friendly choice for kitchen countertops is glass tile. This product uses glass that would otherwise be discarded, and is made by melting and sintering the flakes together. When choosing this product, it's important to choose a high percentage of recycled content. It's also important to choose a resin that is low or no VOC. Lastly, it's helpful to buy this countertop locally, as the manufacturing process requires a lot of energy.
Stainless steel countertops aren't usually considered to be green, but they can be made from recycled products. However, the stainless steel itself must be mined from the earth, and this is a very energy-intensive process. In addition, stainless steel contains several different metals that may be toxic to the environment. Stainless steel can be recycled at the end of its life, and it's best to choose a brand that offers this option.
Wood is a natural and beautiful material for countertops, but it's not always a good choice for an eco-friendly kitchen. If you choose to go with wood, it's best to use reclaimed wood from old barns or salvage warehouses. This cuts down on the amount of deforestation that must be done in order to produce the wood. It's also important to choose stains and sealers that are low or no VOC.
Another great option for eco-friendly counters is a product called IceStone. This product is made from recycled aluminum scrap, which is mixed with a polyester resin to form the countertop. The resin used should be low- or no-VOC, and the aluminum should be a high percentage of the overall product. These counters are extremely durable and easy to clean, but they are less heat-resistant than some other materials.
Frequently Asked Questions
What is the realistic cost of a kitchen renovation in Metro Vancouver?
$50,000 is a realistic budget for a kitchen remodel in Metro Vancouver. This would include new countertops, cabinets and flooring as well as lighting.
What should you do first when remodeling your kitchen?
There's no one answer to this question since everyone's priorities and budget will differ. However, some things to consider include the room's layout, the type of appliances you want, the style of cabinets and countertops you prefer, and any storage needs you have.
After you have decided on the essentials, you can start looking at various kitchen designs to see which options are available. If you have a limited budget, you might want to start with larger items like cabinets and appliances. Next, fill in with smaller details like paint colours and light fixture.
Taking things one step at a time ensures your kitchen remodel precisely what you want it to be.
What are the characteristics of an ideal kitchen?
An ideal kitchen with plenty of storage space should be large enough for cooking, cleaning, entertaining, etc. A well-designed, functional kitchen is also easy to access natural light and ventilation.
How do I begin a new kitchen design?
It is a good idea to begin by creating a list with your requirements and wants. This will allow you to communicate with potential kitchen remodelers or contractors.
Budget: How much should you budget for your new kitchen?
- Size. What size is your kitchen? Will you need to expand or reduce the size of your kitchen?
- Layout: What is the layout of your kitchen? Will you need to change the layout of your kitchen?
- Appliances: What appliances do you want in your new kitchen?
- Storage: How do you store your food and other supplies in your new kitchen.
Style: What style of kitchen would you like? Traditional, contemporary, rustic, etc.
- Colors: What colors do you want for your new kitchen?
You are now ready to plan your new kitchen.
Can a stove and a fridge be side by sides?
If there is enough room for both appliances, they can be placed side-by-side. However, this is not considered a great practice in kitchen design. It can create wasted space and make the kitchen cramped. It's better to place the stove and refrigerator in different areas of your kitchen. This facilitates a more efficient workflow while making the kitchen feel bigger.
Are open-concept and modular kitchens in decline?
Open-concept cooking is still very popular as they allow for easy access to all the kitchen areas. For many reasons, some homeowners choose to return to more traditional kitchen designs.
Open-concept cooking can be very noisy. Another reason is that open-concept kitchens can be very noisy.
Family who enjoy cooking together will love open-plan, well-designed kitchens. If your children love to play in the kitchen and aren't listening to their parents, open-concept kitchens could be a nightmare. If you're considering an open-concept kitchen, carefully weigh the pros and cons before making a decision.
What countertops look best with white kitchen cabinetry?
If you choose a white kitchen, your countertop can be bold. Quartz countertops are becoming the norm in kitchen design. In terms of what colours of quartz countertops would go well with your white kitchens, our top suggestions are as follows:
Different shades available in concrete grey
Bold Granite-like Patterns
Veiny marble-like designs
Bright and striking colors like ocean blue or sunflower yellow are examples of these bright colours
Statistics
External Links
[TAG102]
[TAG105]
[TAG108]
[TAG111]
How To
How to design a kitchen layout
While there is no one right layout for every kitchen, certain layouts work best in specific spaces. These are some ideas to help you design the kitchen layout that works best in your space.
Start with the basic ingredients. The first step is determining what you need in your kitchen and what can be sacrificed. For example, you may not need a large stove or oven if you don't cook much.
Take into account the traffic flow. The second step involves considering how you use the kitchen with your family and how traffic flows around the space. You want enough space to be able to move freely and not bump into others.
Maximize storage. The third step is to maximize storage in your kitchen layout. This includes both food storage, and cookware storage. You will want to ensure that everything has a home and is easily accessible.
Your style should be incorporated. Your style is the fourth step. This includes everything including countertops and cabinets, flooring, and appliances. Choose finishes and materials that reflect you style.
Work with a professional. A professional kitchen designer is the fifth and final step. They can help create a layout to meet all your needs.
Helpful Resources




[TAG113]

At VK Design, we are determined to make sustainability an integral part of our kitchen designs. Our mission is to empower homeowners, builders, and..




[TAG114]

Are you looking to transform your kitchen into the masterpiece of your dreams? There's no need to look any further, here at VK Design we bring you..




[TAG115]

Are you looking to transform your kitchen into the masterpiece of your dreams? There's no need to look any further, here at VK Design we bring you..




[TAG116]

NEW MODEL!! 2023 Grand Design Reflection 270BN Couple's Camping Fifth Wheel RV! ► Check Availability Now at https://bit.ly/3obejXR ► Learn More About this RV




[TAG117]

Get the latest kitchen industry news from NKBA




[TAG118]

Sustainable kitchen design is creating a kitchen space that minimizes environmental impact while still conveying style and functionality. It involves




[TAG119]

At VK Design, we've pledged to create kitchens that are kind to our planet. We know that sustainability is a top priority for homeowners, builders..




[TAG120]

Click here to download June's Journey https://woo.ga/emj5k3 FRENCH COUNTRY STYLE ~ DECORATING IDEAS ~ HOME DECOR ~ LIVING ROOM DECOR ~ KITCHEN DECOR~Monica




[TAG121]

At VK Design, we are dedicated to making sustainable kitchen design accessible and attainable for everyone. From creating inspiring content covering..




[TAG122]

Source the latest product innovations from leading kitchen and bath brands at KBIS! Discover fresh design solutions, expand your network, and fine-tune your




[TAG123]

Welcome to VK Design, where we make sustainability the foundation of every kitchen design. Our mission is to empower homeowners, builders, and..




[TAG124]

Are you looking to transform your kitchen into the masterpiece of your dreams? There's no need to look any further, here at VK Design we bring you..




[TAG125]

Are you looking to transform your kitchen into the masterpiece of your dreams? There's no need to look any further, here at VK Design we bring you..




[TAG126]

#cerusing #kitchenmakeover #cabinet refinish The cerusing process we demonstrate in this video can transform your dated oak finish to a new fresh, clean




[TAG127]

Find the largest offer in Cabinet Hardware - Pulls and Knobs at Richelieu.com, the one stop shop for woodworking industry.




[TAG128]

I'm always looking for ways to improve and update the spaces in my home. Deliberately or sometimes even when I'm in the relaxed state of watching TV! In this




[TAG129]

Check out these stunning kitchens big and small. These kitchens have inspiration for all. Lots of interior designed kitchens to give you ideas for a kitchen




[TAG130]

10 Kitchen Design Ideas for Your Home : Decor Inspiration




[TAG131]

The classic cabin in the woods has been wonderfully reimagined into an architectural masterpiece. In this weeks episode we visit an architecturally designed




[TAG132]

Bringing German engineered domestic appliances to Canadians. Explore Miele's full line of premium kitchen and laundry appliances




[TAG133]

Let's connect, sign up for my weekly newsletter https://mtkd.ck.page/newsletter On the live stream, I'll give you 10 tips when designing a small kitchen.




[TAG134]

Last year, Fallon (@sewbeitquilts) & Kris (@SewtheDistance) did a collab where they tried to make an economical quilt and see how spent the least amount of




[TAG135]

Welcome to VK Design – the one stop place for anyone looking for the latest trends, creative solutions, and expert tips surrounding kitchen design..




[TAG136]

Are you looking to transform your kitchen into the masterpiece of your dreams? There's no need to look any further, here at VK Design we bring you..




[TAG137]

Sub-Zero, Wolf, and Cove appliances offer powerful performance, design and dependability. Learn about products and find inspiration for your dream kitchen.




[TAG138]

Our vision at VK Design is to provide homeowners, builders, and designers with the insight and knowledge needed to create beautiful and functional..




[TAG139]

Welcome to VK Design, where we bring you the most premium kitchen design and renovation content! Everyone deserves a beautiful kitchen, and our..




[TAG140]

Cottage Decorating Ideas for Summer | Summer Decorating 2023 | Jessica Giffin Thank you to The Home Depot for sponsoring this video! Shop The Home Depot's




[TAG141]

At VK Design, we are passionate about helping you achieve sustainable kitchen design that is beautiful, functional, and positively impacts the..




[TAG142]

Search Wikipedia for kitchen




[TAG143]

Welcome to VK Design – the one stop place for anyone looking for the latest trends, creative solutions, and expert tips surrounding kitchen design..




[TAG144]

At VK Design, we're passionate about creating beautiful, functional kitchens that also reduce our carbon footprint. We provide insight and..




[TAG145]

VK Design brings you the highest quality kitchen design content. Our mission is to empower homeowners and professionals alike by providing them with..




[TAG146]

Our vision at VK Design is to provide homeowners, builders, and designers with the insight and knowledge needed to create beautiful and functional..




[TAG147]

Kitchen design Ideas from Architectural Digest




[TAG148]

At VK Design, we believe everyone should have a kitchen that fits their needs and desires. Our mission is to provide amazing content and resources..




[TAG149]

At VK Design, we're dedicated to bringing you a premium kitchen design experience. Our mission is to help make sustainable kitchen design accessible..




[TAG150]

BETHLEHEM, PA — Luxury outdoor kitchens grew significantly in popularity during the COVID-19 pandemic,…The post Luxury on Rise in Outdoor Kitchens, NKBA




[TAG151]

WASHINGTON, DC — The Association of Home Appliance Manufacturers, as part of an effort…The post AHAM Urging Consumer Action on Gas Appliance Bill appeared




[TAG152]

So many deliciously chic solutions.




[TAG153]

The National Kitchen & Bath Association is requesting nominations for its annual Thirty Under…The post Thirty Under 30 Program Open for Nominations appeared




[TAG154]

BETHLEHEM, PA — The National Kitchen & Bath Association has restructured its longstanding Certification…The post NKBA Revises CKBD, CMKBD Certification Program




[TAG155]

Wellness is top of mind for many homeowners, with interest in healthy, personal spaces…The post Soaking Spaces appeared first on Kitchen & Bath Design News




[TAG156]

BETHLEHEM, PA — Luxury in outdoor kitchens grew in popularity during the COVID-19 pandemic,…The post Luxury Increasing in Outdoor Kitchens, NKBA Reports




[TAG157]

All the issues of Dream Kitchens & Baths on our Newsstand. Get the subscription to Dream Kitchens & Baths and get your Digital Magazine on your device.




[TAG158]

WASHINGTON, DC — A growing number of Americans are turning to new-home construction as…The post Buyers Seen Increasingly Turning to New-Home Purchases appeared




[TAG159]

INGOMAR, PA — Programming aimed at fabricators and other professionals within the decorative surface…The post Programming Set for ISFA Annual Conference




[TAG160]

BETHLEHEM, PA — Single-family rentals, a market whose growth remains steady even during recessionary…The post Single-Family Rentals Seen as Key Market




[TAG161]

SPARTANBURG, SC — CNC Cabinetry, a leading manufacturer and distributor of high-quality cabinetry, celebrated…The post CNC Cabinetry Opens SC Facility appeared




[TAG162]

When it comes to creating your kitchen, there are several different elements that you can consider. These include layout, storage, color palettes,..




[TAG163]

BLANDON, PA —  BlueStar, manufacturer of customized professional-performance kitchen appliances, has announced its 2023…The post BlueStar Opens 2023 Kitchen




[TAG164]

PALO ALTO, CA – Houzz Inc. has introduced Selections within Houzz Pro, the all-in-one business…The post Houzz Launches Software Selection Tool appeared first




[TAG165]

COSTA MESA, CA – Fisher & Paykel has appointed Eli Winkler as chief operating…The post Fisher & Paykel Appoints COO in U.S. appeared first on Kitchen & Bath




[TAG166]

WAYNE, NJ — Lucida Surfaces, designer and manufacturer of flooring solutions based in Wayne, NJ,…The post Lucida Surfaces Names Regional Sales Manager appeared




[TAG167]

If you're looking for a way to brighten up your kitchen, you might consider a two-tone finish on your cabinets. This allows you to mix and match..




[TAG168]

RESTON, VA — Sales of kitchen cabinets and bathroom vanities posted continued gains in…The post Cabinet, Vanity Sales Continue Upward Climb in April appeared




[TAG169]

CORAL GABLES, FL – Spain-based surfacing manufacturer Cosentino Group, maker of Dekton and Silestone,…The post Cosentino to Open Manufacturing Location in U.S.




[TAG170]

The kitchen sink and faucet area is a key space in the kitchen, the…The post Water Station Wows appeared first on Kitchen & Bath Design News




[TAG171]

SAN DIEGO, CA — America is in the midst of a "historic paradigm shift,"…The post Historic 'Paradigm Shift' Seen Underway For Homes appeared first on Kitchen &




[TAG172]

There are many narrow kitchen ideas that you can use to make your kitchen look great. Some of the options you may want to consider include wooden..




[TAG173]

ATLANTA — The National Association of Home Builders, the Washington, DC-based trade association representing…The post New President & CEO Named by NAHB




[TAG174]

ARLINGTON, VA — Organizers of Coverings, the largest international ceramic tile and natural stone…The post Coverings 2023 Trade Show Termed a Success appeared




[TAG175]

Nature-Inspired Kitchen Design Ideas The idea of designing a kitchen inspired by nature has been around for centuries, but how does it really benefit the




[TAG176]

Japandi Kitchen Design Ideas that will inspire you in 2023 for your next kitchen renovation! The concept of Japandi kitchen design is a modern way to bring




[TAG177]

If you have the space in your kitchen, you might want to consider an open shelving design. This gives you the flexibility to display items in a way..




[TAG178]

  2023 Smart kitchen ideas You Should not Ignore! Innovative kitchens have been a staple of modern households for years. Still, with technology advancing at an




[TAG179]

The modern kitchen is an ever-evolving space. As the hub of activity in many households, homeowners must ensure that their kitchens are up-to-date and provide




[TAG180]

  How to Estimate Kitchen Renovation Costs in 2023 in Metro Vancouver Renovating a kitchen is no small task. It can be costly, time-consuming, and stressful




[TAG181]

Live at KBIS: Esquire




[TAG182]

European style cabinets are a great choice if you want to add a touch of elegance to your home. These cabinets come in a variety of styles and..




[TAG183]

Live at KBIS: Hovr




[TAG184]

Live at KBIS: Blum




[TAG185]

Live at KBIS: La Bastille




[TAG186]

On day 1 of KBIS 2023, 10 leading brands took the KBIS NEXT Stage to showcase their latest innovations and vie for the title of Brand with the Biggest Bite,




[TAG187]

One of the best things you can do for your home is to build a luxurious kitchen. It is the center of the house and should be a place where you and..




[TAG188]

Live at KBIS: INOXA




[TAG189]

Live at KBIS: House of Rohl




[TAG190]

Live at KBIS: Huayi




[TAG191]

Live at KBIS: Ciarra




[TAG192]

When it comes to a kitchen, you want to keep it modern and stylish. There are lots of ways to do this, but there are also some key ideas to follow..




[TAG193]

Live at KBIS: Modern Mirrors




[TAG194]

A guide to show KBIS 2023 event updates + additions




[TAG195]

Mark your calendars! We can't wait to bring you KBIS 2023 next year in Las Vegas! Happening from January 31st to February 2nd. Stay tuned for updates at kbis




[TAG196]

Perfect kitchen island lighting Are you in the process of renovating your kitchen, and you're thinking about your kitchen island lighting? Regarding kitchen




[TAG197]

If you are planning to paint your kitchen, you should know that you can find kitchen wall art in a variety of different styles. You can choose from..




[TAG198]

How to Transform a Small Kitchen Into a Socializing Space Designing a kitchen is not easy because the kitchen is such an important room in the house. Our




[TAG199]

Vancouver is a city where people can enjoy the beauty of nature alongside their homes. The modern architecture and scenery make it one-of-a-kind compared to




[TAG200]

Open concept spaces are those spaces that allow multiple activities to take place at once. They are usually large enough to accommodate several different




[TAG201]

How to choose the right finish for your kitchen cabinets When building cabinets, choosing finishes is important. It's not just about how pretty the cabinet




[TAG202]

If you are considering a modern kitchen, there are a few things you should consider. Some of the key elements include concrete floors, Stainless..




[TAG203]

  A kitchen remodel doesn't necessarily mean significant structural changes. There are many ways to remodel a space without altering its function or appearance.




[TAG204]

A practical approach: Mid-Century Modern Kitchen Design Do you love mid-century modern design? Are you looking for inspiration for your next kitchen remodel?




[TAG205]

  If you're thinking of redoing your kitchen cabinets or building your own, you will undoubtedly come across MDF as a material option. But what exactly is MDF




[TAG206]

Cabico Elmwood Series: High-End Kitchens in Vancouver, BC Not many people can resist the charm of a high-end kitchen. From luxury appliances to intricate




[TAG207]

Kitchen & Bath Business is the official KBIS publication. We provide design professionals in the kitchen & bath industry with news & trends.




[TAG208]

Are you looking to upgrade your home kitchen in 2023 with the latest design trends? Kitchen renovations involve more than just updating décor and replacing