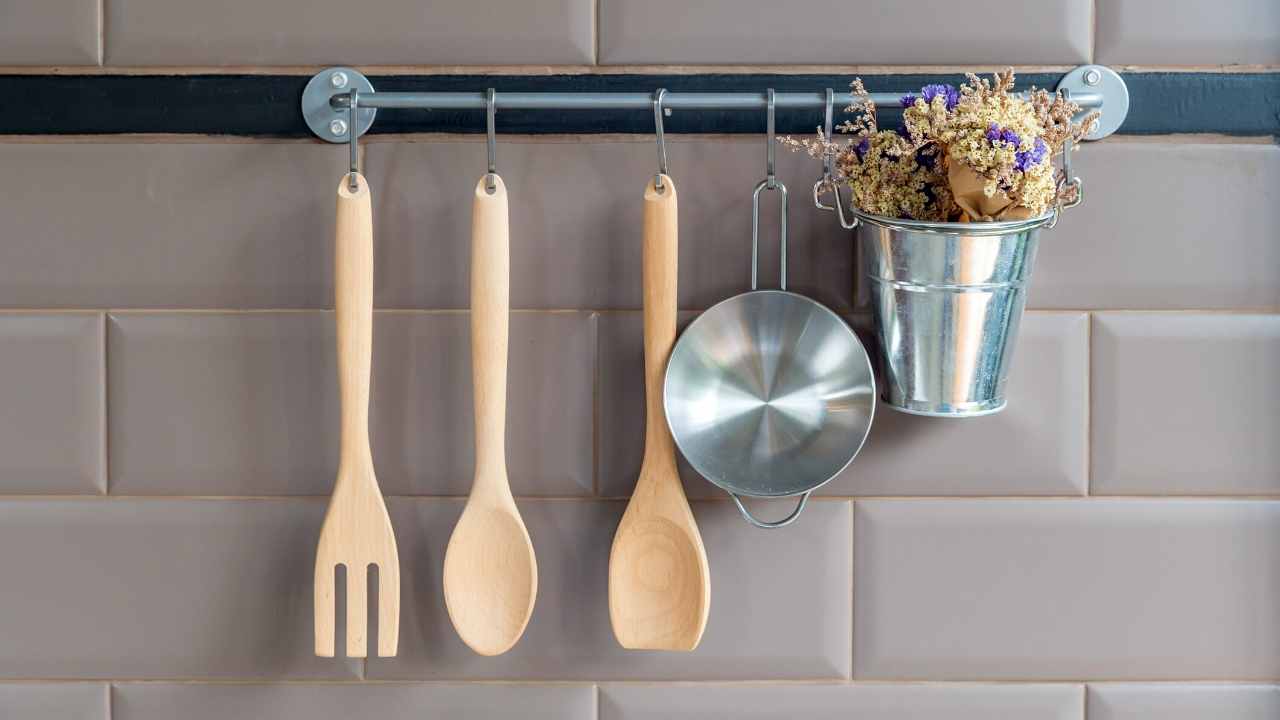 Lighting is an integral part of kitchen design and should be incorporated at the beginning stages of the project. Choosing fixtures that are energy efficient minimizes the environmental impact as well as their financial cost.
Start with ambient lighting, which typically comes from ceiling recessed fixtures and can fill your kitchen with soft light. Next, add task lighting over the sink and island to illuminate work areas. Finally, add accent lighting – decorative wall sconces and fixtures with unique shapes – to showcase a focal point.
Task Lighting
The kitchen is the heart of the home, so it needs to be well-lit for cooking and dining. To keep your kitchen a well-lit and comfortable space for family and guests, use multiple light sources in combination to meet your specific needs. Generally, you'll want to incorporate ambient lighting (such as recessed spotlights and uplighting in your cabinets) for general illumination, task lighting over counters for tasks like food prep, accent lights for highlighting architectural features or other design elements, and decorative lights for a warm, cozy look.
Recessed lights, strip LEDs, and pendants can help meet these functions in an environmentally friendly way. When choosing recessed lighting, try to use directional options that allow you to shine light on the spaces you want lit. You can also opt for dimmers that allow you to control the amount of lighting you have on at any given time. This gives you the flexibility to turn the lights up when you're entertaining or working, and down when it's time for dinner.
If you're looking to upgrade your overhead lighting, replace your old halogen fixtures with LEDs. Not only are these more energy-efficient, they're longer lasting, too. Choose bulbs with a warm color rendition to avoid creating a clinical feel in your kitchen. You can also opt for a hybrid solution that uses both LEDs and traditional bulbs, which are more cost-effective.
In this kitchen by Signature Interior Designs, oversized lamps provide both task lighting over the island and ambient lighting across the ceiling. The result is a well-lit, livable kitchen that's both practical and stylish.
Overhead pendants can also double as accent lighting over a dining table or a bar area, adding to the overall ambience of the room. Choose fixtures with a variety of light angles, such as those in this Lambert Pendant kitchen, to create a more interesting look.
If you don't have the budget for pendants, use a simple DIY technique to add a little flair to your kitchen by using a piece of glass or a piece of stained-glass artwork as a light diffuser. Simply place the item over a light box, which you can make from a plastic sheet or frame.
Ambient Lighting
In a sustainable lighting design, the goal is to illuminate only those areas that require it. This means reducing the use of light when daylight is sufficient and turning off lights when no one is in the room to use them. Layering the lighting in a space is key to this strategy, with task lighting at work surfaces and ambient light for sociable spaces.
Large overhead fixtures consume the most energy, so avoid these whenever possible. Instead, opt for recessed lights that affix to the ceiling with shallow openings and a small or larger gap between fixture and ceiling, flush-mount or semi-flush-mount fixtures that affix to the ceiling without a visible gap, or chandeliers or pendants that hang from a chain.
LED bulbs offer 95% efficiency, meaning fewer of them are needed to provide the same level of brightness as traditional bulbs. When paired with dimmers, these lights can be controlled easily to provide the exact amount of illumination required for any given situation.
When planning a kitchen, it's important to consider a mix of lighting options. Ideally, you'll include task and ambient lighting for the workspaces and a soft glow in sociable spaces, with accent lights adding decorative flourishes and visual interest to the scheme.
In addition to the standard recessed downlights over an island or kitchen table, you can install LED strips beneath cabinets to prevent shadowing and highlight countertops, as well as lighting on top of cabinets to wash walls and ceilings with a diffused glow. Other ambient options include wall sconces, track lights, and decorative pendants.
When choosing fixtures, look for timeless designs that will stand the test of time. The clean lines of Jean Prouve's minimalist classic for Vitra, for example, remain as fresh and modern today as they were when it was first designed in the 1950s. Seek out heirloom-quality pieces for your home, as well as brands that make their own lighting with sustainability in mind, such as the New York brand Stickbulb, which makes eco friendly lamps and sconces from reclaimed wood and sustainable LED bulbs.
Energy Efficiency
Using environmentally friendly techniques for lighting your kitchen can help you go green in this important room of the home. The key is to create a layered lighting design that provides the necessary task and ambient illumination in a balanced and visually appealing way. Energy efficiency is a large component of this, ensuring that lights are only on when they are needed. This is most easily achieved through a smart system that automatically dims or turns off lights when they are not in use and utilizes daylight to reduce the need for artificial light.
For example, under cabinet lighting can help illuminate the spaces underneath cabinets without consuming any extra power; it is also an easy way to brighten up those hard-to-reach spots in the corner of a pantry or a cabinet door. Likewise, LED fixtures used for ambient lighting can be very efficient, lasting between 20,000 hours and ten years. LEDs are available in a variety of colors, including warm and cool shades, so you can get just the right look to match your kitchen's overall design.
As for recessed and flush-mount fixtures, choose the lowest wattage possible to save energy and money. Adding a dimmer to your switches is a great way to control the amount of light you use. You can also find ENERGY STAR rated lighting fixtures that use as little as 80 to 90 percent of the electricity that an incandescent fixture does.
Feature lighting is another great option for going green in the kitchen. For example, a new generation of halogen bulbs, called LEDs, are extremely efficient and provide the same amount of light as an incandescent at a lower wattage. These bulbs have a longer lifespan than incandescents and come in a wide range of colors. You can even find a small number of bulbs that emit the same color as incandescents, so you can mix and match as you like.
When it comes to ambient lighting, you can't forget about windows. North- and south-facing windows are optimal for bringing in natural light, which is softer than direct sunlight and doesn't introduce unwanted heat. You can also minimize the impact of daylight from east- and west-facing windows with exterior overhangs or awnings.
VOC-Free Paints
The kitchen is one of the most energy-intensive rooms in a home, but sustainable lighting techniques can help homeowners lower their power bills. For example, using LED lights for the ambient lighting provides a brighter light source but consumes less electricity than traditional incandescent bulbs. Energy efficient lighting reduces the demand for power, which in turn helps to minimize greenhouse gas emissions.
Another sustainable kitchen lighting idea is to use a paint that doesn't contain volatile organic compounds, or VOCs, which are harmful to the environment and the health of the occupants of a home. Companies like Auro, Earth Safe Finishes, Sherwin Williams, and Benjamin Moore offer paint lines that are VOC-free or low in VOCs.
Choosing products that are made with recycled materials is also an important sustainable kitchen design idea. These materials help to reduce waste and can add a unique element to the space. For example, a countertop crafted from recycled glass offers a beautiful work surface while reducing the need for non-sustainable materials.
Other environmentally friendly kitchen ideas include installing energy-efficient appliances, which have a high Energy Star rating and typically require less electricity than standard appliances. In addition to lowering the homeowner's energy bill, these appliances typically have a longer lifespan than other models, further lowering their cost over time.
Natural lighting is an essential sustainable kitchen design feature that can be achieved with skylights, larger windows, and double- or triple-paned doors. These additions to the kitchen can provide additional sunlight during the day, reducing the need for artificial lighting and making the space feel more spacious.
To make a sustainable kitchen even more eco-friendly, consider installing dimmers that allow the homeowner to control their lighting and energy usage. Leaving a single light on or allowing a brighter lamp to run all night can have a big impact on the home's electric bill. By installing a dimming system, the homeowner can save money on their electric bill while still getting the bright light they need to cook or entertain.
Frequently Asked Questions
Are Kitchen Remodeling Costs Worth it?
Remodeling your kitchen can improve the overall look and feel in your home. However, it can also be very costly. The cost of remodeling your kitchen might seem prohibitive.
There are many things to take into consideration when deciding if a kitchen remodel is a wise investment. The first is your home's market value. If you are planning to sell your home in the near future, it is important that you ensure that the remodel cost has been recouped in the final sale price.
You should also consider the cost of the actual remodel. High-end kitchen remodels can run up to $50,000 so make sure you have enough money. You may not need to worry about the cost if your goal is to sell your home.
Consider how much you will be using your new kitchen. You'll need to ensure your new kitchen can handle your large-scale cooking and entertaining. If you don't plan on using your kitchen much, you might be able to get by with a more minor, less expensive remodel.
These tips will help you start if there are no clues.
Decide whether to replace or build new cabinets. The cost of a kitchen remodel can increase significantly if new cabinets are added. You will also need to get rid of all existing cabinets if you want to replace them all.
Pick your colours carefully. The overall look of your kitchen can be affected by the choice of colours. So choose carefully.
Decide if the flooring needs to be updated. You might leave the flooring as is if you are planning to sell your home soon. A freshly painted concrete slab could give off a "new look."
Consider adding more storage space. Add cabinets, drawers, shelves or other storage options to your kitchen.
Think about lighting. The dark corners of your kitchen will be brightened by installing recessed lighting above the stove, sink and refrigerator.
Add Appliances. You can save energy by replacing your fridge with a more efficient model. This can increase the resale price of your house.
Make sure that there are enough outlets. Most kitchens have just one or two outlets. This means that you won't have an outlet to plug in your blender, mixer, or any other appliances.
Do not forget to look at the water lines. Water pipes are hidden behind walls and floors. Before you begin any work, check for leaks.
Reduce clutter. You may already have a cluttered kitchen, so try to organize. You don't need to keep it cluttered.
Get estimates from multiple contractors. You can compare prices from multiple contractors by comparing square footage, the material type (cabinets, vs. stones), and the number and size of doors and windows.
Check out financing options. Many homeowners finance kitchen remodels. You don't have to pay interest while you make the payments.
Make a plan for how long you will be living in your home. Your kitchen will be more valuable the longer you keep it.
Keep track. Use a notebook to jot down everything you learn during the process -- including measurements, materials used, and construction techniques.
Plan ahead. You should take time to visualize what you want in your kitchen. This will make it easier to visualize the whole thing.
What are the essential characteristics of an ideal home?
A large kitchen should provide ample storage space for all your cooking and cleaning needs. A well-designed, functional kitchen is also easy to access natural light and ventilation.
What is a timeless and beautiful kitchen backsplash?
A subway tile backsplash is timeless. We do, however, recommend a full-height backsplash for your kitchen. That would mean running the countertop as your backsplash up to the bottom of your upper cabinets. This creates a feeling of a bigger kitchen.
What style of kitchen backsplashes is popular?
A modern kitchen will look best with a fully-heightened backsplash. A subway tile backsplash will be a good option if you want something a little more traditional. Stone or brick backsplashes are a great choice if you want something rustic. It all comes down to personal taste and how it fits in with your kitchen's overall style.
What is the 5-zone cooking?
The 5-zone Kitchen is an innovative design that makes it possible to cook more efficiently with less space. It includes five cooking areas: A sink area; a stove area; a refrigerator area; a food preparation and preparation area; and a dining room. This allows each cook to have their own space to work in and eliminates the need for a large kitchen with multiple appliances.
German kitchen designer Maximil invented the 5-zone kitchen, often used in European-style kitchens. It's also a good option for families who want to reduce time and effort by cooking together in one area.
A 5-zone kitchen is something you need to consider if you're thinking of building one. You will need enough space in order to accommodate all five zones. You must ventilate each area to keep odors from lingering in your kitchen. The third aspect of the kitchen layout must allow for easy movement among each zone.
A 5-zone kitchen is a great option for anyone who wants a more functional and elegant kitchen. With proper planning, it can be a great addition to any home.
What are the benefits of the 5-zone kitchen?
There are several benefits to the 5-zone kitchen, including:
Increased efficiency - Each cook has their own workspace, eliminating the need to move around between appliances.
More elegant - the 5-zone cooking system is common in European-style kitchens. It can bring a sense of style to your home.
Better ventilation - Each zone is properly ventilated to prevent lingering odors and fumes in the kitchen.
Better layout: The layout of the kitchen should be so that there is easy movement from one zone to another.
The 5-zone kitchen can offer a stylish, efficient option for those looking to create a beautiful kitchen. If planned properly, the 5-zone kitchen can be a wonderful addition to any house.
Statistics
External Links
[TAG102]
[TAG105]
[TAG108]
[TAG111]
How To
How to design a Kitchen Layout
There is no one perfect kitchen layout. However, specific layouts work better in certain spaces. Here are some suggestions for designing a kitchen that is best suited to your space.
Start with the essentials. The first step in determining what you have in your kitchen is to decide what can be sacrificed. You may not require a large oven or stove if you don't cook a lot.
Take into account the traffic flow. The second step involves considering how you use the kitchen with your family and how traffic flows around the space. You'll need to allow enough space for people to move around and not get in the way of others.
Maximize storage. The third step is to optimize storage in your kitchen layout. This goes for both food storage and cookware storage. You'll want to ensure everything has a place and is easily accessible.
Your style should be incorporated. Fourth, incorporate your style into the kitchen design. This includes everything including countertops and cabinets, flooring, and appliances. Pick materials and finishes that suit your style.
Work with a professional. Work with a professional designer to design your kitchen. They can help create a layout to meet all your needs.
Helpful Resources




[TAG114]

At VK Design, we are determined to make sustainability an integral part of our kitchen designs. Our mission is to empower homeowners, builders, and..




[TAG115]

Are you looking to transform your kitchen into the masterpiece of your dreams? There's no need to look any further, here at VK Design we bring you..




[TAG116]

Are you looking to transform your kitchen into the masterpiece of your dreams? There's no need to look any further, here at VK Design we bring you..




[TAG117]

NEW MODEL!! 2023 Grand Design Reflection 270BN Couple's Camping Fifth Wheel RV! ► Check Availability Now at https://bit.ly/3obejXR ► Learn More About this RV




[TAG118]

Get the latest kitchen industry news from NKBA




[TAG119]

Sustainable kitchen design is creating a kitchen space that minimizes environmental impact while still conveying style and functionality. It involves




[TAG120]

At VK Design, we've pledged to create kitchens that are kind to our planet. We know that sustainability is a top priority for homeowners, builders..




[TAG121]

Click here to download June's Journey https://woo.ga/emj5k3 FRENCH COUNTRY STYLE ~ DECORATING IDEAS ~ HOME DECOR ~ LIVING ROOM DECOR ~ KITCHEN DECOR~Monica




[TAG122]

At VK Design, we are dedicated to making sustainable kitchen design accessible and attainable for everyone. From creating inspiring content covering..




[TAG123]

Source the latest product innovations from leading kitchen and bath brands at KBIS! Discover fresh design solutions, expand your network, and fine-tune your




[TAG124]

Welcome to VK Design, where we make sustainability the foundation of every kitchen design. Our mission is to empower homeowners, builders, and..




[TAG125]

Are you looking to transform your kitchen into the masterpiece of your dreams? There's no need to look any further, here at VK Design we bring you..




[TAG126]

Are you looking to transform your kitchen into the masterpiece of your dreams? There's no need to look any further, here at VK Design we bring you..




[TAG127]

#cerusing #kitchenmakeover #cabinet refinish The cerusing process we demonstrate in this video can transform your dated oak finish to a new fresh, clean




[TAG128]

Find the largest offer in Cabinet Hardware - Pulls and Knobs at Richelieu.com, the one stop shop for woodworking industry.




[TAG129]

I'm always looking for ways to improve and update the spaces in my home. Deliberately or sometimes even when I'm in the relaxed state of watching TV! In this




[TAG130]

Check out these stunning kitchens big and small. These kitchens have inspiration for all. Lots of interior designed kitchens to give you ideas for a kitchen




[TAG131]

10 Kitchen Design Ideas for Your Home : Decor Inspiration




[TAG132]

The classic cabin in the woods has been wonderfully reimagined into an architectural masterpiece. In this weeks episode we visit an architecturally designed




[TAG133]

Bringing German engineered domestic appliances to Canadians. Explore Miele's full line of premium kitchen and laundry appliances




[TAG134]

Let's connect, sign up for my weekly newsletter https://mtkd.ck.page/newsletter On the live stream, I'll give you 10 tips when designing a small kitchen.




[TAG135]

Last year, Fallon (@sewbeitquilts) & Kris (@SewtheDistance) did a collab where they tried to make an economical quilt and see how spent the least amount of




[TAG136]

Welcome to VK Design – the one stop place for anyone looking for the latest trends, creative solutions, and expert tips surrounding kitchen design..




[TAG137]

Are you looking to transform your kitchen into the masterpiece of your dreams? There's no need to look any further, here at VK Design we bring you..




[TAG138]

Sub-Zero, Wolf, and Cove appliances offer powerful performance, design and dependability. Learn about products and find inspiration for your dream kitchen.




[TAG139]

Our vision at VK Design is to provide homeowners, builders, and designers with the insight and knowledge needed to create beautiful and functional..




[TAG140]

Welcome to VK Design, where we bring you the most premium kitchen design and renovation content! Everyone deserves a beautiful kitchen, and our..




[TAG141]

Cottage Decorating Ideas for Summer | Summer Decorating 2023 | Jessica Giffin Thank you to The Home Depot for sponsoring this video! Shop The Home Depot's




[TAG142]

At VK Design, we are passionate about helping you achieve sustainable kitchen design that is beautiful, functional, and positively impacts the..




[TAG143]

Search Wikipedia for kitchen




[TAG144]

Welcome to VK Design – the one stop place for anyone looking for the latest trends, creative solutions, and expert tips surrounding kitchen design..




[TAG145]

At VK Design, we're passionate about creating beautiful, functional kitchens that also reduce our carbon footprint. We provide insight and..




[TAG146]

VK Design brings you the highest quality kitchen design content. Our mission is to empower homeowners and professionals alike by providing them with..




[TAG147]

Our vision at VK Design is to provide homeowners, builders, and designers with the insight and knowledge needed to create beautiful and functional..




[TAG148]

Kitchen design Ideas from Architectural Digest




[TAG149]

At VK Design, we believe everyone should have a kitchen that fits their needs and desires. Our mission is to provide amazing content and resources..




[TAG150]

At VK Design, we're dedicated to bringing you a premium kitchen design experience. Our mission is to help make sustainable kitchen design accessible..




[TAG151]

BETHLEHEM, PA — Luxury outdoor kitchens grew significantly in popularity during the COVID-19 pandemic,…The post Luxury on Rise in Outdoor Kitchens, NKBA




[TAG152]

WASHINGTON, DC — The Association of Home Appliance Manufacturers, as part of an effort…The post AHAM Urging Consumer Action on Gas Appliance Bill appeared




[TAG153]

So many deliciously chic solutions.




[TAG154]

The National Kitchen & Bath Association is requesting nominations for its annual Thirty Under…The post Thirty Under 30 Program Open for Nominations appeared




[TAG155]

BETHLEHEM, PA — The National Kitchen & Bath Association has restructured its longstanding Certification…The post NKBA Revises CKBD, CMKBD Certification Program




[TAG156]

Wellness is top of mind for many homeowners, with interest in healthy, personal spaces…The post Soaking Spaces appeared first on Kitchen & Bath Design News




[TAG157]

BETHLEHEM, PA — Luxury in outdoor kitchens grew in popularity during the COVID-19 pandemic,…The post Luxury Increasing in Outdoor Kitchens, NKBA Reports




[TAG158]

All the issues of Dream Kitchens & Baths on our Newsstand. Get the subscription to Dream Kitchens & Baths and get your Digital Magazine on your device.




[TAG159]

WASHINGTON, DC — A growing number of Americans are turning to new-home construction as…The post Buyers Seen Increasingly Turning to New-Home Purchases appeared




[TAG160]

INGOMAR, PA — Programming aimed at fabricators and other professionals within the decorative surface…The post Programming Set for ISFA Annual Conference




[TAG161]

BETHLEHEM, PA — Single-family rentals, a market whose growth remains steady even during recessionary…The post Single-Family Rentals Seen as Key Market




[TAG162]

SPARTANBURG, SC — CNC Cabinetry, a leading manufacturer and distributor of high-quality cabinetry, celebrated…The post CNC Cabinetry Opens SC Facility appeared




[TAG163]

When it comes to creating your kitchen, there are several different elements that you can consider. These include layout, storage, color palettes,..




[TAG164]

BLANDON, PA —  BlueStar, manufacturer of customized professional-performance kitchen appliances, has announced its 2023…The post BlueStar Opens 2023 Kitchen




[TAG165]

PALO ALTO, CA – Houzz Inc. has introduced Selections within Houzz Pro, the all-in-one business…The post Houzz Launches Software Selection Tool appeared first




[TAG166]

COSTA MESA, CA – Fisher & Paykel has appointed Eli Winkler as chief operating…The post Fisher & Paykel Appoints COO in U.S. appeared first on Kitchen & Bath




[TAG167]

WAYNE, NJ — Lucida Surfaces, designer and manufacturer of flooring solutions based in Wayne, NJ,…The post Lucida Surfaces Names Regional Sales Manager appeared




[TAG168]

If you're looking for a way to brighten up your kitchen, you might consider a two-tone finish on your cabinets. This allows you to mix and match..




[TAG169]

RESTON, VA — Sales of kitchen cabinets and bathroom vanities posted continued gains in…The post Cabinet, Vanity Sales Continue Upward Climb in April appeared




[TAG170]

CORAL GABLES, FL – Spain-based surfacing manufacturer Cosentino Group, maker of Dekton and Silestone,…The post Cosentino to Open Manufacturing Location in U.S.




[TAG171]

The kitchen sink and faucet area is a key space in the kitchen, the…The post Water Station Wows appeared first on Kitchen & Bath Design News




[TAG172]

SAN DIEGO, CA — America is in the midst of a "historic paradigm shift,"…The post Historic 'Paradigm Shift' Seen Underway For Homes appeared first on Kitchen &




[TAG173]

There are many narrow kitchen ideas that you can use to make your kitchen look great. Some of the options you may want to consider include wooden..




[TAG174]

ATLANTA — The National Association of Home Builders, the Washington, DC-based trade association representing…The post New President & CEO Named by NAHB




[TAG175]

ARLINGTON, VA — Organizers of Coverings, the largest international ceramic tile and natural stone…The post Coverings 2023 Trade Show Termed a Success appeared




[TAG176]

Nature-Inspired Kitchen Design Ideas The idea of designing a kitchen inspired by nature has been around for centuries, but how does it really benefit the




[TAG177]

Japandi Kitchen Design Ideas that will inspire you in 2023 for your next kitchen renovation! The concept of Japandi kitchen design is a modern way to bring




[TAG178]

If you have the space in your kitchen, you might want to consider an open shelving design. This gives you the flexibility to display items in a way..




[TAG179]

  2023 Smart kitchen ideas You Should not Ignore! Innovative kitchens have been a staple of modern households for years. Still, with technology advancing at an




[TAG180]

The modern kitchen is an ever-evolving space. As the hub of activity in many households, homeowners must ensure that their kitchens are up-to-date and provide




[TAG181]

  How to Estimate Kitchen Renovation Costs in 2023 in Metro Vancouver Renovating a kitchen is no small task. It can be costly, time-consuming, and stressful




[TAG182]

Live at KBIS: Esquire




[TAG183]

European style cabinets are a great choice if you want to add a touch of elegance to your home. These cabinets come in a variety of styles and..




[TAG184]

Live at KBIS: Hovr




[TAG185]

Live at KBIS: Blum




[TAG186]

Live at KBIS: La Bastille




[TAG187]

On day 1 of KBIS 2023, 10 leading brands took the KBIS NEXT Stage to showcase their latest innovations and vie for the title of Brand with the Biggest Bite,




[TAG188]

One of the best things you can do for your home is to build a luxurious kitchen. It is the center of the house and should be a place where you and..




[TAG189]

Live at KBIS: INOXA




[TAG190]

Live at KBIS: House of Rohl




[TAG191]

Live at KBIS: Huayi




[TAG192]

Live at KBIS: Ciarra




[TAG193]

When it comes to a kitchen, you want to keep it modern and stylish. There are lots of ways to do this, but there are also some key ideas to follow..




[TAG194]

Live at KBIS: Modern Mirrors




[TAG195]

A guide to show KBIS 2023 event updates + additions




[TAG196]

Mark your calendars! We can't wait to bring you KBIS 2023 next year in Las Vegas! Happening from January 31st to February 2nd. Stay tuned for updates at kbis




[TAG197]

Perfect kitchen island lighting Are you in the process of renovating your kitchen, and you're thinking about your kitchen island lighting? Regarding kitchen




[TAG198]

If you are planning to paint your kitchen, you should know that you can find kitchen wall art in a variety of different styles. You can choose from..




[TAG199]

How to Transform a Small Kitchen Into a Socializing Space Designing a kitchen is not easy because the kitchen is such an important room in the house. Our




[TAG200]

Vancouver is a city where people can enjoy the beauty of nature alongside their homes. The modern architecture and scenery make it one-of-a-kind compared to




[TAG201]

Open concept spaces are those spaces that allow multiple activities to take place at once. They are usually large enough to accommodate several different




[TAG202]

How to choose the right finish for your kitchen cabinets When building cabinets, choosing finishes is important. It's not just about how pretty the cabinet




[TAG203]

If you are considering a modern kitchen, there are a few things you should consider. Some of the key elements include concrete floors, Stainless..




[TAG204]

  A kitchen remodel doesn't necessarily mean significant structural changes. There are many ways to remodel a space without altering its function or appearance.




[TAG205]

A practical approach: Mid-Century Modern Kitchen Design Do you love mid-century modern design? Are you looking for inspiration for your next kitchen remodel?




[TAG206]

  If you're thinking of redoing your kitchen cabinets or building your own, you will undoubtedly come across MDF as a material option. But what exactly is MDF




[TAG207]

Cabico Elmwood Series: High-End Kitchens in Vancouver, BC Not many people can resist the charm of a high-end kitchen. From luxury appliances to intricate




[TAG208]

Kitchen & Bath Business is the official KBIS publication. We provide design professionals in the kitchen & bath industry with news & trends.




[TAG209]

Are you looking to upgrade your home kitchen in 2023 with the latest design trends? Kitchen renovations involve more than just updating décor and replacing