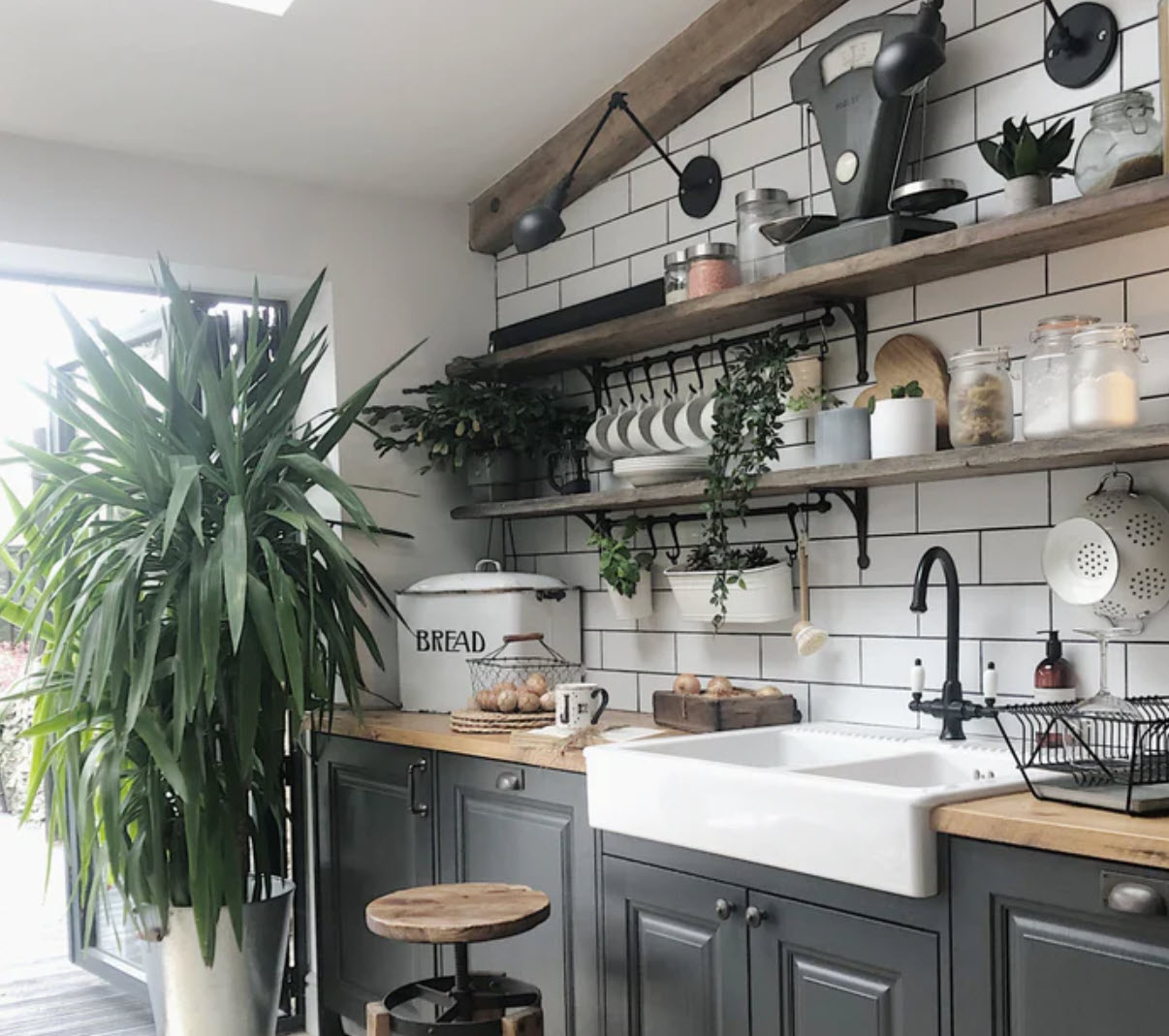 Transform your kitchen into a modern oasis with open shelves that turn it into a show-stopper.
Makeover your kitchen with open shelves that will sparkle like the stars. Your kitchen can be a statement of style, storage and functionality. Transform your ordinary kitchen into an oasis of contemporary modernity with truly stunning open shelving displays.
Open shelves are light and airy and give you a simple way to store all your everyday essentials, from crockery and glasses to cookware and condiments. You can show off your unique style and display items like plants, artwork or a collection of beautiful ceramics for a vibrant look that screams sophistication and flair.
No more cupboards over-stuffed with dish drums to search through endlessly. With open shelves, you create your own display space, whatever theme or aesthetic you choose to make it yours. And because these shelves let natural light in, they make kitchens appear brighter than ever!
Not only do they act as artful wall decor, they're also incredibly practical, giving extra room for those larger items that don't fit into regular cabinets. Plus, thanks to adjustable levels on many designs – like steel connector glides – it is so easy to position them just as you wish without compromising on durability or structure as well as facilitating easier access to all the items stored inside.
Add elegance and grace with sleek floating shelves and wire baskets for multi-level storage or go for something completely different with chunky solid units offering robustness in spades – whichever one suits your taste, there is something perfect out there awaiting discovery!
Plus, most shelf materials come with easy wipe-clean finishes, so maintenance is a minimal hassle too, which makes sense if spills occur!
And best of all, keeping everything organized is super straightforward – no need to crane your neck searching fruitlessly when everything has its own defined place on open shelving units!
Transforming any kitchen into an oasis via open shelving doesn't have to cost the earth either – whatever budget range you fall within solution abounds at every price point check those unknown yet incredibly tantalizing options available right now!
To see how far reusable timber pallets, interlocking plastic cubes, or minimalistic metallic angular brackets can take you…
The possibilities are endless!! Get creative today - get started on turning your everyday home cooking experience into something spectacular by embarking on a journey towards crafting open shovelling projects that stand out from the crowd - unleash an unforgettable surprise far beyond anything typical cabinetry may offer!
You might consider an open shelving design if you have space in your kitchen. This allows you to display items in a way that doesn't clutter up the walls. You can also add a bit of rustic flair to your kitchen with open wood shelves.
Mirrors make a small kitchen seem bigger.
Mirrors are a great way to make a small kitchen look bigger. They also reflect light, which makes a small room seem brighter and larger. The right mirror can also add decor to a room.
For example, a mirrored backsplash can enhance a kitchen's visual appeal. You can also use a mirrored door to draw the eye toward your cabinetry.
One of the most important things to remember when making a small kitchen look larger is to create a sense of depth. Using a contrasting colour scheme or painting a single wall with a deep shade of red can help. Another trick is adding a little colour to your counters and floors. These colours will help make your room feel more open.
A patterned glass tile can also help make a small kitchen appear larger. Choose a chevron-format tile, as this will create lines that draw the eye out. Adding an accent wallpaper wall is another great idea for a small kitchen.
Floating shelves transform a small awkward nook into a pretty vignette
If you have a narrow entryway, an awkward nook or a teeny office space, floating shelves could be just the ticket. They're an effective way to display decorative items or provide a handy storage solution. This is especially true if your home office is located in the kitchen.
Floating shelves are not only the cheapest option but can also be installed quickly. Having a few floating shelves in your living room or bathroom can be a stylish and functional addition to your space. You can also use them for other purposes, such as displaying ornate framed mirrors. The best part is they're not going to conceal any surface behind them.
The floating shelf may be the most practical display of a collection of souvenirs. It can also be an excellent way to display pictures and knick-knacks. For example, you can display a few favourite pieces of serveware, or place a few decorative letters above your bed for a unique touch.
Bistro shelves break up a row of bulky Shaker-style cabinets
You may want to add a small stack of bistro shelves in a kitchen with open shelving to break up a row of Shaker-style cabinets. This allows you to display items such as vases, pots, and another decor. It also makes your room appear more spacious.
The Shaker style of cabinetry is very popular. These cabinets emphasize clean craftsmanship and simple lines. They are a perfect match for modern appliances. You can also pair them with a variety of accent materials. Using white cabinets will make your kitchen seem more open and refreshing.
Shaker-style cabinets are available in a variety of colours. There is also a range of prices. Whether you prefer a classic, modern, or futuristic look, you can find a style to suit your needs.
Shaker cabinets are an excellent choice for any kitchen. With a clean design, they can easily be updated. Their simple, geometric lines complement a variety of styles.
Floating shelves are a fun way to add additional storage to your space. Adding decorative greenery or vases can add charm to the shelves.
Wooden open shelves add a bit of rustic flair to a modern farmhouse kitchen.
Wooden open shelves are a wonderful addition to any modern farmhouse kitchen. Their classic rustic flair gives this style a timeless appeal. They can be a great way to display your favourite cookware or plants. You can even use them as a coffee bar. This way you can easily access the items you need.
Using reclaimed wood for your open shelving is a good idea. It adds character to the space and is a cost-effective upgrade. You can also create a unique focal point with an antique piece.
Open shelves can be as elaborate or simple as you like. You can add a pretty cookie jar, an old photo, or plants. Make sure you clean them regularly to avoid grease build-up. Also, be careful not to store breakable items.
You may want to use natural stones or other materials for a rustic appeal. If you want to give your kitchen a more modern feel, you can choose metal or brass finishes. Adding glass instead of wood is also a nice alternative.
Frequently Asked Questions
What Do I Really Need to Remodel My Kitchen?
Remodeling a kitchen is a major investment. It's important to consider the suitability of your home before you make any decisions. When remodeling your kitchen, there are many things to consider, such as the age and condition it is in, the needs of your family, and your budget.
Remodeling can be a great idea to bring your kitchen up-to-date and make it more useful. Remodels can be a great way to add more storage and counter space for your growing family. A well-designed kitchen will add value to your home.
A kitchen remodel is sometimes not the best option. You don't have to remodel your entire kitchen if it's in good shape and the layout is perfect. Instead, make small changes to improve the space's look and feel without spending too much.
How do you decide if a kitchen renovation is right for your needs? Here are some questions to consider:
Is your current kitchen functional? A remodel is possible if your current kitchen is not functional, lacks storage or doesn't meet your family's needs.
Is your kitchen in desperate need of repairs? It may be time to replace your outdated appliances or cabinets. A complete kitchen remodel will likely be necessary to fix these problems.
Do you want to add value to your home? A kitchen remodel is a big investment regardless of whether you intend to sell your home in the next few months. A well-designed kitchen will make your home more attractive to potential buyers and increase the resale price.
How much money do you have available? A kitchen remodel can be expensive, so you must set a realistic budget before you begin. When estimating your project's total cost, make sure you include the costs of labor and permits.
If you answered "Yes" to any questions above, a kitchen remodel could be right for. To get started, talk to a professional contractor. The key to creating the kitchen that you dream of is careful planning.
What should I consider first when remodelling my kitchen?
There's no one answer to this question since everyone's priorities and budget will differ. However, some things to consider include the room's layout, the type of appliances you want, the style of cabinets and countertops you prefer, and any storage needs you have.
Once you've decided on your must-haves, you can look at different kitchen designs to see what options are available. You might be able to spend less on appliances and cabinets if you are working on a budget. Then, add in the smaller details such as paint colors and light fixtures.
Your kitchen remodel will be completed by taking each step one at a.
What is the realistic cost of a kitchen renovation in Metro Vancouver?
A kitchen remodel in Metro Vancouver is feasible within a budget of $50,000. This budget would include new countertops, cabinets, flooring, lighting, and other expenses.
Are Kitchen Remodeling Costs Worth it?
Remodeling your kitchen can make your home look better, but it can also come at a high cost. If you're thinking about remodelling your kitchen, you might wonder if the costs are worth it.
There are many factors that you need to consider when deciding whether or not remodeling your kitchen is a good idea. First, consider the home's value. If you plan to sell your home within the next few months, you need to ensure that any remodel costs are recouped in sale price.
The cost of the remodel is another factor to consider. High-end kitchen remodels can run up to $50,000 so make sure you have enough money. The cost of remodeling your kitchen may not be a major concern if you don't plan to sell your house.
Finally, you'll want to consider how much use you'll get out of your new kitchen. You'll need to ensure your new kitchen can handle your large-scale cooking and entertaining. You may be able to do a less extensive, but more expensive, remodel if you don't plan on using the kitchen as much.
Here are some suggestions to help you get started if you don't know where else to look.
You will need to decide whether to replace your cabinets or build new ones. New cabinets add significantly to the cost of a kitchen remodel. Additionally, if you wish to replace all cabinets, you will need them to be removed before you can install new ones.
Carefully choose your colours. Your kitchen's overall appearance can be affected by your choice of colour. Make sure you choose carefully.
Decide whether or not you would like to change the flooring. If you plan to sell your house soon, you might want to leave the flooring alone. A freshly painted concrete slab could give off a "new look."
Consider adding additional storage space. Consider adding cabinets, drawers or shelves to increase the usable space in your kitchen.
Consider lighting. Installing recessed lights above the stove, sink, and refrigerator will brighten up the dark corners of your kitchen.
Add Appliances. Replacing your old fridge with a newer model can reduce energy consumption. This can increase the resale price of your house.
Be sure to include enough outlets. Most kitchens only come equipped with one or two outlets. This means that you won't have an outlet to plug in your blender, mixer, or any other appliances.
Don't forget the water lines. Water pipes are hidden behind walls and floors. Before you start any work, make sure to inspect for leaks.
Reduce clutter. You may already have a cluttered kitchen, so try to organize. Get rid of anything not essential.
Get quotes from several contractors. Get quotes from several contractors.
You should look into financing options. Many people opt to finance their kitchen remodels. This way, you avoid paying interest while making payments.
It is important to know how long you plan on staying in your house. Your kitchen should be updated more often the longer you live there.
Keep track. Take down all details in a notebook.
Plan ahead. Take time to sketch out what you want to see in your kitchen. This will make it easier for you to visualize the entire project.
Is it possible to place a refrigerator in the kitchen?
For easy access, a refrigerator should be placed near the sink. You should place it so that it does not block traffic and is not too close to the stove.
Do you have the skills to DIY a kitchen renovation?
If you're planning a kitchen renovation, you may wonder if you can do it yourself. While the answer is yes, there are some things that you need to keep in mind.
A kitchen renovation is a large project. Make sure you have enough time and energy to complete it. Basic plumbing and carpentry skills are essential before you can begin. You will also need to determine what parts of the kitchen you wish to modify, including adding storage space, replacing outdated appliances, and improving lighting.
After planning your kitchen renovation, you can start shopping for the materials. You will need to make a decision about cabinets, countertops, flooring and appliances.
This is an excellent idea. This will help you determine how much space you need and what type of layout would work best in your kitchen.
There are many choices in cabinets. You can choose from ready-to-assemble (RTA) cabinets or custom cabinets. RTA cabinets are available in a variety of styles and colours, and they tend to be less expensive than custom cabinets.
Before undertaking a large-scale renovation, it's essential to make sure you have taken all necessary steps to ensure safety and security. For renovations, it might be a good idea to check the local building codes.
Although it may seem tempting to handle a large-scale project on your feet, it is best that you seek professional advice. It is possible to save both time as well as money by hiring qualified contractors. You will also be able to work with professionals to ensure that your project runs smoothly.
Statistics
External Links
How To
How to design a kitchen that you will love cooking in for many years
Kitchen design should balance aesthetics and practicality. The space you choose should be thoughtfully planned so your kitchen becomes a place where you feel at home, cook delicious food, entertain friends and family, and relax after a long day.
Here are some tips that will help you plan your dream home.
The layout that is most suitable for you will be the best. L-shaped, Ushaped, or galley kitchens are the three most popular. L-shaped Kitchens are perfect for entertaining, and can easily hold multiple cooks. U-shaped kitchens work well for families that spend a lot time in the kitchen. They offer ample storage and counter space. Galley kitchens are ideal for small spaces as they are efficient and easy to navigate.
Compare the various types of cabinetry available and select quality products. There are many options, depending upon your budget. It will pay big dividends to invest in high-end cabinets. They will last longer, look great, and provide better protection against humidity, heat, and other temperature variations.
Choose a color scheme that makes your heart happy. No matter what color you like, you can find a color combination that will bring life and color into your kitchen. It could be bright or pastel colors. Be sure to match the rest.
Find a good balance between function and beauty. Your kitchen is not supposed to be beautiful all the time. Sometimes it is more important to think about functionality than appearances. But this doesn't mean you can't incorporate a few decorative elements here and there. To create a focal point, mix glass, brass, chrome, ceramic, stone and wood.
Create a comfortable environment. Comfort is key when designing your kitchen. This space will be used a lot, so it should feel welcoming and comfortable. Add seating areas, lighting fixtures, or other features that will make you feel relaxed after a long work day.
Make sure to store everything. The kitchen should provide ample storage space for all your cooking tools and utensils. When remodeling your kitchen, you should consider adding more cabinet space.
Include a pantry. You can store and organize food items in a dedicated pantry. Plus, having a separate area where you can stockpile extra supplies will prevent clutter from building up around the rest of your kitchen.
Look into new flooring options. The style and feel you choose for your kitchen's flooring will have a significant impact on how it looks. There are many options available. If you have a small space, consider running the same flooring throughout the house to avoid the need for transition pieces.
Plan for expansion. The biggest mistake people make when remodeling their kitchens, is not allowing enough room for future growth. Consider adding another walk-in or sliding closet to expand your countertop space.
Make sure you leave plenty of light. It's the best way to appreciate your kitchen. Your kitchen should be used as a place to gather with family members.
Install energy-efficient appliances. The most important aspect of kitchen remodeling is energy efficiency. This means replacing old appliances with more efficient models.
Budget smart. Analyze your financial situation before you start shopping for kitchen appliances and cabinets. It will help you narrow down the options and save money in the end.
Make sure you have a designated space for entertaining. Whether you enjoy hosting dinner parties or entertaining friends over drinks, a designated area for dining will allow your guests to socialize and gather.
An island can be added to your kitchen. An island is a great addition for any kitchen.