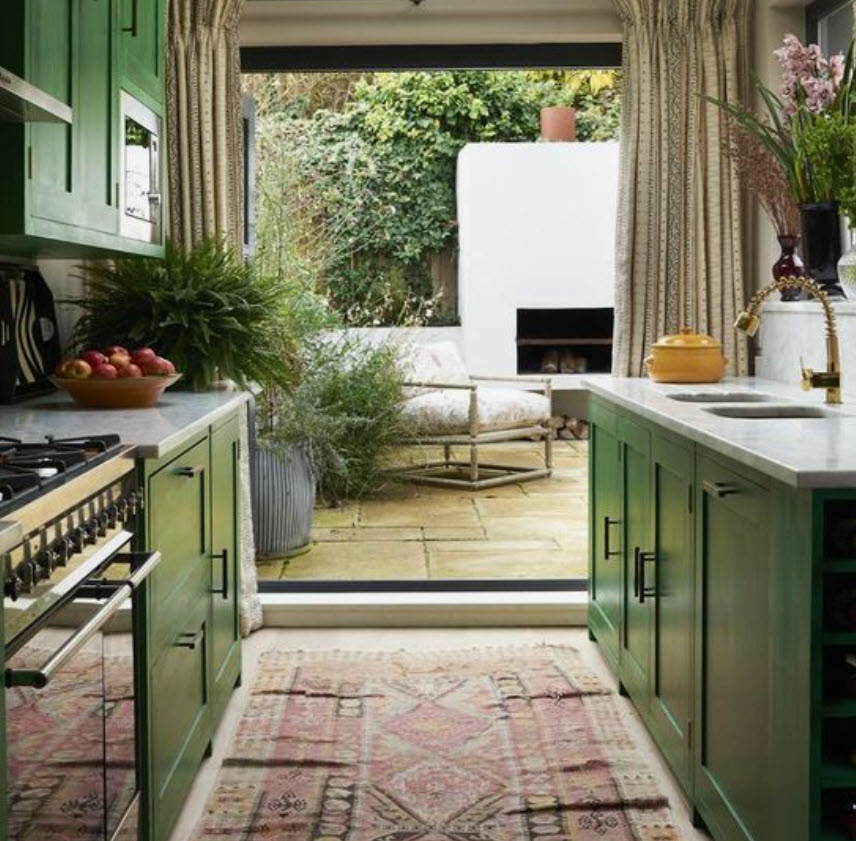 Transform your narrow kitchen into a stunning space with these simple yet innovative design ideas.
You're not alone if you have a narrow kitchen that feels more like an afterthought than a part of your home. Many homeowners struggle to make their small kitchens feel as warm and inviting as the rest of their homes. But it doesn't have to stay that way. With the right ideas and products, your narrow kitchen can become a stunning space where everyone in the family wants to hang out.
Here are some simple yet innovative ideas for transforming your narrow kitchen into something special:
1. Create Visual Growth - Create visual growth in the room by installing wooden flooring that looks natural and extends through the entire area, rather than having two distinct types of material for two sections (like walls and floors).
2. Make It Glossy - Use glossy surfaces in unexpected ways! Choose one high-gloss item—a backsplash perhaps—and have it take center stage in the kitchen instead of muted by plain tile or wood finishes.
3. Stack Appliances - Don't try to cram all big appliances into one corner; they will compete with each other and overwhelm the space visually. Instead, stack smaller appliances on top of each other if possible, using shelves or cupboards to create intentional separation between them.
4. Add Light - Maximize your light before bringing additional lighting into play by choosing lighter colour cabinets, paint colour palettes and materials for walls, flooring and countertops or tiling options.
5. Choose Smart Furniture - Pick furniture that fits snugly against walls, like cabinets or work islands with drawers underneath customizations made from one long piece of cabinetry like this is incredible for storage, but also make sure that all free-standing pieces look neat since they effectively cover all four walls at once!
6. Paint with Purpose - Paint walls in pale colours such as whites & neutrals, serene blues & greys and also incorporate acrylic paints over tiles or painted accents wall deco that truly bring an individual note when selecting paint colours, opt just enough variation to build depth without creating chaos in terms of lighting remember reflective surfaces will open up cramped quarters like none else so fair allotment is key here!
7 Limit Textures - When considering textures limit yourself from adding too many different types; stick to restful prints & neutral tones throughout fabrics, which maintain continuity when creating a harmonious atmosphere picking the same colour scheme from rugs, curtains, window treatments etc.
8 Beat Your Boredom - When working within tight spaces, it is sometimes difficult to bring life to new activities pick multi-functioning pieces such as foldable dining tables, chairs, combination storage set up art desks that can line up side against walls, plus use remote entertainment systems across empty wall gaps saving tons precious nooks nicks turn boring into an exciting oasis of joy rhythm beauty these saved fractions inches create plenty great opportunities apply those innovative skills with confidence get success!
9 Find Some Inspiration - Lastly inspiration won't come knocking itself while there are plenty trends please select carefully keep track designs visions note papers install mood boards collect items fit into categories trinkets magazines favorite pictures etc help identify main colors patterns textures loved around same time think forwards try structure rearrange add objects couple months later track progress observe changes posted dynamic becomes due course well executed projects glory stands tall away crowded zones looking its magnificent best isn't very hard follow these tips gain edge match own specific preferences tailor plans needs deserve excellent results too hunt around research online push frontiers never stops improving self thank goodness beautiful world full wonders inspire enjoy day ahead fascinating created projects awaits explore along road journey strong outcomes awaiting us current midst fashion shenanigans changes every minute take pride deep soul poured every inch skillfully redesigned cooking dining wonderful pleasure excursion journey creativity hidden talents!
Gloss surfaces
Gloss surfaces can be a fantastic way to add a touch of elegance to your kitchen. They can give your kitchen a stunning look, whether a sleek black or white gloss kitchen or a more traditional glossy finish. Besides creating a stylish and polished look, they're also very easy to clean.
They can highlight imperfections and make a space appear airy and light. While a high gloss surface can be expensive, it can also add value to your home. However, you will need extra care if you want to keep a glossy look.
The first thing you should do is to ensure that you don't scratch the glossy surface. Using abrasive cleaners or sponges can dull the finish. Instead, use a soft microfiber cloth to wipe away smudges. Don't forget to dry the cloth after each use.
Stackable appliances
If you're looking for a good way to free up floor space in the kitchen, stackable appliances may be just what you need. They're a great way to keep the clutter out of sight, but they can also give your kitchen a new look. It's all about taking advantage of the space you have.
Stackable appliances aren't the only gadget you can fit in your kitchen. Getting creative with the layout can make a huge difference. The right design will save you money in the long run. This is especially true if you own a single-family home. With a plethora of floor plan options to choose from, the decision can be a tough one. You can opt to have your appliances stack one on top of the other or create a dual zone system with a fridge and freezer in the same place.
Wooden flooring
When installing wood floors in the kitchen, it is important to take special care to avoid damage to the floor. Kitchens can be a source of water damage, and a faulty floor coating can cause rot in the wood. It is best to protect the flooring from moisture with large mats or rugs and to ensure that appliances are moved on plywood or other suitable material.
The benefits of having a wood floor in the kitchen include its warm, soft feel underfoot. In addition, the wood will give the room a homely look.
Wooden floors can also add texture to a contemporary setting and are particularly suited to kitchens with a natural appeal. However, it is essential to choose a type of wood that will withstand the rigors of the kitchen.
Small black kitchens
If you have a small kitchen, there are still plenty of ideas you can do to make it look bigger and more spacious. With a little creativity, a black kitchen can make your home feel much more stylish and elegant.
You don't need a huge budget to spruce up your cooking area. Some ideas are as simple as a paint roller. But you can also choose more dramatic options like a dark floor, countertop, or black cabinet.
Adding a black kitchen island to your design will not only give your space a visual focal point, it will also provide a place to prepare food. The right chairs and bar stools can also add some extra style to your space.
High-quality lighting is a must if you have a small, black kitchen. Pendant lights will help give your room an illusion of a larger space. They will also work well with contemporary designs.
Modern galley kitchens are part of a larger space
Modern galley kitchens are an excellent way to create a beautiful and functional cooking area in a small space. Whether you have a large or small home, they can be configured in various ways using the most efficient storage methods.
The key is to maximize your available square footage, whether it's a traditional galley kitchen or something more modern. You can add cabinets or doors to create a larger area or knock down some walls to create more room.
Adding a kitchen island can be a great option. Not only can it increase the functionality of your cooking area, it can make the space feel more open.
A built-in bar can also create a more welcoming kitchen. This is especially useful if you have a long kitchen.
Frequently Asked Questions
What countertops go best with white kitchen cabinets?
If you choose a white kitchen, your countertop can be bold. Quartz countertops are the new norm now in kitchen design. Our top recommendations for quartz countertops that would look great in white kitchens are:
Concrete grey in different shades
Bold Granite-like Patterns
Veiny marble-like designs
Bright and striking colours, such as sunflower yellow or ocean-blue, are ideal
What makes a kitchen backsplash timeless?
Subway tile backsplashes are timeless. We recommend a full backsplash in your kitchen. This would require you to extend the countertop from your backsplash onto the base of your upper cabinets. This creates a feeling of a bigger kitchen.
What are the qualities of an ideal cooking environment?
The ideal kitchen will have plenty of storage and be big enough for entertaining, cooking, cleaning, etc. A well-designed kitchen allows for easy access and ventilation.
Do you put flooring under kitchen appliances?
Flooring under kitchen appliances is an important consideration. This way, your countertop is at its proper counter height.
How do you organize an open-concept kitchen?
It is best to have a simple workflow to organize an open-concept space. This means having all appliances close together. It is easier to clean these items if they are close together. To make it easier to find your cooking utensils, keep them close to each other. Keep food storage close by the point of use. This will make things easier when you are trying to grab the items you need.
Statistics
External Links
How To
What will it cost to remodel your kitchen in 2022? [12 Tips to Save Money]
How much money will it cost to remodel your kitchen? The average cost for a new kitchen is $40,000 to $100,000, depending upon how big your space is or what features you desire. To get the best price for your home, make sure you have some upgrades in place.
These are the top 12 ways we can cut costs without sacrificing quality.
Get appliances secondhand
DIY projects
Repurpose old furniture
Reuse salvaged materials
You can hire a professional to do the job
Donate your stuff
Sell online
Paint colors can be as creative and imaginative as you like
Go green
Please keep it simple
Make it unique
Flexibility is key