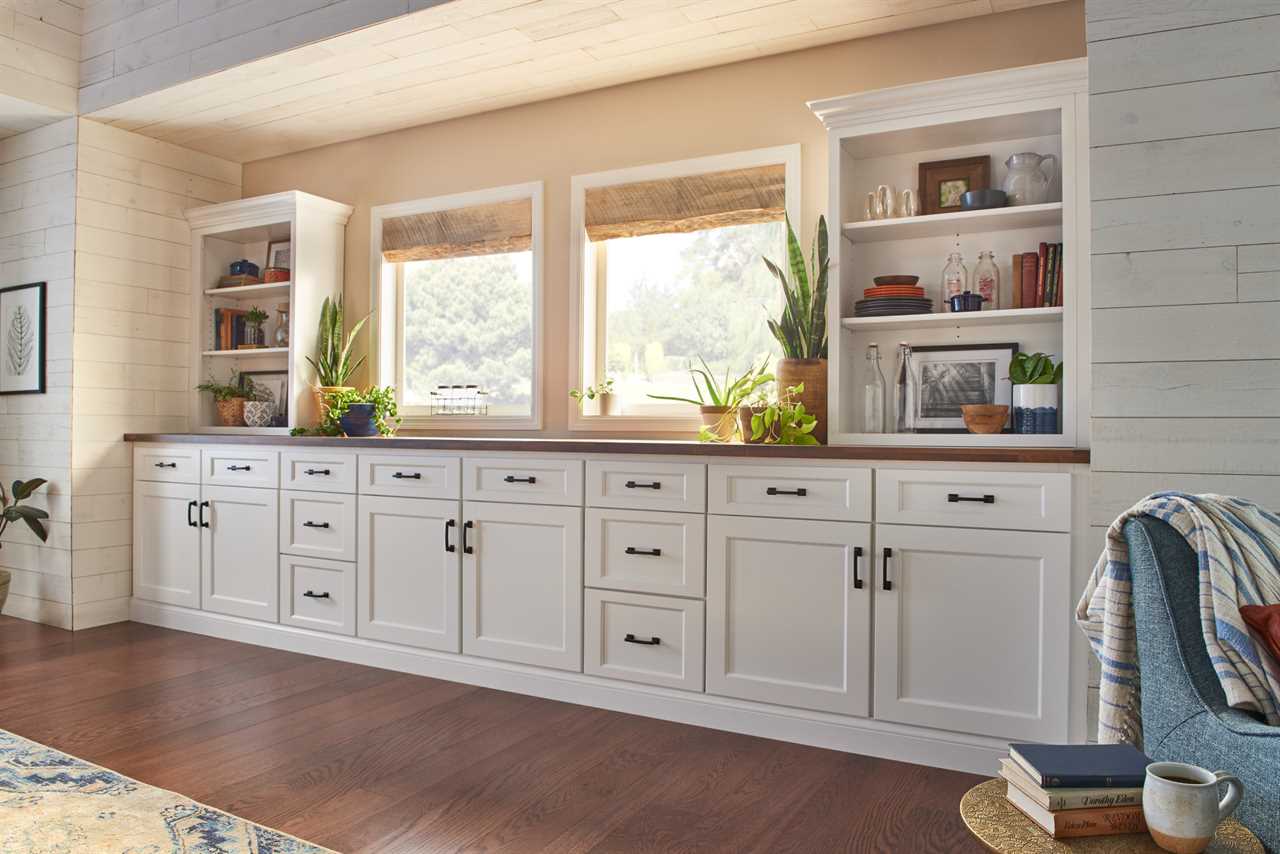 When designing a minimalist kitchen, simplicity is key!
Well, the minimalist design scheme exudes a sense of calm and simplicity. Furthermore, the elegance of the aesthetic can bring life to any home. Additionally, you will find more free space if you choose minimalistic designs in your kitchen.
Moreover, while planning your kitchen's design, there are many options to consider when choosing a worktop. Selecting one that suits your usability is a big part of creating a minimalist kitchen that looks good and works well.
To ensure you get the right balance between aesthetics and functionality, you must find some storage solution to store all those day-to-day items we need in our kitchens. With careful consideration, small but effective storage solutions can be found for the modern minimalist kitchen.
Colour palettes
A minimalist colour scheme is a popular choice for modern kitchen designs. This is because the scheme exudes calm and simplicity. However, not all colours are created equal. Colour palettes for a simplistic kitchen should be chosen carefully to achieve the best results.
Pastel colours are great for a minimalistic style. They provide a calming effect and help you feel present and focused. You can use them in furniture, flooring and other decor items.
One of the most interesting ways to incorporate colour in a minimal style is through sheen. Choosing a sheen for your kitchen wall can add dimension and depth to your space. Using different finishes can give your design a unique flair.
Another clever way to implement colour in a minimal kitchen is by using light fixtures. Light gold, bronze or brushed gold are on trend. Using these metallics can also create a dazzling backdrop for a minimalistic kitchen.
Work surface
A kitchen work surface is a big part of the design of a minimalist kitchen. There are many options to consider, so finding one is essential. Whether you're looking for a simple, classy look or something that's more sculptural, many choices are available.
Laminate is the best choice if you want a smooth, streamlined look. It's easy to clean and hygienic. However, it can be expensive to repair. You can also use a non-porous material such as quartz. This type of work surface is great for a minimalist design, because it creates a unified look.
When designing a more minimal kitchen, it's important to consider the materials you'll use. The right choice of materials can add depth and character to your space.
Storage
Storage in a minimalist kitchen might be hard to come by, but it is not impossible to achieve. If you follow some simple tips, you'll be able to make your kitchen functional and aesthetically pleasing.
For starters, you should consider the size of your kitchen. Your needs might vary depending on your household size and activities. In the same way, the size of your storage space might also be a deciding factor. You can choose from various storage options, from open shelving to drawers and cabinets.
Using the right cabinets is the key to an organized and streamlined kitchen. The best storage solution blends in with the rest of your kitchen decor. Remember that your cupboards are also where you'll store your kitchen tools and appliances.

Why Simplicity Matters in Kitchen Layout?
Simplicity is key when it comes to designing a functional kitchen layout. By streamlining your design and choosing elements accordingly, you'll greatly reduce hassle, stress and work time for both cooking and cleaning up. A simplified five-zone layout helps ensure an efficient workflow, from storing ingredients to prepping dishes and cleaning up afterwards.
Zone 1: Storage: Making food storage simple means having the right kitchen cabinets and pantry organization solutions so it's easy to find what you need promptly. Clear dividers, holders or pullouts will help separate items like dry goods and serveware. Choose a kitchen island with plenty of drawers and shelves for maximum convenience when storing all your ingredients.
Zone 2: Prep Zone: This space near the sink should contain counter space, knife blocks or knife pulls, cutting boards and any other prep tools you may need within close reach when creating meals or snacks. Place drawers underneath your countertop to easily store spices, oils or other helpful items within close reach at all times.
Zone 3: Cooking Zone: Keep gas ranges, electric cooktops, and ovens close together (and well away from water sources) for safety purposes - this will also keep them within easy reach with no more than two steps required to move between each appliance. Aim for as much countertop space as possible on either side of the range or cooktop; placing an over-the-range microwave in this area can provide additional storage room for smaller ingredients.
Zone 4: Cleanup Zone: Keep cleanup simple by having a designated dishwashing zone in your kitchen that includes a double sink basin with pullout faucet fixtures; adding integrated garbage disposal systems will ensure further convenience when dealing with food scraps quickly and easily. As far as dishware is concerned, built-in soap dispensers or under-sink dishwashers can come in handy if you'd prefer not to store extra dishes around the home after every mealtime cleanup session!
Zone 5: Refreshment/Serving Area: Set up an adjacent eating area (or peninsula/bar seating) where drinkware can be stored nearby on a shelf or in small drawers below countertop level - keeping containers full of snacks on hand (like granola bars or chips) is a great way to encourage quick refreshments during those busy days! For extra convenience during gatherings – especially parties – consider opting for beverage centers near this section equipped with wine coolers or mini fridges filled with ice-cold drinks 40 guests can enjoy throughout the day without leaving the kitchen!
There are two basic types of kitchen designs, and each is a good fit for different spaces. The U-shaped and L-shaped kitchens are designed to maximize floor space and allow you to move freely throughout the kitchen.
The one-wall kitchen is a good solution for a smaller, more compact space. It's also a great idea for studio apartments and lofts. A one-wall kitchen includes cabinets installed on a single wall, with upper and lower shelving.
Scandinavian design ethics
Many think kitchens are simply functional spaces, but that is not the case. Kitchens are also a canvas for interior design. Scandinavian Kitchens, known for their natural materials, bold graphics, and comfort, challenge the conventional aesthetics of the traditional kitchen.
Traditional Scandinavian kitchens are often white and feature natural shades of wood. Wall cabinets are not often present in Scandi kitchens. Instead, open shelving or floating shelves are used. Often, potted plants are placed on walls or used as decorative.
Scandinavian Design emerged in the mid-20th century. The Bauhaus Movement influenced it in Germany and Art Nouveau in France. Modern furnishings were becoming more accessible to the average population. A major impact on the development of Scandi design was the introduction of pre-fabricated modern furnishings.
Frequently Asked Questions
Do you want to make a mistake in your kitchen renovations?
Remain patient. Renovations take time.
It is a huge undertaking that can significantly affect your daily life. Before you begin, you must do your research and ensure you are prepared for the process. This comprehensive guide will help you avoid any regrets during your kitchen renovation.
Consider your lifestyle first.
Choose suitable materials according to your goals and budget.
Choose the right countertop in terms of maintenance and not just look.
The right appliance is the one that fits your needs in size and style.
The right backsplash will suit your needs.
You should inspect the interior of your cabinets, walls, and drawers.
Communicate with your kitchen designer and contractor throughout.
Your storage solutions can be customized to fit your appliance or gadgets
Don't get your lighting lightly.
Don't ignore kitchen ergonomics!
Don't waste any space in your kitchen design.
Select the perfect cabinet finish and color.
Before you commit, plan.
Hire the right people for the job.
Don't forget you need a place for your garbage.
Are white kitchens no longer in style?
White kitchens can be a great choice for homeowners who want a modern design in their homes. White kitchen cabinets and appliances have been a popular choice since the 1980s, when designers began using them. White kitchens continue to be a favorite trend in interior designing.
However, some experts believe that the all-white kitchen trend has peaked and that homeowners are ready for something new. There is an increasing demand for bolder, colourful kitchens.
A white kitchen is a timeless choice for anyone who wants to make a statement in their home. You should remember that trends can change, so you might consider a more timeless design for those who plan to stay in their home for many years.
How do I figure out my budget for a kitchen renovation?
These guidelines can help you determine your budget.
Begin by estimating the cost for materials required to remodel. These include countertops, tiles, countertops, cabinetry and paint.
Calculate the average cost of labor for your region. Add this to your total budget.
Add up the cost of all materials and labor required to complete the project. Divide that number and multiply it by the square footage in your kitchen. This will give you an estimate of the cost per square foot.
Add any savings that you expect from doing some work yourself, or purchasing materials at a discounted price.
For unforeseen expenses, you can add an additional contingency of 10-20 percent.
These are estimates only. For a more accurate estimate of your kitchen remodel cost, contact a professional.
With these guidelines in mind, you can develop a budget for your kitchen renovation. Keep in mind that costs will vary depending on what materials you use, how big your project is, and other factors.
Statistics
External Links
How To
Ten small kitchen remodels you can make yourself.
Small kitchen renovation ideas you can do yourself
A small kitchen remodeling project is not always something you'd like to tackle. If you're looking to make your home feel new, this is the right thing to do. There are many things you can do to improve your kitchen that don't cost too much. Here are some easy kitchen renovation ideas.
You can add a backsplash to your kitchen. It adds colour and style while making your kitchen look bigger and cleaner.
Get rid of old cabinets. They protect your walls from splashes, spills, stains, etc. They also give your kitchen a sophisticated look. If you notice that your cabinets doors have become worn, it's time to replace them.
Paint your kitchen. Not only will it improve the look of your kitchen, but you'll also save money. It gives your kitchen a modern look and gives it new life. Plus, it'll be easier to clean as well.
Update your appliances. It's a great idea to update your appliances. Not only will it increase their lifespan, but it will also make them look more modern. If you know exactly which appliance needs to be updated, then you can do it. If you don't know how to set these appliances up, ask someone.
Add a counter - A bar area is another option. This not only gives you more work surface, but it also allows for entertaining guests.
Create a breakfastnook - A breakfastnook doesn't require you to spend a lot of money. A small table and a few chairs are all you need. You can also add cushions to make it more comfy.
A pantry is essential in every kitchen. It's an excellent place to store food, meals, and other household items.
Install an island. An island gives your kitchen more space and offers ample work surfaces. It is also very attractive when combined to wood flooring.
A wine rack can be added to any home. But you can also use them in your home. They come in different designs and sizes. You can choose what best suits your kitchen.