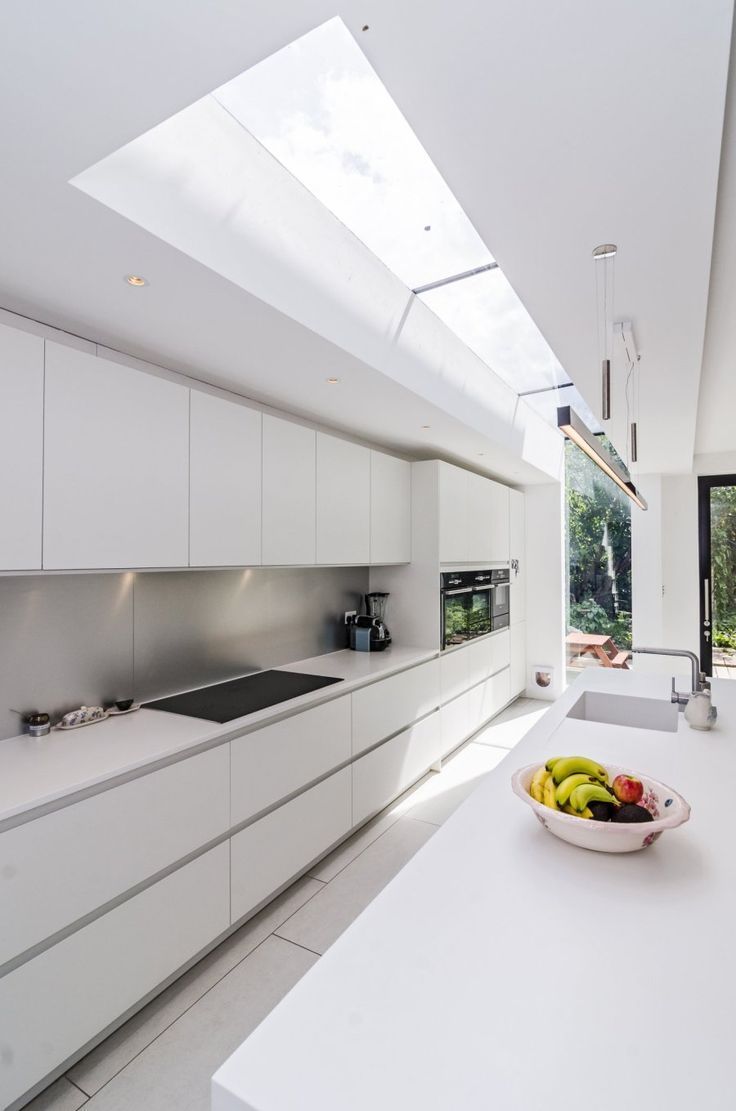 Designing modern kitchens doesn't have to be complicated!!
The modern kitchen is like an artist's canvas - full of possibilities and potential. You might have a great idea of how to design your dream kitchen, but how do you turn that vision into reality in a matter of days? Fortunately, with cutting-edge tools and technologies, it has become easier for anyone to design and construct the kitchen of their dreams.
A traditional U-shaped kitchen may be a thing of the past, but it is not entirely extinct. U-shaped kitchens can still make more efficient use of space while allowing users to create an open feel with plenty of countertop space. If you're looking to stick with a tried and true design while implementing some contemporary elements, there are still many benefits to consider in selecting this layout.
Wood has been used as an essential material in kitchens for millennia. Yet, many different ways to showcase wood in modern kitchens still exist. Whether you opt for light or dark-coloured wood, laminate or solid surfaces, nothing brings beauty and warmth into the room like natural materials. The key is to pick the right material for your style preference and budget.
Modern kitchens often feature mirrored islands as a stunning combination of form and function. A mirrored island instantly creates depth by reflecting the entire kitchen environment within one easily accessible area; plus, it looks beautiful too! This feature isn't just about appearances; mirrored islands are incredibly practical, too and can act as an ideal surface for preparing food without having to stand at a separate table when you need more room or extra ingredients quickly.
Geometric prints have been making a major comeback recently in contemporary kitchens - they lend different prints, such as abstract art print designs on walls that offer lots of character along with pops of colour here and there throughout the space, which provide various levels of interest visually interesting areas throughout your cooking workspace! Plus, these prints aren't just an eye-catching addition but also contain lots of versatile usage in various other rooms around your house if appropriately chosen, like being employed as accent rugs on floors or tablecloths, accessories tablescapes etc.
U-Shape
The U-shaped kitchen may be a thing of the past, but they are not entirely extinct. One of the many benefits of the U-shaped kitchen is the ability to re-configure the kitchen from top to bottom. You can move your appliances to a central location or rearrange them into a more ergonomic layout. Taking the time to re-organize your kitchen properly will be well worth the effort.
The best way to go about this is to enlist the help of a professional. A good designer will have you on your way in no time. In addition to the snoozing above, you'll be able to check off each item on the to-do list. This is also the perfect opportunity to re-evaluate your priorities and redefine your goals.
Wood surfacing
There are many different ways to showcase wood in a modern kitchen. The key is to pick the right material to match your style and budget. While a wooden countertop is an obvious choice, a few other options are worth considering.
Wood can be used to create visual magic. For instance, a slatted texture can add depth and interest to your kitchen. You can also use an enviable natural grain for a touch of sophistication.
In addition to the obvious, you can also opt for engineered wood products that are durable and easy to maintain. Some designs even stand up to harsh kitchen treatments. These countertops are ideal for busy households. They can even be recycled for a more sustainable alternative.
Adding a wood-surfaced island to your kitchen may give your space a warm, organic feeling. It's also a great way to make a space feel larger.
Mirrored island
Modern kitchens often feature a mirrored island as a stunning combination of form and function. This eye-catching design is one of the most dramatic ways to make a smaller space feel larger and brighter. It can reflect the fireplace in your living room or add a pop of colour to your kitchen.
White cabinets, shaker or modern, work well with a mirrored backsplash to create a clean and fresh backdrop. Whether you prefer a subway tile or mosaic, a mirror backsplash can instantly elevate your design. Adding a mirror or bevelled mirror tile backsplash will also help you increase the amount of light in your kitchen.
Mirrored islands can be used in many styles, including transitional and traditional. Some of the best uses of a mirrored island include adding pops of colour to your kitchen or reflecting a chevron pattern wooden floor. These contrasting surfaces will make your island stand out and allow you to use it as a prep area or for gatherings.
Geometric patterns
Geometric patterns have been making a comeback in contemporary kitchens. These prints are not only an eye-catching addition to a kitchen but also have a lot of versatility. You can use them to make small accents or use them throughout a room. Whatever you choose, the patterns can make a space feel bright and colourful.
One of the most popular geometric patterns today is the hexagon. This tile features a glossy surface that reflects light. Its smooth edges allow the light to bounce off the surface, giving a dazzling effect.
Another popular geometric pattern is the triangle. Triangles can make a bold statement, but they can be overpowering if you use them on too large of a scale. Using one or two triangles is a better option.


Frequently Asked Questions
Which is the best layout for a kitchen?
If you have the space, an L-shaped Kitchen with an Island is the best.
Do I really need to remodel my kitchen?
Remodeling a kitchen can be costly so make sure to do your research and consider what it will mean for your home. Remodeling your kitchen requires you to take into account many factors, such as its age and condition, your family's requirements and lifestyle, and your finances.
A kitchen remodel is a great option to make your space more functional. If your family is growing, a remodel could provide more storage space and counter space. A well-designed kitchen can add value to your house.
A kitchen remodel is not always the right solution. You don't have to remodel your entire kitchen if it's in good shape and the layout is perfect. Instead, make small changes to improve the space's look and feel without spending too much.
How do you decide if a kitchen renovation is right for your needs? Here are some questions to consider:
Is your current kitchen functional? Remodeling your kitchen can help you get the space you need.
Is it time to update your kitchen? If your cabinets are falling apart or your appliances are outdated, it may be time for a change. These problems will most likely require a complete kitchen remodel.
Do you want to add value to your home? It doesn't matter if your goal is to sell soon, a kitchen renovation can be a substantial investment. A well-designed, attractive kitchen can make your house more appealing to potential buyers. It will also increase its resale market value.
How much money do you have available? You need to set a realistic budget before you start a kitchen remodel. Be sure to factor in the cost of materials, labour, and permits when estimating the total cost of your project.
If you answered "Yes" to any questions above, a kitchen remodel could be right for. Talk to a qualified contractor about your plans to get started. It is possible to create the kitchen you desire with careful planning.
You shouldn't regret your kitchen remodel.
You must be patient. It takes time to renovate.
Renovating your kitchen is a big undertaking that will significantly impact your daily life. It is important to do your research so that you are fully prepared before you embark on the renovation. This comprehensive guide can help you avoid making mistakes during your kitchen remodel.
Consider your lifestyle first.
Consider your budget and goals when choosing the right materials.
The right countertop is not only beautiful, but also easy to maintain.
Choose the right appliance in terms of size and style.
Select the best backsplash for your needs.
You should inspect the interior of your cabinets, walls, and drawers.
Communicate with your contractor and kitchen designer throughout.
Make your storage options adaptable to your appliance and gadgets
Don't get your lighting lightly.
Don't ignore kitchen ergonomics!
You don't want to waste space in your kitchen.
Pick the right cabinet finish and colour.
Before you commit, plan.
The right people are hired for the job.
Remember to put your garbage away.
Do I need to move during a kitchen remodel?
If you enjoy eating takeout, it doesn't mean that you have to move. However, if your children or pets are young or have special needs, you may want to consider living at a family member's home or staying with a friend during renovations. This will allow you to relax and not have to worry about your children being in danger or getting hurt. Additionally, you will have a better chance of keeping your sanity by not having to deal with construction noise and dust every day. When you're ready to move, ask your contractor for a written estimate. It will help you plan your relocation according to their timetable.
Should cabinets be lighter/dimmer than walls?
There are no set rules. This is strictly personal and would depend on your kitchen's size, shape, and style. If your kitchen is small, dark cabinets may make it seem smaller and cramped. A lighter cabinet will make the space feel bigger and brighten it.
Dark cabinets can make a large kitchen feel more intimate and cozy. While lighter cabinets will open up the space, they will be more functional.
It is up to the homeowner to choose the right cabinet colour and design for their kitchen. A professional designer can help you make the best choice for your space if you are still not sure.
What's the most expensive part about a kitchen remodel project?
This question is not definitive as the costs of kitchen remodels can vary widely depending on what project they are. Experts estimate that a high-end kitchen remodel will cost anywhere from $40,000 to $100,000. Planning a major remodel of your kitchen could mean a large cost. If you are not making structural changes, custom cabinets will often be the most costly part of your kitchen remodel.
Custom cabinets account for 25-35% of total cost. Granite countertops, flooring, and appliances are other high-ticket items. If you're on a tight budget, you may need to prioritize which pieces of your kitchen you want to update the most. You can still have a luxurious kitchen with minimal investment if you do your research.
However, there are many ways to reduce costs. Focusing on cosmetic changes is a better option than major structural overhauls. For example, you might refinish cabinets or install new countertops rather than gutting the entire kitchen. If you're looking for a larger project to save labor costs, you might be able to do some of it yourself.
There are options that will make your kitchen remodel less expensive, no matter what your budget. It is possible to create the kitchen you desire without spending a fortune.
Statistics
External Links
How To
How to design a beautiful kitchen you'll love to cook in for years
Kitchens should have a mix of aesthetics, practicality, and functionality. It is important to plan your space carefully so you feel at home and can prepare delicious food, entertain friends, or just relax after a hard day.
These are some ideas to help you design your dream kitchen.
Find the layout that meets your needs. The three most popular kitchen layouts are L-shaped, U-shaped, and galley. L-shaped kitchens work well for entertaining and can comfortably accommodate multiple cooks. U-shaped kitchens are perfect for families who spend a lot of time in the kitchen, as they provide ample counter space and storage. Galley kitchens can be used in small spaces and are easy to navigate.
You can research different cabinetry options to help you choose the best quality. There are many choices available, depending on what your budget is. You will reap the benefits of investing in high-end cabinets. They'll last longer, look better, and provide superior protection against moisture, humidity, and temperature changes.
Use a color palette that makes you smile. Whether it's your favorite shade of green or pink, find a color palette that will bring color and life to your kitchen. You can use bright colors or soft pastels. You should make sure it matches your rest of the room.
You should find a balance between beauty and function. Your kitchen doesn't have to be all-encompassingly beautiful. Sometimes, you have to be more concerned with functionality than aesthetics. This doesn't mean that you can't add some decorative elements to your design. To create a focal point, mix glass, brass, chrome, ceramic, stone and wood.
Create a comfortable environment. When designing your kitchen, remember that comfort should always come first. You'll spend a lot of time in this space, so it needs to feel inviting and welcoming. Add some seating areas, lighting fixtures, and other features that will help you relax after a long day.
Make sure to store everything. Your kitchen should offer ample storage space for all your cooking tools, utensils, dishes, pots, pans, etc. When remodeling your kitchen, you should consider adding more cabinet space.
Include a pantry. A pantry allows you to efficiently organize and store food items. A separate pantry will allow you to store more supplies and prevent clutter from building up in your kitchen.
A new flooring option might be worth considering. The style and feel you choose for your kitchen's flooring will have a significant impact on how it looks. There are many different materials to choose from. For small spaces, it may be possible to have the same flooring throughout the house.
Plan for expansion. Insufficient space for future growth is one of the most common mistakes made when remodeling a kitchen. Consider adding another walk-in or sliding closet to expand your countertop space.
Allow plenty of light. You will enjoy your kitchen more if you can see it. If you intend to use your kitchen as a gathering place for the family, make sure you let plenty of natural light through your windows.
Use energy-efficient appliances. Remodeling your kitchen should be about energy efficiency. This means replacing old appliances with more efficient models.
Budget smart. Make sure you do an in-depth analysis of your finances before shopping for appliances, cabinets, and other kitchen items. Knowing how much money you can afford will help you narrow down your options and save you money in the long run.
Designate a space for entertaining. Whether you love hosting dinner parties or like to entertain friends over drinks, a designated dining area will give your guests somewhere to gather and socialize.
You can incorporate an island. A island is a great addition to your kitchen. It provides additional prep and eating space, as well as serving as a place to store beverages, snacks and other small items.