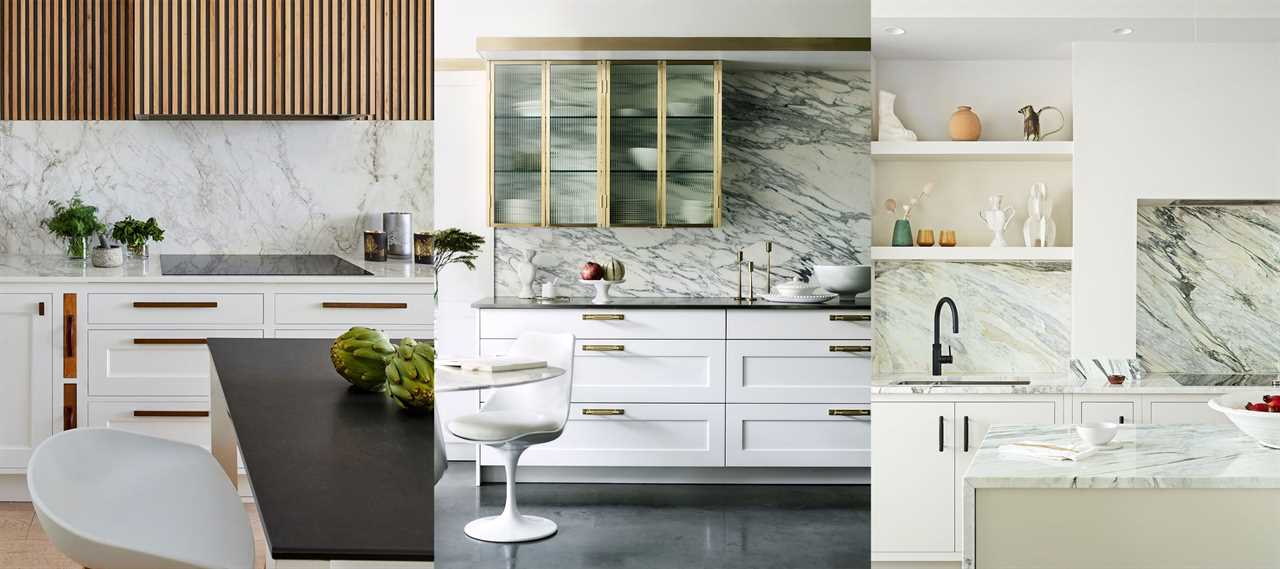 White kitchens are crisp, clean, and elegant. They also provide a great blank canvas for adding other colours that will add character to the space.
If you have an all-white kitchen, try adding a touch of wood to the design. This will warm up the room while accentuating the subtle undertones of the white cabinets.
All-white kitchen ideas to transform your home into a cozy haven.
It's no secret that white is one of the most versatile colours in design. It's bright, clean, and timeless. It has the power to make almost anything look more modern and stylish, even a kitchen.
Featuring crisp white walls, natural textures, and subtle decorations helps create a tranquil ambiance while also adding plenty of visual interest to the design.
Choose sleek materials like stainless steel or glossy white appliances to give off an updated look. From ceramic tiles to granite countertops, you can use all-white accents in the space that won't overcrowd it but provide visual contrast.
Alternatively, Let nature take center stage by favouring light wood flooring instead of airtight tiles for something unique yet cozy appeal.
For spots where you need some shine add brass cabinet pulls for shimmer detail and texture or metallic pendant lights as stunning focal points on the room atop sleek marble backsplash for extra sparkle on high-traffic zones such as kitchen islands or breakfast benches for dining luxury tone up!
An alternative way to fill this essential zone is by incorporating large windows here which infuse natural light throughout boosting overall home ambiance plus offering enough ventilation if added with low maintenance window treatments eliminating floral patterned fabrics and going with sheer drapes instead that keep things light but sophisticated!
Introduce greenery wherever possible by selecting side tables featuring whimsical shapes combined with hanging wall plants giving your room a vibrant yet calming feel surrounded by vintage finds like pottery bowls or terracotta containers you bring alive warm vibes that are improved when added cushion throw pillows combining lemony hues mixed up with pastel colors too crystalizing posh impression yet still comfy charm throughout this stylish desiner dreamy all-white kitchen sanctuary!
Batten Board Ceiling
A battenboard ceiling is a great way to add texture and dimension to an all-white kitchen. It looks sophisticated and elegant, and will never go out of style.
The key to a successful board and batten installation is to measure all of the gaps and seams before you buy the wood. Then, caulk them all and fill in any nail holes with wood putty.
After installing the battens, you can choose to paint them the same color as your wall or a different one. The choice is yours, but painting the boards a contrasting color will add more contrast to the design and make them stand out.
Round Wooden Table
A round wooden table is a great way to add a touch of style to your all-white kitchen. It offers a clean design pallet to work with and can be paired with any decor theme.
It is also known to encourage better interaction and conversation because people sit at an equal distance from each other. This ensures that everyone has a chance to get involved and feel included.
Black Quartz Countertop
You don't have to settle for a traditional white-on-white kitchen look. With options like black quartz countertops, you can easily add a beautiful and modern twist to your kitchen.
Black quartz countertops create an eye-catching contrast against white cabinetry while still providing the same longevity and durability of more traditional options. The sleek modern lines of these counters pair with the minimalistic design of all-white kitchens, making them perfect for creating an ensemble that's both functional and fashionable.
If you're looking for added elegance, black quartz countertops boast a stunning sheen that will take any white kitchen up to the next level. Add subtle accents such as stainless steel appliances or natural wood stools to complete the look, and you'll have a kitchen design that is sure to stand out from the crowd!
Achieve the look of a pristine white kitchen with the addition of an elegant, full-height backsplash. The countertop runs seamlessly up the wall and can be further complemented by white cabinetry for a heightened effect.

Horizontal Top Cabinets
Whether you're creating an all-white kitchen for a modern or traditional design scheme, incorporating horizontal top cabinets is a great way to make it feel more unique and exciting.
Horizontal grain cabinetry is a popular choice for contemporary or traditional kitchens since it offers a clean style finish that looks sleek and sophisticated.
This style of wood can be used as a base cabinet and will also work well in an island area as it has a widening effect. This will give you better storage space and will create a new appeal in your kitchen.

White Honeycomb Backsplash
Backsplashes are a wonderful accessory for any kitchen. They're a great place to add a personal touch and can be used in any design style. I still think you should go full height with extending your countertop but you have other options.
White herringbone backsplash tile is a stylish way to make an ordinary white kitchen seem more sophisticated. Choose a lighter grout to create a more subtle pattern appearance or contrasting grout for a bold herringbone look.
Another option is to go with a geometric tile. This simple backsplash makes a huge statement, and it's easy to do yourself.
Gold Accents
Adding gold to an all-white kitchen is a great way to add some glamour and sophistication. From cabinet hardware to lighting fixtures, there are a wide variety of creative ways to introduce this popular metallic finish to your space.
To get started, focus on the items you use every day. A few golden trays, candleholders, and utensil holders can help you create a cohesive look that works well with the rest of your decor style.
Chrome Accents
The best way to get a white kitchen's oomph is to pair it with chrome accents, such as a sleek faucet or modern pendant lights. It's also a good idea to tack on a touch of class with a few design elements such as a smart storage solution, or a smart layout that enables you to access your most frequently used items with ease.
The most important thing to remember when putting together your dream kitchen is to keep things in perspective, and not to overdo it on the gimmicks front.
Frequently Asked Questions
Can a stove and refrigerator be side by side?
Yes, they can be side by side if there is enough space for both appliances. However, this is not considered a great practice in kitchen design. It can create wasted space and make the kitchen cramped. It is better to have the refrigerator and stove in separate areas of the kitchen. This facilitates a more efficient workflow while making the kitchen feel bigger.
Do you want to do floors first when remodeling a kitchen?
This will depend on how your floor is installed. Before you install floating floors, it is important to first install your counters/cabinets. Install your glue-down or nails-down flooring first, then your cabinets. Consult a professional to determine which option is best suited for your kitchen remodel.
What are the key characteristics of an ideal kitchen design?
A well-designed kitchen should have ample storage space. It should also be big enough to cook, clean, entertain, and so on. A well-designed kitchen also has easy access to natural light and ventilation.
Statistics
External Links
How To
How do you select a kitchen remodelling company?
These tips can help you make the right choice when hiring a Kitchen Remodel contractor.
Ask your friends to share their experiences with different contractors. It's a great way for contractors to receive honest feedback. Ask them about the quality of workmanship, professionalism, cleanliness, and punctuality. You might also ask them about any problems they had with the contractor. How did they resolve the issues?
Contact several companies and request quotes for your project. Be prepared to provide a detailed description of your project and explain why you want to hire someone else. Tell them you're looking for someone who specializes in kitchen remodels. You can also provide details about the area, including the type of material used and its size. Tell them exactly what type of finish (i.e. countertops, cabinets and backsplash, flooring). You can also mention any other specific items you'd like to see done during the project. You might want to install new appliances. Do you want a particular style of cabinetry? Is there a unique feature like a wine refrigerator or built-in microwave oven that you would like included?
Find out whether the company has insurance and worker's compensation coverage. Look online to determine if the contractor has any trade associations. It is always best to choose a company that is a member of a respected organization.
To discuss your project, schedule a meeting with the contractor. Ask them questions about their experience, qualifications, and methods. Find out what their approach would be to your project as well as the timeframe they envision.
Get references from previous clients. When hiring a contractor, don't just take his word for it; ask him for referrals. Call the recommended people from his reference list. Tell them you'd like to speak to them about their positive experiences working with this contractor.
Look at reviews left by past customers on sites like Yelp, Angie's List, and Houzz. These websites are used by many homeowners to leave reviews once they have completed projects. So, if you see many positive reviews, you can rest assured that you'll get a quality job.
For a detailed plan of your kitchen remodel, consider hiring a designer. A skilled designer will be able to tell you what your kitchen should look like. The latest trends in kitchen design will be mastered by the designer.
Helpful Resources