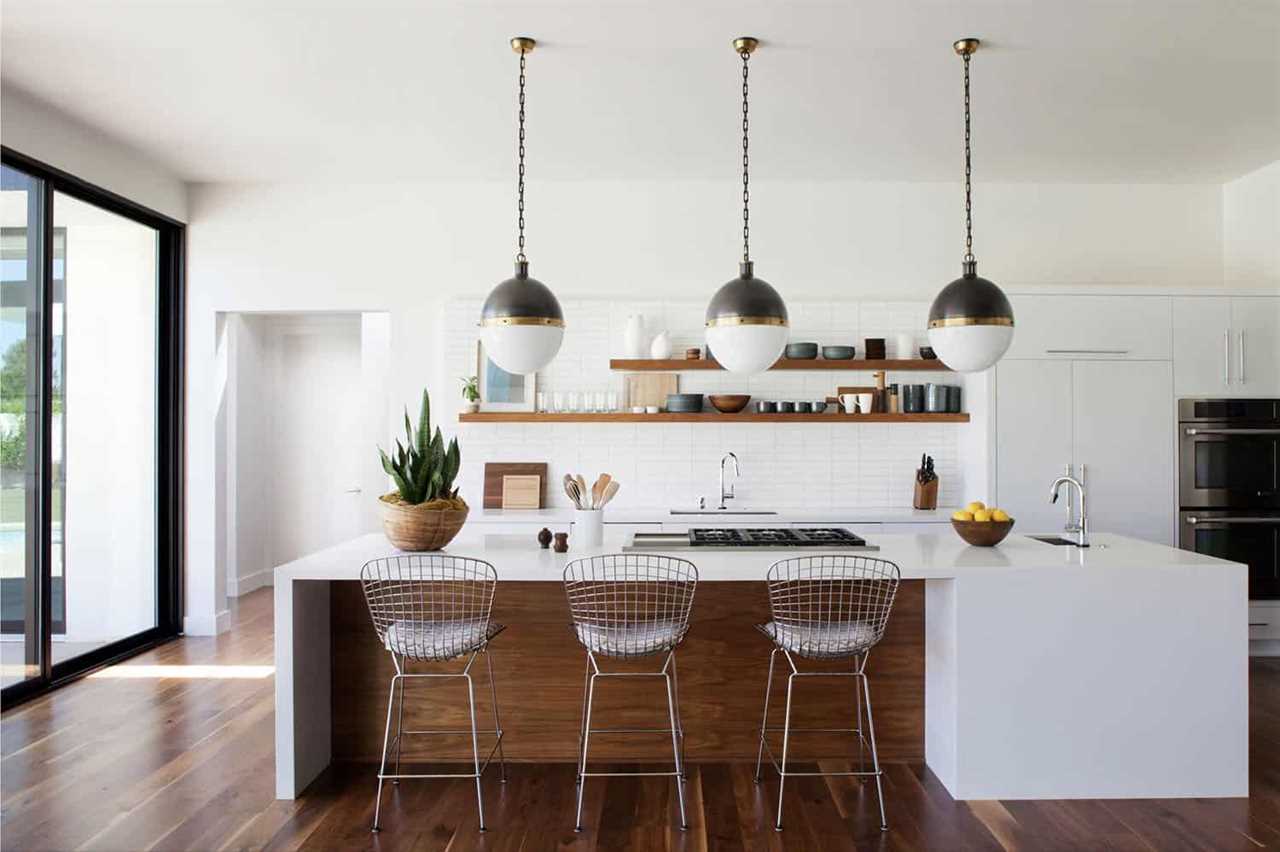 Mid-century modern kitchens feature clean lines & spacious cooking areas, often featuring natural materials like wood & plants. They also often use geometric shapes & large windows to bring the outdoors in.
The colour palette for a mid-century modern kitchen can be vibrant & bright or a muted neutral to balance the space. Try adding pops of colour to your cabinets or a backsplash with big patterns.
What is Mid Century Modern?
Mid-Century Modern (MCM) is a design style that was popular during the 1940s - 1960s. It emphasizes simplicity and organic forms, with clean lines, strong geometries, and minimalistic ornamentation. Natural materials often take center stage, such as wood and stone surfaces.
How can I capture the essence of MCM in my kitchen?
To capture the essence of MCM in your kitchen, start with proportionality. Space should be carefully balanced between storage basics like cabinetry, appliances and counter space. Consider incorporating natural material finishes like wood or stone – countertops of marble, stainless steel or concrete are also popular choices. Use pieces that reflect modern design innovation from this period such as geometric patterns, bright colours or interesting shapes for your backsplash or cabinets.
What kinds of lighting can I use to create a mid-century vibe?
Lighting plays an important role in setting the right atmosphere in any room, particularly when it comes to MCM designs. Mid-century kitchens are often outfitted with simple overhead pendant lamps or sconces set against sleek metal or wooden fixtures that cast light across an area to target specific spots throughout a space. Track lights hung along ceilings offer directional spot lighting while recessed fixtures provide softer warmer tones around tables and seating areas—allowing you to customize the mood of your kitchen according to task or occasion.
Can colour help evoke a vintage feel?
Colour is an essential part of any MCM kitchen design; select hues that capture a timeless yet bright energy to add charm without overwhelming your space. Paint colors like pastel blues and greens intertwined with mustard yellows were frequently utilized during the mid-century era; avoid using overly vivid colours for splashy designs as they will instantly age any modern look attempted here. Décor accessories can also play into this palette: planters filled with vibrant flowers for pops of colour on tabletop surfaces; dust off those bold wallpaper prints then adds paintings made by well-known artists from this period for added character!
Pendant Lighting
Whether you're looking for subtle mood lighting or bright task lighting, pendant lights are a wonderful addition to any mid-century modern kitchen. They inject vibrant style and make a statement without being overbearing.
The mid-century modern style features clean lines, gentle organic curves, and admiration for different materials and forms. This style has been admired by world-renowned designers to this day and will continue to attract attention in your home as well.
Appliance Paneling
Panelled appliances are a great way to add an element of personal style to your kitchen. They can also help you keep your space up to date since appliance finishes can quickly go out of style.
The industrial trend of stainless steel has long been popular with homeowners, but now matte finishes like black, white, and bronze are becoming more popular.
If you're looking to make your large kitchen appliances blend in with the rest of the cabinetry, you can consider using wood appliance panels. These panels are designed to fit over your refrigerator, specialty beverage center, and dishwasher.
Open Shelving
Open shelving is a popular feature in mid-century modern kitchens. It balances storage with style and helps keep your space clean.
However, it is important to remember that open shelves require more maintenance than closed cabinets do. They will need to be wiped down frequently to prevent dust from accumulating on them.
If you want to make a statement with your open shelves, consider using a variety of different materials and textures. For example, you can use wood, glass or metal to create a sleek and organic look.
Brick Walls
Brick walls are a classic element in mid-century modern kitchens. They're versatile, durable and incredibly easy to maintain.
When paired with other retro elements like wood panelling, pendant lighting and open shelving, they can give your kitchen a classic look without going overboard.
But before you start adding bricks to your kitchen wall, there are a few things you should know.
Geometric Patterns
Geometric patterns are a big part of mid-century modern design. They were a way to add interest and style to a room without overpowering it.
Using these patterns on your walls, floors and backsplash can help bring mid century modern swagger to your kitchen. Whether you choose tiles or wallpaper, these geometric patterns can make your kitchen stand out from the rest.
Retro Wall Art
If you want to add a touch of vintage charm to your mid-century modern kitchen, consider adding retro wall art. These pieces often feature bold colours and iconic designs from the 50s, 60s, and 70s and can give your space a unique and playful feel.
If your mid-century modern kitchen has dark wood cabinets, try painting them a lighter shade to balance out the room's colour scheme. You can also choose an open shelving style to display potted plants or your favourite vintage glassware and serve ware.
Painted Island
In mid-century modern kitchens, a painted island can be a great way to add some colour. It can also create a cohesive look when paired with neutral cabinetry.
The key to painting your island is finding the right shade for your kitchen. If you're feeling bold, go for a vibrant colour like Bermuda turquoise or Kensington green.
If you want to keep the colour scheme simple, choose white or a light wood tone like walnut. Both options from Naturals by Mod Cabinetry will help you achieve a mid-century modern look while still maintaining the warmth of classic designs.
Frequently Asked Questions
What is the best kitchen layout?
If you have enough space, an L-shaped kitchen with a island is the best layout.
How can you design an open-concept kitchen layout?
A simple workflow is the best way to organize an open-concept area. This means that all appliances should be placed close together. It makes cleaning much easier if you have all your appliances in close proximity. Keep all cooking utensils close together for easy access. Keep food storage near the point of use. This will make it much easier to find what you need and organize your food.
Should I leave my home during the kitchen remodeling?
If you are good at taking out, you don't need to move. If you have children or pets, it might be a good idea to stay at a relative's house or friend's house while the renovation is underway. This way, you won't have to worry about them being in the way or getting hurt. Also, it will make your life easier if there isn't any construction noise or dust. When you're ready to move, ask your contractor for a written estimate. You can then plan your move according to their schedule.
What is the first thing to do when renovating a kitchen?
This is a difficult question to answer because every kitchen remodeling project is different. Each one will require a different approach. But, it is important to get a clear understanding about your needs and goals before you begin designing a kitchen.
This could include meeting with a professional architect or designer to discuss your plans, measuring your current kitchen space and/or creating an inspiration folder or mood board with images of kitchens you like.
Once you have a clear idea of what you want, you can start to plan your budget and get estimates from potential contractors. To ensure that you don't get off track, it is essential to set a timeline and avoid stressful surprises.
A professional kitchen designer or architect will most likely lead the design planning process. It's important that you know your goals and what you need from the beginning. This will ensure that your final design is in line with your expectations, and that you are satisfied with the end result.
Measure your kitchen space by measuring the total square footage as well as the dimensions of each area such countertops, cabinets and appliances. It's a good idea if you note any existing structural elements such as load-bearing walls and support beams that cannot be removed. You might consider creating a floor plan layout to help you envision how the new design will look.
A mood board or inspiration folder is great for narrowing your kitchen design ideas. Pinterest is a fantastic resource for finding kitchen images you love. You can also cut out pages from magazines to collect fabric swatches, paint chips and other visual elements that you like. This will provide you with valuable information as you begin to plan your renovation.
Once you have a good idea of what you want your new kitchen to look like, it's time to start thinking about the budget and timeline. How much do you have to invest in this project? What are your must has and what do you prefer to have? When are you ready for the renovations to begin? Answering these questions will allow you to move forward in your planning process.
If you plan to renovate your kitchen yourself, consider the cost for materials, appliances, cabinets and countertops. Also, consider how long it will take and what disruptions the project might cause to your daily life. If you're hiring a contractor to handle the renovation, they will likely provide you with a detailed estimate that includes all necessary costs and a timeline for completion.
It is important to establish a timeline for your kitchen remodel in order to stay on track and avoid any unexpected surprises. Once you have a clear idea of when each phase should occur, it is possible to start putting together a detailed schedule. Be sure to allow some flexibility in your timeline in case unexpected delays arise.
You can create a detailed plan for your kitchen remodeling by following these steps. This will allow you to ensure the end result is what you want and the entire process goes smoothly.
Should cabinets be lighter or darker than walls?
There are no rules to This. This decision is entirely personal and will depend on the size and shape of your kitchen. The general idea is that if your kitchen is small, dark cabinets can make it feel even smaller and more cramped. Brighter cabinets will brighten the space, making it appear larger.
Dark cabinets can make a large kitchen feel more intimate and cozy. While lighter cabinets will open up the space, they will be more functional.
It's your decision to create the kitchen you desire and to pick the cabinet color that best suits that look. A professional designer can help you make the best choice for your space if you are still not sure.
How long should a kitchen renovation take?
Once the cabinets have been made, it should take approximately three weeks for the work to be completed. However, the design and/or custom cabinet manufacturing can take months. The whole process can take several month from start to completion.
Statistics
External Links
How To
Here are 8 steps to kitchen remodeling for beginners:
These steps are essential for a DFY project that is suitable for Beginners.
When remodeling your kitchen, there are three main steps. First, determine whether you are looking to complete a full renovation or simply replace fixtures and appliances. The second step is to determine what type of kitchen design best suits your lifestyle. The third option is to hire professionals or do it yourself.
The next step in the process is to decide on what kind of kitchen design you want. Do you want a traditional, open-plan kitchen with cabinets countertops and appliances or a modern one? Maybe you prefer sleek modern designs and less storage. Are you interested in installing a large island or adding a breakfast bar? After you have chosen a layout and finished material, you will need to hire a professional contractor for the job.
Many homeowners feel overwhelmed by all the decisions that must be made before starting a kitchen remodel. Fortunately, there are some easy ways to get started.
Decide if the Kitchen Needs to Be Renovated or Replaced - The first step to deciding whether you need to make a kitchen overhaul or replace existing fixtures and appliances is to decide what your budget is. If you're looking to remove the existing space and begin from scratch, it's important to account for demolition costs, new cabinets countertops, flooring, appliances, lighting, and other expenses.
You Need to Calculate Your Budget. This includes everything from the cost of labor and supplies to the amount you can afford.
Select Your Layout - After you have determined your budget, it is time to decide where you want to put your kitchen. There are many layout options, including open-concept, peninsula, galley and corner. Each layout has pros and cons. It is crucial to find the one that meets your needs.
Select your Materials - After you have chosen the layout for your kitchen, it is time to pick materials. This includes everything from countertops and cabinets to flooring, lighting, and lighting. There are many options. It is important that you research and choose the best material for your requirements.
Hire professionals - After you have chosen your materials, you will need to find a professional that specializes in kitchen construction. A good contractor will ensure everything goes smoothly, from design to installation. You don't need to worry about problems throughout the process. They also provide follow up services.
Enjoy! You've reached the final phase of the kitchen remodel. Enjoy! If you're happy with your new kitchen, it won't be hard to spend hours creating delicious meals. If you aren't sure about the layout of your new kitchen, don't be afraid to take some time to experience it. It will give a better idea if your remodel was worth it.
Helpful Resources