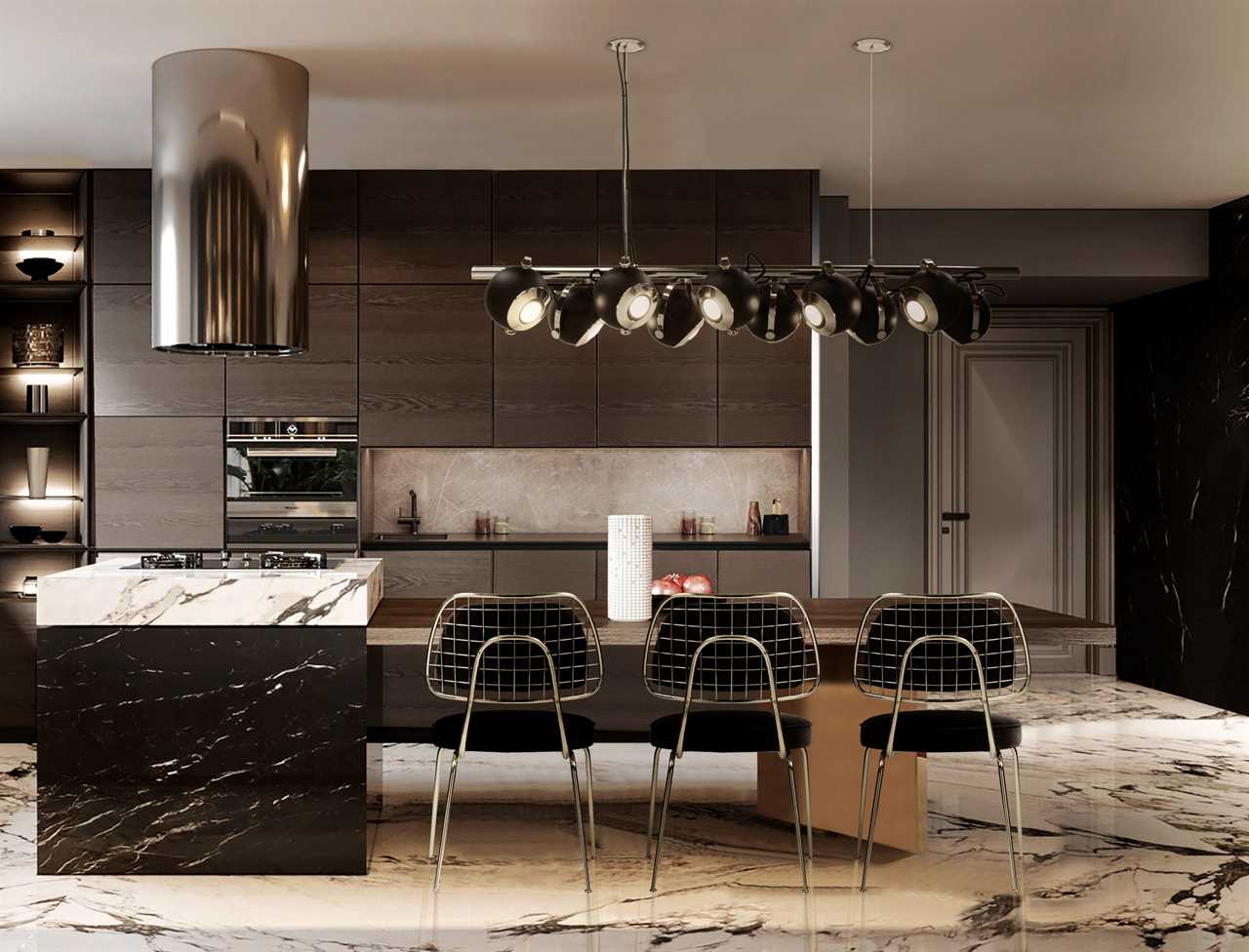 The secrets of creating a luxurious kitchen and making luxury living your reality in 2023.
My story begins with a tantalizing possibility - creating luxury living in 2023. I discovered a secretive and exclusive collection of decor transformation tips that can simultaneously make an ordinary kitchen look ultra-luxurious, captivating, and calming.
It all started when I was deep in my research for designing this epic kitchen dreamscape – something truly spellbinding that no one had ever seen.
I quickly learned that transforming ordinary kitchens into luxury havens is easier said than done.
But luckily, I chanced upon a treasure trove of secrets from insider experts and professionals who quietly changed conventional homes into elite ones.
Some of my discoveries were introducing cutting-edge colour and pattern combinations to install customized cabinetry or combining different types of lighting to create captivating negative space!
Plus, I uncovered more ways to add subtle and striking changes by mixing textures like marble with spectacular materials like acrylic glass.
With all these different insights available, suddenly, everything began to click. And soon after, I was able to map out an easy-to-follow blueprint that you can use to bring the same sense of luxury into your kitchen too!
Once you know how to tweak your cabinets with concealed drawers, easily incorporate natural elements like wood flooring into the overall design or spruce up window views with simple yet eye-catching curtains… life will become so much simpler!
And here's the significant part - you don't need to worry about breaking any bank either! All it takes is time and knowledge – curating items wisely if on budget – and finding creative alternatives instead of splurging hundreds of dollars without making much difference...
Let me tell you a little secret: modern luxury isn't what it used to be; you don't have to buy expensive furniture. Choose affordable pieces instead and strategically place them while still achieving breathtaking results!
The time has come for you to take control and reinvent your space today – keep reading and learn how anyone can make luxe spaces their reality in 2023.
Sustainability is a luxury in the year 2023!
Start by understanding the crucial principles behind sustainable design. Search for resources that minimize their carbon footprints, like recycled building materials or locally-sourced natural materials like stone, wood and tile. Then plan your budget taking into account not just the initial cost but also the budget for energy bills over time.
Focus on efficiency with kitchen features that focus on the conservation of electricity, gas, water etc... Go further, looking into countertops made from recycled glass and appliance selections that give you fewer toxins exposure as compared to conventional design practices—looking ultra-modern? Consider induction cooktops as an alternative to electric stoves.
Picking fixtures & hardware can do wonders when you choose stainless steel & bronze items instead of chrome and nickel since these are more environmentally friendly metals yet provide a stylish look too! Lookers newly introduced the first completely zero runoff paint, which is highly green with no hazardous elements in its environment and user impacts. So this could be another great option if you want a one-of-a-kind designer look for your kitchen makeover project.
Once all the basics are covered, giving attention to simple details makes all the difference when going eco-friendly! Opting for LED lighting instead of halogens consumes less energy and offers a beautiful glow that makes your cozy decor a little dreamy! Also, there are many options for eco-friendly furniture; choose repurposed or upcycled furniture beautifully handcrafted from recycled woven walls made from jute rope bringing breathtaking boho vibes!
Choosing sustainable methods while designing home spaces might seem intimidating at first, but here's more good news: vintage accents give every eco-friendly interior design its unique character and charm – so have fun being creative by reusing antiques & designs found in old things rather than buying new ones. Plus, it doesn't always have to be super expensive either! Get some trendy DIY hacks quickly customizing those salvaged pieces with a splash of colours or adding simple decals nailing perfectly contemporary looks.
Lighting
Adding luxurious kitchen lighting is a great way to bring sparkle to your home. It's an easy upgrade that can instantly change the mood of your kitchen. Plenty of dimmer switches allow you to switch between different lighting schemes quickly.
One of the best ways to brighten your kitchen is LED lighting. These lights provide an ambient glow that mimics the effect of a glowing wall. The LEDs also act as temperature-cooling lighting sources. You can leave them on during the evenings for guests to enjoy.
Another popular way to light up your kitchen is with pendant lights. They come in many shapes and sizes. Hanging pendants are a good choice if your kitchen has low ceilings.
Cabinetry
Cabinetry is a critical element in the design of a luxurious kitchen. The cabinets in a luxury kitchen are typically made with top-quality materials. Some brands offer custom cabinetry to fit your home's needs and desires.
Often, the best way to give your kitchen a high-end look is to choose custom cabinetry. This gives your home a look that will last.

Custom-built storage will help keep your kitchen clutter-free. You can also add a touch of luxury with stunning hardware. From leather pulls to quartz knobs, hardware can be the room's focal point.
Natural materials
Natural materials are a big part of the luxury kitchen. From the stone counters and cabinets to the tiled floor and backsplash, a few simple design choices can elevate any cooking area.
Wood is the material of choice for most designers. While it can be hard to maintain, it is durable, long-lasting, and beautiful. There are wide varieties of wood, including acacia, maple, cherry, and oak. A high-quality wood countertop can add value to any kitchen.
Granite and marble have long been favourites for wealthy homeowners. Their durability and natural thermal storage capacity make them great for countertops and backsplashes. Marble is also a very elegant-looking material. However, it's important to remember that they are not immune from chipping, scratching, or staining.
Walk-in pantry
A walk-in pantry can be the chef's dream. It can be the place to store and prep your meals and a showcase area for your wine collection. However, it should be functional and practical, not just beautiful.
Considering a walk-in pantry, you should consider how much space you need. The National Association of Home Builders reports that walk-in pantries are growing in popularity. They can cost anywhere from $750 to $5,500 in 2023.
Walk-in pantries are usually designed to be an extension of the kitchen. But, they can be a stand-alone space and serve as an entertaining area. For instance, a home with a walk-in pantry can be a great place to hide a mess after a dinner party.
Accents
One of the most excellent parts of my new home is the kitchen. The layout is sleek and modern, and the decor consists of a medley of eclectic antiques and contemporary fixtures. I like the tiling and open shelving. There are a few odd octave items here and there, but I'm still oohing and aahing about the space. The best part is there are a few people to hang with, and I can cook up a storm in the process. After all, my wife is an avid cook! Luckily, our dining room table is next to the kitchen, so I'm in no danger of burning off too much steam.
Frequently Asked Questions
When remodelling a kitchen, do you do floors or cabinets first?
It all depends on how you install your floor. Before you can install floating floors, make sure to install your counters and cabinets first. If you want to use glue-down, or nail-down flooring, first install the flooring and then place your cabinets. It is a good idea to consult a professional before deciding which option you prefer for your kitchen.
In the kitchen, where should a refrigerator go?
The refrigerator sits between the stovetop and the sink. It should be near the cupboards to ensure that you can easily access what you need.
***
Are you required to obtain planning permission for your kitchen renovation?
If you want to make changes to electrical or plumbing connections, you will need an electrical permit and a plumbing permit. A building permit may be required if structural changes are being made to your walls.
You should always check with your local authority before beginning any work if you aren't sure if you need planning permission.
Which layout is best for your kitchen?
An L-shaped kitchen with an island is the best kitchen layout if there's enough space.
What is a reasonable budget for a Metro Vancouver kitchen remodel?
Metro Vancouver kitchen remodels are feasible with a budget of $50,000. This would include new appliances, countertops and cabinets, flooring, as well as lighting.
Can you DIY a Kitchen Renovation
If you're planning a kitchen renovation, you may wonder if you can do it yourself. You can, but here are some things to keep in mind.
First, a kitchen remodel can be a huge undertaking so ensure you have the necessary time and energy. Before you start, it is important to be proficient in plumbing and carpentry. You also need to decide which aspects of your kitchen you would like to change, such as adding additional storage space, replacing old appliances, or improving lighting.
Once you've planned your kitchen renovation, it's time to start shopping for materials. You'll need to decide on cabinets, countertops, flooring, and appliances.
A good idea is to think about the layout of your kitchen before you go shopping. This will help determine how much space and what layout is best for your kitchen.
You have many options when it comes down to cabinets. There are two options when it comes to cabinets: ready-to-assemble cabinets (RTA) or custom cabinets. RTA cabinets come in various styles and colours and are usually less expensive than custom cabinets.
It's important to ensure safety and security when undertaking large-scale remodeling projects. For renovations, it might be a good idea to check the local building codes.
Although you might be tempted to do a major renovation yourself, it is best to hire professionals. You can save time and money by hiring a professional contractor. You will also be able to work with professionals to ensure that your project runs smoothly.
Statistics
External Links
How To
How to select a kitchen renovation contractor
These tips can help you make the right choice when hiring a Kitchen Remodel contractor.
Ask your friends for feedback on their experiences working with contractors. It's a great way for contractors to receive honest feedback. Ask about their work ethic, professionalism, cleanliness and punctuality. Ask them about their experiences with contractors. If they had problems with the contractor, how did they solve them?
Request quotes from several companies. Provide a detailed description about your project and tell them why you want to work with someone else. Tell them you're looking for someone who specializes in kitchen remodels. You can also provide details about the area, including the type of material used and its size. Tell them exactly what type of finish (i.e. countertops, cabinets and backsplash, flooring). Do not forget to tell them any special requests you have for the project. If you are looking for new appliances, this is a good example. Do you prefer a particular type of cabinetry or style? Is there something you'd like to see in your cabinetry, like a built-in wine fridge or microwave oven?
Find out whether the company has insurance and worker's compensation coverage. You can check online to find out if the contractor is a member of any trade associations. It is always a good idea to partner with a reputable company.
To discuss your project, schedule a meeting with the contractor. Ask questions about their qualifications and experience. Find out how they would approach your project and what kind of timeline they envision.
Ask for references from past clients. You shouldn't just trust a contractor; get references. Call the people he recommends by going through his references. Ask them if you can speak with them about their positive experiences working for this contractor.
You can see past customer reviews on sites such as Yelp, Angie's List and Houzz. These websites are used by many homeowners to leave reviews once they have completed projects. You can be sure that you will receive a quality job if there are many positive reviews.
Hire a kitchen designer to help you plan your kitchen remodel. A kitchen designer who has experience will know the best way to design your kitchen. The latest trends in kitchen design will be mastered by the designer.