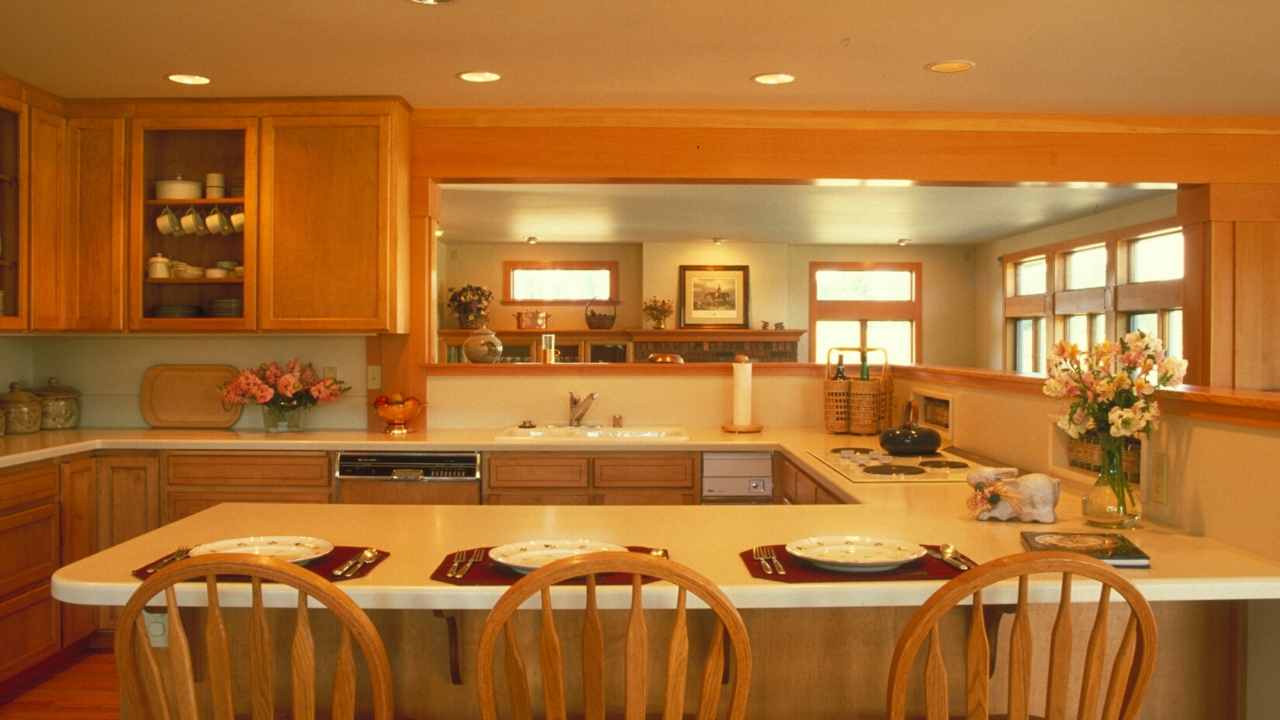 The coastal style is a sophisticated take on the escapist fantasy of a beach house. It combines light colors and natural materials like weathered wood to create airy, open-plan spaces with feel-good beach vibes.
Whether you're looking to update your kitchen in 2023 or are starting from scratch, there are plenty of transitional coastal kitchen design ideas that can help you achieve a chic and timeless look.
Combining Transitional and Coastal Styles
Whether you live on the coast or are inspired by the seaside, coastal decor can be used in any kitchen. It features a natural color scheme, simple materials, and accents that feel fresh and new.
Transitional design, on the other hand, combines the best of traditional and contemporary styles into one style that feels timeless and sophisticated. It's the ideal choice if you want to combine modern furniture with classic elements like wooden farmhouse tables.
It's also a great option for homeowners who don't know which design aesthetic they want to go with. Shaw and Moyer recommend using neutrals, like white linens, and keeping pattern mixing to a minimum for a simple yet sophisticated look.
Adding touches of coastal-inspired design can be as simple as a switch in lighting fixtures or backsplash tile, or as elaborate as painting cupboards in light colors to mimic the look of weathered wood. You can also find a wide variety of accent pieces, from driftwood mirrors to antiqued light fixtures and hardware, that will add a touch of coastal flair to your kitchen.
Natural Light
Natural light is an essential part of a coastal kitchen design, and it can be incorporated into the interior space in several ways. Not only does it make the room feel larger, but it also boosts your mood, improves vitamin D levels, and helps keep down energy bills.
In addition, it can be used to create a beautiful accent wall or backsplash. The best way to add natural light to your kitchen is through large windows and glass doors.
This is a great way to bring a coastal feel into your home. A neutral white interior is the perfect choice for this look, but if you want to go bolder, consider a navy blue or nautical blue color palette.
Natural Textures
Natural textures bring a touch of nature into a home that can be calming and refreshing. Using natural wood, stone, or metal in a kitchen can add an earthy feel that will help create a relaxed atmosphere.
A beach inspired backsplash is one of the best ways to capture this look and add a coastal element to your kitchen design. Glass tiles in blues, greens, and whites mimic the color of sea glass and create a beautiful backsplash that evokes the feeling of being on the beach.
Transitional coastal kitchen designs are also perfect for anyone who wants to create a calm and inviting space in their home. Adding rattan or wicker furniture in light cottons and linens can help to maintain the open and airy feel of this design style.
Coastal and transitional kitchen design ideas can be combined to create a stylish and functional space in 2023. These ideas can be used to create a unique and inspiring space that you and your family will love for years to come!
Coastal Accents
Incorporating coastal accents in a transitional coastal kitchen design is an easy way to create a soothing beach-inspired atmosphere. White cabinets and blue accents may be used to create a classic coastal feel, but you can also incorporate natural materials such as wood and stone.
You can even paint the base cupboards in a sea-like shade for a unique look. This treatment will make the kitchen feel more modern while still retaining the coastal vibe.
Adding woven elements such as jute rugs, rattan pendant lights, and rope shelving can help create a more coastal feeling. These pieces are often inexpensive and can be found at home decor stores or craft stores.
Using a light blue paint on the base of the cabinetry can also add to the coastal feel of a transitional kitchen. The color creates a light, airy feel and makes the kitchen feel more spacious.
Frequently Asked Questions
Are you looking to remodel your kitchen?
It is a good idea to begin by creating a list with your requirements and wants. This will help you communicate with potential kitchen designers, remodelers, or contractors.
Budget: How much money can you afford to buy a new kitchen?
- Size. What size is your kitchen? Do you need to expand your kitchen or reduce its size?
Layout: How is your kitchen laid out? Do you think it is necessary to modify the layout of your kitchen.
- Appliances: Which appliances would you like in your new kitchen?
- Storage. How will you store all your food in your new Kitchen?
Style: What kind of kitchen style do you prefer? Traditional, contemporary, rustic, etc.
- Colors: What colors do you want for your new kitchen?
After you have taken all of these factors into consideration, you can begin planning your new kitchen.
Do cabinets need to be darker or lighter than the walls?
There are no rules for This. This decision is entirely personal and will depend on the size and shape of your kitchen. The general idea is that if your kitchen is small, dark cabinets can make it feel even smaller and more cramped. Lighter cabinets will help brighten the space and make it feel larger.
Dark cabinets are great for large kitchens. They can create a warm, intimate feel, while lighter cabinets will keep it open and airy.
It's your decision to create the kitchen you desire and to pick the cabinet color that best suits that look. Consult a professional designer if you are still uncertain. They can help you make the right decision for your space.
Are you able to put flooring underneath kitchen appliances?
Flooring under kitchen appliances is an important consideration. You can ensure that your countertop is at the correct height.
Do I first need to install a counter or backsplash?
Installing a backsplash and countertops requires that you first install the countertops. This will allow for you to measure and cut your backsplash to match the countertop. This countertop is essential for backsplash installation.
Statistics
External Links
How To
How much will kitchen remodeling cost in 2022? [12 Tips for Saving Money]
How much can you spend on a brand new kitchen? The average cost of a new kitchen ranges between $40,000 and $100,000 depending on how large the space is, as well as what features you select. You can make your home more attractive if you plan to sell it soon.
Here are our top twelve ways to save money without sacrificing on quality.
Secondhand appliances
DIY projects
Repurpose old furniture
Use salvaged materials
Hire a pro to do the work
Donate your stuff
Sell online
Paint colours can be creative
Go green
Please keep things simple
Make it unique
Flexibility is key
Helpful Resources