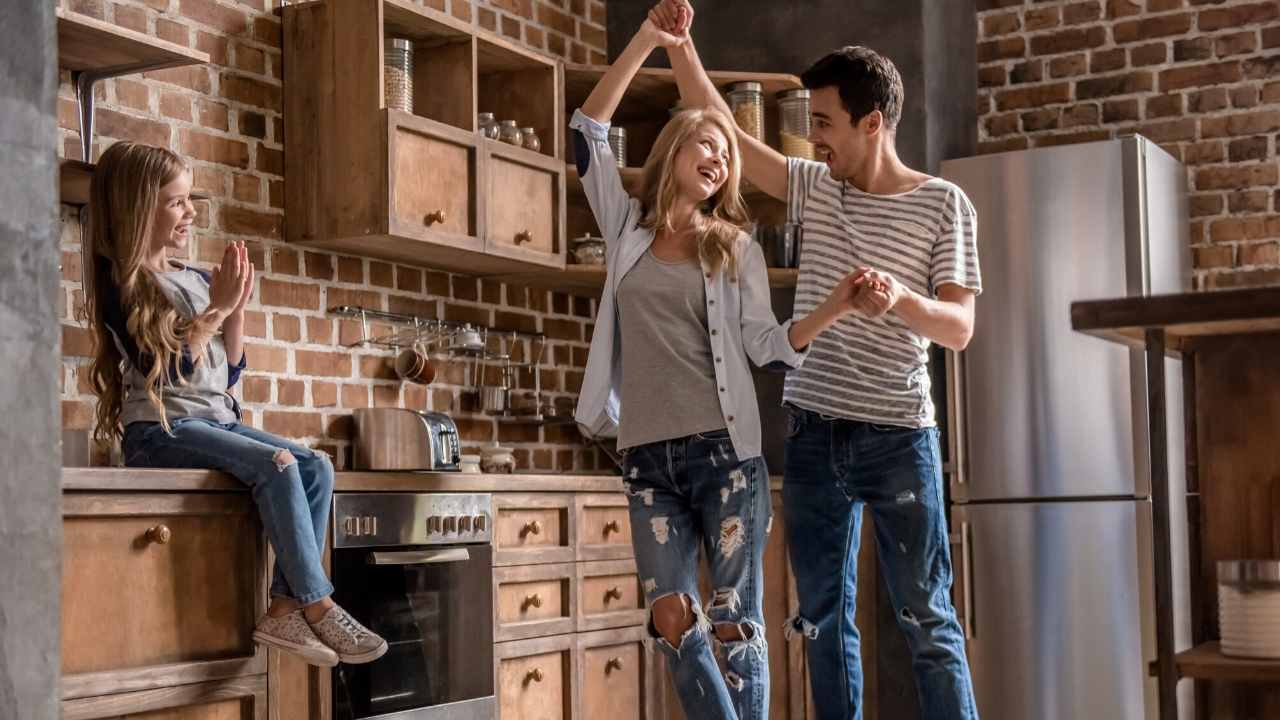 Creating a boho minimalist kitchen design doesn't have to be an intimidating task. With a little creativity, you can create a unique and personal space that will feel just as relaxing as you want it to be.
A few pops of color can artfully draw the eye to your favorite elements, and you can use natural materials such as plants or rugs as part of your design scheme.
Use neutral colors
Modern minimalist kitchens use neutral colors as the foundation for a clean and sophisticated aesthetic. Pops of color are used sparingly to create interest and contrast.
For a neutral base, use warm earth tones such as light browns and beige. These shades will make the kitchen feel calming and uplifting while complementing the colorful pieces you put in your space.
You can also use green cabinets to add an extra dose of style and color to your space. This is expected to be a popular trend in 2023 and can be paired with other brighter shades for a look that is both contemporary and elegant.
Another way to bring a bit of natural flair into your kitchen is by adding plants. Plants not only make your kitchen feel more spacious and airy but they are also a great way to cleanse the air.
A woven wall hanging can break up the monotony of a monochromatic boho design. You can also add a colorful rug that will bring some zest and vibrancy to your room.
Add soft furnishings
Adding soft furnishings to your minimalist kitchen design is an important step in making the space feel more comfortable and inviting. From throw pillows to curtains, soft furnishings can help bring the room together while enhancing its aesthetic appeal.
Often overlooked, these fabrics add style, color, texture and vibrance to any room. They are essential in creating a warm, inviting space and should be carefully chosen.
To add a boho vibe to your kitchen, try using patterned fabric to create a funky look. A bold floral print can give your space a unique touch and make it more playful.
Another way to add a fresh, natural element to your kitchen is by using plants. They're a great way to bring the outdoors in, and they can filter toxins out of the air.
A simple way to incorporate a bit of Bohemian flair into your kitchen is by using an artisan jute area rug. It's a stylish way to protect your floor from scratches and other damage, and it adds a comfy place to stand when you're ready to cook or work.
Bring the outside in
Whether your style is traditional or modern, bringing the outside in can help to create a more relaxed, carefree feel. You can do this by incorporating plants, artwork, or handmade items into your kitchen.
If you're going for a more eclectic feel, try using multiple colors in your walls. Depending on the style you're going for, you can paint your wall in red, yellow, orange, or any other bright hue to add vibrancy to the space.
You can also use a lighter shade on an alternate wall to make it stand out more. Having an eye-catching wall color can be a great way to create a boho minimalist kitchen design that's unique to your home.
The kitchen is one of the most used spaces in your home, so it's important to make it as comfortable and inviting as possible. Adding soft furnishings, natural fabrics, and other comfort-inducing materials is becoming more popular in 2023.
Natural lighting
When creating a boho minimalist kitchen design, it's essential to bring in natural light. This can be done through the use of window treatments or by installing a ceiling fan to direct the air into the room.
Another way to bring in natural lighting is by installing a chandelier. This lighting fixture can help to transform the look of your kitchen and add a sense of drama and vibrancy.
Using an oversized pendant is another great way to make a statement in your design. It's also a great way to add color to your space.
A large chandelier can be the perfect focal point in your kitchen design, and it's a good idea to incorporate this into your Boho minimalist kitchen decor.
Adding greenery is a great way to complete the look of a boho-themed kitchen. Not only does it bring in the vibrant colors that are often associated with the style, but it can also purify the air and promote relaxation.
Frequently Asked Questions
How can I make my white kitchen more interesting?
There are several ways you can make your white-colored kitchen more inviting. One way is to add coloured appliances and backsplash tiles. Another option is to incorporate wood elements if you want to add warmth to your white kitchen. For a warm, natural glow to white surfaces, you can use warm LED lighting. No matter which route you take, it is important to add your personal style to make your kitchen stand out.
White kitchens are in fashion again?
White kitchens are becoming increasingly popular with homeowners who want to make their homes modern. White kitchen cabinets and appliances have been a popular choice since the 1980s, when designers began using them. White kitchens are one of the most popular trends in interior design.
Experts think the all-white kitchen trend may be over, and homeowners are looking for something more. There is an increasing demand for bolder, colourful kitchens.
It's not likely that a white kitchen will go out of fashion anytime soon if you're thinking about installing it in your home. You should remember that trends can change, so you might consider a more timeless design for those who plan to stay in their home for many years.
Do you have the skills to DIY a kitchen renovation?
You may be wondering if you can actually do your own kitchen renovation. Yes, it is possible. But there are some important things to keep in your mind.
First, a kitchen renovation can be a big project, so make sure you have the time and energy to tackle it. It's also essential to have some basic carpentry and plumbing skills before starting. It is also important to determine which parts of your kitchen you want to improve, such as additional storage, new appliances or lighting.
Once you've mapped out your kitchen renovation plan, it's now time to start looking for materials. You'll need to decide on cabinets, countertops, flooring, and appliances.
A good idea is to think about the layout of your kitchen before you go shopping. This will help you determine how much space you need and what type of layout would work best in your kitchen.
You have many options for cabinets. You have the option of custom or ready-to assemble cabinets. RTA cabinets are available in a variety of styles and colours, and they tend to be less expensive than custom cabinets.
It is essential that you ensure safety and security during large-scale renovations. You might also want to verify the local building codes before you start any major renovations.
It is tempting to try to complete a large-scale remodel on your own. But it is better to get professional assistance. Hiring a contractor who is qualified will save you both time and money. A professional can help you ensure that your project runs smoothly.
Which place should a fridge be located in the kitchen
The refrigerator sits between the stovetop and the sink. The refrigerator should be located close to the cabinets so that you can quickly find what you need.
Do you need planning permission for your new kitchen?
Electrical and plumbing permits are required for any changes to the electrical or plumbing locations. If you are making structural changes to your walls, you may need to apply to a building permit.
It's always best for you to verify with your local authority if you are unsure if you require planning permission before you start any work.
Are Kitchen Remodeling Costs Worth it?
Remodelling your kitchen can be a great way to improve the look and feel of your home, but it can also be costly. There are many things to consider when remodeling your kitchen.
There are many factors that you need to consider when deciding whether or not remodeling your kitchen is a good idea. The first is your home's market value. If you plan to sell your home within the next few months, you need to ensure that any remodel costs are recouped in sale price.
Cost of the remodel is also important. Kitchen remodels that are high-end can run into the thousands, so be sure to have the funds to pay for them. Costs may not be as important if you aren't planning to sell your home.
Consider how much you will be using your new kitchen. You will need to make sure your new kitchen is able to accommodate large parties or prepare large meals. If you don't plan on using your kitchen much, you might be able to get by with a more minor, less expensive remodel.
These are some helpful tips to get you started if your not sure where to begin.
Decide whether you want to build new cabinets or replace existing cabinets. Kitchen remodels can be expensive if you add new cabinets. And, if you choose to replace all the cabinets, you'll need to remove them before installing new ones.
You should choose your colours carefully. Colour choices can affect the overall appearance of your kitchen, so choose wisely.
Decent whether you plan to replace the flooring. If you plan to sell your house soon, you might want to leave the flooring alone. A freshly painted concrete slab can give your house a new look.
Add storage space. You can make your kitchen more usable by adding shelves, drawers, and cabinets.
Lighting is important. Recessed lights installed above the sink, stove, and refrigerator can brighten dark corners in your kitchen.
Add Appliances. Replacing your old fridge with a newer model can reduce energy consumption. This can increase the resale price of your house.
Make sure you include enough electrical outlets. A majority of kitchens have only one or two outlets. This means that you won't have the ability to plug in your blender, microwave, or other appliances.
Do not forget to look at the water lines. Water pipes are hidden behind walls and floors. Before you start any work, make sure to inspect for leaks.
Clear out clutter. Although your kitchen may be cluttered already, it is possible to make things more organized. Get rid of anything not essential.
Get estimates from multiple contractors. When shopping around, compare prices based on square footage, material type (cabinets vs. stone), and the number of doors and windows.
Financing options are available. Many people opt to finance their kitchen remodels. You can avoid paying interest and make payments.
Have a good idea of how long you plan to live in your house. You should invest more in your kitchen the longer that you are there.
Keep track. Keep track of everything that happens during the construction process. Use a notebook to record measurements, materials, and construction techniques.
Plan ahead. It is important to plan ahead. This will make the entire project easier to visualize.
Statistics
External Links
How To
How to design a kitchen you'll love cooking in for years to come
Kitchen designs should be designed with functionalities, aesthetics, and practicality. So that your kitchen is a place you feel at ease, can cook delicious food and entertain friends and family, and where you can unwind after a long day, you should plan carefully.
Here are some tips to help plan your dream kitchen.
Find the layout that meets your needs. The three most popular kitchen layouts are L-shaped, U-shaped, and galley. L-shaped kitchens work well for entertaining and can comfortably accommodate multiple cooks. U-shaped kitchens are great for families who spend lots of time in the kitchen. There is plenty of storage space and counter space. Galley kitchens can be used in small spaces and are easy to navigate.
Look into different types of cabinetry options and choose quality products. There are many choices available, depending on what your budget is. It will pay big dividends to invest in high-end cabinets. They will last longer, look great, and provide better protection against humidity, heat, and other temperature variations.
Go with a color scheme that makes you happy. It doesn't matter if you prefer a particular shade of pink or green, choose a color scheme that brings life and color to your kitchen. You could use bright colors, or soft pastels. You should make sure it matches your rest of the room.
Look for a harmonious balance between beauty, function, and style. Your kitchen doesn't have to be all-encompassingly beautiful. Sometimes it's more important to put emphasis on function than beauty. However, you don't need to forget about decorative elements. Use a mix of glass, chrome, brass, ceramic, stone, wood, etc., to create an interesting focal point.
Create a comfortable environment. Comfort should always be the first thing you consider when designing your kitchen. It will be a place where you spend a lot of your time, so it must feel comfortable and inviting. You can relax after a long day by adding seating and lighting fixtures.
Make sure to store everything. The kitchen should provide ample storage space for all your cooking tools and utensils. When remodeling your kitchen, you should consider adding more cabinet space.
Include a pantry. You can store and organize food items in a dedicated pantry. Additionally, a separate place where you can store additional supplies will help to keep clutter away from the rest of your kitchen.
Look into new flooring options. The flooring you choose will significantly impact your kitchen's overall look and feel. There are many choices. For small spaces, it may be possible to have the same flooring throughout the house.
Plan for expansion. Insufficient space for future growth is one of the most common mistakes made when remodeling a kitchen. If you're considering expanding, add another walk-in closet, install sliding doors, or expand your current countertop space.
Be sure to let plenty of light in your kitchen. You will enjoy your kitchen more if you can see it. So, if you plan on using your kitchen as a family gathering place, ensure you leave lots of natural sunlight streaming through the windows.
Install energy-efficient appliance. The most important aspect of kitchen remodeling is energy efficiency. This means you need to replace older appliances with more energy-efficient models.
Be smart about your budget. Make sure you do an in-depth analysis of your finances before shopping for appliances, cabinets, and other kitchen items. Knowing how much money you can afford will help you narrow down your options and save you money in the long run.
Create a space to entertain. Whether you love hosting dinner parties or like to entertain friends over drinks, a designated dining area will give your guests somewhere to gather and socialize.
Incorporate an island. An island is a great addition for any kitchen.
Helpful Resources