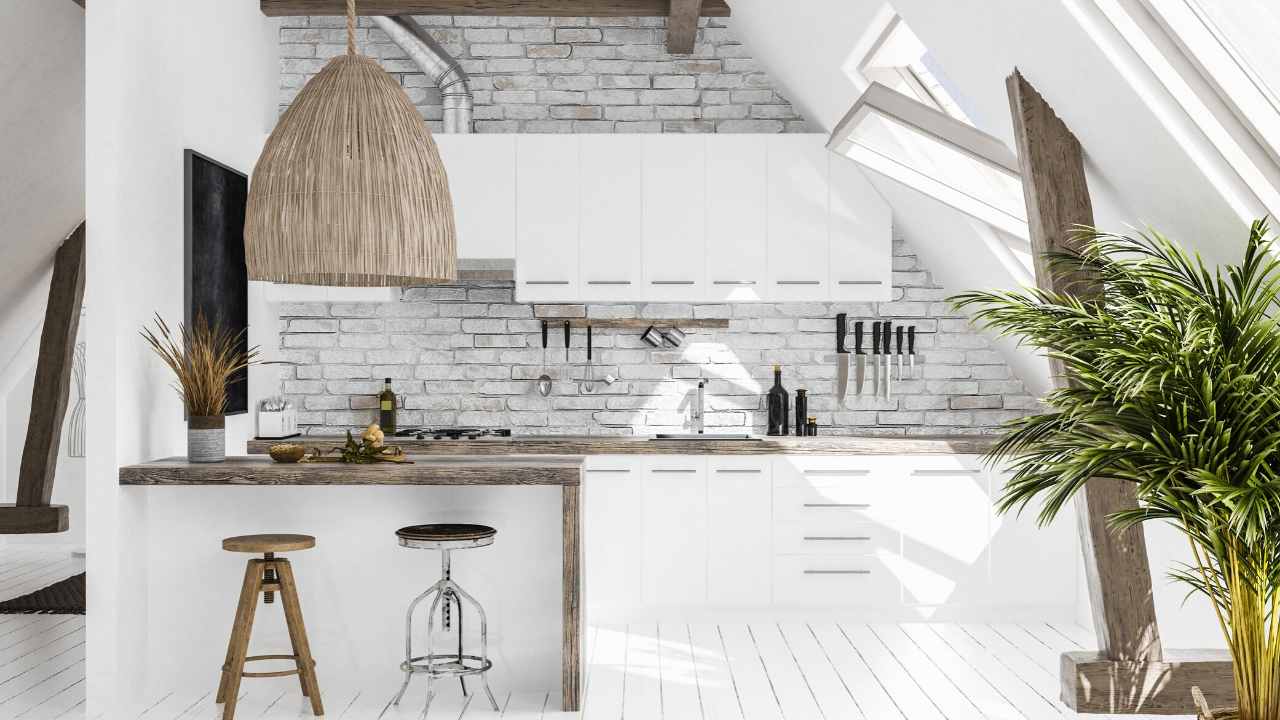 If you're a DIY enthusiast and want to design your own kitchen, there are plenty of creative and budget-friendly DIY ideas out there.
From storage solutions to unique backsplashes, here are five 2023 kitchen design ideas you should consider. These tips will help you create a beautiful and functional kitchen for your home.
1. Organize Your Storage Containers
Organizing your storage containers can be a nightmare. They take up a lot of space, can be difficult to stack properly, and the lids can get in the way of other containers you want to store together.
To keep your kitchen tidy, designate one cabinet or drawer just for food storage containers. Then organize them by size and type, and make sure each container matches its lid.
Another hack for keeping containers organized is to cram them into a magazine holder (or even an old shoe box) and use the inside of the holder as a shelf for the lids. This is an inexpensive and easy-to-do solution that will really help you keep your storage containers clean.
Alternatively, you could install tension drawer dividers or slide-out cabinet inserts that will help separate your containers and make it easier to find what you're looking for. Either way, it'll be worth the time and energy to get your drawers tidy.
2. Hang Wire Baskets
Hanging wire baskets can be a great way to add texture and color to your kitchen. They can also be used for storing small items and accessories.
Use a wire basket on the wall in your bathroom to keep toiletries, hand towels, soap and other necessities within reach. It's also a great way to keep counter space clutter-free!
You can even use a two-tier wire basket in your bathroom to store extra toilet paper and other essentials.
You can also hang a wire basket to hold fresh produce in your kitchen. It will save you space on your countertop and add some decorative flair to the room.
3. Add a Stained Wood Splashback
While a kitchen splashback is usually designed to protect the walls above worktops from oily spills and water damage, it can also add a lot of colour and design interest. It's a great choice for busy families, and it can be easily fitted on a budget with the right tools and instructions.
When installing a splashback, you'll need to prepare the wall surface first. Ensure it's flat, non-porous and dust free.
After the splashback is in place, you'll need to seal it to the wall with a layer of silicone sealant to create a waterproof seal. 'Remove any masking tape once the adhesive has cured,' advises Paul Graham, installation expert at Bushboard (opens in new tab).
The material used for a kitchen splashback can make a big difference to its appearance. For example, a porcelain splashback is stain- and scratch-resistant, and will look fresh and clean for years to come.
4. Create a Rustic Floor
With the kitchen design trend focusing on comfort and functionality, a rustic floor can create a warm and comfortable atmosphere in any room. It can also be used to create a unique and personalized kitchen on a budget!
Rustic flooring is often made with wood, ceramic, or marble. These materials add to the natural appeal of a rustic interior and are easy to install.
For a more authentic, worn look, try distressed wood floors. These are specifically designed to look like aged floorboards, with splits, knots and texture.
Alternatively, you can choose to use a more high tech flooring option such as laminate or luxury vinyl planks (LVP). These options have been developed to faithfully replicate the contours and grains of real wood, while also offering a range of styles to suit any decor.
5. Add an Island
Adding an island to your kitchen is a great way to maximize counter space and add storage. A kitchen island is also a handy place to store appliances like a microwave, fridge or dishwasher.
Choosing the right shape is essential when planning your DIY kitchen island design. Taking into account the size and layout of the room, location of services, traffic flows and the efficient working triangle will help you decide which shape best fits your needs.
You can also consider adding an additional drawer to your island, which is useful for storing extra crockery and cutlery. These can be placed in the center or along one of the sides, allowing you to easily access your food and drink at all times.
Frequently Asked Questions
Which color goes best in a white kitchen
While a white kitchen looks great in a variety of colours, walnut works well with it. The space will feel warm and inviting thanks to its natural wood tones. These two colors will complement each others well. If you're looking for something a little more subtle, black and grey are also great options. If you're looking to make a bold statement, choose a bright color like yellow or red. Whichever way you go, make sure your decor fits in with the style.
Which is the best way to remodel a kitchen in?
Plumbing and electrical rough-ins
Drywalling
Painting
Kitchen cabinet installation
Flooring installation
Countertop installation
Backsplash installation
Appliances
Where do pots & pans belong in the kitchen
Pots, pans and other small items should be stored above the stove in a cupboard. This makes them easily accessible when you need them and keeps your kitchen counters looking clean and uncluttered. You might also want to consider a pot rack that will help you keep your pots & pans organized and in easy reach.
When remodeling a kitchen, should you start with the floors or the cabinets first?
How you install your floor will determine the answer. Before installing floating floors, you must first install your counter and cabinets. For glue-down or nail-down flooring options, you need to install your flooring first and then install your cabinets. Discuss your options with a professional for the best kitchen remodeling option.
What makes a timeless backsplash for a kitchen?
Subway tile backsplashes are timeless. We recommend a full backsplash in your kitchen. This would mean that the countertop you use as your backsplash should reach the bottom of your upper cabinets. This creates the illusion of a larger kitchen.
What should I do when I'm planning a kitchen remodel?
There are many options available, no matter whether you're remodeling an existing space or designing your dream kitchen.
Spend some time looking for inspiration online before you start. Take a look at photos of kitchens you like. Note down design ideas. With a pen, paper and a pencil, draw out where each element will be located.
Now think of ways to improve upon these spaces. What could be improved? What would be your contribution? Get creative by asking someone who knows the subject.
It's time for you to begin once you've decided what you want. Start with the basics. Eliminate any clutter. Dispose of appliances you aren't using often. Replace old fixtures by newer ones.
Next, look for areas in your kitchen that are tight. This can be as simple as looking for areas that are too small to store or have no countertops. Consider how you can make the most of these spots. Maybe you can turn them into pantries or wine cellars.
Make sure to think about lighting. Is there an area that could be lit brighter? Perhaps a wall light would brighten a dark corner.
After you have made your list of improvements it is time to start the fun part: implementing them.
Do not worry if your knowledge isn't perfect at first. Don't stop working until it is all figured out. You will never be satisfied unless you love using it every day.
Statistics
External Links
How To
How to design a kitchen that you will love cooking in for many years
Kitchen designs should be designed with functionalities, aesthetics, and practicality. You should carefully plan the space so that you can feel at home in your kitchen, where you can cook delicious meals, entertain friends, and unwind after a long day.
Here are some tips to help plan your dream kitchen.
Find the layout that meets your needs. L-shaped, Ushaped, or galley kitchens are the three most popular. L-shaped Kitchens are perfect for entertaining, and can easily hold multiple cooks. U-shaped kitchens are perfect for families who spend a lot of time in the kitchen, as they provide ample counter space and storage. Galley kitchens can be used in small spaces and are easy to navigate.
Take the time to research all options in cabinetry, and then choose high quality products. There are many options available to you, depending on your budget. High-end cabinets are a great investment. They will last longer, look better and offer superior protection against humidity, temperature, and moisture changes.
Pick a color scheme to make you happy. Whether it's your favorite shade of green or pink, find a color palette that will bring color and life to your kitchen. You could use bright colors, or soft pastels. Make sure that it matches the rest in the room.
Look for a harmonious balance between beauty, function, and style. It's not necessary for your kitchen to be beautiful all of the time. Sometimes it is more important to think about functionality than appearances. However, you don't need to forget about decorative elements. You can create a unique focal point by using a combination of glass, metal, brass, ceramics, stone, wood, and other materials.
Create a comfortable environment. Comfort is key when designing your kitchen. It will be a place where you spend a lot of your time, so it must feel comfortable and inviting. You can relax after a long day by adding seating and lighting fixtures.
Make sure you have enough storage. The kitchen should provide ample storage space for all your cooking tools and utensils. So, when planning your kitchen remodel, consider adding additional cabinet space.
Include a pantry. A dedicated pantry will make it easier to organize and store food items. Additionally, a separate place where you can store additional supplies will help to keep clutter away from the rest of your kitchen.
A new flooring option might be worth considering. The style and feel you choose for your kitchen's flooring will have a significant impact on how it looks. There are many options available. To save on transition pieces, you can use the same flooring across the entire house if it is small.
Plan for expansion. Insufficient space for future growth is one of the most common mistakes made when remodeling a kitchen. Expanding your kitchen is possible by adding a walk-in pantry, sliding doors or expanding the countertop space.
Allow plenty of light. You will enjoy your kitchen more if you can see it. Your kitchen should be used as a place to gather with family members.
Make sure you have energy-efficient appliances. It is important to consider energy efficiency when remodeling your kitchen. This means making sure that you replace old appliances with newer models that are more energy efficient.
Budget wisely. Analyze your financial situation before you start shopping for kitchen appliances and cabinets. This will allow you to narrow your options and help you save money in long-term.
Designate a space for entertaining. No matter if you like hosting dinner parties at home or entertaining friends over drinks and food, having a designated dining space will provide a place for your guests to gather and socialize.
You can incorporate an island. An island is a great addition for any kitchen.
Helpful Resources