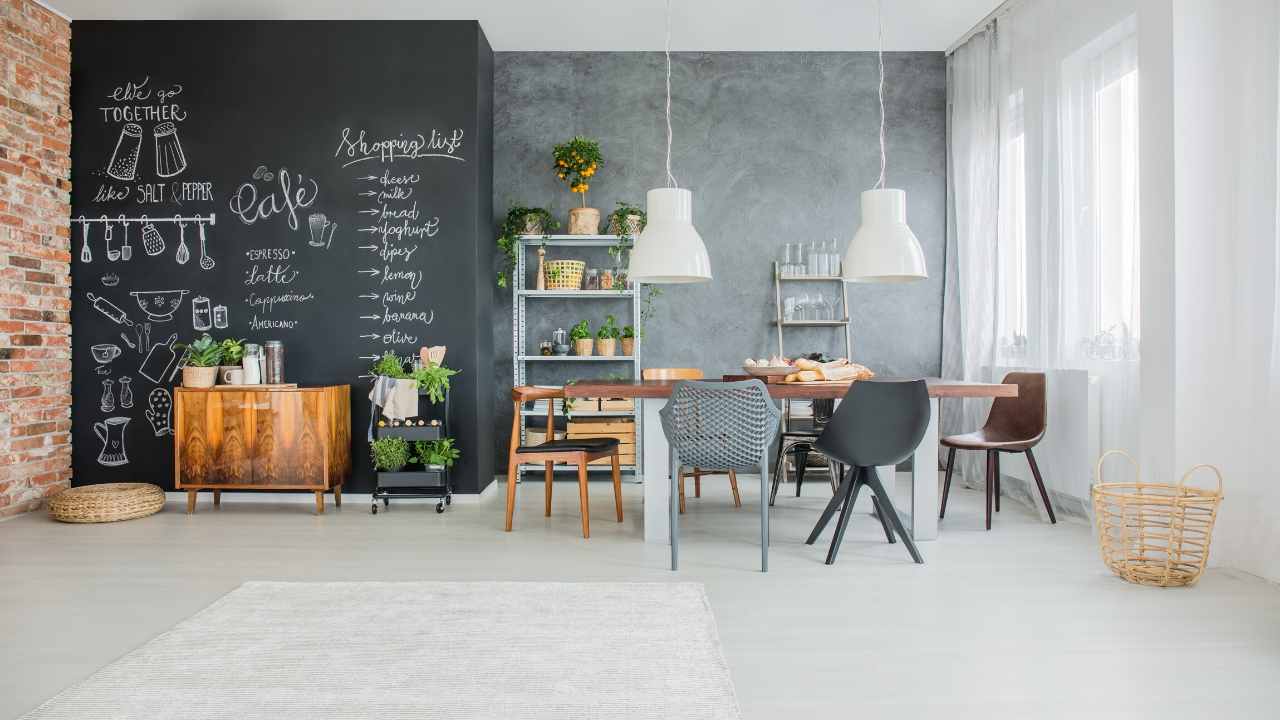 The key to an eclectic kitchen design is to ensure that everything looks like it has evolved over time.
To achieve this, consider mixing and matching styles and elements.
Vintage and reclaimed pieces can really make a kitchen feel more curated. It's a great way to add personality without going overboard.
Color Palette
The color palette of a vintage eclectic kitchen design is an important aspect of the overall aesthetic. The colors used should match each other but not be overpowering.
A great way to achieve this is to go with an earthy toned palette throughout your kitchen. This will give you a warm, calming vibe that will complement many of the other colors in the room.
In addition to this, the cabinets and accessories in your kitchen should be in a neutral hue. This will allow you to incorporate more vibrant hues in your artwork and other decor items.
With this in mind, you should be able to create a fun and bold kitchen with a few simple tricks. First, you can paint the cabinet fronts in a bold color like olive green to give your kitchen a unique and eclectic look.
Appliances
If you're looking for a way to add some fun and personality to your kitchen, consider an eclectic style. It's a great way to personalize your space and create a unique look without breaking the bank.
The key to creating an eclectic design is mixing and matching objects. You can do this by using contrasting colors and eras to display your favorite pieces.
Another great option is open shelving. This is an excellent way to showcase stylish crockery and mementos without hiding them away in cupboards.
Light fixtures are also a good place to make an eclectic statement. Choose colorful cable pendants or industrial-style metal fixtures to bring some color and personality into your space.
Shelving
Shelving in a vintage eclectic kitchen design is a great way to add storage and make the space look more organized. You can use it to house small appliances, cookware and other essentials, and even display colorful decorative bowls and paintings in between them.
Shelves are also a great way to add interest to a room, especially if you have a cramped kitchen layout and need to maximize its space. Choosing shelves with a mix of styles and materials is an easy solution.
Floating shelving in 2023 is another trend that's sure to make a big impression on any kitchen, no matter how large or small it is. You can mix open shelves with cabinets and cupboards for a more curated and cozier appeal.
Lighting
Lighting is an essential element in any kitchen design. In a vintage eclectic kitchen, modern light fixtures can be mixed with antique lamps and chandeliers to create a unique look.
The main rule when decorating a kitchen in an eclectic style is to maintain a balance between contrasting and neutral colors. This will make the room feel aesthetically interesting without being too busy or overwhelming.
Choosing cabinetry is another important aspect of an eclectic kitchen design. If you are going for a retro or vintage theme, choose cabinets that are built from solid wood or other materials that are warm and inviting.
Wallpaper
If you want to bring in some personality without going too overboard, a vintage eclectic kitchen design can be the perfect option. This style features a mix of modern furniture and accessories with vintage elements.
One way to pull this look together is by using wallpaper. This wall covering can be made from paper, vinyl, or fabric and comes in a variety of patterns.
Aside from adding a fun element to your space, wallpaper is also durable and easy to clean. It's a great option for bathrooms and kitchen backsplashes.
A good tip is to choose a wallpaper that's heat and moisture-resistant. This will help protect your walls from damage and allow you to paint over it with a new color if you're not happy with the design.
Frequently Asked Questions
Do you place flooring under your kitchen appliances?
It is important to place flooring underneath kitchen appliances. This will ensure your countertop is at the right counter height.
How long should a kitchen remodeling project take?
Once the cabinets have been made, it should take approximately three weeks for the work to be completed. However, the design and/or custom cabinet manufacturing can take months. It can take several months to complete the entire process, from beginning to end.
How can I make my white cooking area more interesting?
There are many things you can do to make your white home more beautiful. One way is to add coloured appliances and backsplash tiles. If you desire warmth in your white kitchen, one option is to include wood elements. Warm LED lighting can also be used to enhance the warmth of a white kitchen. Whatever path you choose to take, remember to personalize your kitchen.
What is the costliest part of a Kitchen Remodel?
The cost of a kitchen can vary depending on its specific project, so there is no clear answer. According to some experts, the average cost for a high-end remodel of a kitchen can run from $40,000 to $100,000. So, planning a major kitchen overhaul, you could be looking at a hefty price tag. If you don't make any structural changes, often custom cabinetry will be the most expensive component of your kitchen remodeling project.
Custom cabinets are 25-35% lower than the total price. Flooring, countertops, and appliances are all high-ticket items. If you are tight on budget, it may be necessary to prioritize which kitchen pieces you want to renovate the most. You can still have a luxurious kitchen with minimal investment if you do your research.
That said, there are ways to keep costs down. One option is to focus on cosmetic changes rather than major structural renovations. One example is to refinish cabinets, or install new countertops, instead of replacing the entire kitchen. Or, if you do want to tackle a more extensive project, you might consider doing some of the work yourself to save on labour costs.
There are many ways to make your kitchen remodel affordable, regardless of your budget. It is possible to create the kitchen you desire without spending a fortune.
These are the basic layouts for a kitchen.
These four basic layouts include L-shaped and U-shaped kitchens, as well as T-shaped and open-concept kitchens. These layouts depend on the space available and other factors such as the number of appliances. These are just a few of the many kitchen layouts that you can choose from to help you create a functional kitchen design in your home.
L-Shaped Cooking Area: The L-shaped Kitchen is a popular design because it is both efficient and easily customizable. It's perfect for small to medium-sized kitchens because it doesn't require a lot of space. If you have enough space, you can add an island.
U-Shaped Kitchen. Because it has many storage options and counter space, the U-shaped kitchen works well in medium to large kitchens. This layout can be customized with an island, but it's unnecessary.
T-Shaped Kitchen. Large kitchens will love the T-shaped design. The layout can be customized by adding an island, but that is unnecessary.
Open-Concept Kitchen: This kitchen design is ideal for large spaces or homes that want an open, airy feeling. This layout does not have any walls and boundaries. It's great for entertaining.
What countertops look best with white kitchen cabinetry?
A white kitchen allows you to express your creativity with your countertop. Quartz countertops have become the standard in kitchen design. These are our top choices for quartz countertops to match white kitchens.
Different shades of concrete gray
Bold Granite-like Patterns
Veiny marble-like designs
Bright and striking colours such sunflower yellow or oceanblue are available
Where should a fridge go in the kitchen?
The refrigerator goes between the sink and stove. The refrigerator should be located close to the cabinets so that you can quickly find what you need.
Do you need planning permission for your new kitchen?
You will need permits for changing the electrical or plumbing location. A building permit may be required if structural changes are being made to your walls.
It's always best for you to verify with your local authority if you are unsure if you require planning permission before you start any work.
Statistics
External Links
How To
These are ten small kitchen renovations that you can do by yourself.
Small kitchen renovation ideas that you can do yourself.
A small kitchen renovation isn't always something you want to tackle. But if you want to make your home feel like a new one, then this is what you should consider doing. It's possible to do many things in your kitchen without spending a lot. These are some simple kitchen renovation ideas you can do.
Add a backsplash – If you don't have tiles around your countertop and sink, then adding one is the best thing that you can do. This adds style and colour, and can make your kitchen appear bigger and more spacious.
Get rid of old cabinets. They protect your walls from splashes, spills, stains, etc. They give your kitchen a stylish look. If your cabinet doors are looking worn, it is time to replace them.
Paint your kitchen - Paint will not only change the appearance of your kitchen but also help you save money. Painting your kitchen gives it a new life and makes it look more modern. It will also make it easier to clean.
Make your appliances more efficient - This will not only prolong their life expectancy but also give them a new look. If you know precisely which appliance you need to update, go ahead and get it done. Or you can get help from someone who has experience installing these appliances.
A bar is another great idea. It not only provides additional work surface but also makes it a great place to entertain guests.
Make a breakfast corner - A breakfast corner doesn't need to cost a lot. All you need to set up a breakfast nook is a small table, and some chairs. To make it even more comfortable, you can add cushions.
A pantry is essential in every kitchen. This is a great place for food storage, dishes, and other items.
Install an island - A island is a great addition to your kitchen. It gives your kitchen a spacious appeal and provides ample work surface. When combined with wood flooring, it can look very appealing.
Add a wine rack - Wine racks are usually found in restaurants and wine bars. They can be used in your home, however. They come with a range of sizes and designs. You can choose what best suits your kitchen.
Helpful Resources