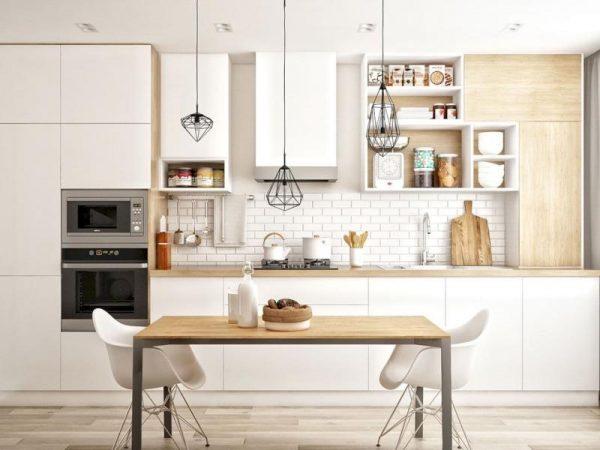 Scandinavian kitchens have a clean and minimalist look that makes them feel calming and soothing. They feature flat-front cabinetry and are built with simple door styles without handles.
They're often white with subtle wood tones and splashes of color, such as pale greys and pinks. Despite the simplicity of this style, you can still add a personal accent by displaying items you use every day.
Minimalist design is a staple of Scandinavian kitchens. This design style excels at making a space feel inviting and comfortable, by combining practicality with cozy, natural elements.
Light is essential to this look. Large windows, well-placed lighting arrangements and a mix of textures keep the space bright and airy.
Colour is also important to this aesthetic. White, cream and light tan are popular color choices for Scandinavian kitchens, but adding pops of blue or green adds a touch of variety.
Wood is a key element in this design style, especially timber flooring. Scandis value timber in their homes for its warmth and texture.
Warm wood tones
Warm wood tones are an essential element of Scandinavian design. They work well in both larger open kitchens and smaller more intimate spaces.
To keep your kitchen looking fresh and updated, choose a light neutral color palette. This will reflect the natural light that is available and make the space look bright and airy.
You can even mix primary colors to add a bit of fun into your design. Pink, in particular, can give your kitchen a feminine edge without overpowering the rest of the room.
A key aspect of scandinavian kitchens is the use of liming to maintain the grain of wooden cabinets. This process is designed to protect the wood from moisture, which helps it last longer and retain its beautiful appearance.
Pops of color
Whether you're looking to add a pop of color or simply to bring more warmth into your kitchen, there are plenty of ways to go about it. One way is to incorporate natural fabrics into your kitchen, such as rugs and throw pillows.
Another way to add pops of color is by using textured wallpaper and artwork. This can create a sense of interest in your kitchen, especially when you pair it with warm wood tones.
While Scandinavians often opt for a white or neutral color palette, you can also use black to add a punch of contrast in your kitchen. It can be used to delineate spaces, highlight architectural features and anchor a light and bright kitchen.
Open shelving
Many naysayers will say that open shelving can make a space look unfinished, but it's actually an ideal way to get your creative juices flowing and display some of your favorite pieces. From hardcover cookbooks to beautiful picture frames, open shelves are a perfect place to store your favorite items and add style to any room.
Getting the right balance between function and style is key to creating an authentic Scandinavian kitchen. Sleek cabinetry with open shelving is a popular choice, as it helps minimize clutter and creates an airy atmosphere.
The Nordic design aesthetic relies on white, so it's a good idea to pair your cabinets with accent walls that feature light colors for a warm and welcoming feel. Pale greys, pinks and blues are all great options to add personality without taking away from the Scandi style.
Storage solutions
When it comes to storage in scandinavian kitchens, it's crucial to think about clever solutions that allow you to keep your space neat and tidy. You'll want everything you need to cook and prep food within reach, but also a place for less frequently used items such as bottles and glass jars that you can easily pack away when you aren't using them.
Scandinavian design is all about practicality, so many of these kitchens are designed with clever and functional solutions that look great and help you to get the most out of your space.
A good way to maximise space in a Scandinavian kitchen is to use shelving instead of cabinets, which can tie open-plan living areas together and provide additional storage for things like crockery or tea and coffee caddies. You can also hang pots and pans from a rack above your hob to make them more accessible when you need them.
Frequently Asked Questions
Is it better to put a backsplash or countertop on the first floor?
You must first install your countertop and backsplash before installing the new countertops. This will allow you to correctly measure and cut the backsplash to fit perfectly against the countertop. Not only is the countertop a necessary component for proper backsplash installation, but it also must be installed before any appliances or plumbing fixtures.
Which layout is most functional in a kitchen?
An island is the best kitchen layout. It can be equipped with a stove, refrigerator, microwave, sink and dishwasher. A kitchen with an island in the L-shaped shape is considered to be the best.
Do you place flooring under your kitchen appliances?
Flooring should be placed under all kitchen appliances. Your countertop will be at the right height thanks to this.
Is there a place for a fridge in the kitchen
The refrigerator should be placed between the stovetop/sink. The refrigerator should be located close to the cabinets so that you can quickly find what you need.
***
Does your new kitchen need planning permission?
You'll need to apply for electrical and plumbing permits if you are changing the location of your electrical and/or plumbing. If you need to make structural modifications to your walls to accommodate these changes, you might also require a building permit.
Before you do any work, make sure you check with your local authority to confirm that you are allowed to use the planning permission.
Statistics
External Links
How To
Here are 8 steps to kitchen remodeling for beginners:
A DFY project for Beginners should start with these steps:
Remodeling your kitchen requires three simple steps. First, decide whether you want to do an entire renovation or replace appliances and fixtures. The second is to decide which kitchen design suits your lifestyle the best. Third, choose between a DIY project or hiring professionals to complete the job.
Next is to decide which type of kitchen you want. Do you want a traditional, open-plan kitchen with cabinets countertops and appliances or a modern one? Or maybe you prefer modern designs, with clean lines and minimal storage. Do you want to add a breakfast bar or large island? Once you've chosen the layout, material and finish you want, it's time to find a professional contractor who will help you install it.
The kitchen is the heart of every home, but many homeowners feel overwhelmed by the sheer number of decisions they must make before beginning their project. There are a few easy ways to get started.
Deciding if you want to renovate or replace - First, decide if you want to do a kitchen remodel or simply replace certain fixtures and appliances. If you're planning to gut the space and start from scratch, you'll need to factor in the cost of demolition, new cabinets, countertops, appliances, flooring, and lighting.
Set a Budget - First, calculate the amount you can spend to remodel your kitchen. This covers everything, from labor costs and supplies to how much you can afford.
Select Your Layout - After you have determined your budget, it is time to decide where you want to put your kitchen. There are several different layouts, including open concept, peninsula, galley, L-shape, U-shape, and corner. Each layout has pros and cons. It is crucial to find the one that meets your needs.
Selecting Your Materials – Once you have decided on the layout of your kitchen it's now time to select the materials. This covers everything, from countertops and cabinets to flooring and lighting. There are many choices available so it is important to research and choose the right materials for you.
Hire Professionals - Finally, once you've selected your materials, you'll want to find a professional specializing in kitchen construction. Good contractors will ensure that everything runs smoothly, starting with design and ending with installation. You won't have to worry about any issues during the project.
Enjoy! Congratulations! You have reached the end of your kitchen remodel process. Enjoy it! If you love your new kitchen, you won't mind spending hours cooking delicious meals. You can still test your kitchen if you're not certain. This will help you decide if the remodel was worthwhile.
Helpful Resources