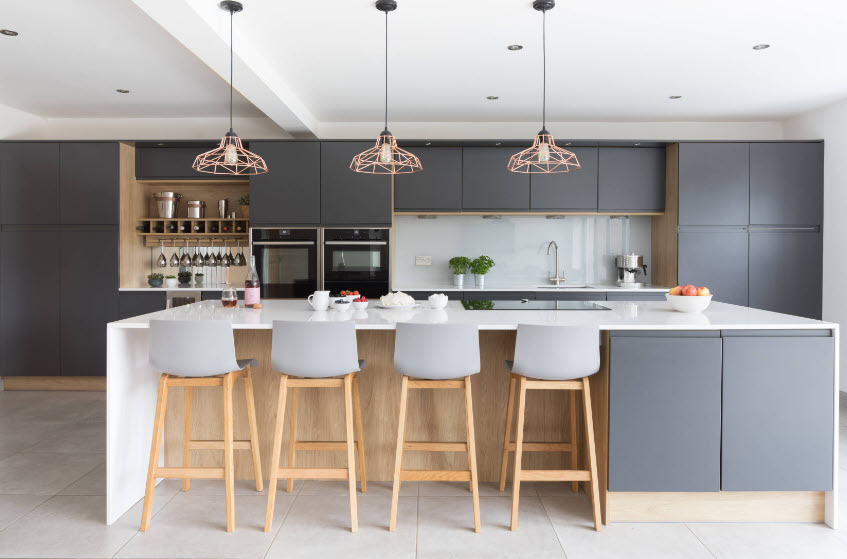 Modern grey kitchen cabinets are having a moment in the design world. These versatile and forgiving cabinets are ideal for any kitchen decor.
They offer many benefits that other cabinet colours can't match, including hiding dirt and fingerprints and creating a calming effect.
The incredible impact that modern grey kitchen cabinets will have in 2023.
Stunning. Just wait until you hear what we have in store for 2023. If you thought having bold, eye-catching kitchen cabinets was an indulgence of the past, sorry to be the bearer of bad news. This year, grey kitchen cabinets have come back, pushing their way boldly into the modern home.
Grey kitchen cabinets are not only aesthetically pleasing; they also exude a certain regal quality that make them ideal for those who value sophistication and style over convenience and practicality.
Gone is the white palette of last year, replaced by a newfound appreciation for gray as 2023's go-to hue in your kitchen. From deep charcoal to pale anthracite, this trend has permeated every aspect of decorating and remodeling your home. Grey tones boast numerous benefits beyond mere aesthetics - they offer more expansive colour palettes, improved natural lighting and lessened strain from glaring sunlight when positioning cabinetry near windows or skylights.
Grey fixtures bring everyday modern charm to any cooking space based on their polarizing color: you can choose between dramatic depth with darker grays or crisp neutrality with lighter shades. More importantly, these cabinetry selections are incredibly aesthetically flexible - often blending seamlessly into any traditional or contemporary interior design theme with ease and beauty regardless of other palettes used throughout the home!
Whether you're looking for minimalist chic or something more industrial, grey kitchen cabinets offer endless possibilities for making optimal aesthetic statements without being cliche. What makes them unique is their ability to remain neutral while providing dynamic visual interest with subtle detailings highlighted by various hues ranging from slate blue mosaics to deep velvet greys.
Plus, grey furniture requires no harsh neon accents - its understated elegance speaks volumes all on its own! But aside from serving as simply an impressive visual focal point,grey cabinetry also provides tremendous functionality benefits that extend far beyond simple beauty points; shelving and cupboard configurations often allow users dramatically increased storage options - contributing real added value!
When deciding on an awesome investment, it is essential to look at both form factor and function, so when considering which version of grey truly suits your interior design impulse, don't forget about items such as additional pantries or exchangeable panels that can be fitted into drawers & doors for maximum versatility down the road!
So if you're looking for a stylish yet functional item this holiday season, investing in some stunning grey kitchen cabinets should help give your home just the twist you need! Stop waiting—take advantage of this trend before it trades out again next year!
Gray is the new white.
Grays are one of the most popular colours for modern kitchen cabinets. They're durable and forgiving and can match almost any colour scheme.
They're also low-maintenance, which makes them an excellent choice for busy homeowners. They're especially good at hiding dirt and fingerprints and have a soothing effect that can help create a calm atmosphere in your home.
To make your cabinets stand out, consider choosing a shade different than the wall colour. White is a common colour for offset grays, but you can also choose metal, reflecting light and adding dimension to your cabinets.
To achieve a sophisticated look, pair your cabinets with a bold accent colour, such as gold or copper. This will create a timeless design that will stand the test of time.
Modern greys Kitchen
Modern grey kitchen cabinets are one of the most popular types of cabinetry. They are stylish and offer many benefits that other colours cannot beat.
A pale bluish grey can make a kitchen feel calming and relaxing, while a darker ashy gray can have an ultramodern allure. Mid-toned greys imbue a warm space and can be paired with yellow kitchen ideas, terracotta decor, or teal for a truly characterful scheme.
To balance a dark, contemporary design, use lighter top cabinets or a pale work surface to reflect light and prevent it from feeling too flat. A tiled splashback in a lively pattern and contrasting colour will also help to add interest to a mainly grey scheme.
Consider adding metallic details to your grey kitchen cabinets if you want a striking effect. Gold and brass details will make your kitchen stand out.
Grey Kitchen Ideas
Gray is a calming colour that can soften the look of a modern kitchen. It can also be paired with various floor types and colours, making it easy to create an airy, inviting space.
One of the best ways to integrate grey kitchen ideas into your design is to mix in a little wood - think staining natural oak in subtle shades of grey to add depth and texture. Then, team these cabinets with a natural-looking wood worktop and splashback to tie the look together.
Adding a bright hue splash can also help lighten up a dull grey palette. Yellows, greens and purples are great choices to lift your modern grey kitchen.

Modern Dark Grey Kitchen Cabinets
Modern dark grey kitchen cabinets can add a dramatic, sophisticated look to your home. They can also complement a variety of colour palettes and design styles.
For example, if you have an open-concept home, dark gray cabinetry can help break up the space and make it feel less drab. In addition, you can pair them with white countertops and backsplash to add a contemporary flair.
A stainless steel sink and faucet can complement the sleek efficiency of these modern dark grey kitchen cabinets. The gray cabinetry and black hardware can add a sophisticated edge to a traditional kitchen.
Try adding wood trim to all your gray units if you want warmth. You can also try painting your cabinets with a darker shade of grey to brighten up the room.
Frequently Asked Questions
What style of kitchen backsplashes is popular?
A modern kitchen would look best with a full-height backsplash. If you are looking for something more traditional, then a subway tile backsplash would be a great choice. A brick or stone backsplash is a good choice for those who want something more rustic. It's all about personal preference and what suits your kitchen the best.
What are my options for planning a new kitchen?
There are many choices whether you want to remodel an existing space and/or design a dream new kitchen.
Before you start, take some time to look online for inspiration. Take a look at photos of kitchens you like. Make notes about design ideas. You can then use pen and paper to pinpoint exactly where each element should go.
Now think about how to improve on these spaces. What would you do differently? What would be your contribution? Ask someone who is an expert in your field to help you get creative.
Once you've determined what you want to do, it's time you start. Start with the basics. Get rid of any extra clutter. Dispose of appliances you aren't using often. Replace old fixtures with newer models.
Next, you need to find areas in your kitchen where storage is limited. This is where storage or countertops are not possible. These are the places you should maximize. You might be able to turn them into wine cellars or pantries.
Lighting is an important consideration. Is there an area that could be lit brighter? A wall sconce may be able to brighten dark corners.
Now comes the fun part: Implementing them after you have completed your list.
You don't have to know everything right away. Continue to work until you are confident. Enjoy using your project every day.
Which is the best way to remodel a kitchen in?
The plumbing and electrical rough ins
Drywalling
Painting
Kitchen cabinet installation
Flooring installation
Countertop installation
Backsplash installation
Appliances
How can you not regret your kitchen remodeling?
Take your time, the renovations can take some time.
It is a huge undertaking that can significantly affect your daily life. You must research the project thoroughly before you get started. This comprehensive guide will help you avoid any regrets during your kitchen renovation.
Consider your lifestyle first.
Choose suitable materials according to your goals and budget.
It is important to choose the right countertop that will be easy to clean and maintain.
The right appliance is the one that fits your needs in size and style.
Find the perfect backsplash for you.
Take a look inside your cabinets and walls.
Communicate with your kitchen designer and contractor throughout.
Customize your storage solutions in your design to fit your appliance and gadgets
Don't get your lighting lightly.
Don't ignore kitchen ergonomics!
Do not waste space in the kitchen.
Pick the right cabinet finish and colour.
Before you commit, plan.
Hiring the right people is key to the success of your job.
Remember to put your garbage away.
How does a kitchen remodeling project affect your home?
A kitchen remodel can improve your home's market value by as much 20%. A major remodel could cost from $40,000 up to $150,000. Therefore, it is important to evaluate your budget and determine if you can see a return.
It is important to choose a kitchen design that appeals to many buyers if you are planning on selling your house soon. To avoid alienating potential buyers, stick with classic styles and neutral colors.
If you aren't planning to sell your home in the near future, you will have more freedom to personalize and customize your kitchen. Consider what you use your kitchen for and how you want it to look and feel. Are you someone who entertains often? Then you may want to consider a layout that allows for plenty of prep space and room for guests. Do you like to cook? You might be tempted to buy more expensive appliances.
No matter what your plans may be, a kitchen remodeling project can make your home more valuable. You will get the best results if you do your research and choose a trusted contractor.
What are the top mistakes when renovating a kitchen?
It is possible to install a kitchen in an unsuitable location.
Putting the dishwasher too far away from the sink may result in wet floors.
If the fridge is placed next the oven, it can make opening the door difficult.
A lack of counter space can cause problems.
A common oversight is insufficient storage. Make sure that you have enough shelves, cabinets, and drawers for all of your kitchen gadgets.
You can't choose the appliances you want until the very last moment when installing a new Kitchen.
You need to make sure that they fit in the space, and are efficient.
This is a mistake. They can make sure everything is scaled correctly and fits in the space.
Trying to do too much yourself is a common kitchen renovation mistake. Knowing your limits and when to call a professional is essential for a successful kitchen renovation.
Not planning for enough budget is a mistake. Kitchens are expensive. Make sure you have enough funds to cover the whole project.
It is a mistake to not have a clear vision of the style and layout you desire. Before you begin the renovation, it is essential to understand the style, layout, as well as the finishes you want.
These are just some common mistakes that people make when renovating kitchens. To avoid making these errors, consult a professional before you start your project. It is possible to have a successful renovation of your kitchen if you plan and execute well.
Statistics
External Links
How To
How to design a kitchen that you will love cooking in for many years
Kitchen designs should incorporate aesthetics, functionality, and practicality. Your kitchen should be designed with functionality in mind so that it feels like home.
Here are some tips to help you plan your dream kitchen:
Choose the layout that suits your needs best. L-shaped, U shaped, and galley are the most common kitchen layouts. L-shaped Kitchens are perfect for entertaining, and can easily hold multiple cooks. U-shaped kitchens are great for families who spend lots of time in the kitchen. There is plenty of storage space and counter space. Galley kitchens are ideal for small spaces as they are efficient and easy to navigate.
Compare the various types of cabinetry available and select quality products. There are many options depending on your budget. High-end cabinets can pay huge dividends. They will last longer and look better.
You should choose a color scheme you feel happy with. Find a color palette that is vibrant and brings joy to your kitchen, no matter what your favorite color is. It could be bright or pastel colors. Just make sure it matches the rest of the room.
The balance should be between beauty and functionality. It's not necessary for your kitchen to be beautiful all of the time. Sometimes, you have to be more concerned with functionality than aesthetics. But this doesn't mean you can't incorporate a few decorative elements here and there. For a striking focal point, use a mixture of glass and metals like chrome, brass or ceramic.
Create a comfortable environment. Comfort should always be the first thing you consider when designing your kitchen. It will be a place where you spend a lot of your time, so it must feel comfortable and inviting. Add some seating areas, lighting fixtures, and other features that will help you relax after a long day.
Storage is important. Your kitchen should offer ample storage space for all your cooking tools, utensils, dishes, pots, pans, etc. You should think about adding extra cabinets when remodeling your kitchen.
Include a pantry. A pantry is a great way to store and organize food items. A separate pantry will allow you to store more supplies and prevent clutter from building up in your kitchen.
You might consider a new type of flooring. You can make a big difference in the look and feel of your kitchen by choosing the right flooring. There are many flooring options. For small spaces, it may be possible to have the same flooring throughout the house.
Plan for expansion. The biggest mistake people make when remodeling their kitchens, is not allowing enough room for future growth. You should consider expanding your kitchen by installing sliding doors, adding another walk in closet, or increasing the counter space.
It is important to allow plenty of natural light. You will enjoy your kitchen more if you can see it. Make sure there is plenty of sunlight coming through windows if you intend on using your kitchen for family gatherings.
Install energy-efficient appliances. The most important aspect of kitchen remodeling is energy efficiency. This means making sure that you replace old appliances with newer models that are more energy efficient.
Budget wisely. Do a thorough analysis of your finances before you shop for kitchen appliances or cabinets. The best way to narrow down your options is to know what you can afford. This will save you time and money in the long term.
Make sure you have a designated space for entertaining. No matter if you like hosting dinner parties at home or entertaining friends over drinks and food, having a designated dining space will provide a place for your guests to gather and socialize.
An island can be added to your kitchen. A kitchen island can be a wonderful addition because it offers extra space for prep and cooking, while also providing a convenient place to keep your drinks, snacks, or other small items.
Helpful Resources