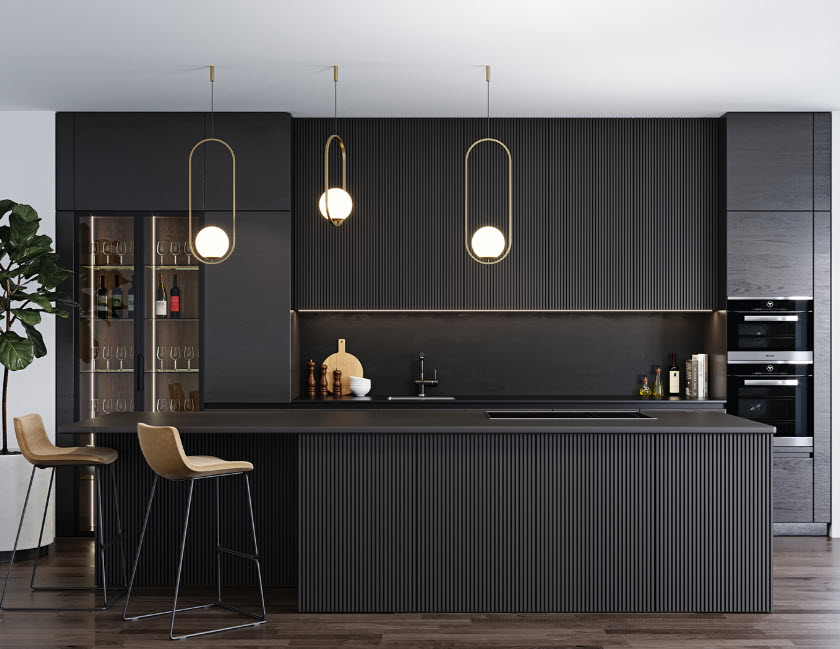 Kitchen Design Trends 2023
We all know that a kitchen is an essential part of any home. It's where we cook, eat, and come together as a family. But in 2023, this room is taking on a whole new identity. From modern designs to sustainable materials, the trends of 2023 are about creating a kitchen experience that is both functional and stylish. Think of it like an allegory for the life you want to create—a safe space filled with warmth and comfort. This article will explore the top trends in kitchen design for 2023 and how they can bring your dreams to life. So grab your favourite cup of tea and dive into what makes these trends so special!
Key Takeaways
Kitchen design in 2023 will focus on warm, earthy colours, natural wood cabinets, black and white kitchens, glazed tiles, and slab backsplashes.
Smart and panel-ready appliances, mixing metals in cabinet hardware, and sculleries and working pantries for storage will also be popular in the 2023 kitchen design.
Sustainability trends include low-E windows and doors, sintered stone as a countertop choice, and pivot doors and white oak breaking out in homes.
Homeowners are seeking solutions for concealed storage and countertop appliances, and incorporating vintage and hand-me-down pieces into more contemporary homes.
Design and Functionality
When it comes to kitchen design in 2023, you'll need to find a balance between style and functionality that works for your lifestyle - after all, the kitchen is the heartbeat of your home! The relationship of the kitchen to surrounding rooms is driving trends, and homeowners are seeking solutions for countertop appliances that can be concealed with cabinet doors when not in use.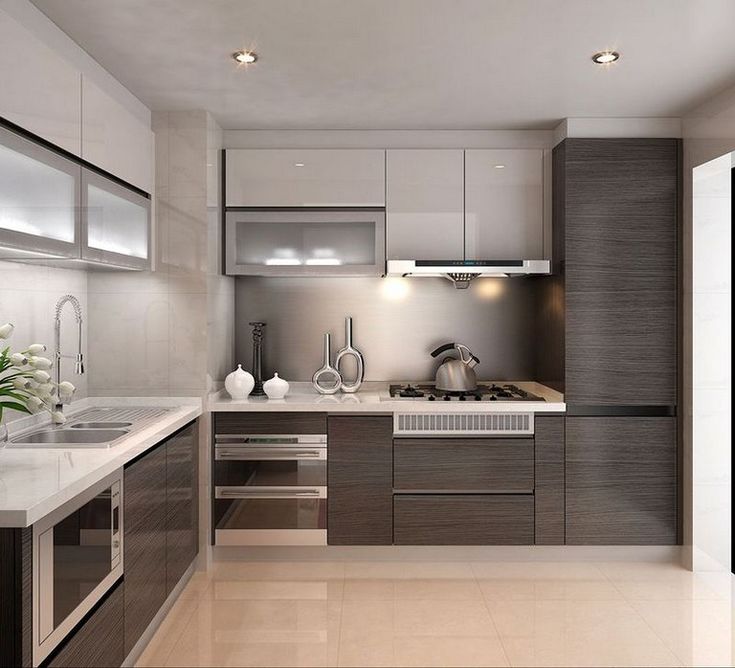 Walk-in and built-in pantries are popular ways to keep storage out of sight. For a modern look, white cabinets will remain popular as well as warm greige tones and natural wood cabinets. Appliances should also be considered when planning a modern kitchen; smart and panel-ready appliances will pair nicely with mixing metals such as copper or gold in cabinet hardware.
The trend of touches of traditional style can also be achieved in smaller doses; vintage farm tables can be used as islands or antique cabinets can add practical yet unexpected conversation pieces. Windows create stunning and refreshing spaces with nature, daylight, and fresh air pouring in, which is why Low-E windows and doors are among the top three kitchen sustainability trends. Sintered stone is gaining more attention as a countertop choice, while quartz remains a classic choice that won't go out of style soon. Homeowners may even opt for thinner grout lines running up into their backsplash or paint/glaze furniture for an antiqued feel!
For those seeking something different, arches and organic shapes in design have been growing in popularity recently, with marble finishes still being seen in high-end kitchens like never before. Blue remains one of the strongest colour choices, while higher backsplashes brighten up dark kitchens – something to consider if you want to make an impactful statement! With so many options on the market today, there's plenty of room to get creative when designing your dream kitchen!
Connection with Outdoors
Bring nature into your home and enjoy the beauty of outdoor living with windows that merge indoor-outdoor spaces. Kitchen design trends for 2023 are all about bringing natural elements indoors. Low-E windows and doors are among the top three kitchen sustainability trends, while double islands can be featured in larger homes to create a seamless flow between outdoor and indoor living. Natural materials like wood, stone, quartz countertops, and organic shapes create an earthy, warm, inviting tone.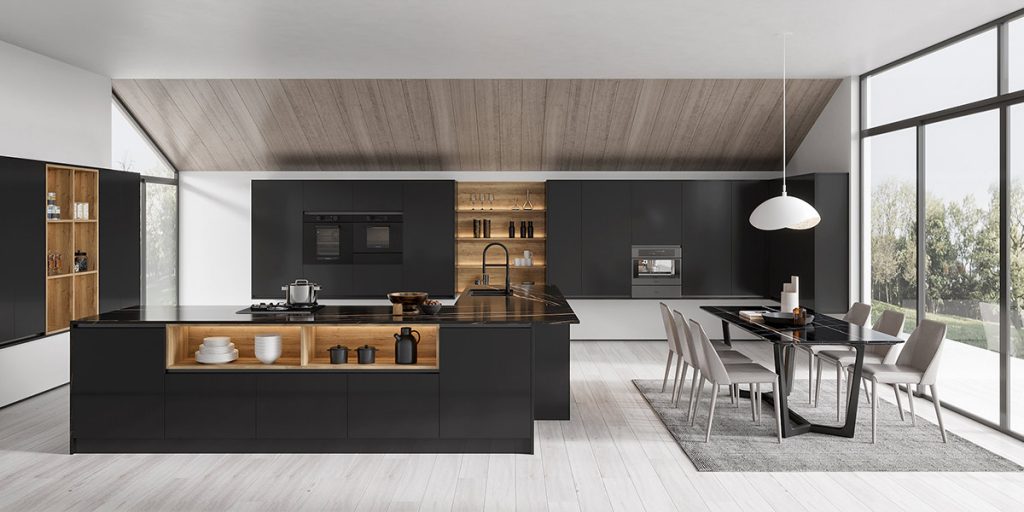 From antiqued furniture to vintage farm tables used as islands, kitchen design trends for 2023 have something for everyone looking to bring a bit of nature into their home. Incorporate natural elements by mixing metals in cabinet hardware or adding thin grout lines to the ceiling with a patterned backsplash. Soft muted shades with honed finishes on countertops will also create an inviting, comfortable yet stylish atmosphere.
Designers are creating fresh takes on traditional styles by introducing accent colours back into kitchens along with custom cabinet doors and statement hoods. Smaller doses of traditional elements such as gold or copper hardware can be seen throughout contemporary kitchens giving them a timeless feel without sacrificing modernity. With so many options, you'll find something that speaks directly to your style while enhancing your connection with outdoors!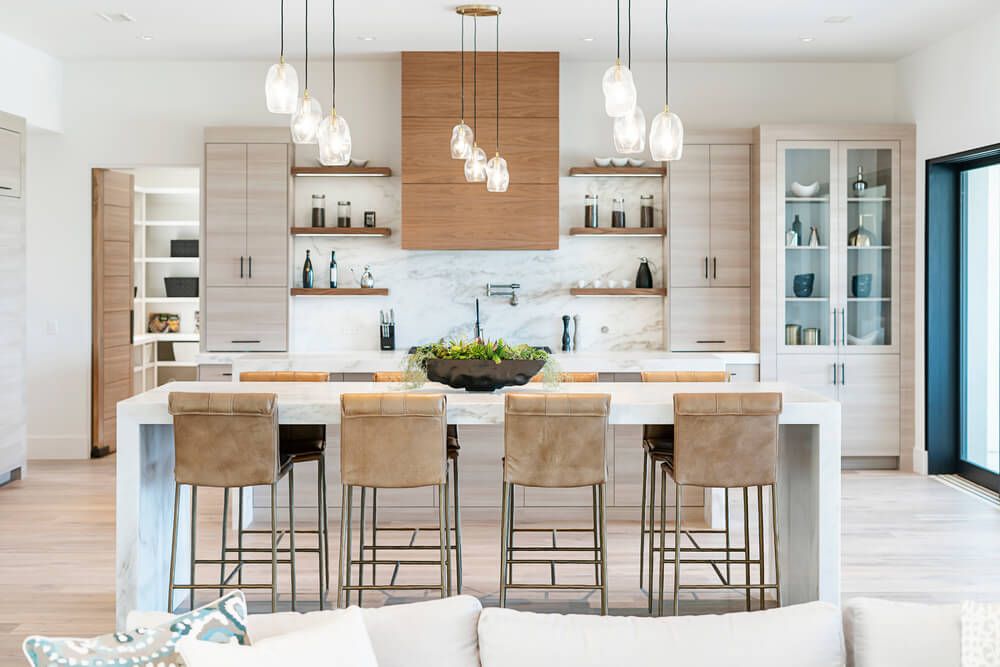 Sustainability and Materials
Make your kitchen sustainable, stylish, and eco-friendly using low-E windows and doors, sintered stone countertops, and natural wood cabinetry. The NKBA's 2023 Design Trends report cites Low-E windows and doors as one of the top three sustainable trends in kitchens. These features enhance energy efficiency by reducing heat transfer through the glass and providing an unobstructed outdoor view. Sintered stone is gaining more attention as a countertop for its durability and low maintenance requirements. Natural wood cabinets add a timeless feel to any kitchen design while also being an environmentally conscious choice. Incorporating upper cabinets made from recycled materials creates an even more earthy look that will fit perfectly with popular greige tones in 2023.
Earth tones remain a strong colour choice for kitchens this year as homeowners opt for warm colours like browns, greens, tans, and grays when selecting their cabinetry. The trend for mixing metals in hardware is still going strong too! Unlacquered brass may be controversial, but it's certainly making a statement alongside polished nickel, which continues to be classic metal choice. Natural wood cabinets can help tie all these elements together, creating an inviting space that feels both modern yet timeless at the same time.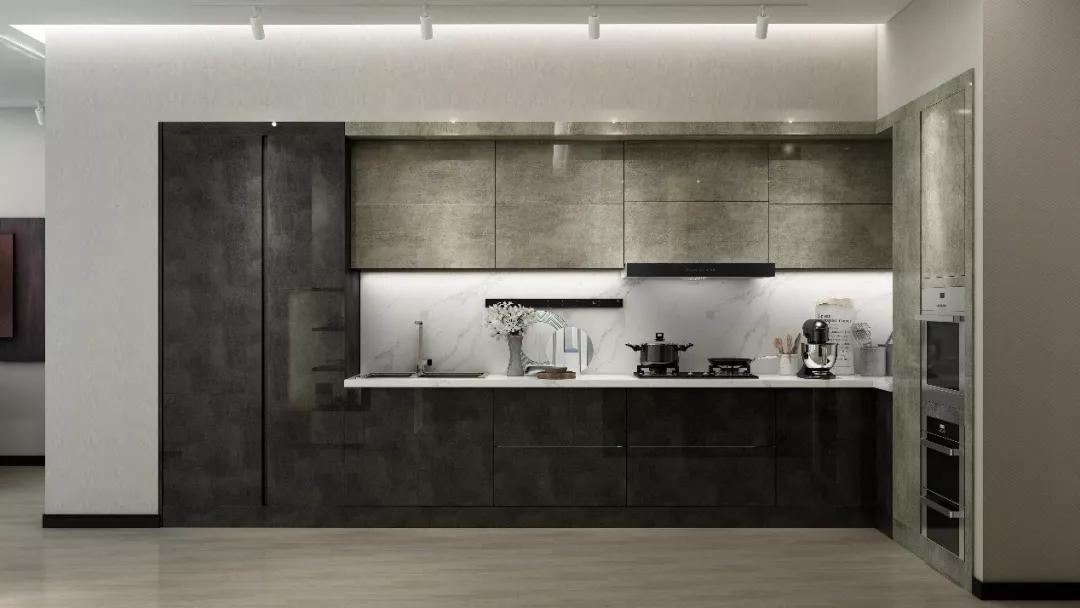 Creating an eco-friendly kitchen doesn't have to mean sacrificing style or functionality either - it can actually enhance them! With careful consideration of materials used such as low-E windows and doors, sintered stone countertops, natural wood cabinetry and upper cabinets made from recycled materials you can achieve both sustainability goals without compromising on design or aesthetics.
Duplication of Appliances
Double up on appliances to add efficiency and convenience to your home cooking; adding a second dishwasher or oven will make all the difference in your day-to-day life. Kitchen designers increasingly recommend doubling up on appliances, with the bonus of extra storage, for those who need it. Whether you choose a wall oven and cooktop combination or two separate dishwashers for faster clean-up — having two of each appliance offers more options than ever.
| Design Elements | Energy-Efficient Appliances |
| --- | --- |
| Statement Lighting | Low flow faucets |
| Artistic Tile | Wall Oven and Cooktop Combination |
| Featured backsplash | Smart fridges |
| Round island | Smart induction ovens |
Adding statement lighting can bring a unique style to the kitchen, while energy-efficient appliances save money on electricity bills. Artistic tile is a great way to make an impactful statement without breaking the bank, and black countertops provide drama that creates an elegant look. With modern technology comes energy-efficient appliances like wall ovens, cooktop combinations, and two separate dishwashers — all designed to help maximize space usage while still providing plenty of flexibility for meal preparation.
Whether you're looking to upgrade existing cabinets, incorporate wood into design elements, or add a vintage charm, homeowners can make their kitchen stand out. From polished nickel hardware to unlacquered brass pulls, mix metals in cabinet hardware choices for an eclectic yet timeless feel. Farm tables as islands bring something special and unexpected conversation pieces can be found in antique cabinets throughout the room.
Countertop Trends
Upgrade your kitchen space with the latest countertop trends and create a sleek, modern look that will last years! Countertops have become more critical as both an aesthetic and functional element in today's kitchens, so choosing materials that are durable, easy to maintain, and easy to keep clean is important. Popular choices include engineered quartz, quartzite, granite, marble, sintered stone, metal, recycled content and concrete - all of which can be used alone or combined. White kitchens are trending along with veined marble or other natural stones for a classic look with a modern twist. Incorporate clean lines of wood/quartz combinations or mixed media countertops to add contrast and texture to the design scheme. Kitchen islands are also becoming popular for their multifunctional uses. Mixing different materials is key for making sure your kitchen stands out from the rest while still maintaining functionality. Whether you opt for solid surface counters with integrated sinks or veined marble island counters paired with sleek metal fixtures and hardware, pick something that fits your lifestyle needs while keeping up with the latest trends!
Cabinetry Styles
For a modern, minimalist look, slab cabinet doors are the way to go. They add a sleek touch to your kitchen and are perfect for showing off those colourful cabinets. And if you're looking for some texture, beadboard cabinet doors are the answer. They add an extra element of design and interest to your kitchen.
But if you want something more elegant and refined, glass cabinet doors are a great option. They're low-maintenance and a great alternative to open shelving. And for even more options, check out the framed Mullion cabinet doors, which come in various colours and styles. Or try out some stained glass cabinet doors for an extra touch of elegance and colour.
| Cabinet Type | Popularity |
| --- | --- |
| Shaker-Style Cabinets | High |
| Simple Style Cabinets | Increasingly Popular |
| Traditional Elements Coming Back into Kitchen | Returning Trendy Option |
One very poplur kitchen door is product called Fenix. Fenix kitchen doors provide an ultra-matte finish that is soft to the touch, highly durable, self-healing, fingerprint-proof and hygienic. Warm wood cabinetry has been making a big comeback this year for those looking for the perfect finishing touch on their modern kitchen design. This style can add a timeless feel to any kitchen while providing ample storage that blends perfectly with other elements of the space. It is aesthetically pleasing and adds a layer of durability and can be easily updated in the future if desired. Whether you prefer traditional or contemporary designs, FENIX kitchens have something for everyone and will become your favourite home spot!
Traditional Elements
You may be surprised to hear that traditional elements will return to the kitchen in 2023. After all, modern and contemporary kitchens have been on trend for some time now. But, it appears that people still crave warmth and nostalgia in their homes, even when it comes to something as practical as the kitchen.
Whether you want a dark and dramatic look or an all-white kitchen with traditional elements, you can incorporate classic style into your space without sacrificing its smarts. Dark colours create a cozy atmosphere and can give the room depth, while an all-white kitchen gives off a classic yet modern vibe with a timeless feel. Smart appliances like panelled refrigerators can blend seamlessly into cabinetry for an inconspicuous look.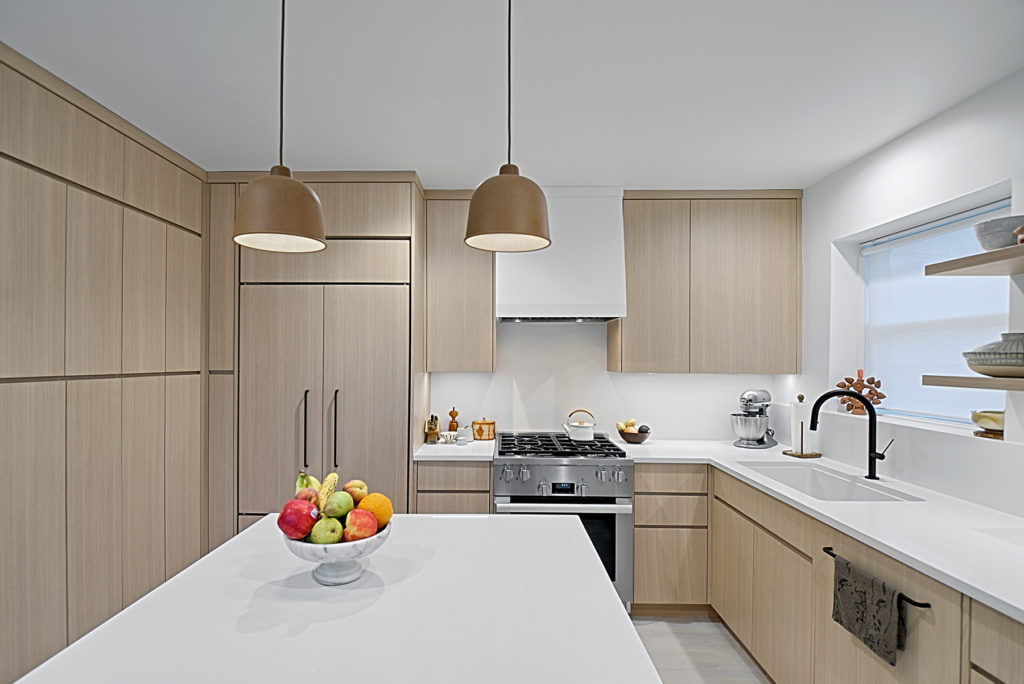 Statement hoods, exposed shelving, furniture details like legs on islands or turned posts on cabinets—these all add texture and personality to any room while at the same time giving you the modern convenience of today's technology. With these traditional elements interwoven with sleekness and sophistication, your kitchen can become both beautiful and functional in 2023.
Accent Colors and Custom Doors
Take your kitchen to the next level with accent colours and custom cabinet doors. In 2023, we will see a return of traditional elements in the kitchen, along with lighter surfaces made from quartz or quartzite. But to really stand out, introduce pops of colour into your design. Lighter elements can be contrasted with dramatic colours for a bold statement that will turn heads. Consider using curved islands and black kitchens for an edgier, timeless look. Using accent colours and custom cabinet doors allows you to create a unique style that no one else can replicate.
To make sure these accent colors blend seamlessly with your overall design, it is important to consider the materials used in your space. Don't be afraid to mix metals in cabinet hardware too - try pairing polished nickel with copper or gold for an eye-catching look! Add some visual interest by incorporating glazed tiles and slab backsplashes - thin grout lines and backsplash up to the ceiling can give any room an instant facelift.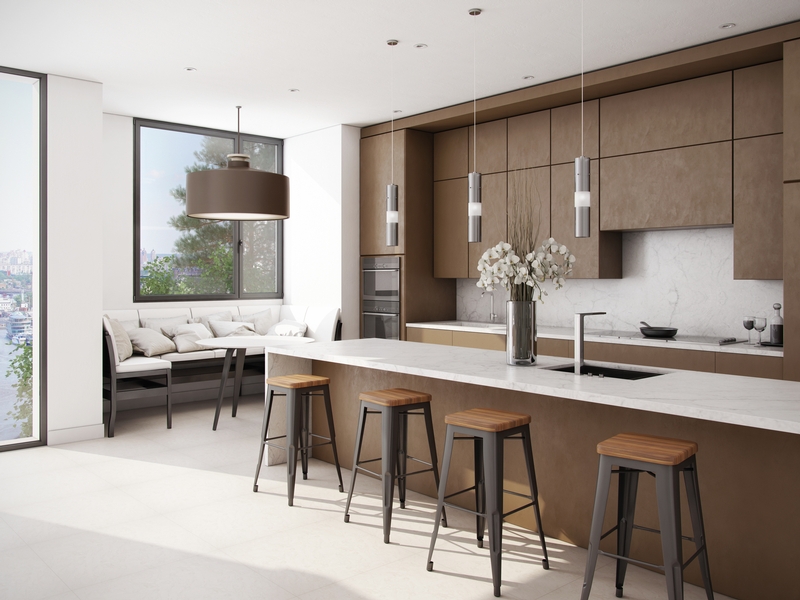 Whether you go all out or add subtle touches here and there, adding accents of colour throughout kitchen design is a great way to show off your personality while creating a timeless look that will last through many years of family dinners and gatherings. From classic farm tables as islands, antique cabinets as conversation pieces, or dramatic pops of colour throughout – make this year all about expressing yourself!
Vintage and Hand-me-down Pieces
Bring your home to life with vintage and hand-me-down pieces that sparkle like diamonds in the rough! Incorporate current trends, industrial styles, freestanding furniture, tactile materials, and stunning kitchen design into your space. Whether it's an antique cabinet or a mid-century modern chair, these timeless pieces can add character and texture to any room.
Mixing different eras of furniture is a great way to create a unique look for your kitchen. Freestanding furniture like armoires and sideboards are returning as they provide plenty of storage without taking up too much floor space. For those looking for something more industrial in style, metal elements such as bar stools or shelving can add an interesting contrast against traditional wood cabinetry. Tactile materials like velvet and textured wallpaper also add to any kitchen design.
A well-designed kitchen should be both practical and aesthetically pleasing--and vintage pieces are the perfect way to achieve both goals. From classic shaker cabinets to bold statement hoods, there are countless ways you can incorporate vintage touches into your kitchen design without compromising on modern convenience or functionality. Utilize these timeless elements within your space for an awe-inspiring kitchen that will stand the test of time.
Storage and Organization
As your kitchen design project progresses, it's time to consider storage and organization. You must create a space that is both aesthetically pleasing and practical. Luckily, several ways exist to maximize the available kitchen space while ensuring it looks great. Whether you use an existing piece of furniture or opt for new energy-efficient appliances, you can ensure every inch of your kitchen is utilized in the best way possible.
When considering storage solutions for your kitchen, don't forget about the ancillary spaces like pantries and mudrooms. These areas can be incredibly helpful for maintaining order throughout the rest of your home. Utilize open shelving or cabinets that blend with the overall design style to keep items tucked away but easily accessible when needed. You may even want to consider adding drawers beneath counters or an island so frequently used items have their own designated spot.
Whether you're going for a traditional feel or something more modern and sleek, incorporating storage into your kitchen design will help ensure everything remains orderly and clutter free while still looking great. With careful planning and consideration, you can create a beautiful yet functional kitchen space that meets your needs!
Concealed Solutions for Clutter
Concealing kitchen clutter with clever design solutions is a growing trend in 2023, allowing homeowners to maintain an organized, aesthetically pleasing space. By utilizing integrated and paneled appliances, built-in pantries, and cabinet doors that can conceal countertop appliances when not in use, the kitchen can be maximized for storage without sacrificing style. To create a contemporary feel, warm woods like oak or walnut can bring out the beauty of a kitchen's design. Additionally, adding ambient lighting such as Fisher Paykel's Lighting Collection will brighten up any room while still keeping it cozy - perfect for those looking for an inviting but organized atmosphere.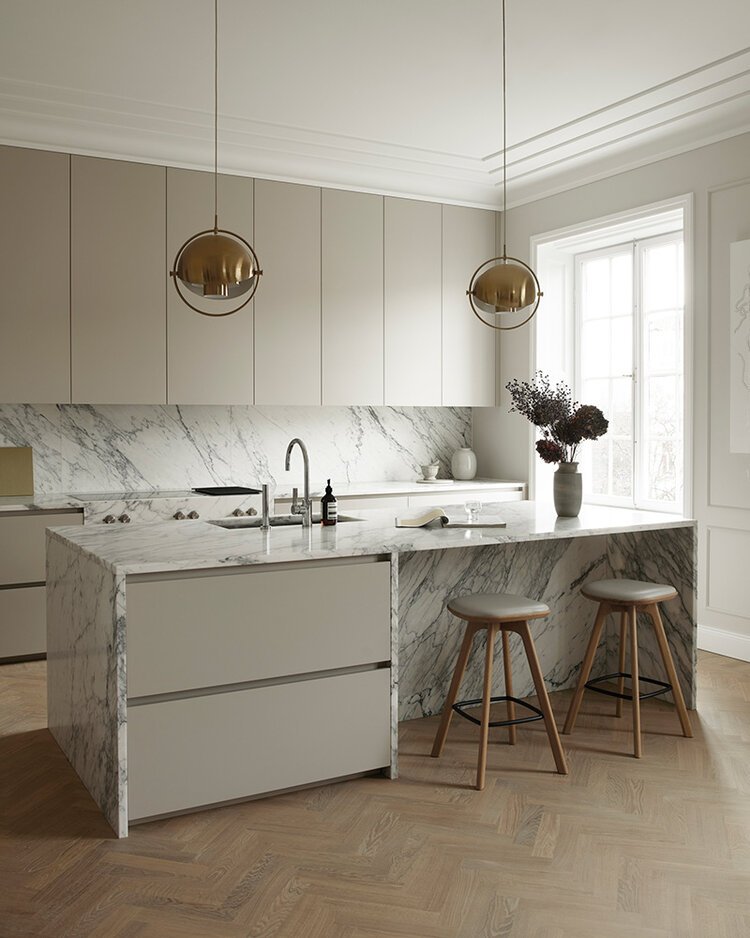 Incorporating concealed storage options into your kitchen design gives you the convenience of easy access combined with no visual disruption. With pull-out drawers and cabinets that open up automatically via motion sensors, you get both form and function in one package - without sacrificing aesthetics! Plus, these modern additions won't take away from the beauty of your chosen materials; whether it's marble countertops or sleek stainless steel appliances, they'll still fit right in with a well-thought-out layout.
By using these concealed storage solutions for your 2023 kitchen remodel project, you'll have all the benefits of ample storage without compromising on style or interior design aesthetic. You'll also be able to enjoy all the comfort of having an organized yet beautiful kitchen space where everything has its place - no more worrying about tripping over items left out!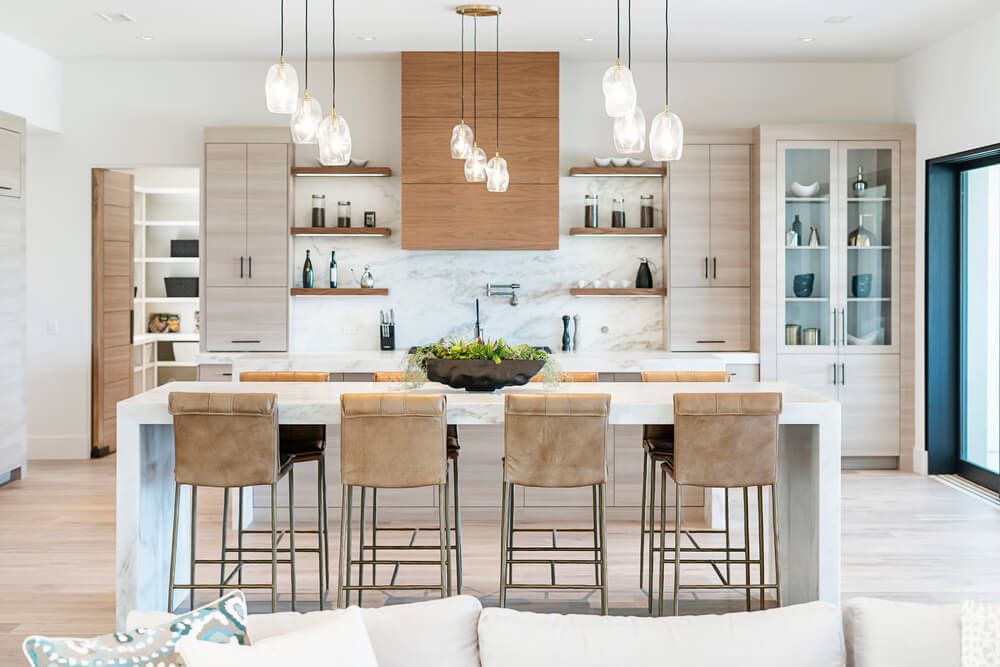 Alternative Range and Vent Hood Options
Make your kitchen the envy of all your friends by exploring alternative range and vent hood options for 2023! With smart technology becoming more commonplace, homeowners seek creative solutions to traditional kitchen design. This year, take a closer look at different options to help you create a unique kitchen feature.
The biggest trend in 2023 will be to swap out an over-the-range vent hood with downdraft ventilation. This allows the cook to connect with others in the kitchen or adjacent room while still enjoying outdoor views from their windows. It also keeps the kitchen from feeling cluttered and cramped as it opens up the space with fewer appliances needed along the walls.
When considering ventilation options, don't forget about color schemes either! Look for ways to incorporate colors into your practical choice that will enhance the overall look of your space. Whether you choose warm earthy tones, greige shades, or black and white kitchens—you're sure to find something that fits your style and budget this year!.
Pivot Doors and White Oak
Discover the elegance of pivot doors and white oak in your home this year - a combination that will add a timeless feel to any kitchen. Pivot doors are designed with various door styles, making them an ideal option for creating impactful statements in dream kitchens. Their bright coloration makes them stand out as focal points, while the wood material ensures durability and natural beauty. White oak is also becoming an increasingly popular choice for kitchen elements due its classic yet modern look. It offers warmth and dimension to balance lighter surfaces such as quartz or quartzite countertops. The combination of pivot doors and white oak creates a stunning backdrop to make your kitchen stand out.
Incorporating these two elements into your home can produce eye-catching results without compromising functionality. They provide practical solutions for concealing appliances when not in use while remaining aesthetically pleasing. Pivot doors have several options, including inset panels, decorative glass, or louvred shutters, allowing you to customize your design according to individual preferences and needs. White oak is highly durable and provides ample storage options, which are great if you're looking for ways to keep organized without sacrificing style within the space.
You can easily transform your kitchen into something special this year by adding pivot doors and white oak elements into the design! This timeless combination will bring brightness, warmth and texture, elevating any room's aesthetic while providing long-lasting functionality that will last through any trend cycle. Whether you're looking for an updated look or want to make subtle changes in preparation for 2023 trends, pivot doors and white oak may be just what you need!
Curved Designs and Workstation Sinks
Create a statement piece in your home this year with curved designs and workstation sinks - an adage that rings true for many of us "form follows function". The biggest kitchen trends for 2023 are looking to bring more versatility and boldness into the kitchen, thus making it the ideal choice for kitchens. Curved designs bring a sense of flow to the kitchen, while workstation sinks provide added convenience and increased storage potential. Minimalist kitchens are also taking off, as homeowners look to reduce clutter and maximize space.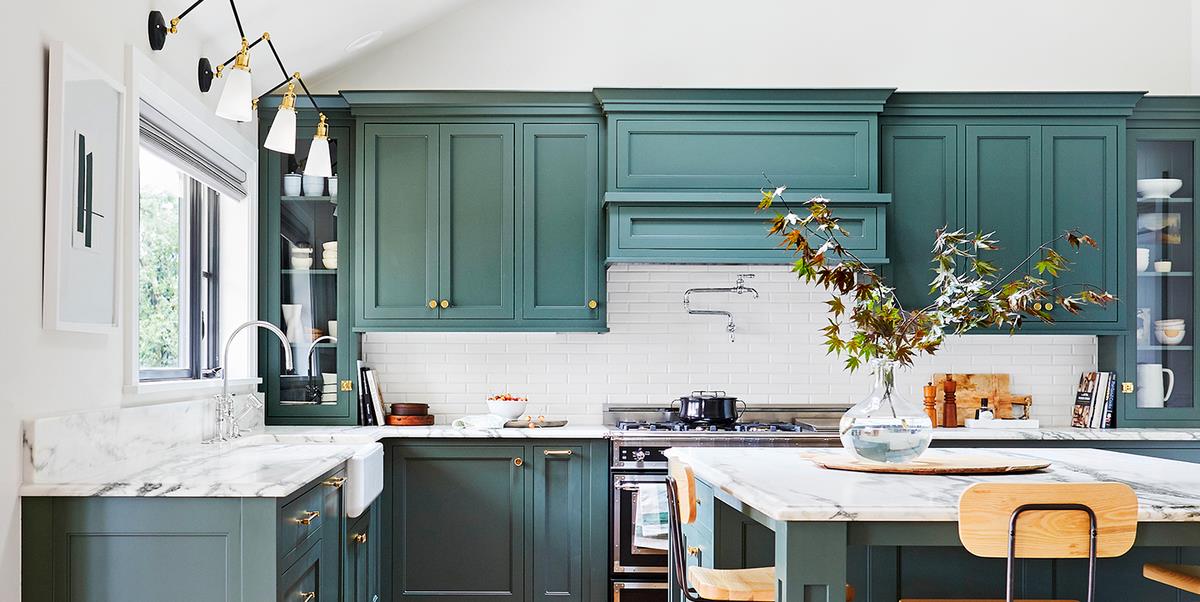 Curved elements can help add an elegant touch without sacrificing style or comfort. For instance, a curved island creates an eye-catching centrepiece no matter your chosen material. Adding curves to cabinetry also helps break up straight lines in the kitchen, giving it a more fluid feel while providing ample storage options. Workstation sinks offer all sorts of advantages, including extra countertop space when needed and adjustable height counters to tailor them specifically to your needs.
In addition to these trendy design elements, there has been a surge in the popularity of mixed metal hardware such as copper and gold fixtures paired with black matte cabinets or white oak accents combined with navy blue cabinetry. These combinations create depth and texture within any given space while adding visual interest throughout the room - perfect for those who want a bolder look in their kitchen this year!
Creating a Healthier, More Blissful You with your kitchen design in 2023
At the World Health Organization, there are reports of over one billion people living with some type of disability and designers and homeowners must consider that when designing a kitchen.
That's why we need to consider a person's age, height and abilities when designing a wellness kitchen. We must be mindful that the design can help reduce stress and frustration for those navigating the space.
To start things off, non-skid flooring is a must-have. It's a small detail that can make a big difference in preventing slips, trips and falls.
Another key element to consider is the height of the dishwasher. Raising the racks allows the user to access dishes without bending down, which can be difficult for those with limited mobility.
Adjustable seating heights at the island afford everyone in the family a comfortable place to sit. Whether you're standing at the island or sitting down, the ability to make it work for everyone is essential.
Deep drawers that are well-organized, with items easily accessible and able to be moved easily, help make the kitchen a more user-friendly space.

Experience a healthier, more blissful lifestyle with the right kitchen design in 2023! As we become increasingly aware of the impact, our environment has on us, creating an optimal space for physical and mental health is taking precedence in kitchen design. This means selecting materials, colours and finishes that are both functional and visually pleasing. Look for warm, earthy cabinet colours, greige tones, and natural wood cabinets to create a welcoming atmosphere. For added texture, black and white kitchens can be augmented by glazed tiles or slab backsplashes. Quartz countertops remain popular, but the sintered stone is gaining traction too. Smart appliances like panel-ready dishwashers make it easier to keep up with the demands of modern life when cooking at home. Incorporating wood into your kitchen design also adds a timeless feel, while mixing metals in cabinet hardware gives you the flexibility to indulge your creative side.
The trend of doubling up for efficiency can be seen in dishwashers and ovens, making it easier to cook multiple dishes at once or manage large dinner parties without running out of counter space. Solutions for countertop appliances can also be concealed with cabinet doors when not in use – giving you a cleaner look when entertaining guests while still allowing access to all the appliances you need during meal prep time. Windows provide stunning views while bringing nature inside along with daylight and fresh air – so think about adding windows where possible or swapping an over-the-range vent hood for downdraft ventilation if your layout allows it – opening up the space even further.
Vintage farm tables make great islands that will inject character into any kitchen; plus, painted furniture trends are out, so there is no need to worry about keeping them looking pristine! Finally, don't forget antique cabinets - they add a practical storage option while being unexpected conversation pieces that will elevate your kitchen from good to great! Combining these elements allows you to create an inviting yet modern kitchen that promotes well-being throughout 2023 and beyond!
Frequently Asked Questions
What is the best order to remodel a kitchen?
Both plumbing and electrical rough-ins
Drywalling
Painting
Kitchen cabinet installation
Flooring installation
Countertop installation
Backsplash installation
Appliances
Can you DIY a Kitchen Renovation
You might wonder if it is possible to do a kitchen remodel yourself. There are some things you should remember.
First, a kitchen renovation can be a big project, so make sure you have the time and energy to tackle it. Before you start, it is important to be proficient in plumbing and carpentry. It is also important to determine which parts of your kitchen you want to improve, such as additional storage, new appliances or lighting.
After you have planned your kitchen remodel, it is time to shop for materials. You'll need to decide on cabinets, countertops, flooring, and appliances.
It is a good idea to plan your kitchen layout before you shop. This will help determine how much space and what layout is best for your kitchen.
When it comes to cabinets, you have many options. There are two options when it comes to cabinets: ready-to-assemble cabinets (RTA) or custom cabinets. RTA cabinets are available in a variety of styles and colours, and they tend to be less expensive than custom cabinets.
It is essential that you ensure safety and security during large-scale renovations. You may want to look into the local building codes in order to make sure that you are compliant with any renovations.
Although you might be tempted to do a major renovation yourself, it is best to hire professionals. It is possible to save both time as well as money by hiring qualified contractors. Plus, working alongside a professional will ensure that your project runs smoothly.
Are cabinets lighter or darker than walls?
There are no guidelines for this. This is a completely personal decision that will depend on your kitchen's style, size, and shape. It is possible for dark cabinets to make your kitchen seem smaller or more cramped if it is small. A lighter cabinet will make the space feel bigger and brighten it.
For large kitchens, dark cabinets can create a cozy and intimate atmosphere. However, lighter cabinets will keep the space bright and open.
It is up to the homeowner to choose the right cabinet colour and design for their kitchen. A professional designer can help you make the best choice for your space if you are still not sure.
What type of kitchen backsplashes are in fashion?
Full-height backsplash would be best for a modern kitchen. If you're looking for something traditional, a subway backsplash will work well. If you're looking for something with a rustic feel, then stone or brick backsplash would be a good fit. It all comes down to personal taste and how it fits in with your kitchen's overall style.
Do you prefer to remodel a kitchen's floors or cabinets?
It all depends on how you install your floor. Before you can install floating floors, make sure to install your counters and cabinets first. Install your glue-down or nails-down flooring first, then your cabinets. Talk to a professional about which option is best for your kitchen remodel.
How to Save Money On Kitchen Remodel Costs
Here are some ways to save money on your kitchen remodel.
Do your research.
Before you start any kitchen remodeling project, you must do your research first. This will give you an idea of what you want from your kitchen remodel. You can also save money by doing research.
Create and budget.
Once you have a clear idea of what you want to achieve with your kitchen remodel, the next step is to create a budget. This will help you decide how much money to spend on the job. To avoid spending too much, it is important to stick to your budget.
Shop around for deals and discounts.
Consider looking for deals and discounts when shopping for kitchen appliances and materials. This will allow you to save money on kitchen remodeling costs.
Hiring a contractor who is trustworthy
A good reputation and a proven track record are essential when looking for a contractor for your kitchen remodel. You can get high-quality work done at a reasonable cost by a reputable contractor.
Do it yourself.
If you have the necessary skills, you may be able to do the work yourself. This will save you money and give you satisfaction knowing you did it yourself.
Following these tips can help you save money on your kitchen remodel costs.
Statistics
External Links
How To
These are ten small kitchen renovations that you can do by yourself.
You can easily renovate your kitchen by yourself. DIY Home Improvement Tips for the Average Joe
A small kitchen renovation isn't always something you want to tackle. This is a great way to transform your home into a modern, beautiful space. You don't have to spend a lot of money to upgrade your kitchen. Here are some easy kitchen renovation ideas.
Install a backsplash. If your countertops and sink are not covered with tiles, then a backsplash can be a great option. It adds colour and style while making your kitchen look bigger and cleaner.
Get rid of old cabinets. They keep your walls safe from water, spills, and stains. And they give your kitchen a classy look. If your cabinet door frames look worn, replace them.
Paint your kitchen - Paint will not only change the appearance of your kitchen but also help you save money. The kitchen will look fresher and more modern if you paint it. You will find it much easier to clean.
Update your appliances. It's a great idea to update your appliances. Not only will it increase their lifespan, but it will also make them look more modern. If you know exactly which appliance needs to be updated, then you can do it. You can also ask someone who is familiar with how to install these appliances.
You can also add a bar to your kitchen. Not only does it provide additional work surface, but it's also a perfect place to entertain guests.
Create a breakfast nook - You don't have to break the bank to create a breakfast nook. A small table and a few chairs are all you need. You can also add cushions to make it more comfy.
Add a pantry to your kitchen - A pantry should be a part of every kitchen. It's a wonderful place to store food and dishes.
Install an Island - An island makes a great addition in your kitchen. This gives your kitchen an open feel and allows you to work from a large area. It looks great when paired with wood flooring.
Add a wine rack. Wine racks can usually be found in restaurants or wine bars. But you can also use them in your home. They come with a range of sizes and designs. You can pick the one that best suits your kitchen.
Helpful Resources