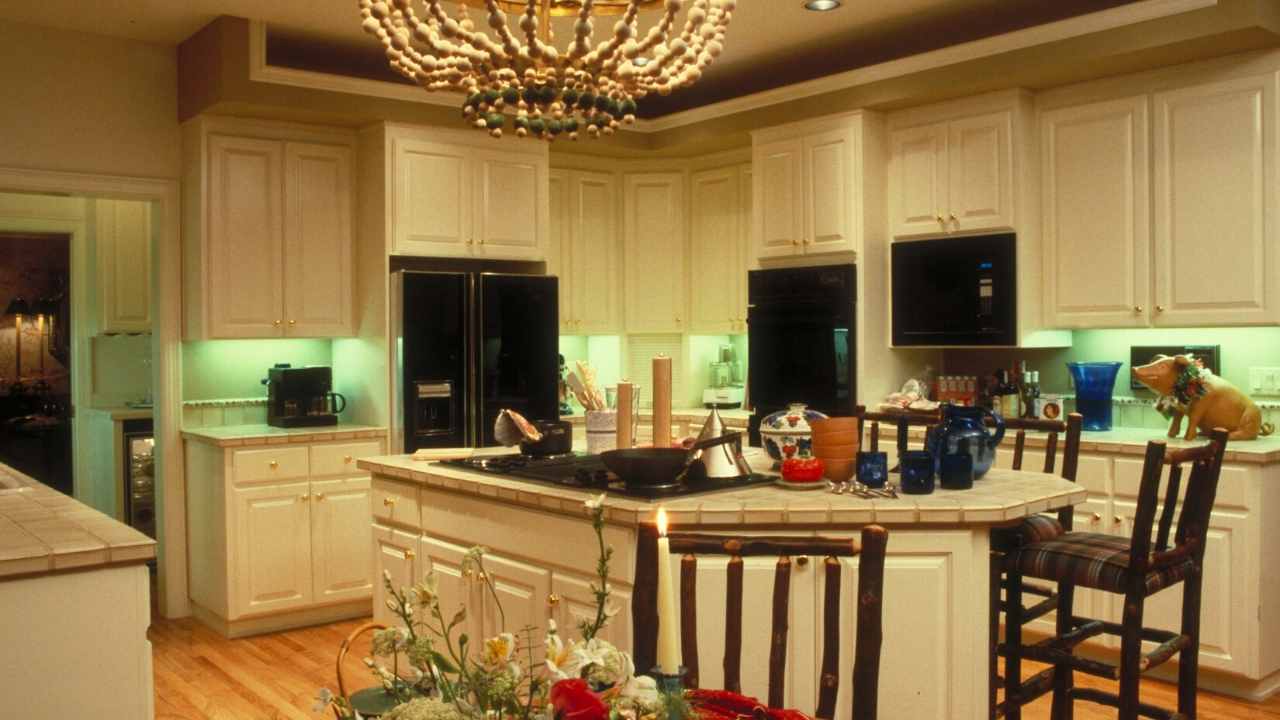 Country kitchens often incorporate additional seating to encourage family and guests to hang out together. Add a bench under a window or a cozy armchair with a rush woven rug to complement painted Shaker cabinetry and a country kitchen colour scheme.
A quaint galley kitchen can still have the hallmarks of country design if you opt for furniture-style cabinets and casual open shelving for displays of pots, pans, and enamelware. Natural earth tones in pale neutrals also work well for country kitchen colours.
White Cabinetry
Country kitchen ideas often feature white cabinets. Whether they're painted or unpainted, these cabinets bring a crisp and airy aesthetic to the cooking space. Pair them with wood countertops, natural stone backsplashes, a classic range hood, and simple wooden barstools for an elegant and cozy kitchen design that's sure to please.
Modern country kitchens also incorporate a variety of other colors to balance the look. Embrace muted shades of blue, green, gray, and tan to keep the look fresh and timeless. Alternatively, opt for darker paints that add sophistication to the space.
Tongue-and-groove paneling and open shelving create a relaxed feel in this French country kitchen by edit58. Display heirloom china, brocante finds like old cutting boards and framed color illustrations, and other traditional decor to enhance the country kitchen look. For a modern take on the look, use metallic knobs and handles for contrast and style. These are available in many finishes from bronze to nickel, and can easily be updated when the time comes to refresh your kitchen.
Natural Stone Countertops
Countertops are one of the most visible features in any kitchen. To create a cozy, stylish cooking space, consider adding natural stone countertops to your traditional kitchen design.
Granite is a popular choice, as it's heat-resistant and highly durable. Its speckled appearance conceals seams, and it comes in a variety of colors and textures. Marble is another beautiful option, although it's not as durable and must be sealed yearly to resist etching from acidic ingredients like lemon juice and wine.
If you're a homeowner looking for a countertop solution that's both durable and budget-friendly, solid surface materials like Corian are an excellent choice. They come in a variety of colors and patterns to mimic the look of natural stone and can be seamlessly joined for a sleek, modern appearance. Slate is also a good alternative, as it's heat-resistant and offers a dramatic dark color that complements any kitchen decor. Soapstone is another great option, as it's non-porous and resistant to stains.
Stainless Steel Appliances
To make a modern country kitchen feel cozy and stylish, combine natural wood accents with stainless steel appliances. This blend helps to offset the sometimes rustic textures of traditional country kitchen design and create a well-balanced cooking space.
A raw material like exposed brick is a quintessential country style element that can soften contemporary designs and add character to old-style kitchens. Whether painted in fresh cream or left as classic red, this feature wall is a charming addition to any kitchen.
Sage green is a timeless choice for a modern country kitchen, as can be chalky pinks or inky blues paired with shaker cabinetry. However, a soft slate grey is a versatile option as well, and can be beautifully contrasted against white worktops. Displaying traditional brocante finds like chic vintage china and enamelware will further add to a sense of authenticity in your cooking area.
Pendant Lighting
A modern country kitchen can feature a wide array of decorative details to create a cozy and stylish cooking space. However, it's important to balance these elements with clean lines that avoid clutter and give the room an open feel.
When selecting decorative accents, look for pieces that are timeless rather than trendy to achieve a classic look. Soft sage shades, chalky pinks and other muted hues work beautifully in cottage settings, while deep mahogany or natural wood finishes pair well with shaker-style cabinets.
Incorporating heirloom furniture or vintage decor items adds depth to your design. For example, a dining table made from reclaimed wood and topped with a patterned mint backsplash evokes classic farmhouse style. Similarly, a brass range hood or light fixture with a traditional shape is a good fit for many country kitchen designs.
Frequently Asked Questions
What color matches best with a white-colored kitchen?
While a white kitchen looks great in a variety of colours, walnut works well with it. The space will feel warm and inviting thanks to its natural wood tones. These two colors will complement each others well. If you're looking for something a little more subtle, black and grey are also great options. But if you want to stand out, opt for bright colors like red or yellow. Whichever route you choose, ensure the rest of your decor ties in with your choice so that the space looks cohesive.
Is it possible to place a refrigerator in the kitchen?
To be easily accessible, the refrigerator should be placed right next to your sink. It should be located where it won't block traffic or be too close the stove.
What is the best order to remodel a kitchen?
Electrical and plumbing rough-ins
Drywalling
Painting
Kitchen cabinet installation
Flooring installation
Countertop installation
Backsplash installation
Appliances
How do I begin a new kitchen design?
It's best to create a list listing your wishes and needs. This will allow you to communicate with potential kitchen remodelers or contractors.
- Budget: How much can you spend on your new kitchen?
Size: What is your kitchen's size? Is it necessary to increase or decrease its size?
Layout: How does your kitchen look? Are you going to need to alter the layout?
- Appliances. What appliances are you looking for in your new kitchen.
- Storage: How will your kitchen store all of your food and supplies?
Style: What style of kitchen would you like? Traditional, contemporary, rustic, etc.
- Colours: What are your preferred colors for your new kitchen design?
You are now ready to plan your new kitchen.
Can a stove and refrigerator be side by side?
You can have them side by side as long as there is enough room. This is not a good design practice in kitchen design. This can result in wasted space and cramped spaces. It is better if the stove and fridge are located in different kitchen areas. This will allow for more efficient workflow and make the kitchen feel larger.
Statistics
External Links
How To
What will it cost to remodel your kitchen in 2022? These 12 Tips Will Help You Save Money
How much can you spend on a brand new kitchen? The average cost of a new kitchen ranges between $40,000 and $100,000 depending on how large the space is, as well as what features you select. To get the best price for your home, make sure you have some upgrades in place.
These are our top 12 tips for cutting costs and maintaining quality.
Get appliances secondhand
DIY projects
Repurpose your old furniture
Save scrap materials
Hiring a professional to complete the job
Donate your stuff
Sell online
Paint colours can be creative
Go green
Please keep things simple
Make it unique
Flexibility is key
Helpful Resources