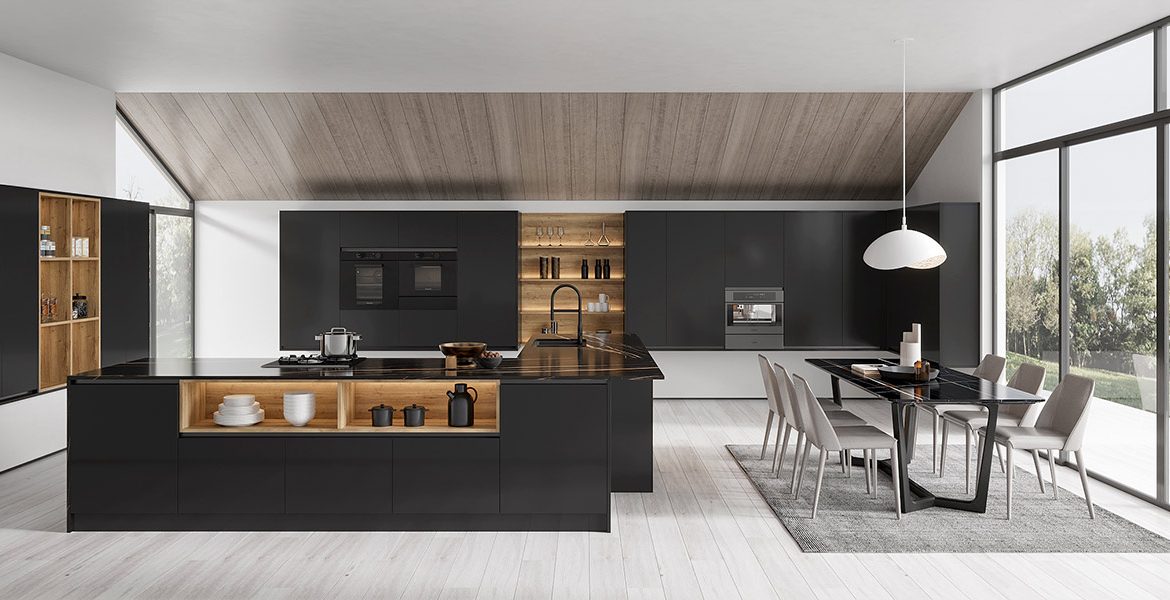 A gourmet kitchen is one of the most sought-after amenities in any luxury home. The most sophisticated cooking and dining environments are often replete with the latest high-tech appliances, custom cabinetry, and countertops. Fortunately, these luxury kitchens are not as expensive as you may think. Here are some tips for choosing the perfect luxury kitchen for your budget.
Adding a window seat
Adding a window seat to your luxury kitchen can make a great addition to your kitchen. Besides providing a place to sit, it can also provide storage space and a view of the outdoors.
Window seats are very popular for casual lifestyles. They are comfortable and provide a fantastic view of the outside world. You can even create a reading nook under your window. For added comfort, you can add cushions or throws.
One of the best ways to make a window seat feel like part of the room is to create a similar pattern as the rest of the decor. Matching the fabric and trim on your window seat can bring your design together. If you have a small kitchen, you can use a smaller window seat as a breakfast nook or homework area.
You can also create a window seat with handleless drawers in a modern home. These drawers can be used for snacks, study supplies, and cozy blankets.
Adding a wine fridge
A wine fridge or cellar is an excellent addition to a luxury kitchen. It keeps wines at an optimal serving temperature and limits oxidation and light exposure. They also come in various sizes and features.
For example, a Sub-Zero Integrated Designer Series refrigerator has a wine column tuned to specific varietal temperatures. This allows you to access your favourite bottles without opening your entire fridge.
Another cool feature is a "sommelier" drawer, which holds a thermometer, corks, and a pump for sparkling wine. Some models even have multiple temperature zones, eliminating the risk of hot or cold spots.
The best part is that the cost of this appliance is relatively low. If you're planning on entertaining a lot, you might consider adding one to your home.
Wine fridges can be freestanding or built into the wall. You may be able to fit one in a closet or a small space, such as a utility area.
Adding multiple ovens
When planning a new kitchen remodel, one of the best ways to save money is to purchase appliances on sale. Wait for the best sales, and you can often find some pretty nice pieces for as little as $1500.
Wall ovens are a great way to add extra cooking capacity without taking up any extra space. However, incorporating them into your floor plan can be a challenge.
There are a few different types of wall ovens. Some include warming drawers, which keep dishes hot and close to the serving area while they wait for guests to arrive. Adding an appliance of this nature to your new kitchen can also be a clever way to free up cabinet space.
Double ovens are another option. They can help you to prepare multiple dishes at once while adding a touch of colour. But be sure to consider how much counter space you will need.
Adding a U-shaped kitchen
Adding a U-shaped kitchen to your luxury home is a great way to maximize the space. The 'U' shape is functional and can also help separate the cooking area from other areas. If you don't have room for a full dining area, a U-shaped layout can provide a comfortable place for guests to socialize.
Often, the first thing people think of when designing a kitchen is cabinetry. While it's certainly essential to have plenty of storage, your cabinetry is not the only important part of your kitchen. Other design elements that should be considered are ambient lighting, task lighting, and light fixtures.
Having enough natural light is crucial to a well-lit U-shaped kitchen. Large windows can help create a bright and airy feel to your kitchen. However, you don't have to go overboard on lighting. Make sure you have good-quality lights and don't forget to place them strategically.
Another option is adding an island to your U-shaped kitchen. An island can help add extra counter space and provide an additional entertaining area. It also helps to maintain the functional work triangle.
Frequently Asked Questions
What is the most functional kitchen layout?
The most functional kitchen layout has an island with a sink, stove, fridge, microwave, and dishwasher, all within reach. A kitchen with an island in an L-shaped shape is considered to be the best.
How does a kitchen remodel affect home value?
A kitchen remodel can improve your home's market value by as much 20%. A major remodel can be expensive, ranging from $40,000 to $150,000. You need to decide how much you can afford and whether you'll get a return on your investment.
It is important to choose a kitchen design that appeals to many buyers if you plan to sell your house soon. Avoid putting off potential buyers by sticking with neutral colors and classic styles.
You can personalize your kitchen even if your home isn't on the market. You should think about the purpose of your kitchen and what you want it look like. Do you host parties often? A layout that gives you plenty of prep area and allows guests to move around is a good idea. Are you passionate about cooking? Then you may want to splurge on higher-end appliances.
No matter what your plans are, a kitchen remodel could be a great way increase your home's worth. Just be sure to research and work with a reputable contractor to ensure the best results.
Do you place flooring under your kitchen appliances?
It's important to have flooring under your kitchen appliances. Your countertop will be at the right height thanks to this.
What place should a refrigerator go in the kitchen?
For easy access, a refrigerator should be placed near the sink. It should not be blocked by traffic or too close to a stove.
Statistics
External Links
How To
How to design a Kitchen Layout
While there is no one right layout for every kitchen, certain layouts work best in specific spaces. Here are some ways to create a kitchen layout that suits your space.
Start with the essentials. The first step in determining what you have in your kitchen is to decide what can be sacrificed. You may not require a large oven or stove if you don't cook a lot.
Think about the traffic flow. Consider how your family uses the space and how it flows. You want enough space to be able to move freely and not bump into others.
Maximize storage. The third step is to maximize storage in your kitchen layout. This includes food storage as well as cookware storage. You will want to ensure that everything has a home and is easily accessible.
Your style should be incorporated. Incorporating your style into your kitchen layout is the fourth step. This includes everything including countertops and cabinets, flooring, and appliances. Choose materials and finishes that reflect your style.
Work with a professional. The fifth and final step is to work with a professional kitchen designer. They will help you to create a layout that fits all of your needs.