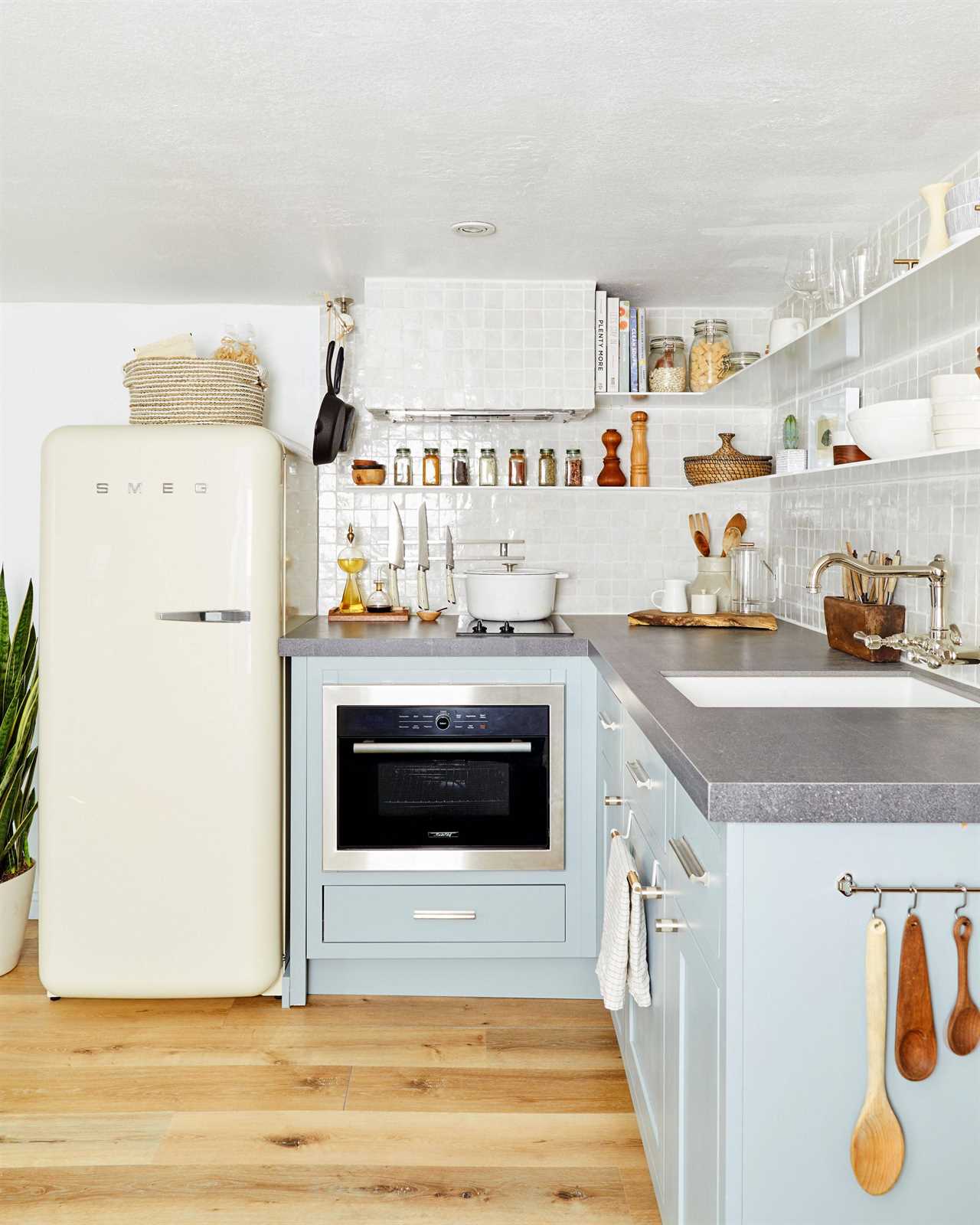 How to Decorate a Small Kitchen to look bigger and brighter than ever before.
Having a small kitchen can be a challenge when it comes to finding ways to make it look bigger and brighter than ever before. But don't worry, I'm here to reveal the secrets of making any small kitchen space look larger than life.
The first step is to keep the area open and spacious. Make sure you have enough free space in the middle of your room, so you're able to maneuver around easier. You should also consider adding more storage solutions into the mix such as full-height cabinetry and shelving.
Choose lighter colour tones for your walls and countertops since this will help reflect light and give off the illusion of a larger room size. When selecting paint colours, opt for cool tones with shades of white, blue or green. A great tip is to hang a large mirror on one wall - this can do wonders by creating the feeling of more light and depth in the room.
You can easily add character to your small kitchen décor by incorporating unique accent walls. By using different design techniques such as wallpaper or stencils, you'll be able to break up dullness throughout the whole space and provide a beautiful backdrop for appliances, utensils and furniture pieces.
Making a small kitchen appear larger is all about utilizing creative ideas and keeping things tidy! With all these strategies in mind, you'll be able to create that vibrant feel that fits perfectly with your personality style.
Open-concept plan
Strategy is key when it comes to transforming a small kitchen into a chef's paradise.
By adopting an open-concept plan, you can maximize the functionality and flow of your space. Utilize light colours to make the kitchen look bigger - this will help brighten the room and create a more inviting atmosphere for you and your family.
Opt for multipurpose furniture like built-in ovens or carts that have wheels so you can move them wherever you need them most. To create even more space, swap bulky cabinetry with sleek, modern drawers that come in different shapes, sizes and materials.
Install shelves to free up counter space and provide storage for utensils, cookware, food items and other essentials.
Mirrors are also great for reflecting natural light as well as opening up the kitchen visually, making it appear larger than it is. Take advantage of any windows available to allow more natural light inside your home by leaving curtains and blinds open during the daytime hours.
Choose slim appliances that don't take up too much of a footprint on the floor but still offer all the functions that cooks need such as countertop grills or portable induction surfaces.
Rather than cluttering up cabinet space with bulky utensils such as mortar & pestles or Dutch ovens, invest in some high-quality cookware such as stainless steel pots & pans which will take up less room while providing top performance when cooking.
Improve storage using innovative products such as wall-mounted magnetic knife racks or stackable baskets which can hold all types of ingredients from potatoes to onions in an organized way leaving plenty of room behind them on the counters!
Incorporate smart lighting solutions which include both task lighting for working areas and accent lighting around the kitchen to set off features like artwork or accessories placed above cabinets - this type of illumination will not only make cooking easier but also give your small kitchen its own distinctive flair.
A small culinary area does not have to be restrictive - get creative with how you use furniture pieces like benches and tables that offer additional seating when needed but can be tucked away when there isn't demand for extra places at mealtimes! Choose one favourite show-stopping item like a designer efficient hood vent which looks stylish while remaining unobtrusive on the walls of smaller kitchens since they encompass less real estate.
Open shelving
Open shelving is a relatively cheap way to spruce up your small kitchen. The key is to make sure that the open shelving style complements your kitchen decor. Also, be sure that you change the shelving as the seasons change.
For instance, adding some evergreen boughs to your shelves in the winter will create a festive look. You can also add pumpkins in the fall.
It's also important to consider the height of the items you're displaying. Using varying heights will make your shelving more appealing.
To make the shelves look more polished, you can spruce them up with baskets. These baskets can be filled with anything. This will make it easier for you to find what you need quickly.
For added interest, try stacking a variety of dishes. Stacking your collection in different patterns is a great idea.
Full-height cabinetry
Wall cabinets are mounted on the walls of your kitchen and are designed to store food and kitchen supplies. Wall cabinets come in varying heights and widths, depending on your needs. They are also available in different styles. The standard depth is 12 inches, but some can go up to 24 inches deep.
In order to get the best cabinetry, you should measure your space and look for custom full-height cabinetry. You can also buy pre-made cabinetry or a kit that comes with all of the pieces.
If your space is not that small, you can use floor-to-ceiling windows to open up your space. A large picture window will help create a feeling of spaciousness. It is also good to keep your window treatments minimal.
To create the illusion of a larger space, you can choose a light colour scheme. Darker colours absorb light, so try to stick with whites and light colours. Use opaque shades for privacy, but allow plenty of natural light into your space.
Accent wall
One of the most popular ways to add a pop of colour to your kitchen is with an accent wall. Whether you're looking for an eye-catching design or a subtle accent, an accent wall can bring life to any space.
Kitchen accent walls are a great way to highlight your favourite natural stone. Natural stone is an expensive material for the surface of your room, so using an accent wall is a perfect way to accentuate it.
When you're choosing an accent wall, you should always consider what will work best with the rest of the room's decor. For example, you may want to choose a colourful pattern that complements your cabinets or a wood colour that will accentuate your countertops.
Painting an accent wall can be a quick and easy way to add a splash of colour to your kitchen. There are a wide variety of colours and patterns to choose from. You can also use a single colour, which can add a dramatic effect.
Rugs
If you have a small kitchen, adding a rug can help you to create a cozy and comfortable atmosphere. You can choose from many different designs to fit your needs and style.
Kitchens are the most used room in your home. Because of this, it is important to choose a kitchen rug that is durable and easy to clean. The material it is made from will also make a difference. Natural fibre rugs are often more durable than synthetic ones.
If you're going to use a rug in your kitchen, it can be helpful to choose one that has a unique pattern. Patterned rugs can add a little colour to your space while also creating a focal point. Whether you have a vintage or modern kitchen, a patterned rug will add to the visual appeal of your space.
Frequently Asked Questions
How does a kitchen remodeling project affect your home?
Kitchen renovations can boost your home's worth by as much as 20%. A major remodel can cost anywhere from $40,000 to $150,000, so it's essential to consider how much you can afford to spend and whether you'll see a return on your investment.
It is important to choose a kitchen design that appeals to many buyers if you are planning on selling your house soon. Stick with neutral colours and classic styles to avoid turning away potential buyers.
You can personalize your kitchen even if your home isn't on the market. You should think about the purpose of your kitchen and what you want it look like. Are you someone who entertains often? Consider a layout that offers plenty of space for prep and guests. Are you a passionate cook? Do you love to cook?
No matter what your plans are, a kitchen remodel could be a great way increase your home's worth. Just be sure to research and work with a reputable contractor to ensure the best results.
What are the attributes of an ideal kitchen?
A well-designed kitchen should have ample storage space. It should also be big enough to cook, clean, entertain, and so on. A well-designed kitchen has easy access to natural lighting and ventilation.
What is the best way to adapt to Vancouver's climate with a white kitchen?
White kitchens are popular among homeowners in Vancouver because they brighten up the space and create a modern look. To add warmth and natural elements to your space, because we don't get much sun in Metro Vancouver, it's best to incorporate wood or other natural elements.
Statistics
External Links
How To
How to design the kitchen layout
There's no perfect kitchen layout, but specific layouts work better for specific spaces. Here are some tips to help you choose the right layout for your kitchen.
Start with the essentials. It is important to determine what you really need and what can be sacrificed. If you don't cook often, you might not need a large stovetop or oven.
Consider the traffic flow. The second step is to think about how you and your family use your kitchen, and how traffic flows through it. You want enough space to be able to move freely and not bump into others.
Maximize storage. The third step is to optimize storage in your kitchen layout. This applies to both cookware and food storage. It is important to make sure everything is in its right place and easily accessible.
Your style should be incorporated. Your style is the fourth step. This includes everything, including the countertops and flooring as well as the appliances and appliances. Pick materials and finishes that suit your style.
A professional is recommended. The fifth and final step is to work with a professional kitchen designer. They can help create a layout to meet all your needs.