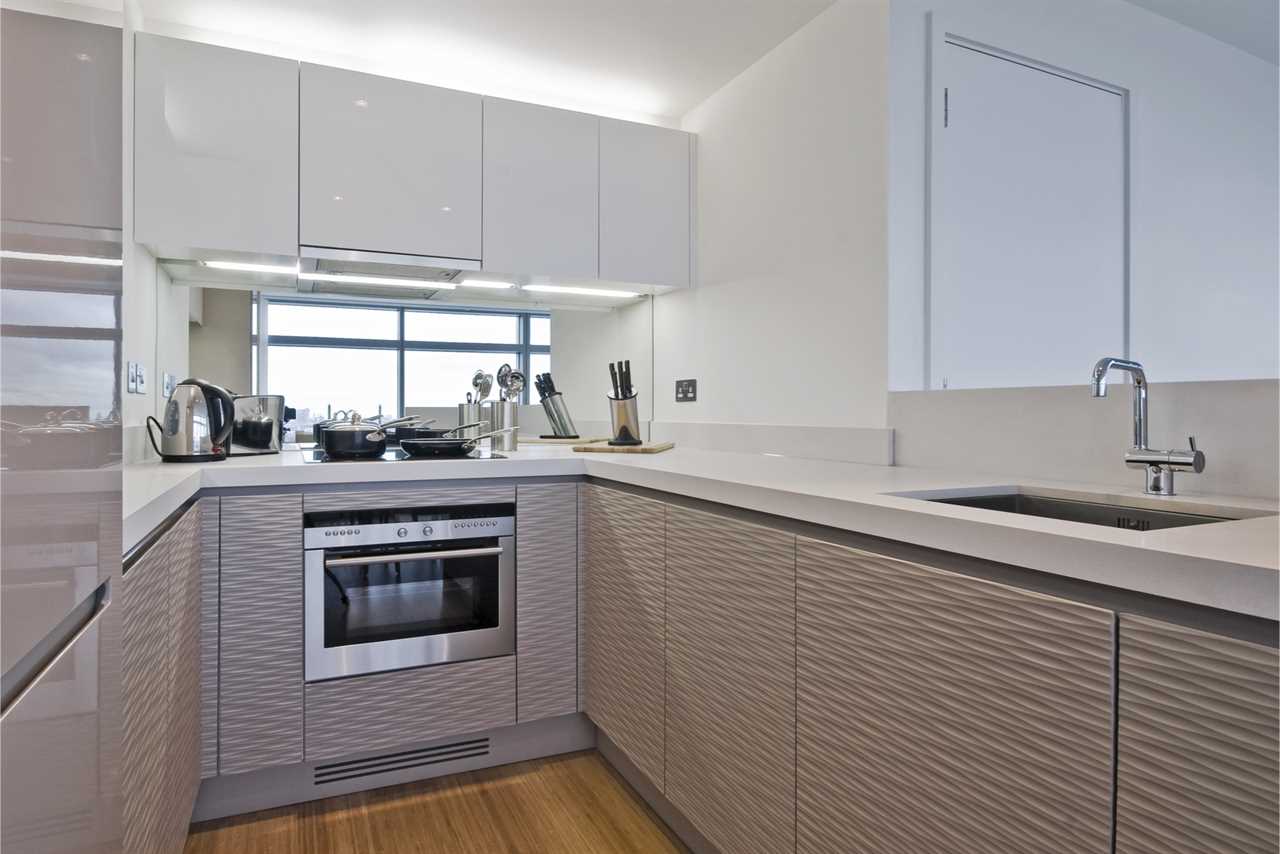 Are you looking to give a facelift to your small kitchen? Modern kitchen cabinets and countertops can help to make any space appear larger than it is.

You need to keep a number of things in mind when it comes to making the most of your small kitchen. These include the location of your appliances, the type of cabinets, and the kind of countertops you have. In addition, you need to look for ways to maximize space, such as a walk-in pantry.
White cabinets
White cabinets in modern small kitchens create a clean, universally appealing look. They can make a small kitchen feel larger and offer a convenient storage solution. While many people choose white cabinets, they also come in various shades. It is easy to find a colour palette that will suit your home's style and needs.
White cabinets are timeless and can be used in traditional and modern designs. They can enhance a kitchen's atmosphere by pairing it with any design choice. In addition to providing a clean, polished look, they can also save you money.
Whether creating a modern kitchen or transitioning to a more contemporary look, white cabinets can make your space seem bigger and more spacious. They are the perfect match for almost any type of decor and pair well with any colour countertop or backsplash.
Multi-purpose table with white quartz countertop
A multi-purpose table with a white quartz countertop for a modern small kitchen is a useful surface that offers a dining and prep space. A black bar stool complements it.
White quartz countertop adds light and warmth to the room. The white kitchen cabinets, backsplash and open shelves create a bright and airy feel. Adding a tall white shelf to the kitchen creates extra storage.
The wooden floor adds warmth to the kitchen. Metal pendant lamps create elegance. Using different heights for the island and the table breaks up the monotony.
Eternal Calcatta Classique adds an elegant look to any kitchen. Light gray marble marbling and bold white veins are a great way to contrast white cabinetry.
Lyra has a mild gray patterning that works well with traditional kitchens. The hexagonal floor adds depth to the room.
Stainless-steel countertop
A Stainless-steel countertop is a durable material that provides a practical component to the kitchen. It's also very easy to clean. In addition, stainless steel is non-porous, so acids and liquids will not set.
However, it would be best to be careful when working with it. Stainless steel countertops can be dented. This can lead to scratches, especially around the sink. The best way to prevent scratches is to choose a thicker gauge of stainless steel.
Stainless steel counters come in a variety of gauges and finishes. These include brushed, antique matte, satin polish and mirror polish. Brushed stainless steel is one of the most popular finishes.
Choosing a lower gauge of stainless steel can be cheaper. However, it is also not as strong. You'll need a thicker gauge of steel for heavier appliances or equipment. A thicker gauge will also make it less likely to get dents.
Walk-in pantry cupboard
A walk-in pantry cupboard is a fantastic way to add storage to your kitchen. It's a great place to hide kitchen clutter and prepare food. The best part is that you don't have to sacrifice much space.
There are a few key things to keep in mind when designing a walk-in pantry. First, it should be a natural extension of your kitchen. Second, it should have enough room for your pantry's contents. And third, it should be designed to complement your kitchen's style.
The layout of your pantry will also affect its functionality. For example, if you have a tall person in your house, you should place the most frequently used items at the top of the cabinet, while the least often used items should be in the bottom half.
Frequently Asked Questions
Are white kitchens out of style?
White kitchens have become a favorite choice of homeowners who want to give their homes a modern feel. Since the 1980s, white kitchen cabinets were popularized by designers. Today, white kitchens are still one of the hottest trends in interior design.
Some experts think that the all-white kitchen trend is dead and that homeowners want something different. There is an increasing demand for bolder, colourful kitchens.
If you're considering a white kitchen for your home, there's no need to worry about it going out of style anytime soon. Keep in mind, however, that trends can change. A timeless design may be a better choice if you intend to live in your home over time.
Should I install a countertop or backsplash first?
Before installing countertops or backsplashes, it is important to install the countertop. This will allow you to correctly measure and cut the backsplash to fit perfectly against the countertop. Not only is the countertop a necessary component for proper backsplash installation, but it also must be installed before any appliances or plumbing fixtures.
How can I make my white cooking area more interesting?
There are many ways to make your white kitchen more appealing. Another way to make your white kitchen more appealing is to use coloured backsplash tiles and appliances. You can also add wood elements to warm up your white kitchen. You can also use warm LED lighting to bring out white's natural warmth. No matter which route you take, it is important to add your personal style to make your kitchen stand out.
Statistics
External Links
How To
Ten small kitchen remodels you can make yourself.
Small kitchen remodeling ideas you can do by yourself.
A small kitchen renovation isn't always something you want to tackle. You can make your home feel brand new by doing this. There are many things you can do to improve your kitchen that don't cost too much. These are some simple kitchen renovation ideas you can do.
Install a backsplash. If your countertops and sink are not covered with tiles, then a backsplash can be a great option. It can be used to add colour and style, as well as make your kitchen seem larger and cleaner.
Do not replace old cabinets. They protect your walls from splashes, spills, stains, etc. They give your kitchen a stylish look. If your cabinet doors are looking worn, it is time to replace them.
Paint your kitchen - Paint will not only change the appearance of your kitchen but also help you save money. It gives your kitchen a modern look and gives it new life. Plus, it'll be easier to clean as well.
Upgrade your appliances - It will increase the lifespan of your appliances and make them look better. If you know precisely which appliance you need to update, go ahead and get it done. Otherwise, you can ask someone who knows how to install these appliances.
Add a bar - Adding a bar area in your kitchen is another good idea. You can entertain your guests by adding a bar to your kitchen.
Create a breakfast nook - You don't have to break the bank to create a breakfast nook. All you need is a small table and some chairs. To make it even more comfortable, you can add cushions.
Add a pantry - A pantry is a must-have in any kitchen. It's a wonderful place to store food and dishes.
Install an island. An island can be a wonderful addition to your kitchen. This gives your kitchen an open feel and allows you to work from a large area. Plus, it looks very attractive when combined with wood flooring.
Add a wine shelf - Wine racks usually can be found at wine bars or restaurants. You can use them in the comfort of your own home. They come in different designs and sizes. You can choose whatever suits your kitchen best.