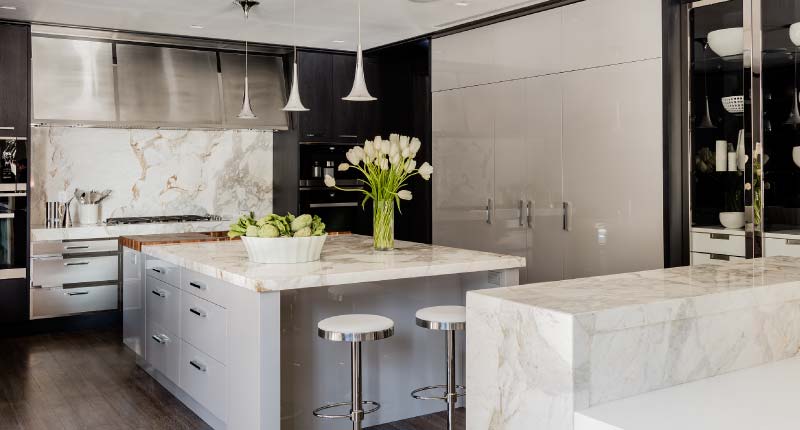 Discover the ultimate secret to creating a luxurious and elegant kitchen with just a few pieces of marble.
Radical renovation awaits!
Imagine with just a few pieces of vividly textured marble. You can elevate your everyday kitchen into something extraordinary.
It's easy to transform even the most dreary kitchen into an elegant corner of your home that you'll love and cherish.
Pristine marble is the epitome of luxurious beauty, bringing luxury, grandeur, and style to your fingertips.
But how do you get started?
Fortunately, there are lots of simple tricks that will help enhance any space with beautiful marble elements.
Begin by choosing a timeless piece––like a modern two-tone basin made from deep veined grey rock––for classic touches that never go out of fashion.
Next, explore tactile textures such as polished granite worktops, which graciously flow from wall to wall for unique features in unexpected areas.
You can also incorporate marble into eye-catching countertops to anchor an engaging contemporary design that won't overpower a room but add to its appeal.
Mosaic backsplashes are another outstanding way to irresistibly inject character across horizontal or vertical surfaces while adding a splash of colour between tiles or stones.
Unleash your inner designer and make a bold statement using lavish green ripples along the walls or layering contrasting hues within nooks and crannies for visual depth without clutter.
Finally, why not go all out with large-scale installations like sculptural bathtubs made of natural stone? These architecturally striking pieces are perfect additions to create an inviting home ambiance.
Think outside the box and discover limitless methods to perform subtle yet impactful transformations using marble––the ultimate secret ingredient that will make any area magical beyond imagination!
White Marble Kitchens
White marble kitchens have been popular for decades. These days, the trend is still growing. Whether you are remodelling your current kitchen or planning a new one from scratch, a touch of white marble can add a sophisticated look to any home.
Although marble is a classic choice, it is not always the easiest material to work with. Marble countertops can be a bit pricey, so you should make sure you have a budget before committing.
Aside from being hardy, marble is also a stylish addition to any home. In addition to the usual kitchen counters, marble can be found on cabinets, islands, and backsplashes. However, be aware that you need to care for it. Acidic substances can etch the surface, causing dull whitish spots.
Boho-Chic
The kitchen is great for bringing the Boho-chic look into your home. With the right colour palette, a kitchen can have a rustic, funky, and eclectic vibe that will make you feel relaxed and happy every time you walk in.
Using natural materials like wood, bamboo, and stone, you can create a boho-chic look. Bamboo tiles are a popular choice since they are inexpensive and durable. Marble is another good choice since it provides a sophisticated, classic boho vibe.
Green is one of the most popular colours in boho-chic kitchens. It can create a solid background or incorporate it with rustic floating shelves for a more whimsical look.
Modern
Modern marble kitchens are a great way to introduce a classic material. Marble is a sophisticated material that can be used in various ways. It can be incorporated into the backsplash, countertops, or floor. This material is durable and easy to maintain. Adding marble to a sleek kitchen is the perfect way to add some culture and pizazz.
A white marble countertop and splashback dramatically impact a modern kitchen. It also shows off the natural swirls and veining that come with this luxurious stone.
Another great use of marble is as a backsplash. This is especially true in an open-concept kitchen. The effect can be subtle or opulent, depending on the choices made in the backsplash. Adding a splash of red or gold is a great way to add personality to the scheme.

Colour-contrast
There are many ways to create colour contrast in your marble kitchen. Choose a combination that works well with your cabinetry and your countertop. You can also add an accent colour, such as red, to create a dynamic effect.
Colour contrast can work in both modern and classic kitchens. It is a stylish way to add a pop of colour to a white room. If you use a darker colour on the walls, a lighter colour on the countertops will make the space feel larger and brighter.
When it comes to colour contrast in marble kitchens, it is important to remember that you need to vary the proportions of your colours. Too much colour can overpower the marble surface.
Character
Characteristic marble kitchens are beautiful but require care and attention to maintain their shine. While there are a lot of advantages to using marble, the fact that it can be prone to staining can prove to be a downer.
Thankfully, there are several products available that are designed to help prevent stains. This means that your kitchen can still show off its character. It is important to ensure that your marble counters are protected with a stylish tray or mat.
The right stone sealer can also help prevent stains. But remember that marble is a sensitive material, so it is best to avoid exposing it to acidic solutions.
Frequently Asked Questions
Do you prefer to remodel a kitchen's floors or cabinets?
It all depends on how you install your floor. Before installing floating flooring, your counter and cabinets must be installed first. You can choose from glue-down or nail down flooring. After installing your flooring, install your cabinets. Talk to a professional about which option is best for your kitchen remodel.
What is the best kitchen layout?
If you have enough space, an L-shaped kitchen with a island is the best layout.
What countertops pair best with white cabinets in the kitchen?
You can be super bold with your countertop if you opt for a white kitchen. Quartz countertops are now the norm in kitchen design. Our top recommendations for quartz countertops that would look great in white kitchens are:
Different shades of concrete gray
Bold Granite-like patterns
Veiny marble-like designs
Bright and striking colours, such as sunflower yellow or ocean-blue, are ideal
What is the most costly part of a kitchen renovation?
The cost of a kitchen can vary depending on its specific project, so there is no clear answer. Some experts believe that the average kitchen remodel cost can be anywhere from $40,000 up to $100,000. You could face a steep price tag when you plan a major kitchen renovation. Often, your custom cabinetry is the most expensive part of your kitchen remodel if you're not making any structural changes.
Custom cabinets can be 25-35% off the total cost. Countertops, appliances, and flooring are also big-ticket items. If you're on a tight budget, you may need to prioritize which pieces of your kitchen you want to update the most. With careful planning, you can have a luxury kitchen without spending a lot.
However, there are ways you can keep your costs down. It is possible to make cosmetic changes, rather than structural ones. It might be possible to replace countertops or refinish cabinets rather than completely renovating the kitchen. To save on labour costs, consider doing some of the work yourself if your project is larger.
No matter what your budget is, there are still ways to make your kitchen remodel cost-effective. You can create the kitchen of your dreams without breaking the bank by being strategic about your choices and planning.
Is a white kitchen a good idea for Vancouver's climate?
White kitchens are popular among homeowners in Vancouver because they brighten up the space and create a modern look. To bring warmth into your space, however, you should consider natural elements such wood as there isn't much sunshine in Metro Vancouver.
How to Reduce Kitchen Remodeling Costs
Here are some tips for kitchen remodeling that can save you money.
Do your research.
Research is essential before you embark on any kitchen remodeling project. This will give you an idea of what you want from your kitchen remodel. You can also save money by doing research.
Create a budget.
Once you have a clear idea of what you want to achieve with your kitchen remodel, the next step is to create a budget. This will allow to budget how much money you'll spend on the project. You should also make sure you don't spend too much.
Look around for discounts and deals.
Deals and discounts are always a good idea when shopping for appliances or materials. This will save you money on your kitchen remodel.
Hire a reputable contractor.
When looking for a contractor to work on your kitchen remodel, you must find one who is reputable and has a good track record. Reputable contractors will be able to provide high quality workmanship at a competitive price.
Do the work.
You might be able do the work yourself, if you have the skills. You will save money and feel satisfied knowing you did the work yourself.
Following these tips can help you save money on your kitchen remodel costs.
In the kitchen, where should a refrigerator go?
The refrigerator goes between your stove and sink. You should place it close to the cupboards in order to quickly access what you need.
***
Are you required to obtain planning permission for your kitchen renovation?
You will need permits to change the locations of electrical and plumbing. If you plan to make structural changes to your walls in order to accommodate them, you might also need a permit.
If you're unsure whether or not you need planning permission, it's always best to check with your local authority before proceeding with any work.
Statistics
External Links
How To
How to design the kitchen layout
While there is no one right layout for every kitchen, certain layouts work best in specific spaces. Here are some ways to create a kitchen layout that suits your space.
Start with the basic ingredients. The first step is determining what you need in your kitchen and what can be sacrificed. You don't necessarily need a large stove, oven, or other appliances if your cooking isn't very extensive.
Think about the traffic flow. The second step is to consider how you and your family use the kitchen and how traffic flows through the space. You will need to make sure there is enough space for everyone to move about freely, without bumping into one another.
Maximize storage. The third step in optimizing storage is to maximize your kitchen layout. This includes food storage as well as cookware storage. It's important that everything is organized and accessible easily.
Incorporate your style. The fourth step is to incorporate your style into the kitchen layout. This includes everything, including the countertops and flooring as well as the appliances and appliances. Select materials and finishes that best reflect your taste.
A professional is recommended. Fifth and final is to consult a professional chef. A professional kitchen designer can help you design a layout that suits all your needs and fits well in your space.