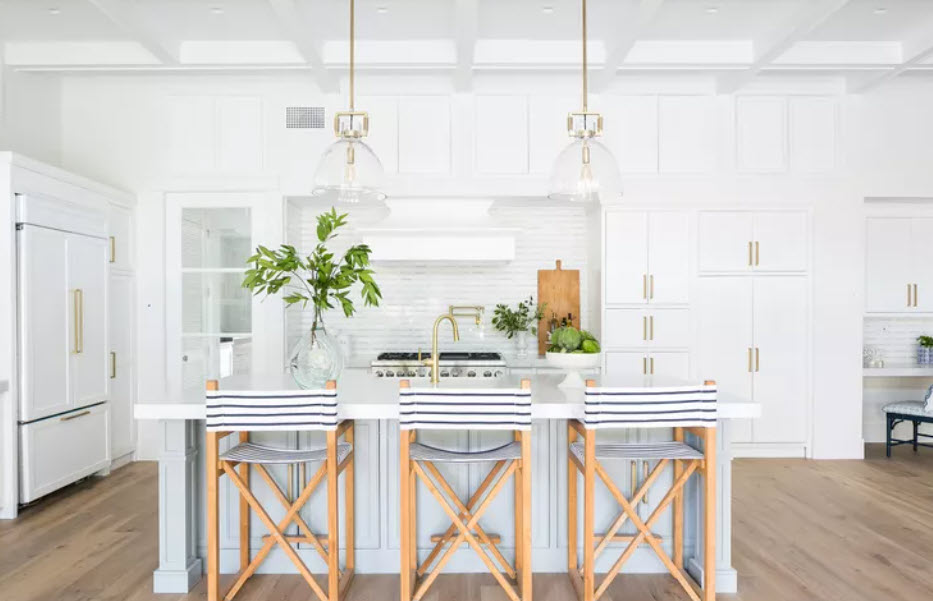 What is Modern Coastal Decor in Kitchen Design?
Modern Coastal Decor is an interior and kitchen design style that captures the airy feel and natural element associated with beach-side living. This aesthetic uses a light colour palette combined with tranquil touches of the sea to bring a cheerful, calming ambiance into the kitchen.
Neutral hues such as white, cream, beige, taupe and brown are popular for painting walls, cabinets, floors and countertops in a modern coastal kitchen. Natural materials like wood and stone can also play an essential role in bringing the coastal atmosphere alive through unique textures. Using blue tones alongside these earthy elements adds depth while allowing the room to feel peaceful and relaxed.
Seaside accents like shells, seashell jugs or trays are easy ways to add vibrancy to this stylish design scheme without packing too much visual noise. Nautical inspiration can also come through with stripes, net accents, fishing floats hung above counters, or display shelves as decorative items. Basketweave patterns on cabinets doors enhanced by brass hardware celebrating special plumbing add a classic touch reminiscent of maritime themes.

But how do you get started?
The secret lies in cabinets. Whether you want a statement piece, like a custom-built steel-framed center island, or are looking for something more traditional like shaker-style panelled doors with handcrafted wrought iron hardware, there's something for everyone when it comes to modern rustic cabinetry.
You can opt for light wood finishes such as beech, cherry or pine; combine different paint colours within white-washed frames and distressed edges; or add architecturally salvaged elements such as old mantles integrated into countertops.
Whenever using reclaimed materials, it's important to preserve the character of the piece while also focusing your efforts on creating the ideal canvas you have in mind—a canvas that mixes both aesthetics and functionality to create an actionable workspace.
For those looking to achieve a coastal style kitchen design with a modern twist, use blue tones throughout your furniture pieces and wall hangings imparting an ocean view: cyan walls painted seafoam green combined with light maple cabinets complement each other beautifully; pick sand colour tile floors combined with stainless accents found in pottery and silverware drawers; finally, add neutral colour roman shades capturing starfish patterns embroidered onto them for unique accentuation that bursts with energy!
When designing a modern rustic kitchen space, you can exercise control over how much you incorporate nature into your look – whether it's stained drapes made out of natural fibre fabric like cotton or linen pulled together with matching window seat cushions against freestanding storage cubbies filled with garden plants whose greenery adds a dash of freshness - make sure its fresh fragrance lingers within reach —the choice is yours.
Whether you opt for the sophistication of dark mahogany veneer cupboards side by side with lighter drawers handcrafted out of Tulipwood, adding subtle textures without losing their integrity – just because they're made out of natural materials still doesn't mean they have to be plain — choose the right combination of furniture pieces and accessories that speak to your tastes yet come together forming one harmonious whole — therein lays elusive key unlocking spectacular beauty from within this vibrant reinvention that speaks volumes about who we are today: A Brave New World!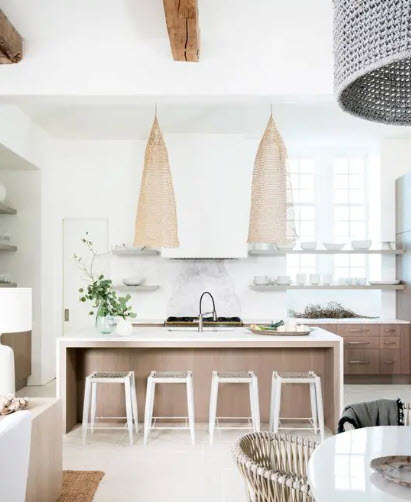 What is Modern Coastal Decor?
Modern Coastal Decor is an aesthetic style that blends the classic beach-side look with contemporary motifs to create a chic and modern home. It uses light colours, natural textures and materials, thoughtful accessorizing and quality pieces to bring the outside in.
It features bright whites and sandy hues paired with blues that echo the ocean's palette, creating a naturally calming atmosphere. Natural wood elements add texture, while maritime-inspired accents such as oars, seafaring maps, anchors and sailboats provide visual interest. Textiles like striped fabrics, netting and wicker baskets draw on nautical roots without being too literal or kitschy. Smooth stone finishes adding an organic feel, while abstract prints reference classic coastal patterns in fresh ways.
Metallic accents bring shimmer to this look, while layered rugs evoke a beachy warmth for extra comfort indoors. Unique artwork featuring works from local artisans creates a story of place and refinement. With modern coastal decorating, every detail adds up to create a cool but inviting home that evokes feelings of luxury yet still offers complete relaxation – perfect for a modern lifestyle living by the sea.
Well-chosen furniture pieces that capture clean lines with added curves complete this stylish look that can transform any room into an inviting sanctuary of tranquillity by the sea. Woven rattan chairs balance sleek lines against softer shapes, while crafted ladder shelves hold decorative accessories with sophistication without cluttering up your space. A wonderful blend of rustic designs with crisp silhouettes maintains a balanced air of simplicity and sophistication within every room of your house, embracing this charming modern coastal theme throughout your home interior design.
Slipcovered sofas
If you have a coastal-style home, slip-covered sofas can be a perfect addition. They give your living room the laid-back, casual vibe you love. And a slipcover is easy to keep clean.
Slip-covered couches come in various fabrics, including linen, polyester, and down. The fabric you choose should match your decor. You also want to consider the maintenance requirements. Some may be machine washable, while others require dry cleaning.
When you buy a slipcovered sofa, you'll want to check the instructions. Most brands suggest spot cleaning. But if you're looking for a more relaxed look, opt for a loose and shabby cover.
A slipcovered sofa's seat cushions are reversible. This lets you keep the upholstery looking fresh and new. Additionally, you can upgrade the cushions with extra soft fill.
Natural wood tones
Natural wood tones are making a comeback in the home design industry. They can add depth to an array of neutral colour palettes, such as black and white. The best part is that they are not dark and drab. Rather, they make for a warm and inviting feel.
A great example of this is the modern coastal home. These homes typically use a light touch to create a calming effect. This includes a woven light fixture, a well-appointed dining table, and an abundance of white. But the wood tones set the stage for a memorable and comforting ambiance.
The best part is that the latest innovations in high-tech materials and manufacturing have made wood a viable option again. You no longer have to shell out for an architect to create a functional and attractive home.
Open-concept floor plans
Open-concept floor plans have become a popular choice in new construction. These spaces are typically open to the kitchen, dining room, and living room for a seamless flow. The space may also connect to the front facade of the house.
Open-concept floor plans are great for entertaining. They can make a small home look bigger and provide a good spot for watching the kids play.
Open-concept floor plans can also be a big energy saver. Because they allow natural light to stream through, they can lower a family's energy bill.
The first thing to consider when designing an open-concept space is lighting. You want to be sure that your lights are positioned in a way that highlights your art and other decor and provides adequate illumination for reading.
Capiz shell chandeliers
Capiz shell chandeliers are a wonderful way to add a bit of coastal flair to your home decor. Whether you live on the beach or in the city, these elegant chandeliers can make a statement. You can easily find one to match your style and space.
They are made of natural seashells and are crafted by artisans in the Philippines. The capiz material is translucent and comes in various colours, designs, and shapes. It can be used for jewelry, furniture, and light fixtures. These unique pieces are sure to create a conversation starter in any room.
Several popular Capiz chandeliers include those with multiple tiers or decorative finishes. Most include adjustable suspension cables, genuine pearl or crystal accents, and eco-friendly lamping.
Capiz chandeliers are also available in different shapes and sizes. Smaller styles may have only one to three total lights, while larger ones can hold up to 10 or more.
Frequently Asked Questions
Do you have the skills to DIY a kitchen renovation?
Do you want to renovate your kitchen? There are some things you should remember.
First, kitchen renovations can be quite large projects so make sure that you have the energy and time to do it. It's also essential to have some basic carpentry and plumbing skills before starting. Also, you will need to decide what aspects of your kitchen to be changed, such as extra storage space, changing old appliances, or changing the lighting.
Once you've planned your kitchen renovation, it's time to start shopping for materials. It's time to choose cabinets, countertops and flooring.
It is a good idea to plan your kitchen layout before you shop. This will help determine how much space and what layout is best for your kitchen.
You have many options for cabinets. There are two options when it comes to cabinets: ready-to-assemble cabinets (RTA) or custom cabinets. RTA cabinets come with a range of colours and styles. They are often less expensive that custom cabinets.
It is important to take all the necessary precautions to ensure safety and security before you embark on a large-scale project. Check the local building codes to ensure safety and security when renovating.
Although you might be tempted to do a major renovation yourself, it is best to hire professionals. By hiring a qualified contractor, you can save both time and money. A professional can help you ensure that your project runs smoothly.
What countertops look best with white kitchen cabinetry?
You can be super bold with your countertop if you opt for a white kitchen. Quartz countertops have become the standard in kitchen design. In terms of what colours of quartz countertops would go well with your white kitchens, our top suggestions are as follows:
Concrete grey comes in many shades
Bold Granite-like patterns
Veiny marble-like designs
Bright and striking colors like ocean blue or sunflower yellow are examples of these bright colours
What should you do not have any regrets about your kitchen renovation?
You must be patient. It takes time to renovate.
Remodeling your kitchen can be a major undertaking that will have an impact on your life. You must research the project thoroughly before you get started. This comprehensive guide will assist you in avoiding any regrets as you renovate your kitchen.
Consider your lifestyle first.
Consider your budget and goals when choosing the right materials.
Consider the maintenance of your countertop, not only its appearance.
Make sure you choose the right appliance size and style.
You can choose the backsplash that best suits your needs.
Look inside your cabinets.
Communicate with your kitchen designer and contractor throughout.
Your storage solutions can be customized to fit your appliance or gadgets
Don't get your lighting lightly.
Don't ignore kitchen ergonomics!
Don't waste any space in your kitchen design.
Choose the right cabinet finish.
Before you commit, plan.
Find the right people to do the job.
Don't forget you need a place for your garbage.
Where should a refrigerator be placed in the kitchen?
To be easily accessible, the refrigerator should be placed right next to your sink. It should also be placed where it will not block traffic or be too close to the stove.
Statistics
External Links
How To
Here are the 8 Basic Steps to Kitchen Remodeling for Beginners
This is how to begin a DFY Project for Beginners.
Remodeling your kitchen is as easy as three steps. The first step is to decide if you want to completely renovate your kitchen or replace existing fixtures and appliances. Second, determine which type of kitchen design fits your lifestyle best. Third, choose between a DIY project or hiring professionals to complete the job.
The next step in the process is to decide on what kind of kitchen design you want. Are you looking for a traditional kitchen that includes cabinets, countertops, and all the appliances? Or maybe you prefer modern designs, with clean lines and minimal storage. Are you interested in installing a large island or adding a breakfast bar? The final step is to hire a professional to complete the installation.
Although the kitchen is the heart and soul of every home it is often overwhelming for homeowners because of the many decisions that they have to make before they begin their project. There are easy ways for homeowners to get started.
Decide if your goal is to remodel or replace. This is the first step. You'll need to calculate the cost of demolition and new cabinets, countertops and flooring if you intend to renovate the space.
You Need to Calculate Your Budget. This covers everything from labor and supplies costs to what you can afford.
Choose your Layout – Once you've decided how much you can afford, the next step will be to choose where you want to install your new kitchen. There are many layout options, including open-concept, peninsula, galley and corner. Each layout has pros and cons. It is crucial to find the one that meets your needs.
Selecting Your Materials – Once you have decided on the layout of your kitchen it's now time to select the materials. This covers everything from cabinets and countertops, to flooring and lighting. There are many choices available so it is important to research and choose the right materials for you.
Hiring Professionals - Once you have selected your materials, it is time to look for a professional who specializes in kitchen construction. A reliable contractor will make sure that everything runs smoothly, right from design to installation. They will provide support services to ensure that there are no problems.
Enjoy! - You've made it to the final stage of the kitchen remodeling process--enjoyment! If you enjoy your new kitchen you won't mind spending hours preparing delicious meals. If you aren't sure about the layout of your new kitchen, don't be afraid to take some time to experience it. This will help you decide if the remodel was worthwhile.