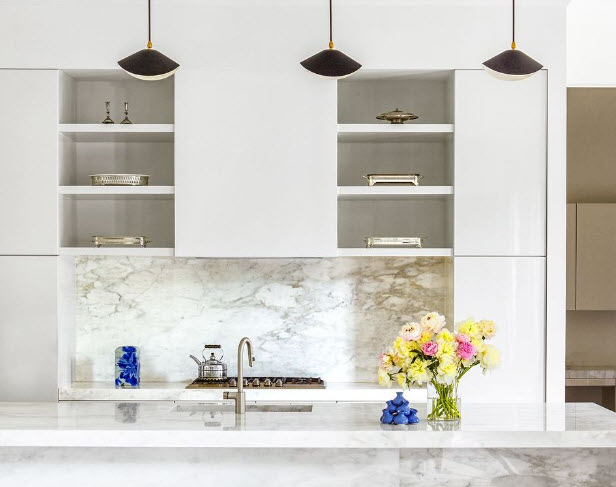 How a few strategic tweaks can make a Small Minimalist Kitchen Modern and Stylish
To give your kitchen a modern, stylish twist, there are a few strategic tweaks you can make. A built-in gas stove adds a luxurious touch and sleek tapware and sinks complete the look. Open shelving also gives this a contemporary feel and optimizes space for storage.
Functional and attractive splashback tiles are a great way to break up larger wall surfaces. Wood-panelled cabinets contrast beautifully with the tiled walls for an added visual interest in the kitchen. Additionally, utensils hung from levers or rails draw on convenience with style.
Guests will be impressed when they notice the details like putting marble counters against stark white cupboards or mixtures of granite countertops with coloured laminate sheets to create vibrancy and depth within a small space.
Integrating lighting around kitchen islands and benches creates an inviting atmosphere while serving its purpose of lighting up worktops that traditional overhead light fixtures cannot reach, instead of resorting to under cabinet lights which are otherwise not that noticeable as it gets hidden behind furniture.
Light colours reflect more light giving the impression of a much larger kitchen, while some darker colours introduce depth while making hardware stand out even more making kitchens appear more unique and high-end looking than usual.
With careful thought, colours can hide unwanted features like low ceilings or imperfect walls, thus creating an illusion of more height or space than actually exist in these smaller areas.
Introducing creative decor pieces also flattens out any aspect of plainness you may have experienced in your small kitchen through things like eye-catching prints on plates hung casually on apricot walls that both look pleasing without overpowering any other decorative elements in the room.
The choice between hard materials such as stone benches versus soft surfaces such as cork boards shows off the owner's personality whilst creating contrast visually aware along with texture break throughout their cooking space which has been thoughtfully designed for aesthetics as well as function
Open shelving
Open shelving in a small kitchen adds a decorative touch to the room while minimizing clutter. It can also be used to display books and other decorative items. The best type of wood for open shelves is plywood. Plywood is easy to work with and less expensive than other types of wood. Moreover, it is available in different grades.
If you're interested in open shelving for your kitchen, you should consider the following considerations:
You should choose a solid, durable, and versatile wood. There are a variety of coniferous species available, such as pine, birch, and maple. They are easily sourced and have good durability and colour options.
You should also think about the placement of the open shelf. Make sure that the items displayed are not too heavy or too close to the edges. This may cause damage. Also, be sure to clean the shelf regularly.
Built-in gas stove
A built-in gas stove in the kitchen can be a very cool design feature. There are a number of perks associated with having one, such as the ease of cleanup. Also, a gas stove will be a lot cheaper to operate than a stovetop or oven.
Putting one in the kitchen is a great way to add to your kitchen counter space. This is especially true if your kitchen is on the smaller side. In some cases, putting in a full-sized gas range may require some extra steps, so it's a good idea to be prepared.
The best place to put it is in your kitchen island, where it can be easily accessed and used. Another good reason to have it is that it can increase your cupboard space, as well.
Sleek tapware and sink products
Sleek tapware and sink products are a good way to add style to a kitchen. This can be done with the right kind of hardware and a little imagination. For example, you can display your favourite ornaments on shelves or a wall-mounted noticeboard.
To get the best results, consider the colour scheme of your kitchen. Ideally, you want to avoid any bold colours and stick to a neutral palette. You can achieve this by choosing a black or white colour scheme and adding a touch of colour with accents.
When it comes to the best fittings and finishes, go with a high-quality brand such as Blanco or Hansgrohe. They offer an attractive price and are known for their quality. And a splash of chrome can keep your minimalist scheme fresh.
Hanging pot stands
If you live in a small minimalist kitchen, a hanging pot stand might be the answer to your problem. It frees up some of your floor space while letting your plants display their beauty. In addition, it can be easily incorporated into your decor.
There are many different types of hanging pot stands, so finding the perfect one isn't too hard. You just need to make sure that it will be sturdy enough to hold your plants.
Some of the best hanging pot stands are made of metal. These will add an artistic touch to your home. They are also versatile, so you can use them with any type of plant. However, you need to choose a stand that will complement your room's existing decor.
Plants
There are several plants that make a great addition to a minimalist kitchen. These can add a bit of colour and personality, while also purifying the air.
A few big statement plants are a great way to spice up your kitchen. They are also a great way to create a focal point. However, smaller houseplants will also do the trick.
Some of the best houseplants are the ones that are easy to take care of. You can keep your favourite plant in a terrarium, or hang it from a hook. Or you can get a cool LED to grow light that mounts under your cabinetry.
One of the best kitchen plants is the cast iron plant. This low-maintenance plant can withstand heat, drought, and varying humidity.
Frequently Asked Questions
Where should pots and pans go in the kitchen?
Pots and saucepans should be stored in the cupboard directly above the stove. This makes them easily accessible when you need them and keeps your kitchen counters looking clean and uncluttered. A pot rack can also be a great investment to keep your pots and saucepans organized and easily accessible.
Can a stove or refrigerator be placed side-by side?
They can be placed side by side, provided there is enough space. This isn't a good practice for kitchen design. It can create wasted space and make the kitchen cramped. It is better if the stove and fridge are located in different kitchen areas. This allows for a more efficient workflow and makes the kitchen feel larger.
How do you organise an open-concept cooking space?
A simple workflow is the best way to organize an open-concept area. This means that appliances should be close to each other. This makes it easier to clean. It is a good idea to keep your cooking utensils in close proximity so that they are easy to reach. Finally, keep food storage close to the point of use. This will make things easier when you are trying to grab the items you need.
What is a timeless kitchen backsplash?
Subway tile backsplash would always be considered timeless. We recommend a full backsplash in your kitchen. This would require you to extend the countertop from your backsplash onto the base of your upper cabinets. This gives the illusion of a much larger kitchen.
What should you do first when remodeling your kitchen?
There is no single solution to this question, as everyone has different priorities. You should consider the layout of the room, your preferences for appliances, cabinets and countertops, as well as any storage requirements.
After you have decided on the essentials, you can start looking at various kitchen designs to see which options are available. You might be able to spend less on appliances and cabinets if you are working on a budget. Then, add in the smaller details such as paint colors and light fixtures.
Taking things one step at a time ensures your kitchen remodel precisely what you want it to be.
Statistics
External Links
How To
How do you select a kitchen remodelling company?
The following tips should help you make a good decision when choosing a Kitchen Remodel contractor.
Ask your friends for feedback on their experiences working with contractors. It is a great place to get honest feedback, especially from people who know the contractors. Ask them about their quality of work, professionalism, cleanliness, punctuality, and punctuality. You might also ask them about any problems they had with the contractor. If they had problems with the contractor, how did they solve them?
Ask for quotes from different companies. Give a detailed description of the project and explain why it is important to you to hire someone else. Tell them you're looking for someone who specializes in kitchen remodels. It is possible to include details such as the size and type of materials used. Make sure you tell them what type of finish you would like (e.g. countertops, cabinets backsplash, flooring). Do not forget to tell them any special requests you have for the project. You might want to install new appliances. Are you looking to have a certain style of cabinets? Is there a unique feature like a wine refrigerator or built-in microwave oven that you would like included?
Determine if the company offers worker's insurance. Check online to see if the contractor belongs to any trade associations. It is always best to choose a company that is a member of a respected organization.
Set up a meeting to discuss the details of your project with the contractor. Ask them about their qualifications, experience, and methods. Find out how they approach your project and what type of timeline they plan to use.
Refer to previous clients for references. You shouldn't just trust a contractor; get references. Call the names he recommends from his list of references. Tell them that you want to hear about your positive experience working with this contractor.
Check out reviews left by customers on websites like Yelp and Angie's List. These websites allow homeowners to leave reviews on completed projects. You can be sure that you will receive a quality job if there are many positive reviews.
For a detailed plan of your kitchen remodel, consider hiring a designer. An experienced designer will better understand what will look best in your kitchen than anyone else. Designers will also be up-to-date on the latest trends in kitchens.