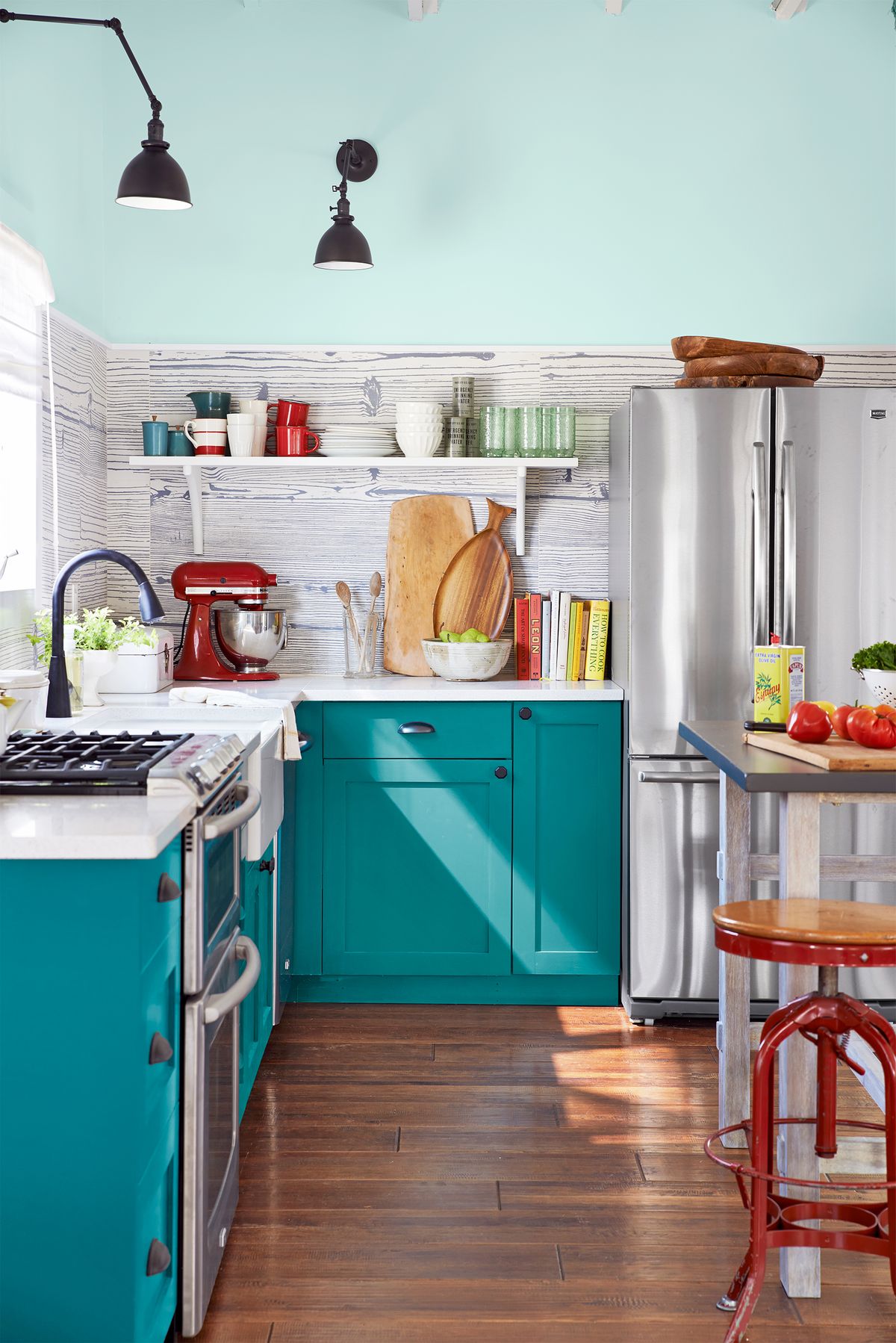 How much does painted cabinetry cost in North America?
Painting your kitchen cabinets professionally can be an expensive venture, although the exact cost is difficult to estimate without knowing the size and complexity of the project. Professional cabinetry painting will typically range between $1,500 and $5,000, depending on how large your kitchen is and how intricate the painting procedure needs to be.
Certain aspects, like issues with doors or hardware, may increase this price, but regardless of where you fall in terms of budget, it's essential that quality paint is used and prep work is done before painting to ensure lasting results,
Cabinets with crown moulding or decorative flourishes can be more difficult to paint. They require special preparation and painting techniques. Professional cabinet painters will charge by the linear foot of cabinetry.
Ask around for recommendations, if possible, and research different companies online to determine what prices they offer for their cabinet painting services. Don't be afraid to inquire about special deals both companies may have or discounts for ordering multiple projects at once.
Be sure that any company you hire has fully vetted employees with years of experience and understands exactly what type of products they plan on using to achieve a high-quality finish at an affordable price. It's sometimes worth it to pay a bit more upfront to avoid major headaches down the line!
How to paint your cabinetry and make it look like a million bucks.
Crafting the perfect painting cabinetry often seems like a daunting task. But with the right tools, techniques and tricks, you can uncover the secrets to transform your cabinetry into something that looks like it's worth a million bucks!
Begin by sanding down all surfaces of your cabinetry. This will ensure a smooth finish after you've painted them. Next, apply two coats of black primer to seal any existing stains or discolouration before painting.
Be sure to choose quality paint and brushes when painting your cabinets. Select high gloss latex paint – this will create a finished product that glistens under the light and has remarkable longevity. Choose natural bristle brushes for their better control and provide greater accuracy in application than synthetic brushes.
Once all surface areas have been primed and painted, it's time to apply protective coatings - such as varnish or polyurethane sealant - to effectively lock in that show-stopping shine!
For extra dramatic effect try using metallic accents or glazes onto your cabinetry surface especially if you prefer an antique look. Lastly, replace all handles, fixtures and knobs with those that add additional appeal to the woodwork for an altogether more appealing aesthetic overall.
Task complete? Not exactly! To keep your masterpiece looking sharp for years to come, be sure to clean your cabinet doors regularly with special furniture polishes or cleaning cloths; this will not just enhance its sheen but also protect against wear and tear due to regular usage over time.
Colour options
If you are thinking about painting your kitchen cabinets, you might wonder what colour options are available. Luckily, you have plenty to choose from. There are some helpful tips to follow when choosing the perfect colour for a small kitchen or a larger space.
First, consider how much room you have for your cabinet paint. You may need to opt for a colour that is a bit darker, such as espresso. This is a vibrant colour that works well in larger rooms. It can also provide a great contrast to the light tones of other design elements.
Another option is a gray colour. Gray paint shades are tasteful and add a sophisticated look to a room. They complement a variety of countertop options and can help hide dirt.
Blue is also a good colour choice. Dark blues look gorgeous on walls and cabinets, and they can also be used to accent a kitchen island. Some of the most popular colours include deep navy blue and powder blue.
Durability
There are many different options when it comes to painting for cabinetry. You can choose from an alkyd, oil-based or acrylic paint. The type of paint you use will impact the durability of your painted cabinets.
Oil-based paint is the go-to choice for high-traffic surfaces in your home. This type of paint has colour pigment suspended in an oil base, which provides ample coverage over imperfections. It can be used in well-ventilated areas and is a good choice for painted cabinetry. However, it's been banned in California due to its volatile organic compounds (VOCs).
Alkyd paints are similar to oil-based paints because they provide ample coverage over imperfections. They also dry quickly and are more resistant to water. Some companies make a hybrid paint that combines the best properties of both types of paint.
Acrylic paint is a great choice for painted cabinetry because it's sun and water-resistant and has a durable base. However, it's a bit more expensive than other options.


Frequently Asked Questions
These are the basic layouts for a kitchen.
The basic kitchen layouts are L-shaped U-shaped T-shaped, Ushaped, and Open-concept. These designs will depend on the area and number of appliances. To create a functional kitchen design, you should consider these various kitchen layouts.
L-Shaped Cooking Area: The L-shaped Kitchen is a popular design because it is both efficient and easily customizable. It is great for small and medium-sized kitchens, as it doesn't require much space. You can add an island to this layout if you have the space.
U-Shaped Kitchen: The U-shaped kitchen is perfect for medium to large-sized kitchens because it offers many counter space and storage options. Although this layout can be modified with an island it's not required.
T-Shaped Kitchen. Large kitchens will love the T-shaped design. This layout can be customized with an island, but it's unnecessary.
Open-Concept Kitchen: The open-concept kitchen is perfect for large rooms or homes where you want to create an open and airy feel. This layout does not have any walls and boundaries. It's great for entertaining.
Are Kitchen Remodeling Costs Worth it?
Remodeling your kitchen can make your home look better, but it can also come at a high cost. You might be wondering if it is worth the cost to remodel your kitchen.
You should take into account several factors when deciding whether remodeling your kitchen is a worthwhile investment. The first consideration is the price of your home. If you are planning to sell your home in the near future, it is important that you ensure that the remodel cost has been recouped in the final sale price.
The cost of the remodel is another factor to consider. It's not uncommon for high-end kitchen remodeling to cost more than $50,000. Make sure that you have the money to cover these costs. This cost is less important if the homeowner doesn't intend to sell their home.
You should also consider how often you will use your new kitchen. It is important to consider how often you will be using your kitchen, especially if you are a frequent host or cook large meals. A smaller, less costly remodel might be possible if your kitchen is not used often.
Here are some suggestions to help you get started if you don't know where else to look.
You will need to decide whether to replace your cabinets or build new ones. Remodeling a kitchen can add significant cost. It is necessary to remove all cabinets before replacing them.
You should choose your colours carefully. The overall look of your kitchen can be affected by the choice of colours. So choose carefully.
Decide whether or not you would like to change the flooring. You might leave the flooring as is if you are planning to sell your home soon. A freshly painted concrete slab could give off a "new look."
Consider adding more storage. Your kitchen's usable area can be increased by adding shelves, cabinets, and drawers.
Lighting is important. A recessed light above your stove, sink, refrigerator and fridge will brighten dark corners.
Add Appliances. You can save energy by replacing your fridge with a more efficient model. It can also improve the resale worth of your home.
You must ensure you have enough outlets. Most kitchens are equipped with only one or two outlets. This means that your blender, microwave and other appliances won't work in your kitchen.
Don't forget about the water lines. Water pipes are hidden behind walls or floors. Before starting any work, be sure to check for water leakages.
Remove clutter. You may already have a cluttered kitchen, so try to organize. You don't need to keep it cluttered.
Get estimates from several contractors. Compare prices by square footage, material type (cabinets or stone), as well as the number of windows and doors.
Check out financing options. Many people finance their kitchen renovations. You can avoid paying interest and make payments.
Get a rough idea of the length of time you intend to stay in your house. The longer you stay there, the more you should invest in your kitchen.
Keep track of everything. You can keep track of every detail by using a notebook.
Plan ahead. Sketch out the vision you have for your kitchen. This will help you visualize the whole project.
Do cabinets need to be darker or lighter than the walls?
There are no rules for This. This is an individual decision. It will depend on your kitchen size, shape, style, and other factors. Dark cabinets can make your kitchen feel smaller and less spacious. A lighter cabinet will make the space feel bigger and brighten it.
A large kitchen can be made more intimate by using dark cabinets. Lighter cabinets will allow the space to feel larger and open.
It's your decision to create the kitchen you desire and to pick the cabinet color that best suits that look. You can consult a professional to help you make the best decisions for your space.
How do you style small white kitchens?
It takes a lot of imagination to create a small white kitchen. You can create a stunning design in a small white space by using natural materials, such as wood, stone, glass, and other materials. White kitchens must be organized and kept clean.
Personal touches can be added to your space. This will make the kitchen feel more like home.
Statistics
External Links
How To
These are the 8 Steps to Kitchen Remodeling For Beginners
These steps are essential for a DFY project that is suitable for Beginners.
Remodeling your kitchen involves three steps. First, you need to decide whether you want an entire kitchen renovation or just replacing fixtures and appliances. The second step is to determine what type of kitchen design best suits your lifestyle. Third, you can decide whether to hire professionals for the job or DIY it.
Next is to decide which type of kitchen you want. Do you want a traditional kitchen with cabinets, countertops, and appliances? Perhaps you prefer modern designs that have minimal storage and sleek lines. Are you looking to install a large island, or add a breakfast area? After you have chosen a layout and finished material, you will need to hire a professional contractor for the job.
Many homeowners feel overwhelmed by all the decisions that must be made before starting a kitchen remodel. There are a few easy ways to get started.
Decide if You Want to Renovate or Replace - The first step is to determine whether you want to complete a kitchen renovation or replace some of the appliances and fixtures. You will need to consider the costs of deconstruction, new countertops, cabinets, flooring, lighting, and appliances if you plan to completely gut the space.
How to Determine Your Budget - Before you start thinking about how much money you can spend on your kitchen renovation, you need to calculate what you can afford. This covers everything from labor and supplies costs to what you can afford.
Decide Your Layout. Once you have decided how much money you can afford, you need to decide where your new kitchen should be placed. There are many layouts available, including open concept and peninsula, galley, U-shape or L-shaped, corner, corner, U-shape and U-shape. Each layout has its pros, and it is important that you choose the one which best suits your needs.
Select Your Materials - Once you've chosen the layout of your kitchen, it's finally time to select materials. This covers everything, from countertops and cabinets to flooring and lighting. There are many options available, so it's essential to research and select the materials that best fit your needs.
Hire professionals - Once your materials have been selected, you will want to hire a professional who is experienced in kitchen construction. Good contractors will ensure that everything runs smoothly, starting with design and ending with installation. They will provide support services to ensure that there are no problems.
Enjoy! You've reached the last stage of the kitchen renovation process. Enjoy! You won't mind spending hours in your new kitchen cooking delicious meals if you love it. If you are still not sure, take the time to test out your new kitchen. It will give you an idea of the value of your remodel.