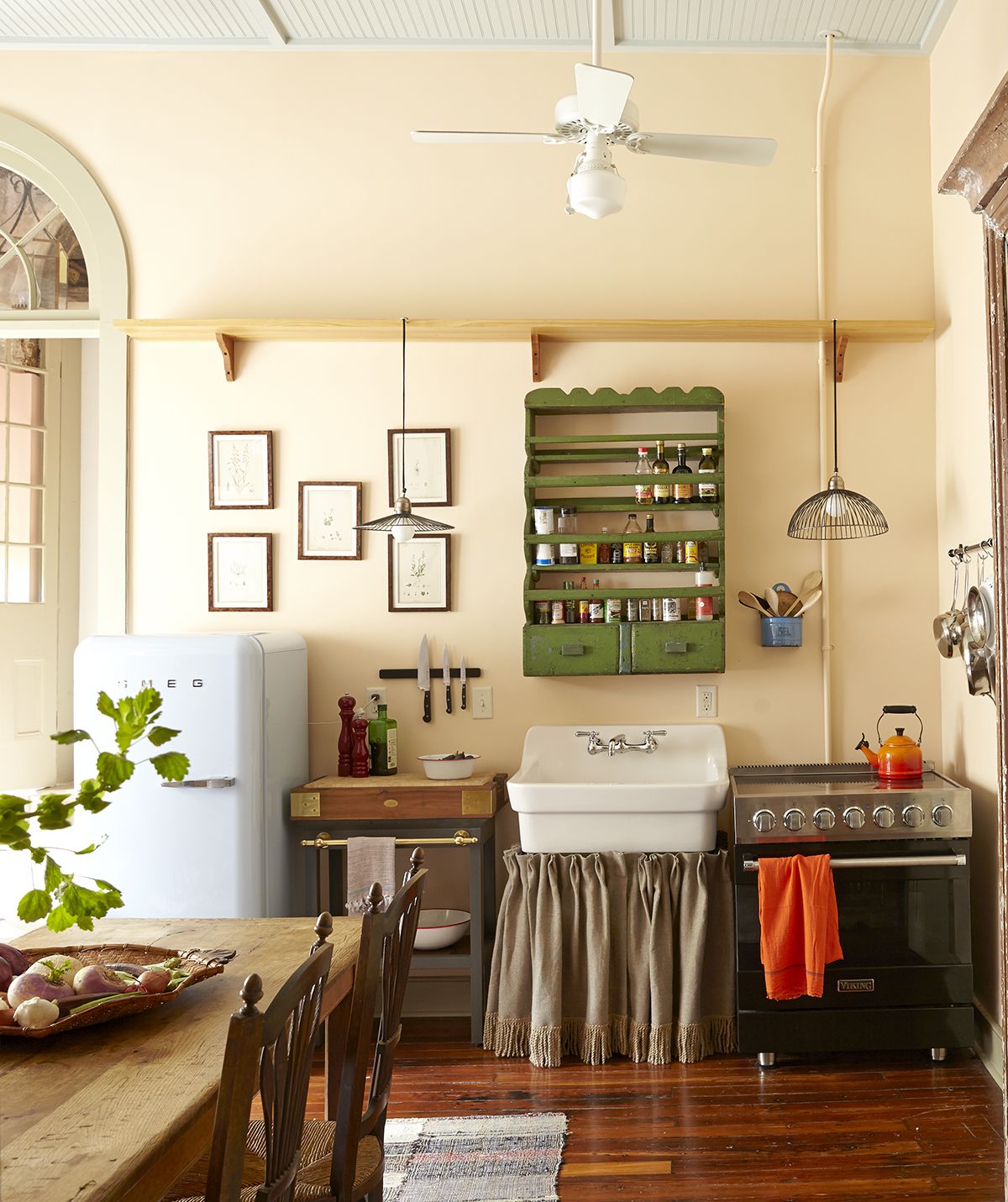 What is Eclectic Kitchen Design
Eclectic kitchen design ideas are perfect for those looking to break away from the standard purely modern or traditional kitchens. They offer a much more creative approach with a mix of styles, colours and materials that give the kitchen a unique personality.
When it comes to eclectic kitchen ideas, there are many different combinations you can use to create a truly unique look - such as combining black cabinets with brightly coloured walls and tiles or using vintage-style appliances in contemporary kitchen designs. You can also use materials like metal, glass and wood together for an unexpected yet stylish touch.
Adding elements such as open shelving, plants and artwork can also help bring life into your eclectic kitchen design. Incorporate interesting textures by adding patterned area rugs, woven baskets or installing stone countertops for effect. To add more depth to your space, consider incorporating lighting fixtures in quirky shapes or adding mirrors to reflect light and make the room appear larger than its actual size.
Not only is eclectic design very visually appealing but it is also highly functional due to the range of different features being included. Be sure to opt for pieces that have multiple purposes such as rolling islands that can be used either as additional countertop space when hosting dinner parties or just as an extra spot for eating family meals. Another great option could be open shelving units with multi-functional use which can provide storage space while also showcasing cookbooks or plants – perfect if you want something less cluttered than cupboards!
The best-kept secret of eclectic kitchen design that turns bland to bold.
Beneath the humdrum something extraordinary lay hidden, a secret that can transform the blandest of spaces into eclectic wonderlands that'll dazzle even the most casual of observers.
A secret so simple, so charming and so accessible it's undetectable at first glance yet reveals itself when observed on a deeper level.
This is 'the Best Kept Secret to Eclectic Kitchen Design' - and it's your unlocking code to boundless creativity that you can use to take your space from dull to dynamic in no time at all!
Start by looking around your kitchen, what do you observe? Chances are you may spot some obvious signs pointing towards creative potential...but not necessarily overflowing with character just yet. No problem, this is where our secret comes in handy!
Using only three key ingredients of texture, pattern and colour you can easily spice up any kitchen! Start by introducing different textures; feel free to mix up varying materials such as wood, stone or woven fabrics- this layering technique adds depth and warmth straight away! Next, sprinkle some patterns in bold colours; don't be afraid to experiment and have fun- nothing is off-limits here! Inject bursts of vibrancy throughout with a palette full of colour; think outside the box by exploring offbeat hues or perhaps bold accent pieces like bright kitchen appliances or colourful artwork hung above the work surface! And voilà! You're now ready to unveil your brand new exquisite stylish sanctuary tailored just for you!
Modern
Modern eclectic kitchens feature unique styles, textures, and colours. The style allows for eclectic decorating with a lot of flair and creativity. This style also has no limits on colour, shape, or lighting.
The modern eclectic interior design uses light grey flooring, metal, glass, and contrasting colours. One example is the white upper cabinet with an open shelf and a black backsplash. Another example is the artistic kitchen with soothing blue cabinets, a white countertop, and a rustic wooden floor.
An eclectic kitchen is great for entertaining. Its style reflects the owner's personality. Guests can enjoy breakfast and snacks.
A truly memorable eclectic kitchen is one that blends the past with the present. In addition to displaying mementos, it can show off a variety of textures. For instance, you could display vintage crockery, a framed art collection, and rustic wood shelving.
Vintage
An eclectic kitchen is a wonderful way to bring together vintage charms with modern elements. These rooms are often very colourful, but they also have an air of irreverence.
The style is perfect for people who enjoy experimenting. It allows for the use of unique furnishings, artwork, and accessories.
Creating an eclectic kitchen requires a few basics. Firstly, you need to pick a central theme. This will make the decorating process easier.
Secondly, you need to choose colours. To do this, you'll want to select a combination of bold, bright, and neutral shades.
For example, you could pick a combination of soft greens with a hint of purple and gold. You can also opt for a patterned backsplash. However, you'll want to avoid making the space too loud.
Farmhouse
Farmhouse-inspired eclectic kitchens combine a variety of textures and materials. They are designed to be functional as well as beautiful. These kitchens can be used in all types of homes. If you love warm wood accents and the feel of a rustic cabin, then this style is for you.
A farmhouse-inspired kitchen is a perfect place for large gatherings. It is also ideal for people who love a minimalist, clean design.
To achieve a farmhouse-inspired eclectic kitchen, look for cabinets and countertops that are sturdy and durable. Butcher block countertops are a great addition to the look. You can also add cement tiles for a unique touch.
To achieve a classic farmhouse style, you should pick a few neutral paint colours. Avoid colours that are too bright. Instead, opt for shades of ochre, which give a warm and energetic feel.
Cottage
Cottage-style kitchens combine bright palettes and rustic accents with antique-inspired details. They also offer a laidback, casual vibe.
This style is perfect for families with busy schedules. It's easy to make a cottage-style kitchen feel calm and inviting, even in a busy kitchen.
Decorative elements such as painted furniture and open shelves add to the cottage's whimsical appeal. To add a little formality, you can pair an upholstered chair with a pair of antique cross-backed chairs.
The wooden dresser has long been a staple of cottage-style design. Whether you spray paint it or use distressed wood, it gives the room a unique look.
Displaying collections is key to this style. You can display your plates, dishes, and glassware in different styles, sizes, and patterns. In addition, collectibles such as a wicker sofa or a large mirror can create a cottage-style statement.
Frequently Asked Questions
Are you going to regret your kitchen renovation?
Remain patient. Renovations take time.
Kitchen renovations can have a significant impact on your daily life. Before you even start, do your research to ensure that you are ready for the task. This comprehensive guide will save you from regrets when renovating your kitchen.
Consider your lifestyle first.
Select the best materials for your goals and budget.
It is important to choose the right countertop that will be easy to clean and maintain.
The right appliance is the one that fits your needs in size and style.
Select the best backsplash for your needs.
Take a look inside your cabinets and walls.
Throughout the process, communicate with your contractor or kitchen designer.
Your storage solutions can be customized to fit your appliance or gadgets
Don't get your lighting lightly.
Don't ignore kitchen ergonomics!
Don't waste any space in your kitchen design.
Choose the right cabinet colour and finish.
Before you commit, plan.
Hiring the right people is key to the success of your job.
Remember to put your garbage away.
Which colour is best for white kitchens?
A white kitchen can look great in various colours, but walnut is a good match. The warmth of the natural wood tones will enhance the space. They will also work well together. If you're looking for something a little more subtle, black and grey are also great options. However, if you want to make a statement, go for a bright colour like red or yellow. Whichever route you choose, ensure the rest of your decor ties in with your choice so that the space looks cohesive.
Can a stove and a fridge be side by sides?
They can be placed side by side, provided there is enough space. However, this is not considered a great practice in kitchen design. It can create wasted space and make the kitchen cramped. It is better to have the refrigerator and stove in separate areas of the kitchen. This allows for a more efficient workflow and makes the kitchen feel larger.
Are you able to put flooring underneath kitchen appliances?
It's important to have flooring under your kitchen appliances. This will ensure your countertop is at the right counter height.
Are white kitchens in style?
White kitchens are already popular among homeowners who want to create a modern look for their homes. Since 1980s designers started using white appliances and kitchen cabinets. White kitchens remain a hot trend in interior design today.
Experts think the all-white kitchen trend may be over, and homeowners are looking for something more. While white kitchens still remain very popular, there is growing interest in bolder kitchen designs.
There's no reason to fear that white kitchens will soon be out of fashion. However, it's essential to keep in mind that trends do change and you may want to consider a more timeless design if you're planning on staying in your home for many years.
Statistics
External Links
How To
How to design a kitchen layout
Although there's no perfect layout for a kitchen, some layouts work well in certain spaces. Here are some tips to help you choose the right layout for your kitchen.
Start with the essentials. Start by identifying what you will need in your kitchen. If you don't cook often, you might not need a large stovetop or oven.
Think about the traffic flow. Consider how your family uses the space and how it flows. You will need to make sure there is enough space for everyone to move about freely, without bumping into one another.
Maximize storage. The third step of maximising storage is in the kitchen. This applies to both cookware and food storage. You will want to ensure that everything has a home and is easily accessible.
Your style should be incorporated. Fourth, incorporate your style into the kitchen design. This includes everything, including the countertops and flooring as well as the appliances and appliances. You can choose finishes and materials that reflect your personal style.
Work with a professional. A professional kitchen designer is the fifth and final step. They will help you to create a layout that fits all of your needs.