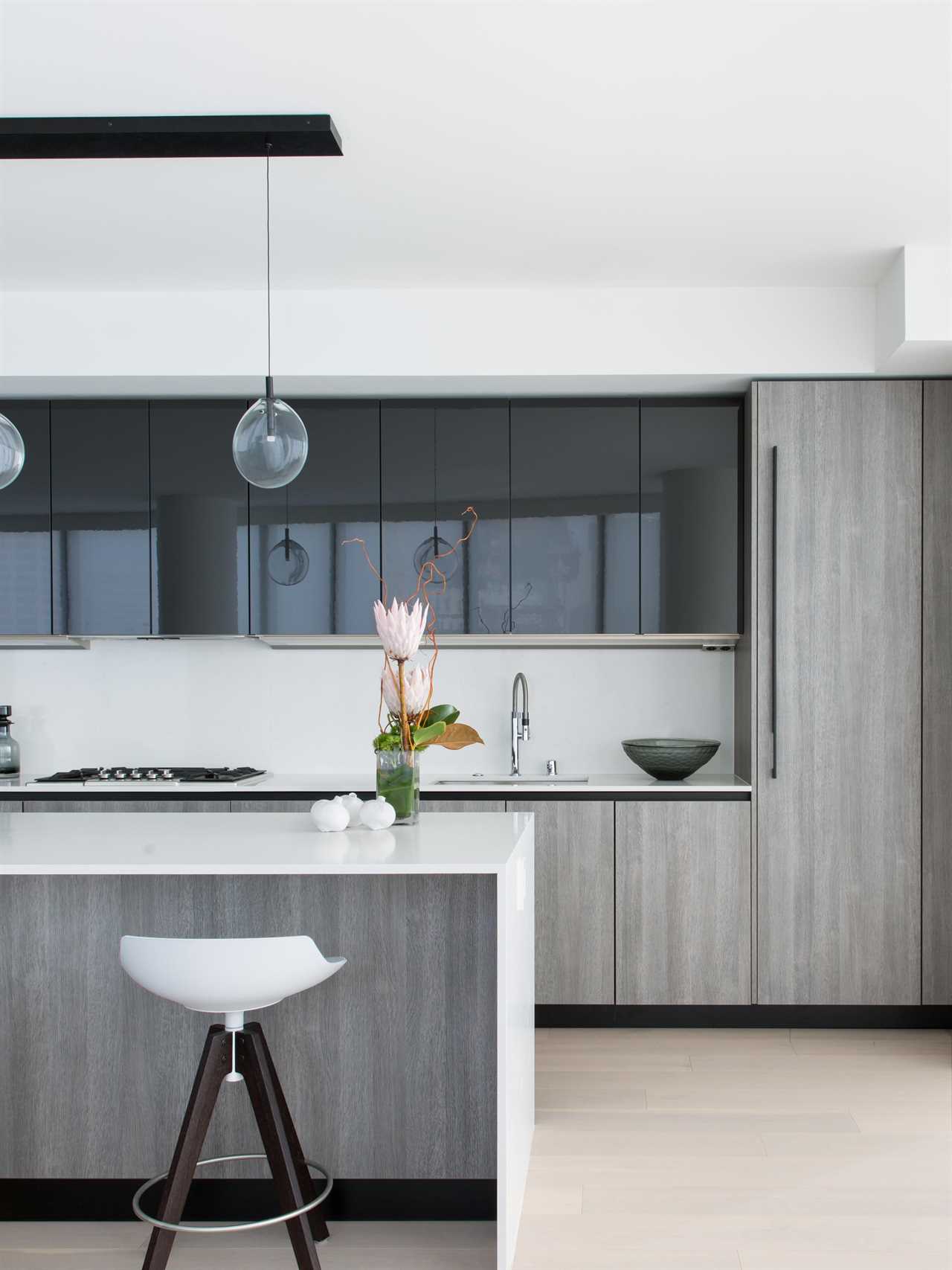 Why contemporary cabinets with clever storage solutions drastically improve the look, feel and functionality of your kitchen.
Modern cabinets with clever storage solutions drastically improve the look, feel and functionality of your kitchen. With efficient use of space and thoughtful planning, they can provide plenty of extra room without taking away from the design aesthetics.
One of the great advantages of modern cabinets is their superior organization capabilities. With pullouts, drawers, extra deep drawers, pegboard inserts and even slider racks you can find creative ways to store everything from cookware to spices in easy-to-access spaces. This means that all your daily items are within arm's reach – no more scrambling around for that one pan you needed!
The look and feel of a kitchen are also changed for the better thanks to smartly designed cabinetry selections. When selecting a modern cabinet style, there is usually a focus on sleek lines and contemporary design elements such as open shelving or angled corner posts that give an overall light airy feeling – perfect for smaller kitchens or those looking for a more minimalist approach.
Functionality is another key benefit when it comes to modern cabinets, as their clever storage spots can often act as invisible workhorses, For instance, lazy susans suspended from ceiling heights shelves allow hard-to-reach corner pieces to be stored with ease while other ergonomic inventions like pullout garbage receptacles keep unsightly bins tucked away until needed.
How contemporary style cabinets can make your kitchen the envy of the neighbourhood.
Dashing into your new, contemporary-style kitchen can be electrifying. Installed cabinets, drawers and shelves that shimmer with sophistication, providing a special space you will proudly call your own.
Transform your kitchen with cutting-edge contemporary cabinets that bring innovative style for everyone to admire. Redefine storage with sleek fitted designs without compromising on practicality—ideal for optimizing every corner of the room and adding modern fortitude to any décor.
Explore options ranging from glossy veneers to deep tones of wood, each dressed with deluxe handles expertly formulated for the most elegant finishing touches. Sleek vertical lines sculpted square shapes and practical drawer organizers create astonishing effects that turn heads and leave visitors in awe!
Add extra value when preparing meals or entertaining guests; thanks to flexible sections allowing freedom of movement within a visually spectacular setting. Enjoy the benefits of soft-shut doors as they silently close while remaining effortless to operate at all times.
State-of-the-art cabinets provide terrific tidiness and easy access whether storing crockery or tools; ensuring everything has its place! Swap shadows for striking moments of shine too, whatever the occasion requires – giving the opportunity to bask in glowing surroundings best fit for any home revamp!
Experience convenience beyond compare—allowing enjoyable everyday living at last. Create a unique sense of atmosphere around the entire kitchen space by making it uniquely yours through exquisite styles tailored with passion blended perfectly between aesthetics and ergonomics.
White is always nice!
White contemporary cabinets in kitchens create an air of sophistication, elegance, and style. They're a great way to add a fresh new look to your cooking area without going overboard.
White kitchen cabinets pair well with contemporary design elements like clean lines, geometric forms, and warm metallics. This type of colour scheme is also a great way to create a bright, open, and airy feel.
For a more refined look, consider handleless cupboard doors. These European-style doors instantly modernize the space. Also, consider glass doors to add visual interest.
If you prefer to keep your white colour scheme neutral, consider a gray floor. Light wood or parquet floors add warmth and character to the room. Choosing the right flooring is key to creating a successful white scheme.
Frameless
Frameless contemporary cabinets are a great way to give your kitchen a clean and stylish look. You can choose from a variety of options including slab and cope-and-stick doors.
A slab door is an extremely popular choice for frameless cabinets. This type of door adds a raised look to your cabinet while also presenting a seamless design. It's also a very good way to maximize storage space.
A cope-and-stick door is a more conventional style of cabinet door that provides extra support to the slab. The cope-and-stick door is a modern take on the shaker style.
Slabs are available in high gloss or solid colour. They give your cabinet a sleek and modern appearance while providing some real storage space.
Another cool-looking feature of a slab door is that it's flush with the front of the cabinet box. This allows shelves to be placed within the cabinet.
Wood
Contemporary cabinets are used in modern kitchens for their clean, sleek look. They are typically made of laminates, glass, metal, and other materials. There are many different contemporary cabinet styles to choose from, and they can be manufactured in a wide variety of colours and finishes.
The most popular contemporary kitchen colour schemes include shades of brown, taupe, and gray. These colours are neutral enough to work well with any type of interior, but can also be complemented with bold accents.
Another popular choice for contemporary kitchen cabinetry is laminated wood. This finish is composed of several layers, including a wear layer, a decorative layer, and a protective coating of melamine resin. Laminates are durable and uniform, making for a smooth surface.
A popular mixed material combination includes natural stone countertops and laminated wood cabinets. It is also common to use both man-made and natural materials in a single cabinet.
Thermofoil
When you're looking for a durable and affordable alternative to solid wood cabinets, consider thermofoil contemporary cabinets. These low-maintenance cabinetry options offer a wide variety of colour options and are resistant to most stains and wear. They're also a great choice for renters or first-time homebuyers.
Aside from their durable and stylish look, these types of cabinets are also easy to clean. You can wipe them with a damp cloth and they're stain-resistant. Thermofoil is available in a matte or glossy finish, so you can choose the one that best suits your needs.
It's easy to find thermofoil cabinets online or in brick-and-mortar stores. Many suppliers also have quality samples for you to look at before you make your purchase. If you're unsure about what type of cabinetry you need for your kitchen or bathroom, you can ask a home improvement expert for help.
Frosted glass
If you're looking for a way to add a little bit of elegance to your kitchen, frosted glass in contemporary cabinets might be the solution for you. This type of glass will help you to hide a lot of stuff, while also giving you a great look.
Adding this type of glass to your cabinets doesn't require a great deal of work. You can buy it pre-cut in sheets and install it yourself. Alternatively, you can have it installed by a professional.
To get the most out of this type of glass, consider these tips.
Choose a colour that goes well with the rest of your kitchen. For example, you can use a light colour to enhance the overall look of your cabinetry. Similarly, you can choose a bold colour for your cabinets. However, it's best to consider the undertones of your walls before choosing a shade.
Frequently Asked Questions
Is it a good idea to leave during a kitchen renovation?
If you love to eat takeout, you don't have to leave. However, if your children or pets are young or have special needs, you may want to consider living at a family member's home or staying with a friend during renovations. This way, you won't have to worry about them being in the way or getting hurt. You'll be able to keep your sanity intact if you don't have to deal with construction noises and dust every day. Ask your contractor for a written estimate of the time it will take to complete the job. It will help you plan your relocation according to their timetable.
Are you re-modeling a kitchen? Do you first do the floors or the cabinets?
It depends on how the floor is being installed. Before installing floating flooring, your counter and cabinets must be installed first. You can choose from glue-down or nail down flooring. After installing your flooring, install your cabinets. Speaking with a professional to see what option is best for you and your kitchen remodel is best.
How do you design a kitchen renovation?
Since every kitchen renovation is unique and requires a different approach, there is no right or wrong answer. But, it is important to get a clear understanding about your needs and goals before you begin designing a kitchen.
This could involve meeting with an architect, designer, or other professional to discuss your ideas.
Once you have a solid idea of your goals and objectives, you can begin to plan your budget. You must also create a timeline for your kitchen remodel to ensure you stay on the right track and avoid any surprises.
Working with an architect or professional kitchen designer will allow them to take charge of the design planning. But it is still important that you clearly define your goals and requirements from the beginning. This will ensure the design you receive is exactly what you expected and that it meets your satisfaction.
You should measure your kitchen space in terms of its overall area and the dimensions of the individual areas such as countertops, cabinets, appliances and windows. It is a good idea to note any existing structural elements that can't be removed, such support beams or load bearing walls. You might consider creating a floor plan layout to help you envision how the new design will look.
A mood board, or inspiration folder, is a great tool for narrowing down your kitchen design ideas. You can find beautiful images of kitchens on Pinterest. Spend some time looking. You can also tear out pages from magazines, collect fabric swatches or paint chips, and save any other visual elements that inspire you. These will serve as a reference point when you start planning your renovation.
Once you have a good idea of what you want your new kitchen to look like, it's time to start thinking about the budget and timeline. How much money do you have to spend on this project? What are your must haves and nice-to-haves in a renovation? When is the renovation due to be complete? Answering these questions will allow you to move forward in your planning process.
You'll need to include the cost of materials such as cabinets, countertops and appliances if you decide to remodel your kitchen. You'll also want to consider the time it will take to complete the project and any potential disruptions to your daily routine. If you hire a contractor to complete the renovation, they will likely give you a detailed quote that includes all costs as well as a timeline.
It is important to establish a timeline for your kitchen remodel in order to stay on track and avoid any unexpected surprises. Once you know when each stage should take place, you can begin to create a detailed schedule. To avoid any unanticipated delays, you should be flexible about your timeline.
You can create a detailed plan for your kitchen remodeling by following these steps. This will ensure that your final kitchen renovation is exactly what you envisioned and that everything runs smoothly.
How can I make white kitchens more interesting?
There are many things you can do to make your white home more beautiful. A way to make your kitchen more colorful is to put in coloured appliances or backsplash tiles. If you desire warmth in your white kitchen, one option is to include wood elements. To bring out the natural warmth and beauty of a white surface, warm LED lighting is another option. Whatever your choice, remember that personalizing your kitchen will make it unique.
Statistics
External Links
How To
How to design a kitchen you'll love cooking in for years to come
Kitchen designs should incorporate aesthetics, functionality, and practicality. You should carefully plan the space so that you can feel at home in your kitchen, where you can cook delicious meals, entertain friends, and unwind after a long day.
Here are some tips to help you plan your dream kitchen:
Determine the layout that best suits your needs. L-shaped, U shaped, and galley are the most common kitchen layouts. L-shaped Kitchens are perfect for entertaining, and can easily hold multiple cooks. U-shaped kitchens are great for families who spend lots of time in the kitchen. There is plenty of storage space and counter space. Galley kitchens can be used in small spaces and are easy to navigate.
You can research different cabinetry options to help you choose the best quality. There are many options depending on your budget. Investing in high-end cabinets will pay off big time. They will last longer, look great, and provide better protection against humidity, heat, and other temperature variations.
Choose a color scheme that makes your heart happy. Whether it's your favorite shade of green or pink, find a color palette that will bring color and life to your kitchen. You could use bright colors, or soft pastels. Make sure that it matches the rest in the room.
Look for a harmonious balance between beauty, function, and style. It is not necessary that your kitchen be stunning all the time. Sometimes you need more to pay attention to functionality than looks. But this doesn't mean you can't incorporate a few decorative elements here and there. Use a mix of glass, chrome, brass, ceramic, stone, wood, etc., to create an interesting focal point.
Create a comfortable environment. Comfort is key when designing your kitchen. This is where you will spend most of your time. It should be welcoming and comfortable. Add seating areas, lighting fixtures, or other features that will make you feel relaxed after a long work day.
Make sure you have enough storage. You need plenty of storage space in your kitchen for all your cooking equipment, utensils and dishes. You should think about adding extra cabinets when remodeling your kitchen.
Include a pantry. A pantry allows you to efficiently organize and store food items. Plus, having a separate area where you can stockpile extra supplies will prevent clutter from building up around the rest of your kitchen.
A new flooring option might be worth considering. The look and feel of your kitchen will greatly depend on the type of flooring you choose. There are many options available. For small spaces, it may be possible to have the same flooring throughout the house.
Plan for expansion. One of the biggest mistakes people make when remodeling their kitchens is not including enough room for future growth. You should consider expanding your kitchen by installing sliding doors, adding another walk in closet, or increasing the counter space.
Allow plenty of light. You will enjoy your kitchen more if you can see it. So, if you plan on using your kitchen as a family gathering place, ensure you leave lots of natural sunlight streaming through the windows.
Install energy-efficient appliance. Energy efficiency is one of the most important considerations when remodeling your kitchen. This means you need to replace older appliances with more energy-efficient models.
Be realistic about your budget. Before shopping for new appliances, cabinets, or anything related to your kitchen project, do a detailed analysis of your finances. This will allow you to narrow your options and help you save money in long-term.
Designate a space for entertaining. Whether you love hosting dinner parties or like to entertain friends over drinks, a designated dining area will give your guests somewhere to gather and socialize.
Consider adding an island to your kitchen. A kitchen island can be a wonderful addition because it offers extra space for prep and cooking, while also providing a convenient place to keep your drinks, snacks, or other small items.