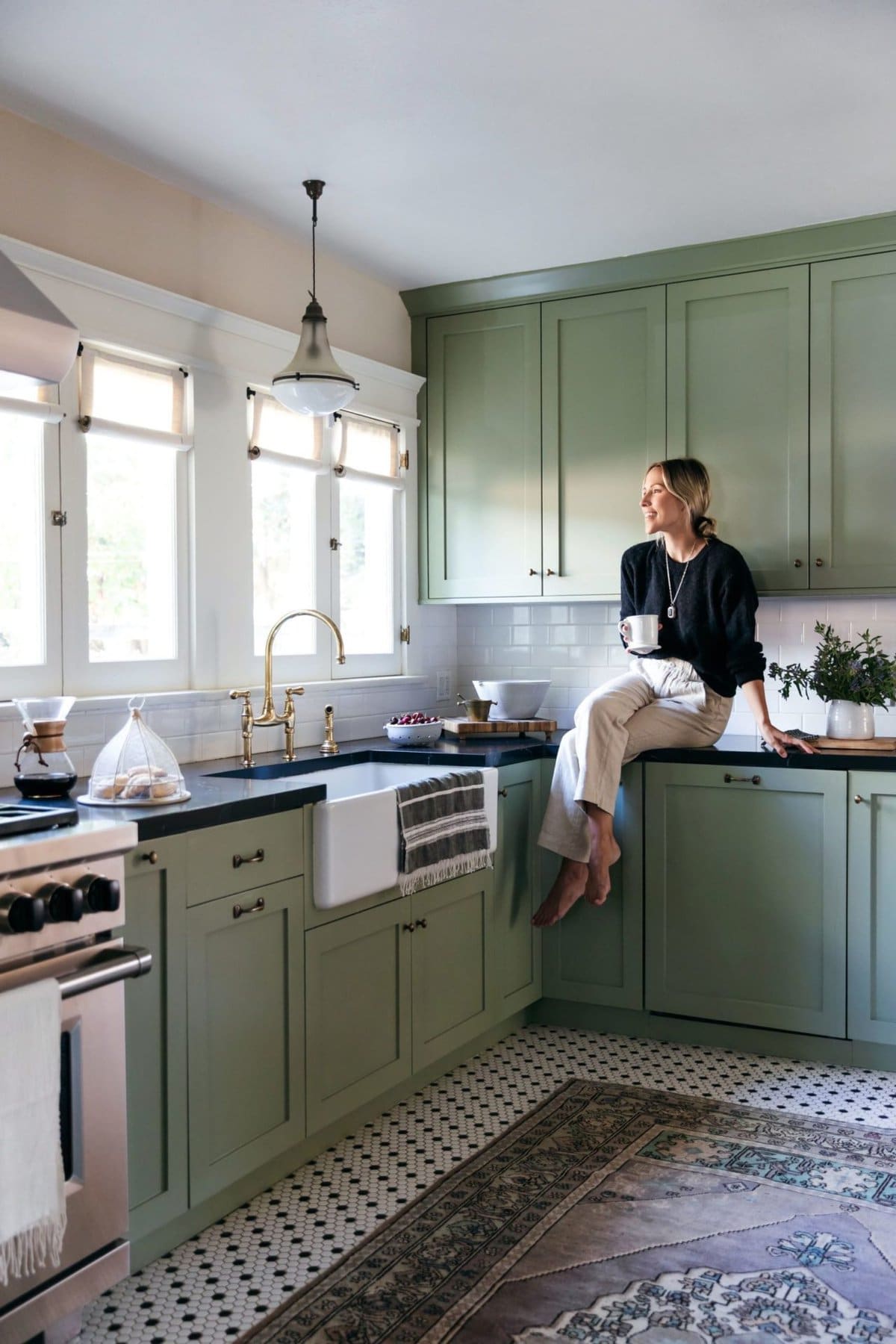 The most innovative and inspiring shades of green kitchen ideas.
Tired of the same white and gray kitchens? Look no further than green, the fresh, vibrant colour that lends sophistication and sophistication. Adopt it in any part of your kitchen to reinvigorate its look.
Sensational shades of velvety olive green pair perfectly for a warm vibe in kitchens. Opt for wall cups and chairs in this calming tone. Flaunt this shade with plain white cabinets, or combine it with luxury marble countertops to spice it up!
Minty hues of green add an ethereal look. Set up open shelves painted in this minty hue contrasted against wood cabinets for a nature-inspired interior. Pair it with refined furniture like wooden dining tables and classic lighting fixtures to keep the place airy.
Be inspired by retro décor and uplift your kitchen's style. Lively lime hues infuse a touch of fun, while offbeat furniture pieces bring all the drama! Balance out bold, leafy walls with minimalist elements like warm flowing tiles, neutral stainless steel appliances and aftermarket seating arrangements.
Lighten up your kitchen area using classic French neutrals like sage green! Ideal for brightening dark corners, this subtle colour makes small spaces feel cozier while lending some sophistication too. Hang metallic racks around window frames or drape woven throws over muted sofas to match their chicness.
Go wild over nature themes and embrace seafoam tones to transport you into nature's nooks! Install blue gem tiles alongside deep blues on walls or natural brown floorings to create an outdoor ambience within the house's comforts – now, people can lust after beaches even indoors!
Spread the olive branch by introducing olive shades into your abode décor style statement! Define your cooking area with sleek stone cabinetry lined up against olive-hued wallpapers singed off with brass handles for some glitzy effect, including modern chrome lamps adding an artisanal atmosphere anywhere you go, playfully flaunting shiny shadows around every corner!
At last, give your space a posh character, unleashing emerald greens that exude warmth and glamour all at once! Paired with striking black appliances and floors enriched unmistakably delivering luxurious vibes just barely surfacing beneath eye level, giving away luxe vibes right left centre everywhere you move, confidently unlocking all kinds of fine living exquisitely acknowledged underwhelmed perhaps availing oneself timelessly embracing them infinitely!
Let's talk in more detail...
Olive green
The colour olive is a natural, mutable hue that's great for any space. You can incorporate it into your kitchen design in many different ways. Whether you use it on walls, cabinets, or floors, it's an excellent choice for a colourful and stylish kitchen.
Olive green is a calming, earthy shade that pairs nicely with neutrals and other earthy tones. It's also a perfect complement to darker woods and mid-century furniture. For a more rustic look, you can choose a dark forest green.
A deep emerald green island can be a rich centrepiece. Add wrought lantern-style pendants and ornate stools with beaded legs. Keep the rest of the space simple.
You can make olive work for you with a few key pieces. The key to an effective olive kitchen is choosing the right colour combination.
Sage green
Sage green kitchen ideas may not be the first thing you think of, but this colour is versatile. It can be used with various colours, creating an organic, calming feel. Sage green is a good choice whether you want a modern or country-style kitchen.
Sage green kitchens are popular for several reasons. They are organic and calming and can help create an open-plan feel. They can be combined with shades of brown and cream to create a warm and welcoming feel.
Using a shade of sage green as an accent wall or on the featured cabinet can add an eye-catching touch to your kitchen. A pale sage tone can also be a striking addition to a plain kitchen.
High-gloss green paint
High-gloss green paint for kitchen ideas is a great way to accent your cabinets or other architectural features. It can also be a fun way to create a vibrant space. The key is to choose the right finish for your project.
A high-gloss finish is more durable and reflects light better. You can apply it with a roller or brush. However, you may not want to use it on the walls in areas with a lot of wear.
Try a satin finish if you want a more subtle, soothing look. The sheen will minimize the textured surfaces, but you'll still get a great visual impact. Also, a matte finish can help to tone down the impact of strong colour.
This is especially helpful in areas with a lot of traffic, such as the kitchen island. Unlike semi-gloss, satin is easy to clean and wipe.
Terrazzo splashback
Terrazzo is a material that's not only durable but also beautiful. You may have seen it on countertops and floors, but you can also use it as a wall covering.
Adding terrazzo to your kitchen is a great way to make a statement. It's unique and will complement many design styles. The classic terrazzo style combines marble or granite aggregates set into a cement binding agent.
Terrazzo is one of the most exciting new materials in interior design. It's durable, easy to maintain, and looks bold. With a wide range of finishes and colours, you can easily find a terrazzo tile to match your kitchen's style.
To get the most out of your terrazzo backsplash, choose the right tiles. You don't want to pick something that will get stained. This means you need a tile that's resistant to moisture and grease.
Metallic accents
Metallic accents are one of the hottest trends in interior design right now. This includes the kitchen, where the right metallics can add a chic edge to a modern look. They can also add warmth to a neutral space.
Copper and gold are two of the most popular metallics. Both can be mixed with wood to create a warm and opulent feel in the kitchen. You can also add brass for an aesthetic contrast to darker hues.
If you want to bring a touch of glam to your kitchen, consider mixing metallics with rose gold. Rose gold is a trendy colour that is available on many items. It is also an easy colour to work with. Pair it with a white kitchen to make it stand out from the rest of your space.
Frequently Asked Questions
Which place should a fridge be located in the kitchen
The refrigerator should be placed between the stovetop/sink. It should be close to the cupboards so you can quickly get what you need.
***
Planning permission is required for your new kitchen.
You'll need to apply for electrical and plumbing permits if you are changing the location of your electrical and/or plumbing. If you are making structural changes to your walls, you may need to apply to a building permit.
You should always check with your local authority before beginning any work if you aren't sure if you need planning permission.
Are Kitchen Remodeling Costs Worth it?
Remodeling your kitchen is a great way of improving the appearance and feel of your house, but it can also prove costly. If you're thinking about remodelling your kitchen, you might wonder if the costs are worth it.
There are several factors to consider when determining whether or not remodelling your kitchen is a good investment. The first is your home's market value. If you plan on selling your home shortly, you'll want to ensure that the remodel cost is recouped in the sale price.
You should also consider the cost of the actual remodel. high-end kitchen remodels can cost upwards of $50,000, so it's essential to ensure you have the budget to cover the costs. The cost of remodeling your kitchen may not be a major concern if you don't plan to sell your house.
Consider how much you will be using your new kitchen. Your new kitchen should be able to handle large gatherings or cooking large meals. You might be able manage with a smaller, more affordable remodel if you don't intend to use your kitchen often.
These tips will help you start if there are no clues.
Decide whether you want to build new cabinets or replace existing cabinets. The cost of a kitchen remodel can increase significantly if new cabinets are added. Additionally, if you wish to replace all cabinets, you will need them to be removed before you can install new ones.
Pick your colours carefully. Colour choices can affect the overall appearance of your kitchen, so choose wisely.
Decide if you are going to upgrade the flooring. If you plan to sell your house soon, you might want to leave the flooring alone. A freshly painted concrete slab may give off a fresh, modern feel.
Consider adding more storage space. Add cabinets, drawers, shelves or other storage options to your kitchen.
Lighting is important. Installing recessed lights above the stove, sink, and refrigerator will brighten up the dark corners of your kitchen.
Add Appliances. You can save energy by replacing your fridge with a more efficient model. This can increase the resale price of your house.
You must ensure you have enough outlets. Most kitchens have just one or two outlets. This means that you won't have an outlet to plug in your blender, mixer, or any other appliances.
Don't forget the water lines. Water pipes are hidden behind walls or floors. Before starting any work, be sure to check for water leakages.
Remove clutter. Your kitchen is already crowded, but try to keep things organized. Take out anything unnecessary.
Get estimates from several contractors. When shopping around, compare prices based on square footage, material type (cabinets vs. stone), and the number of doors and windows.
Look into financing options. Many homeowners finance kitchen remodels. This will allow you to make monthly payments and avoid interest.
You should have a clear idea of how long your house will stay. Your kitchen will be more valuable the longer you keep it.
Keep track of everything. Take down all details in a notebook.
Plan ahead. Sketch out the vision you have for your kitchen. This will make it much easier to visualize the final result.
How can you not regret your kitchen remodeling?
Take your time, the renovations can take some time.
Renovating your kitchen is a big undertaking that will significantly impact your daily life. Before you even start, do your research to ensure that you are ready for the task. This comprehensive guide can help you avoid making mistakes during your kitchen remodel.
Consider your lifestyle first.
Consider your budget and goals when choosing the right materials.
It is important to choose the right countertop that will be easy to clean and maintain.
You should choose the right size and style of appliance.
Find the perfect backsplash for you.
Look inside your cabinets.
Communicate with your contractor and kitchen designer throughout.
To fit your appliance and gadgets, customize your storage design
Don't get your lighting lightly.
Don't ignore kitchen ergonomics!
Make sure you don't use up any space in your kitchen design.
Choose the right cabinet finish.
You must plan before you can commit.
Hiring the right people is key to the success of your job.
Make sure you have somewhere to dump your garbage.
Statistics
External Links
How To
Ten small kitchen remodels you can make yourself.
Small kitchen renovation ideas that you can do yourself.
A small kitchen remodeling project is not always something you'd like to tackle. But if you want to make your home feel like a new one, then this is what you should consider doing. You can do many things to improve your kitchen without spending too much money. These are some simple kitchen renovation ideas you can do.
Add a backsplash – If you don't have tiles around your countertop and sink, then adding one is the best thing that you can do. It adds colour and style while making your kitchen look bigger and cleaner.
Replace old cabinets - Cabinets add a lot of value to your kitchen. They can protect your walls against spills and splashes. And they give your kitchen a classy look. You should replace your cabinet doors if they look tired.
Paint your kitchen. Paint can transform the look and cost of your kitchen. You can give your kitchen a new look and make it more modern by painting it. Plus, it'll be easier to clean as well.
Update your appliances. It's a great idea to update your appliances. Not only will it increase their lifespan, but it will also make them look more modern. If you know precisely which appliance you need to update, go ahead and get it done. If you don't know how to set these appliances up, ask someone.
A bar is another great idea. You can entertain your guests by adding a bar to your kitchen.
Create a breakfastnook - A breakfastnook doesn't require you to spend a lot of money. A small table and a few chairs are all you need. You can even add some cushions to make it more comfortable.
A pantry is essential in every kitchen. It's a great place to store food, dishes, and other things.
Install an island - An island is an excellent addition to your kitchen. An island gives your kitchen more space and offers ample work surfaces. Plus, it looks very attractive when combined with wood flooring.
You can add a wine rack to your home. Wine racks are often found in wine bars and restaurants. But you can also use them in your home. They come with a range of sizes and designs. You can choose the best one for your kitchen.


Did you miss our previous article...
https://vancouverkitchendesign.com/news/design-ideas-for-modern-kitchens