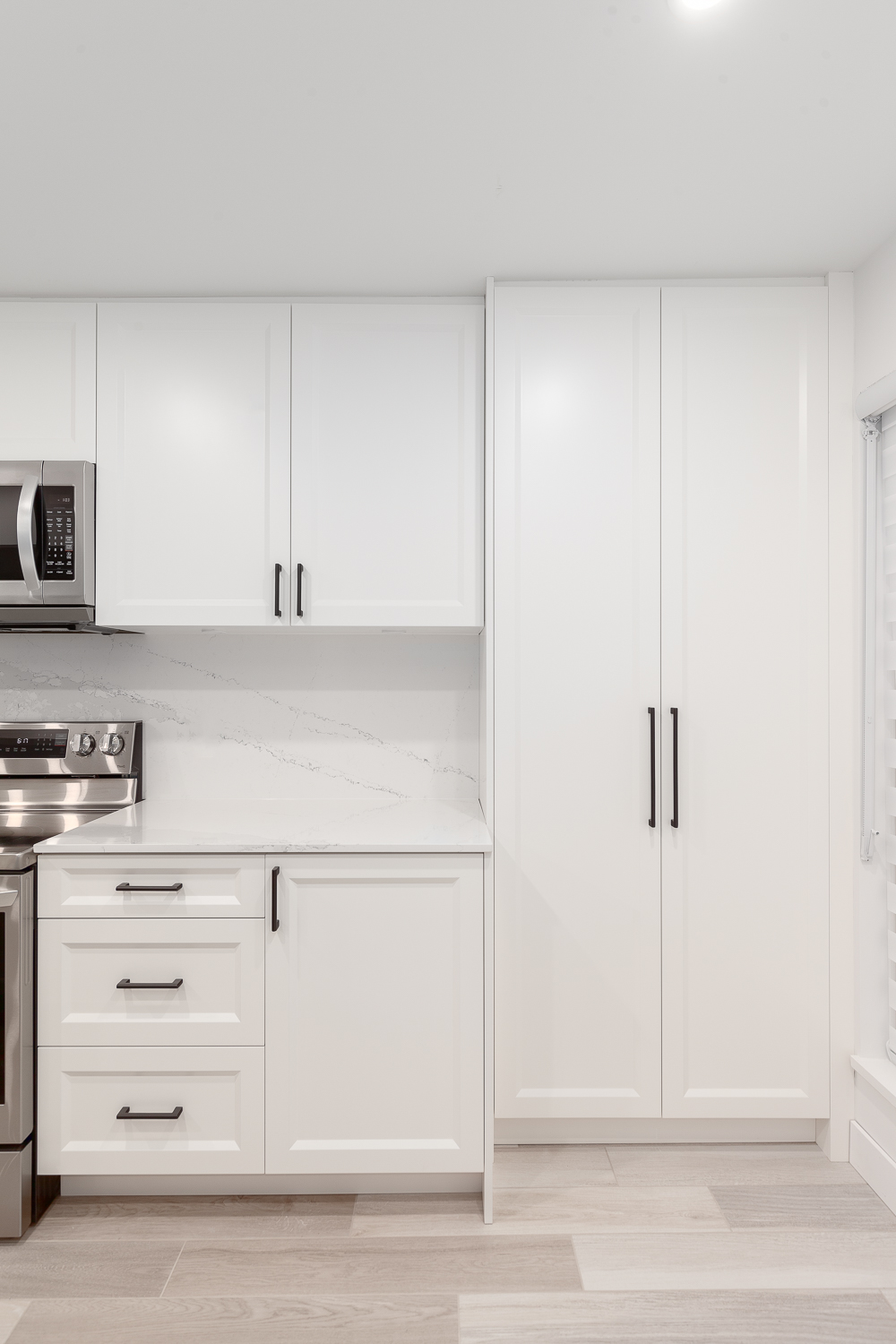 The secret of creating stylish kitchen cabinets will make your home stand out.
Designing and creating your dream kitchen is an exciting journey, and one of the most important decisions you will make is choosing your kitchen cabinets. There are a variety of modern styles to choose from, each with its distinct look.
The first on the list is Modern Farmhouse Style cabinets. These feature planked doors with painted edges and bright white finishes - perfect for a contemporary country feel that doesn't compromise on style.
Another popular style is the Scandinavian Style. This design focuses on clean lines and natural materials, including wood and stainless steel, for a minimalistic approach to kitchen cabinets.
Mid Century style offers more angular shapes with deep-toned woods for a warm and welcoming atmosphere. If you're looking for something with a more traditional vibe, then Shaker Style may be just what you need! Raised panels and thick countertops complement classic wood grain doors to create a timeless look in any home.
These cabinets can either be made using PVC Hollow Boards or PVC Foam Boards, both of which offer great insulation during cold temperatures and humidity resistance during hot temperatures. For durability and convenience, they are designed to last longer than other kitchen cabinets materials like particle boards or MDF boards.


Wooden Modular Kitchen Cabinet and L Shape Modular Kitchen Cabinet
Modular kitchen cabinets can be a great addition to your home. Not only do they add style to your space, but they can also be used as storage. They can be custom-made to match your needs.
The best material for your modular kitchen cabinets is plywood. It's durable but less expensive than solid wood.
There are lots of different materials to choose from. Particle boards, engineered wood, and stainless steel are some popular options. You can also find cabinets made from glass.
A good way to find the perfect modular cabinet for your home is to talk to a qualified interior designer. Many will be able to help you find the right combination of materials and features to fit your budget and needs.
You'll want to consider whether you have enough room for a large modular kitchen. You might consider a smaller, more streamlined design if your space is tight. That way, you'll get a lot of storage without taking up valuable floor space.
PVC Hollow Boards vs PVC Foam Boards
If you are looking for stylish kitchen cabinets, it's essential to know the differences between PVC Hollow Boards and PVC Foam Boards. These two materials have different advantages and disadvantages. You need to consider the aesthetics, cost and maintenance before choosing.
PVC hollow boards are lightweight and affordable, making them suitable for many kitchens. On the other hand, PVC foam boards are thicker and more durable and more resistant to corrosion.
The main advantage of PVC foam boards is that they are easier to install than PVC hollow boards. They are also moisture-resistant, oil-resistant, and chemical-resistant, making them the perfect choice for your kitchen cabinetry.
However, PVC foam boards are less durable than wooden cabinets and are not as long-lasting. Unlike wooden cabinets, however, they can be easily replaced or repaired.
Shaker-style cabinets
Shaker-style kitchen cabinets are a timeless look that embodies simplicity and functionality. You can find shaker cabinets in many different styles and price ranges. These days, these cabinets are available in various woods and finishes.
Traditional shaker-style cabinet doors have square edges and clean lines. However, more modern styles have more intricate details. Generally, the best quality shaker cabinets use solid wood from the northeastern United States. They are also sealed with a clear acrylic finish.
Despite their old-fashioned appearance, these cabinets are easy to maintain. The simple, minimalist design complements many other design styles. Depending on the manufacturer, you may even be able to customize the look of your kitchen by changing the colour of the cabinetry.
Shaker-style cabinets are also inexpensive. They typically cost around $1,200 per linear foot for a full-sized kitchen. This makes them an affordable choice for any budget.
Scandinavian and Mid Century kitchen styles
Scandinavian and Mid-Century kitchen styles share many characteristics, including open spaces, functional layouts and timeless design principles. However, the two styles also have a softer edge. In addition, they can be used together to create a sleek and balanced look. The best way to achieve this is to mix contrasting elements.
For example, you can add a bright, airy feel to a traditional kitchen with light-coloured floorboards. If you're looking for a rustic touch, try a wooden table with a rough edge. You can also incorporate rough wood tones into your cabinetry to give your room a warm and cozy feel.
One of the defining features of a Scandinavian kitchen is its use of natural materials. Materials can be anything from organic wood to luxurious marble.
Modern farmhouse-style kitchen with wooden kitchen cabinets
Modern farmhouse-style kitchens are warm and inviting. They blend rustic and industrial elements with modern features, incorporating stainless steel appliances, wooden countertops, and more.
A wooden kitchen is an easy choice if you're looking to achieve the charm of a rustic home without the expense and hassle of remodelling. While wood is traditionally used to accent the decor, it can also be left unfinished for a rustic yet classic look.
In modern farmhouse-style kitchens, white helps create a clean, open space. This can make a small kitchen appear much larger. The light colour makes the room feel warmer, too.
It's the perfect colour to complement natural wood countertops. You can even add a touch of luxury with a marble countertop. A white marble backsplash keeps the space from feeling cold.
Frequently Asked Questions
What is a timeless and beautiful kitchen backsplash?
Subway tile backsplashes are timeless. However, we recommend a full height backsplash for your kitchen. This would allow you to run the countertop as your backsplash all the way up to your upper cabinets. This creates the illusion of a larger kitchen.
What is the realistic cost of a kitchen renovation in Metro Vancouver?
For a kitchen renovation in Metro Vancouver, a budget of $50,000 is realistic. This would include new appliances, countertops and cabinets, flooring, as well as lighting.
What are some of the common mistakes with a kitchen renovation?
A kitchen installed in an inappropriate location might not work.
Wet floors can be caused by putting the dishwasher too far away.
If the fridge is placed next the oven, it can make opening the door difficult.
It can be difficult to have enough counter space.
A common oversight is insufficient storage. Make sure to have enough cabinets and shelves to store all your kitchen appliances and gadgets.
The hardest part about installing a new kitchen? Choosing the right appliances.
They should be able to fit in the space and efficient on energy.
It is a mistake to not hire a professional for help with design. They will make sure that everything is right-sized and fits in the space.
It is common to try to do too many kitchen renovations yourself. It is important to know your limits so that you can hire a professional for a successful kitchen remodel.
It is a mistake to not plan for enough money. Kitchens can become very costly so be sure to have enough money.
It is a mistake to not have a clear vision of the style and layout you desire. Before you begin a renovation, you need to have an idea of the style, layout and finishes that you want.
These are just a few common mistakes people make when renovating their kitchens. To avoid making these errors, consult a professional before you start your project. You can have a successful kitchen remodel by planning well and executing the plan correctly.
Statistics
External Links
How To
Here are the 8 Basic Steps to Kitchen Remodeling for Beginners
A DFY project for Beginners should start with these steps:
Remodeling your kitchen involves three steps. First, decide whether you want to do an entire renovation or replace appliances and fixtures. Second, choose the type of kitchen that best suits you and your lifestyle. You can choose to have the project done by professionals or DIY.
Next is to decide which type of kitchen you want. Do you prefer a traditional style kitchen with cabinets, countertops and appliances? Or perhaps you prefer modern designs with sleek lines and minimal storage space? Are you interested in installing a large island or adding a breakfast bar? You will also need to hire an experienced contractor to assist you with the installation after you have selected a layout, finish and material.
Many homeowners feel overwhelmed by all the decisions that must be made before starting a kitchen remodel. Fortunately, there are some easy ways to get started.
Decide if the Kitchen Needs to Be Renovated or Replaced - The first step to deciding whether you need to make a kitchen overhaul or replace existing fixtures and appliances is to decide what your budget is. If you're planning to gut the space and start from scratch, you'll need to factor in the cost of demolition, new cabinets, countertops, appliances, flooring, and lighting.
Determine Your Budget - The first thing you should do is calculate how much you can spend on your kitchen remodel. This includes everything including labor costs, supplies, and the budget.
You can choose your layout - Now that you know how much money you are able to spend, you can decide where to place your new kitchen. There are many layouts to choose from, including open, peninsula, galley or corner. Each has its pros and cons, so choosing the one that best fits your needs is essential.
Select Your Materials. - Now that you've decided the layout of your new kitchen, it's time for you to choose the materials. This includes everything, including countertops and cabinets as well as flooring and lighting. There are many options available, so it's essential to research and select the materials that best fit your needs.
Hire Professionals - Finally, once you've selected your materials, you'll want to find a professional specializing in kitchen construction. Good contractors will ensure that everything runs smoothly, starting with design and ending with installation. They'll also provide follow-up services, so you never have to worry about any problems during the process.
Enjoy! - You've made it to the final stage of the kitchen remodeling process--enjoyment! If you enjoy your new kitchen you won't mind spending hours preparing delicious meals. However, if you still have doubts about your kitchen's design, it is worth taking the time to get acquainted with it. You'll be able to judge if your remodel was worthwhile.