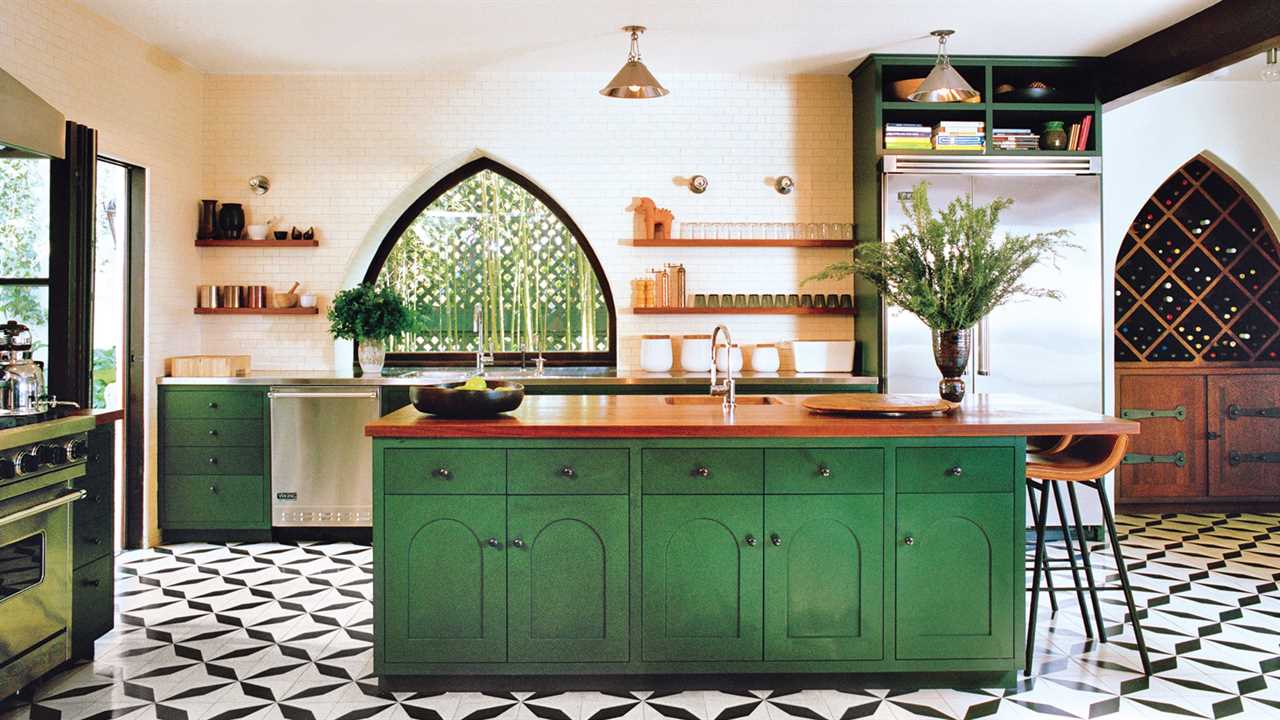 If you're ready to redo your kitchen, it's essential to know what design style will best suit your taste and preferences. There are many different styles to choose from, and if you know the basics of each, you can pick the one that speaks to you!
The most popular kitchen styles include contemporary, rustic, cottage and traditional. Each of these designs offers a variety of design options that can work with any interior design scheme.
Discover the 5 types of kitchen styles that you should consider to create a stunning kitchen – and start transforming your cooking room inside and out.
If you want to create a stunning kitchen for your home, consider the five types of kitchen styles. Contemporary, rustic, cottage and traditional designs offer plenty of design options to fit any interior design scheme.
Contemporary kitchens offer a modern look with sleek lines, luxurious appliances and materials like stainless steel and granite. Natural elements like wood can be added for warmth and texture.
Rustic kitchens are great for creating a cozy atmosphere with rustic furniture, natural materials and upcycled-style accessories. This design style is often seen in cabin-like getaways or farmhouse decor.
Cottage kitchens manage to evoke an inviting feeling with simple colours, distressed finishes and classic detailing like moulding around cabinets and doorways. Vintage-inspired appliances blend seamlessly with the rest of the decor.
Traditional kitchens feature classic looks that are timeless in their appeals such as carved furniture pieces, bright colours and luxe fabrics like velvet or silk. Crown moulding along the walls creates visual interest while rich hardwood floors anchor the room's overall look.
Finally, one of the most versatile styles is transitional which combines ideas from both modern design elements as well as traditional aspects to create something completely new and imaginative. Clean lines mixed with opulent tones for an updated yet classic feel when finished correctly.
But the reality is that there are more than just 5 types of kitchen styles.
The kitchen is always evolving. From rustic and modern to Old World Charm, there are endless possibilities when it comes to creating a style that speaks to the soul of your home.
From contemporary to country chic, traditional or industrial, no matter what you choose, your options are infinite in terms of spacial design and material selection.
The perfect kitchen for your needs will be dependent on the size and shape of your space and how you intend to use it.
By combining visual elements such as colour palette, cabinetry, hardware, flooring and lighting with practical considerations such as appliance placement and counter spacing, the result can be nothing short of stunning.
Whether you prefer a classic all-white kitchen aesthetic or would choose something more eclectic like combining antique furniture with sleek stainless steel appliances – all this is possible with careful planning and forethought.
Rustic
Rustic kitchen styles are a great way to create a warm, inviting space in your home. These styles are often found in country homes, but they can also work well in city homes.
To get the look of a rustic kitchen, focus on natural materials and textures. For example, repurposed barn wood is an excellent choice for a backsplash or cabinet fronts.
Cottage
The cottage kitchen style is a classic decorating idea known for its cozy, down to earth feel. This style is also characterized by its emphasis on charm and functionality.
A soft muted color theme is often used for this kitchen style to create a light inviting space. Whites, pale yellows, pastels and light khakis are popular choices for this style.
Contemporary
Contemporary kitchens are sleek, uncluttered and easy to keep clean. They can also give you a larger feel, allowing you to cook and entertain more.
This style is very popular, especially in today's modern homes. Flat-front cabinetry, sleek fixtures and stone features characterize it.
Traditional
Traditional kitchen styles blend classic design elements that will never go out of style. These kitchens feature plenty of natural materials, a social space and accessories to create a period-inspired look that feels familiar and homey.
Decorative cabinetry details, like detailed scrollwork and classic moldings, add character to traditional kitchens. You can amp up this look by painting your cabinets in a deep stain or glazing them with a rich glaze finish.
Minimalist
Minimalist kitchen styles are perfect for those who want to keep their space clean and simple. The key is to be selective when it comes to decor, and only display accents that you use on a daily basis.
For example, if you use a lot of pots and pans, consider giving those items their own special home on your counters. It'll also help avoid clutter and make the entire space more organized.
Artisanal
Artistic kitchen styles are often a reflection of personal taste and lifestyle. Whether your aesthetic is modern, eclectic or somewhere in between, it's never a bad idea to add a little extra flair and personality to your space.
Displaying artwork is an effective way to do so and can make your kitchen stand out from the competition. While framed pieces are traditional and the most common choice, wall shelving is a fun and functional alternative for those with an eye for design.
Classic
Classic kitchens are the perfect choice for clean lines and simplicity. These styles are also timeless and easy to adapt to your taste.
Classic kitchens are often built with traditional materials, such as oak, pine, cherry and maple. However, modern designs are also popular for this type of kitchen.
High-End
A high-end kitchen is a place to entertain, cook and relax. It should have cabinets that match the rest of the home, durable flooring and kitchen furniture that will hold up to constant use.
For a sleek, modern look, consider all-white cabinetry and hardware. This clean slate makes it easy to add a touch of luxury with mixed-toned chrome and brass finishes.
Modern
Modern kitchen styles feature a clean aesthetic, minimalistic furniture and fixtures, sleek materials and bold colour schemes. This style is typically characterized by flat-front cabinets, modern countertops, sophisticated tile work, and stylish backsplash ideas.
One-wall kitchens are also popular and allow for more space efficiency without sacrificing functionality. This design can be found in small and large kitchens, with upper and lower cabinets or shelving installed on a single wall.
Frequently Asked Questions
What are some of the cons of an open concept kitchen?
Privacy is the most important issue. Open-concept kitchens make it difficult to hide mess from your guests. Also, if you love to cook, the smells might bother people in other Often, there isn't enough counter space or storage space to accommodate everything. It can be hard to clean an open kitchen if it doesn't have a designated cooking area and dining area. Lastly, an open-concept kitchen may not be your best option if you don't have much square footage.
How can I determine my budget for a kitchen remodel?
To help you budget, here are some guidelines:
The first step is to estimate the cost of materials you will need for your remodel. These include countertops, appliances, cabinetry, paint, tile, lighting, plumbing, hardware, and other miscellaneous items.
Calculate the average cost of labor for your region. Add this number to the total budget.
Add the total dollar value of all the materials and labor needed to complete your project. Divide that number by how many square feet you have in your kitchen. This gives you the estimated cost of each square foot.
Add any savings that you expect from doing some work yourself, or purchasing materials at a discounted price.
For unforeseen expenses, you can add an additional contingency of 10-20 percent.
These are estimates only. A professional contractor can give you a better idea of the budget for your kitchen remodel.
This will allow you to develop a budget that fits your kitchen renovation. The cost of your kitchen remodel will vary depending on how much you spend, what materials are used, and other factors.
Are you looking to remodel your kitchen?
It would be best to start by creating a list of your wants and needs. This will allow you to communicate with potential kitchen remodelers or contractors.
Budget: How much will you spend on your new kitchen in the next year?
- Size. How large is your kitchen. What size kitchen do you need?
Layout: How does your kitchen look? Will you need to change the layout of your kitchen?
- Appliances: What appliances do you want in your new kitchen?
- Storage: How will you store all your food and supplies in your new kitchen?
Style: What style of kitchen would you like? Traditional, contemporary, rustic, etc.
- Colors: What colors do you want for your new kitchen?
You are now ready to plan your new kitchen.
Should I install a countertop or backsplash first?
If installing new countertops and backsplash, you must install the countertop first. This will allow you to correctly measure and cut the backsplash to fit perfectly against the countertop. This countertop is essential for backsplash installation.
Statistics
External Links
How To
How to design a kitchen layout
There is no one perfect kitchen layout. However, specific layouts work better in certain spaces. Here are some ways to create a kitchen layout that suits your space.
Start with the basics. The first step in determining what you have in your kitchen is to decide what can be sacrificed. You don't necessarily need a large stove, oven, or other appliances if your cooking isn't very extensive.
The traffic flow is important. Consider how your family uses the space and how it flows. You want enough space to be able to move freely and not bump into others.
Maximize storage. The third step involves maximising storage space in your kitchen. This applies to both cookware and food storage. It's important that everything is organized and accessible easily.
Your style should be incorporated. Incorporating your style into your kitchen layout is the fourth step. This covers everything, from countertops and cabinets to flooring and appliances. You can choose finishes and materials that reflect your personal style.
Partner with a professional. A professional kitchen designer is the fifth and final step. They can help you create a layout that meets all of your needs and works well within your space