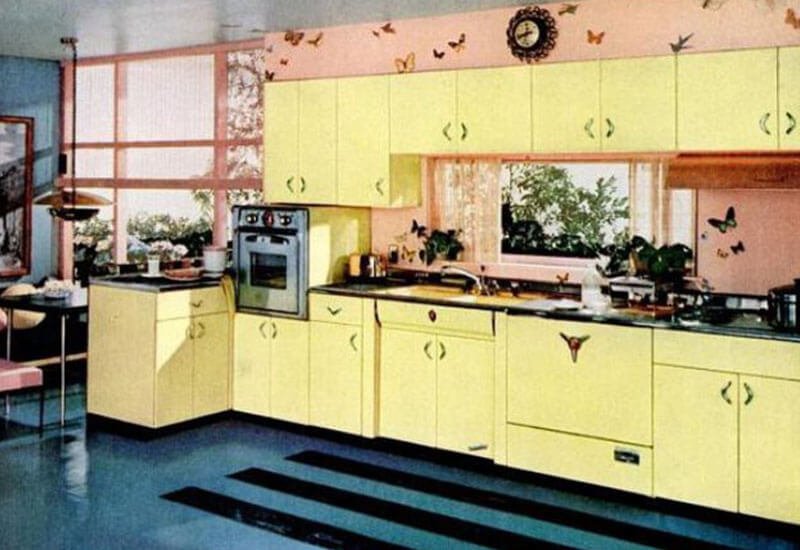 Designing a modern kitchen in the style of the 1950s.
Aspiring for a modern kitchen in the style of the 1950s? Start by exploring the vibrant past.
Glean inspiration from classic silhouettes, shapes and textures. Aim to produce a timeless design with echoes from the decade – colours, materials, contours and little details that add life to the room.
Ensure functionality too; compromise is key here since innovative 1950s technology may have become outdated. Take shapely cabinets that are practical and effective storage solutions and blend traditional architectural styles with up-to-date technological gadgets — sleek countertops, high-powered ovens etc.
Ultimately achieve a contemporary feel steeped in nostalgia for the glamour of mid-century America through materials and colours that bring warmth and charm to your space. Referencing period features will bring character, while adjustable lighting can add an update to today's creative possibilities.
Let imagination take over in your quest for a vintage aesthetic done right!
RCA/Whirlpool Miracle Kitchen
The RCA/Whirlpool Miracle Kitchen was a mid-20th century kitchen concept that took advantage of modern technology and transportation. It was originally introduced in 1957, and was displayed at the American National Exhibition in Moscow in 1959.
It was an innovative kitchen that was conceived as a proof of concept during the Atomic Age. While the technology was futuristic, the design was largely a middlebrow fantasy.
The kitchen's design features included wall cabinets that lowered to the floor, a "sit-down" sink, and a compact vacuuming robot. The room also featured a telephone and a television screen. These devices were part of the kitchen's "heart" and connected the homemaker to the rest of the house.
While the technology was not perfect, the kitchen was considered futuristic. A two-way mirror was installed in the kitchen's display, allowing the user to control the appliances from afar.
Sunbeam Mixmaster
When it comes to the best mixers for the kitchen, Sunbeam has you covered. In fact, the Mixmaster is their flagship product. It can be used as a hand mixer, and it's the only multi-purpose application in the company's stable.
Aside from the obvious, the most notable thing about the Sunbeam Mixmaster is the power it offers. Its 225-watt motor maintains full power at all speeds. With the help of its automatic juicer, you'll be able to whip up fluffy egg whites, velvety icings, and creamy mashed potatoes.
If you're a fan of retro style, you'll definitely be impressed by the HM-1's shiny black finish and chrome accents. On the flip side, you'll find some hiccups with the weight distribution. The beater ejector button is floppy in travel.
Smeg refrigerator
If you're looking to give your 1950s kitchen a touch of retro charm, you can't go wrong with a Smeg refrigerator. These refrigerators combine elegant Italian design with the style of the 50s. This combination makes them a statement piece. They keep your food and drinks cool and have bright LED lighting.
One of the best aspects about a Smeg refrigerator is the fact that they're ENERGY STAR certified. In addition, they have a unique compartment for perishable foods. With easy-to-use digital temperature controls, you can easily adjust the temperatures of your items.
You can even choose from three different models. There are standard sizes, counter depth models, and even bottom freezer models. The latter is especially useful for those with small kitchens.
You can also add a splash of color to your kitchen with a Smeg fridge. Some of these appliances come in pink or yellow.
Bauhaus cabinets
The 1950s was an era of unprecedented prosperity in the United States. Millions of GIs came home eager for the comforts of home. As a result, the kitchen became the centerpiece of homes everywhere. In the years following WWII, eat-in kitchens began to become more common. Kitchens in this era were often accompanied by barkcloth curtains, patterned linoleum flooring, and ceiling treatments.
The Bauhaus school of design in Weimar, Germany, was founded by Walter Gropius in 1919. His mission was to unite the craft of architecture and design. Several of his teachers went on to become leaders of art and design departments at some of the country's most prestigious universities.
The Bauhaus was a technologically innovative school, and its inventions were lauded in the press. One of its inventions was the first integrated cabinet. These cabinets incorporated appliances into a single unit.
Concrete tile backsplash
If you're a fan of 1950s kitchen designs, a concrete tile backsplash is just the thing to make your space stand out. It's durable, customizable, and easy to clean. Plus, if you're not quite ready to go all-out with a new backsplash, you can always use a few accessories to incorporate a pop of color.
One of the most popular colors for a 1950s-inspired kitchen is mint. The minty hue still holds up today, and it looks great in a modern kitchen with a sleek, stainless steel countertop. Another classic choice is black, which adds a mysterious air.
Blue is another popular choice, and it's ideal with wooden accents. This hue can create a soft harmony or give an oriental feel. You can also combine it with brown for a rich, earthy look.
Frequently Asked Questions
What is the best kitchen layout?
If you have the space, an L-shaped Kitchen with an Island is the best.
Should I leave my home during the kitchen remodeling?
If you're good at takeout, there's no need to move. However, if your children or pets are young or have special needs, you may want to consider living at a family member's home or staying with a friend during renovations. You won't have any worries about your children getting in the way of the renovations. Additionally, you will have a better chance of keeping your sanity by not having to deal with construction noise and dust every day. Get a written estimate from the contractor if you are planning to move. This will allow you to plan your move around their schedule.
What is the first step when designing a kitchen remodel?
There is no one answer to this question since every kitchen renovation project is different and will require a unique approach. The first step to designing a kitchen remodel is to understand your goals and needs.
You may need to meet with an architect or professional designer to discuss your ideas.
Once you have an idea of your goals, you can start planning your budget and getting estimates from potential contractors. Finally, creating a timeline for your kitchen renovation is crucial to stay on track and avoiding any stressful surprises.
If you're working with a professional kitchen designer or architect, they will likely take the lead in the design planning process. However, it's still vital that you are clear about your goals and needs from the start. This will ensure the design you receive is exactly what you expected and that it meets your satisfaction.
Measure your kitchen space by measuring the total square footage as well as the dimensions of each area such countertops, cabinets and appliances. It would be best if you also noted any existing structural elements that cannot be removed, such as support beams or load-bearing walls. You might consider creating a floor plan layout to help you envision how the new design will look.
A mood board, or inspiration folder, is a great tool for narrowing down your kitchen design ideas. Pinterest is a wonderful resource for finding inspiration and images of kitchens you love. You can also take out pages from magazines and collect fabric swatches and paint chips. Also, you can save any visual elements that interest you. These will serve as a reference point when you start planning your renovation.
Once you have an idea of the look you want, you can start to plan your budget and timeline. How much money can you spend on this particular project? What are your must and desirable-to-haves? When is the renovation due to be complete? These questions will help you plan.
You will need to consider the cost of materials, appliances and countertops if you are renovating your own kitchen. You'll also want to consider the time it will take to complete the project and any potential disruptions to your daily routine. You will receive a detailed estimate from the contractor if they are handling the renovation. This will include all costs and a timeline.
To avoid stress and keep your kitchen renovation on schedule, it is essential to create a timeline. Once you have a good idea of when each step of the process should occur, you can start to put together a more detailed schedule. Be sure to allow some flexibility in your timeline in case unexpected delays arise.
This guide will help you to create a clear plan for your next kitchen renovation. This will ensure you get the kitchen you have always wanted and that the whole process runs smoothly.
Do I need to install a backsplash or countertop first?
When installing countertops and backsplash, make sure you install the countertop first. This will allow you to correctly measure and cut the backsplash to fit perfectly against the countertop. The countertop is a crucial component of proper backsplash installation. It must also be installed before any plumbing fixtures or appliances.
Statistics
External Links
How To
How to design the kitchen you'll be able to enjoy cooking in for years
Kitchen design should balance aesthetics and practicality. It is important to plan your space carefully so you feel at home and can prepare delicious food, entertain friends, or just relax after a hard day.
Here are some tips that will help you plan your dream home.
Determine the layout that best suits your needs. L-shaped, Ushaped, or galley kitchens are the three most popular. L-shaped kitchens are great for entertaining and can easily accommodate multiple cooks. U-shaped kitchens are perfect for families who spend a lot of time in the kitchen, as they provide ample counter space and storage. Galley kitchens are great for small spaces, as they can be accessed quickly and easily.
You can research different cabinetry options to help you choose the best quality. There are many options depending on your budget. You will reap the benefits of investing in high-end cabinets. They will last for a longer time, look better, provide greater protection against temperature and humidity changes, as well as being more durable.
You should choose a color scheme you feel happy with. No matter what color you like, you can find a color combination that will bring life and color into your kitchen. You can use bright colors or soft pastels. You should make sure it matches your rest of the room.
It is important to find the right balance between function & beauty. It is not necessary that your kitchen be stunning all the time. Sometimes you need to focus more on functionality than looks. This doesn't mean that you can't add some decorative elements to your design. Mixing glass, chrome brass, ceramic, stone or wood can create an interesting focal point.
Create a comfortable environment. When designing your kitchen, remember that comfort should always come first. You'll spend a lot of time in this space, so it needs to feel inviting and welcoming. You can add seating, lighting fixtures and other features to help you unwind after a long day.
Storage is important. Your kitchen should offer ample storage space for all your cooking tools, utensils, dishes, pots, pans, etc. Consider adding cabinets to your kitchen when you are planning a remodel.
Include a pantry. A pantry allows you to efficiently organize and store food items. You can also store extra supplies in a separate area to prevent clutter building up around your kitchen.
Look into new flooring options. You can make a big difference in the look and feel of your kitchen by choosing the right flooring. There are many options available. Consider using one flooring material throughout your house, even if you only have a limited space. This will eliminate the need to use transition pieces.
Plan for expansion. One of the biggest mistakes people make when remodeling their kitchens is not including enough room for future growth. If you're considering expanding, add another walk-in closet, install sliding doors, or expand your current countertop space.
Be sure to let plenty of light in your kitchen. Being able to see your work is the best way you can enjoy your kitchen. If you intend to use your kitchen as a gathering place for the family, make sure you let plenty of natural light through your windows.
Install energy-efficient appliances. Remodeling your kitchen should be about energy efficiency. This means you need to replace older appliances with more energy-efficient models.
Be realistic about your budget. Do a thorough analysis of your finances before you shop for kitchen appliances or cabinets. Knowing how much money you can afford will help you narrow down your options and save you money in the long run.
You should designate an area for entertaining. No matter if you like hosting dinner parties at home or entertaining friends over drinks and food, having a designated dining space will provide a place for your guests to gather and socialize.
Incorporate an island. An island is a fantastic addition to any kitchen.